If you have a
bourbon
lover in your life you probably want to make them happy, maybe even spoil them a little bit. But what do you get for the bourbon-obsessed that isn't just another cliche?

Not to worry, we have you covered. Here's a list of truly unique bourbon gifts for your loved ones.

1. Flaviar Whiskey Subscription


Regular gifts won't cut it. Instead, give the gift that keeps on giving! Show them you care in the best way possible: with delicious booze!

By giving a whiskey subscription, the bourbon lover will expand their horizons through tasting and discovery of different bourbons through quarterly deliveries of Tasting Boxes™ and full-size bottles, and experience some serious VIP treatment with the exclusive Flaviar Black membership included in their gift.




We're not sure how you'll outdo yourself next time though.



2. Flaviar Whiskey Advent Calendar
It's not a secret that our always-sold-out whiskey Advent calendar is one of the best Christmas presents you could give to a lover of the amber potion. And this year it's no exception
—
so
grab yours while you still can
!

Turn your lucky gift recipient into a genuine whiskey connoisseur, with The Lost Art of Distillation: Search for the Secret Spirits and give them a gift of great taste! The Advent calendar contains 24 vials of premium whiskey treasures, sourced from around the world, an award-winning Glencairn tasting glass, a high-quality Flaviar concrete coaster, and a collectible tasting booklet, your guide to each whiskey in the box.



Beware! If you buy this for someone special in your life, you just might become their favorite person in the world!
What do you get?
24x 50ml/1.7 oz whiskey samples
Exclusive Glencairn glass
Flaviar concrete coaster
Tasting journal
But don't take our word for it, read what the media has to say about it.

"This rare whiskey advent calendar sells out every year and it's available now!" -Thrillist

3. Corn Trooper United Craft Bourbon


Attention! A bottle of Corn Trooper is for everyone who loves bourbon and wants to try something new and truly American.

It's a glorious blend of seven individual American straight bourbons from seven states. It's a true celebration of US Craft Spirit and about as Red, White, and Blue as they come.




It's a sure winner and we have the proof: a gold medal at the 2021 San Francisco World Spirits Competition. It's a road trip through American flavors that you can take together with a bourbon lover in your life. Just don't tank up too much, ok?
Category: Bourbon
Country: United States
Age: NAS
Style: Bourbon Whiskey
Alcohol: 50.5%
And buyers love this one-of-a-kind bourbon - if you don't have time to read all the reviews, here are just a few:

"Easiest drinking corn whiskey I've ever experienced. Only complaint is that the bottle isn't bigger. Good as a shot, even better over the whiskey stones. Top notch product" - Michael

"This is one amazing dram!! The blend is perfect. I'll probably pick up a second bottle before its gone. Pleasantly surprised." - Don

"This is mind blowing. I want a constant supply" - Bonnie

If you are looking for something to amplify your loved one's bourbon experience Corn Trooper is your go-to gift.
4. Pre-made gift sets
The holiday season is a busy time for everybody and not everybody has time to spend hours wrapping all the presents. That's why pre-made gift sets are a great option for people on the go.

Remus Repeal Reserve Bourbon Gift Box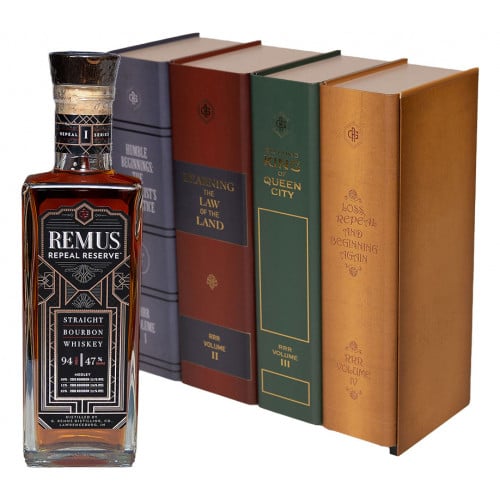 George Remus is known to produce one of the best bourbons in the world, and if you have a Bourbon lover in your life that can appreciate that, you might just found the perfect gift for them. Remus Repeal Reserve Bourbon Gift Box contains four 375 ml bottles of Bourbon from their series I, II, III, and IV. that will surely win their hearts.


Kings County Aged Whiskey Gift Set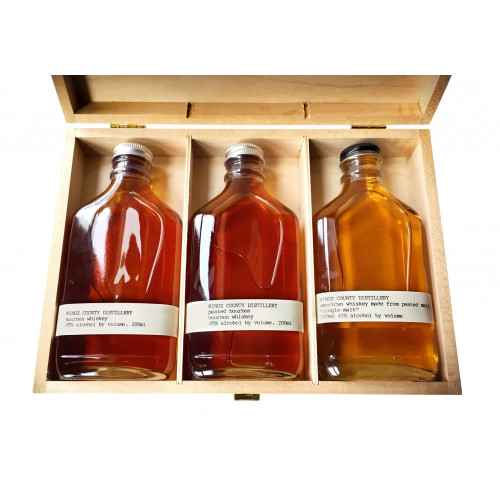 New York City's oldest and largest operating whiskey distillery came up with a gift set that suits all tastes with bottles of Kings County Bourbon, Kings County Peated Bourbon, and Kings County Single Malt Whiskey.

Get your Kings County Aged Whiskey Gift Set here!

5. Pappy Van Winkle Barrel Fermented Cigars



These cigars are not dipped in or sprayed with whiskey. Instead, the wrapper leaf is fermented in used bourbon barrels. The extensive process that goes into making these cigars make them a truly unique gift for the bourbon lover in your life. Available for purchase through Pappy & Co.

6. Bourbon Barrel Aged Coffee


This coffee is not sprayed with bourbon or artificially bourbon flavored. Instead, the whole beans are actually aged in used bourbon barrels through an extensive process.

Several producers, such Vintage Gentlemen, and Bones Coffee Company realized that bourbon (even if without the alcohol content) is just what you need to start your day off right.

7. Art Eatables Bourbon Truffles


Each truffle variety matches the perfect chocolate with the perfect bourbon, making dozens of varieties. If your bourbon lover only has eyes for a certain bourbon, chances are there's a truffle for that!

8. Flaviar Merch



Elevate the Spirits game with some trendy Flaviar Merch.

If you love Bourbon, Louisville is probably to you what London is to monarchy buffs. Celebrate the City and the true American Spirit with a stylish T-Shirt that features a picturesque postcard of Derby City.

Make sure their whiskey game is always on point with a warm bourbon sweater, cool flask, or a full-blown home bar that you can personalize with the recipient's name.
9. Woodford Reserve Bitters Set by Bourbon Barrel Foods


Known as the first soy sauce microbrewery in the United States, Bourbon Barrel Foods has expanded from bourbon barrel-aged soy sauce to barrel-aged and barrel smoked salts, sugars, and spices as well as the entire Woodford Reserve cocktail collection.

As a bonus add a gift pack of Louisville Beer Syrups to make the perfect Old Fashioned cocktail gift pack!

10. Bourbon Tasting Box
™


Bourbon Tasting Box™ is a perfect fit for both beginners and veterans of taste. You can always buy one for yourself as well and set up a drinking party.
From Kentucky classics to Midwest contenders, they can taste them all. We promise: these bourbon Tasting Boxes make a great impression. Remember: Tasting is believing!

11. Kentucky Bourbon Barrel Head Cutout


Chances are if someone loves bourbon, they also love Kentucky, so why not order a unique handmade Bourbon Barrel Head Kentucky Cutout from Drunkwood? There are also other states available, as well as fleur-de-lis and horse heads.

12. The F(l)avorite One(s)
We'll give you a head start on growing your bourbon lover's home bar with the perfect selection of bourbon bottles.

Frey Ranch Straight Bourbon Whiskey



Frey Ranch Straight Bourbon Whiskey won a 2020 Whiskies of the World Gold Medal. It is a true estate operation with everything done on-site from field to bottle. This is a four-grain bourbon and they raise their own — non-GMO corn, winter rye, winter wheat, and two-row barley.

It's continuously distilled in a 3-tower Vendome set-up and aged for four years in new oak. There is zero chill-filtration and cut to proof with the amazing snow-melt water to serve at 45% ABV for your pleasure.

Flaviar sat down with Colby and Ashley Frey to chat about the spirit, the passion, the art of distillation, and women in the whiskey industry. Uncover more secrets of whiskey grains from Frey Ranch Distillery in this interview.



Wild Turkey Longbranch Small Batch Bourbon



One day, Matthew McConaughey said "Alright, alright, alright" and called the bourbon legend Eddie Russel of Wild Turkey and told him he'd love to make a special kind of whiskey.
And they did. They compared notes, Matthew made a lot of calls in the middle of the night, and they created Longbranch.

Longbranch means an extending welcoming hand and it's not-so-secret secret is mesquite. It's the actor's favorite grilling wood and it grows in Texas. They used it to refine the bourbon and give it "that scent you remember."

Hum and pound your chest like a Wolf from Wall Street and share a sip of this rare and special potion with your bourbon lover.
Wild Turkey Rare Breed Barrel Proof Kentucky Straight Bourbon Whiskey

Rare Breed Barrel Proof Bourbon was first released in 1991. Since then, there have only been 10 releases. So now you understand why it's called "Rare Bird." Let's cut right to the specs. Don't worry that there is no age statement.

All the experts agree that this powerhouse bourbon is a combination of six, eight, and twelve-year-old top-end products. The mash bill is 75% corn, 13% rye, and 12% malted barley. And it's bottled at cask strenght!

We've tested it straight up, but this monster was made to stand up to ice and a splash of water and teach it who's boss.

You can never go wrong with the Flaviar community's all-time favorite bourbons:
It's time to help spread your love of bourbon - truly American spirit, and potentially create new fans among your family and friends. Check out the ultimate list of best-rated Bourbons​​​​​​.


Happy gift hunting!