Wild Turkey Distillery
Distillery
Founded in 1940
In 1869, the Ripy Brothers started distilling on Wild Turkey Hill near Lawrenceburg, Kentucky. Their early days went well and their Bourbon — Ripy Brother Bourbon — was selected to represent the State of Kentucky at the Chicago World's Fair in 1893.

It wasn't until years later, in 1940, that the name Wild Turkey appeared on a Whiskey. But as soon as it did it became their number one seller, the name of the distillery was changed to reflect that success. The Ripy Brothers sold out in 1952, and a series mergers and acquisition occurred.

Current owners, the Italian Campari Group, produce a wide range of Bourbons under Wild Turkey and other brands. In 2000 a raging fire broke out in one of the storage rick-houses that contained 17,000 barrels of aging spirits.

The entire structure as well as all of the Whiskey was lost. A new multi-story aging rick-house was built the next year with fire protection built in.

In 2010, Campari invested an additional $100 million in upgrading and expanding production at the distillery. This subsequently doubled the production capacity to more than 10 million proof gallons per year.
Flavor Spiral™
About The Flavor Spiral
What does Wild Turkey taste like?

The Flavor Spiral™ shows the most common flavours that you'll taste in Wild Turkey American Whiskey. It's based on all Wild Turkey drinks in our large database and gives you a chance to taste Wild Turkey before actually tasting it.

We invented Flavor Spiral™ here at Flaviar to get all your senses involved in tasting drinks and, frankly, because we think that classic tasting notes are boring.
Distillery Details
Country

Established

Owner

Visitor Center

Status

Address

1417 Versailles Rd, Lawrenceburg, KY 40342

Phone

Website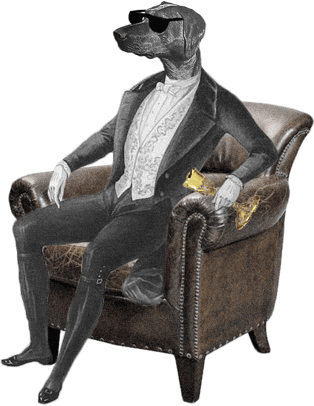 Dog Dogson's
Smartass
Corner
During the fire of 2000, more than 900,000 gallons of Whiskey caught fire and spilled, setting a local forest on fire, poisoning a local stream, and saturating local limestone deposits with flaming alcohol, causing them to explode.
Video transcription
Matthew: So I'm on a road trip and I'm traveling through Kentucky. I'm about 20 miles west of Lexington right now and I'm on the banks of the Kentucky river because I'm here to learn and talk about a great American invention that we all know as Bourbon. And every great batch of Bourbon starts with water from this river.

Now up the road is a three generational family called the Russells. And for the last 62 years, they have unapologetically been distilling a little Bourbon that we all know as Wild Turkey. So why am I here? The folks at Wild Turkey came to me a few years ago to be the celebrity spokesman for their brand and their new campaign. And I really liked the idea. But the more I thought about it, I said, "Look. I want to be more than just the face in the campaign. I want to have my hands in the clay of how we tell the story. And I want to be a part of the whole story. Not just the character in it." So this is my new gig. Creative director of the new Wild Turkey campaign.

So we were talking about lessons you learned from your Dad.

Man 1: So when I was growing up, it wasn't something he really told me but just his work ethic. He's been coming out here 6 or 7 days a week for 62 years. Doing it the right way and you know, just be proud of that.

Matthew: Bourbon's over 200 years old. It's an American invention. We created it. Created the entire category. The Russells. The family. They've been doing it their way for 62 years and they're not gonna change that. That's something I respect.

Here we are in front of the lazy Susan here in the sensory lab.

Man 1: For me, this is the art of it. I want it all to taste the same at that point. Before it goes in the barrel. And then the great part about my job is tasting the different barrels and getting the different flavors to make each one of our products.

Matthew: Who's got the best taste buds?

Man 1: At 82 I'd still put Jim up against anybody.

Man 2: He's really good. He's really good.

Matthew: We're talking about you.

Jim: Hey what's going on now?

Matthew: Talking about who's got the best taste buds. Bruce says he does. When you talk about Bourbon today it's like you're talking about your children.

Jim: I've never worked a day in my life. To me, it's not work. It's something I enjoy. The day it's work, get up and come to work, it's time to retire.

Matthew: Time to retire.

Jim: Yeah.

Matthew: Well let me ask you this, have you got any kind of secret stash in here?

Jim: I've got some Bourbon was made and bottled before prohibition.

Matthew: Okay.

Jim: Not much of it left.

Matthew: You made that last quite a long time.

Jim: I don't let a lot of people taste it.

Matthew: I appreciate it.

Jim: See what you think of that.

Matthew: Oh, that's real nice. Well I feel like I just got a little wiser. We're in a time now where Bourbon is booming. And the masses are asking for authentic Bourbon, not Bourbon lite. And who's sitting here, un-introduced to many, Wild Turkey. This is an '07.

Man 1: This is 2007 about eight and a half years old. Sort of the sweet spot.

Matthew: This was my favorite stop last time I was here.

Man 1: Oh yeah. Always my favorite too. So just use my little copper thief, a little sample for everybody.

Matthew: So three generations. Was there a time, do you remember a time when your Dad, didn't necessarily hand over the reins but said, "Here son, grab a hold of the leather strap."

Man 1: It hasn't happened yet. Why do you think he's still here?

Matthew: Sorry, so you're still in the caboose, okay. Wild Turkey's an all American brand. It's an all American family. And they're just good people. This bottle here is the same shape as the one I tried in your Granddad's office.

Man 1: Yeah so real prohibition, you could still make Whiskey, and sell Whiskey, but only for medicinal purposes.

Matthew: Well that's a nice loophole.

Man 2: Yeah so. you know if you had a broken foot, or a headache or the sniffles you'd get some Whiskey. Exactly yeah. Jimmy always said if you're smart you'd cough every day.

Matthew: What do we have here sir? Jim: We have our old standard 101. About seven and a half to eight year old Wild Turkey Bourbon. That's what built the company. Still is our number one seller.

Matthew: Good to taste the original, good to talk to the original. I was telling your Dad. I was here last time and that view, sometimes views just stick in your mind and you've got the postcard in your head. That one's pretty much stuck with me.

Man 2: Yeah it is

Matthew: I like that. I found a story here in Kentucky. I found a story here in the Russells. I found a story here in Wild Turkey that I think deserves to be told. I find it entertaining, I find it inspiring. We're not going to be for everybody. And that's okay. You know. If we're for you, you'll know. And as Jimmy says, Hey, if this doesn't work, we're going to be stuck with a whole hell of a lot of Bourbon. And there's worse things to be stuck with.