A real deal hand crafted Bourbon made 100% from scratch on site in Wyoming.

At Wyoming Whiskey they are proud of their state and their spirits. the distillery was founded in 2009 by Kate and Brad Mead and their friend David DeFazio. But they had the help of an experienced guiding hand — Steve Nally, former master distiller at Makers Mark. The first commercial Whiskey was released as a four year old in 2012, but they state that all current Whiskies are a minimum of five years old. Importantly, they state loud and clear that none of their spirits are sourced. Every drop is distilled and aged on site at their facility in the Big Horn Basin of Wyoming, all the grains are farmed within one hundred miles, and the water comes forma local well sunk into an ancient limestone aquifer. And you've just got to respect that.

Wyoming Whiskey Small Batch Bourbon Whiskey is their flagship product. We know that their mash bill consists of 68% corn, 20 % Wheat, and 12% malted barley. It's fermented with a proprietary combination of two yeasts — a well-kept secret. They even breakdown the exact amount of each in gallons and pounds that goes into each small batch. What matter is that each small batch yields forty, fifty-three gallon barrels. And since this is a small batch process, each batch can have slight differences in flavor profile (just the way we like it). This Bourbon is worth a dram of your attention.


Smartass corner:
Importantly, their flagship Bourbon is bottled at precisely 88 proof, which is 44% ABV. This is specifically to honor their home state of Wyoming which was admitted as the 44th state to the United States. And we think that's pretty cool too.


Category

Style

Region

Country

Alcohol

Distillery

Age
Flavor Spiral™
About The Flavor Spiral
What does Wyoming Whiskey Small Batch Bourbon Whiskey taste like?

The Flavor Spiral™ shows the most common flavors that you'll taste in Wyoming Whiskey Small Batch Bourbon Whiskey and gives you a chance to have a taste of it before actually tasting it.

We invented Flavor Spiral™ here at Flaviar to get all your senses involved in tasting drinks and, frankly, because we think that classic tasting notes are boring.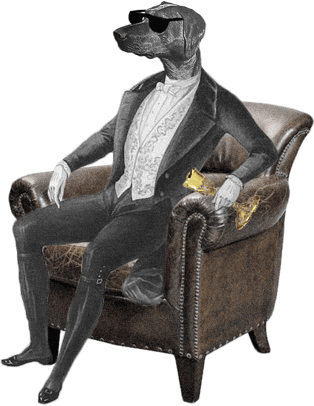 Dog Dogson's
Smartass
Corner
Bourbon set of rules refer to manufacturing method rather than location. It must be matured in new and charred casks of American white oak. No colouring or flavoring of any type is allowed. It must be matured for at least 2 years, if a bottle does not bear an age it is at least 4 years old. The mash bill must contain at least 51% corn.
Tasting Notes
Appearance / Color
Dark Amber
Nose / Aroma / Smell
The nose is strong with raisins and floral notes and a dash of caramel.
Flavor / Taste / Palate
The flavor is both sweet and a little savory with a bright, full mouthfeel and notes of rancio =, caramel, brown butter, baking spices, and a hint of mint.
Finish
The finish is medium to long with a trailing vanilla cream and spice mix.
More drinks we think you'll like
Ratings & Reviews
It was ok. Not a fan.
Good mixing bourbon. No too excited about it left me wanting more
It had a bite to it. I like mine over ice and it just not smooth out for me.
The Wyoming Whiskey is a great starter Bourbon easy to sip straight and it makes a pretty good Manhattan however I did end up drinking it more straight. I am now looking forward to exploring more of the whisky Family.
First order through Flaviar. Needless to say I love it. This was a great way to begin my growing knowledge of whiskey. Great taste, aroma, and very smooth.
Fantastic straight, extremely smooth.
Great whiskey!
Good in mixed drinks or straight. Very smooth.
A perfectly fine drinking Bourbon, nothing offensive but not outstanding in any particular way.
Sweet and smooth, nice finish. Definitely get the caramel flavor.
Shared it with friends and we all loved it! Of course, all the fun may have made it taste better... or the quality of the bourbon may have contributed to all the fun! Great start to the membership.
So smooth incredible finish. Getting more for sure !
Sweet and smooth. Enjoyable late at night
I'm new to this. All of it. Haven't had a drink in over ten years. Always liked bourbon in general, think I like this one a lot. I gave it a seven because I find it a little bitter. I need to have more experience to give it a real and true review
Very average. Not bad, middle of the pack but not in a bad way. Easy sipper.
Fantastic way to start my Flaviar subscription. Smooth, slightly sweet and a nice warmth.
Very good bourbon! Nice and spicy with a bit of sweetness.
Although not the most complex whiskey, I really enjoyed sipping on it during game night
Maybe Batch 62 is an outlier, but I was not a fan. I don't drink a lot of wheated bourbons, so maybe I'm just off, but this seamed too young. No depth, not giving a lot of much besides alcohol. I drink higher proofs usually and this still seemed harsh. Anyway, I'll make cocktails w it.
Very smooth drink, goes down well. It has a nice flavor profile and a little bit of a vanilla aftertaste.
I received this as a gift from a friend years ago who knows nothing about bourbon. But it seems my friend is a "Spirits Medium" and can pick great stuff by label. Smooth flavor, hints of caramel in the background, not too sweet at all. Beautiful neat.
very smooth finish and taste. I really enjoyed it neat, and with a large ice rock... either way, truly enjoyed the flavor
very harsh, not smooth, will not buy again....!
Really smooth flavor profile. Not as spicy as some that I enjoy, but the lingering vanilla finish is great.
Was good but not as smooth as I would have thought for something that was 88 proof
A solid Bourbon. Smooth . Pleased.
My first whiff of this bottle hit me like rubbing alcohol. Not a great start. After clearing my eyes I went in for a second whiff. It was then I caught the sweetness the bottle had in it. I got a nice smell of maple syrup and vanilla. My first sip again had a taste of a alcohol flavor. Not ideal. As the whiskey sat in my mouth I could get the sweetness on the sides of my tongue but a rough taste on the back of my tongue. Hard to describe, but not exactly pleasant. The after taste lingered and had a little bit of a nutty residue. Overall... I wouldn't buy this again. Too many good bottles out there to find myself not looking forward to the next sip.
This whiskey is a little too sweet for me. Reminds me of Bulleit, but not as smooth.
Didn't like it as I hoped. Very watery. Very disappointing. The overseas are more worth the risk than anything US produced. My opinion.
Excellent bourbon. I feel like it drinks a little more like a scotch. Big idk what I'm doing.
Notes of Honey, Cinnamon spice, Black Tea, Red Apple. A bourbon I will definitely gravitate towards.
Very! smooth. sweet upfront. delicious!
Very good bourbon, found it very enjoyable straight. Also went very well in an Old Fashion.
Really enjoyed it. Not too harsh, went down smooth. Just a hint of sweetness
as an avid Bourbon drinker, I found this one of the smoothest Bourbons ever. If you like Basil Hayden, this is significantly better
A little too crisp for me. I like something with a little more depth of flavor. But if you want a clean lighter flavored whiskey this may be for you
Nice and smooth
An uncomplicated but pleasant sip. On the sweet side with a medium finish, Wyoming Whiskey would make a good entry point for someone just getting started with Bourbon.
Beautifully sweet at the start, goes down smoothly, with a very slight heat in the back of the through at the finish!! Really pleasant to drink.
Nice on the nose. Great color. Sweet at the beginning and mellow going down with some caramel. Finish is a little thin. Something about the balance is just a bit off. Solid effort though.
Honey notes
Just had a glass. I'm not sure if I am fan of it yet. Just felt it was like a jack Daniels With little more fire.
This is my new favorite go to. Can easily drink neat and goes down smooth!
I am really enjoying this bottle and would buy it again.
This is a very good every day bourbon. Nice flavor. Great stuff.
Smooth bourbon with a hint of sweetness. Served neat or with a splash of water really brings out the flavor. I have always preferred kentucky bourbon for its consistency but Wyoming was just as good. Highly recommend.
Yum. This is a really nice Bourbon. Not quite as smooth as some others, but still nice. It's just downright cool to get a product from a small state like Wyoming. According to a buddy of mine that lives in Casper, this distillery has come a long, long way, and this whiskey is proof positive. My test for Bourbon is do I want to drink it over a couple of cubes of ice, or do I think it's only good for pouring in coke or eggnog. This is an over ice Bourbon.
Wow! What a great find. A very unique flavor. Very smooth and the vanilla and spice really come through at the end.
I liked it.
A bit to grassy and citrus for my taste. No earthiness, spice, or smoke left me mostly with grain and grass.
This is awesome, smooth and a little sweet. I would buy again in a heart beat.
Very smooth no bite to it with a mellow taste
Smooooooth!!!
Smooth, easy drinking
A solid bourbon. Definitely strong caramel notes, and overall easy to drink. It's nothing to write home about, however, and is unlikely to be your all time favorite bourbon. Since it is lacking in complexity, it shines not for drinking straight, but for use in an Old Fashioned or a Hot Toddy. Stick to Buffalo Trace, Eagle Rare, or High West for a good Bourbon in the $20-$35 price range.
A little harsh on the back end, but with a drop of water makes this very enojoyable.
Too neutral, too sweet so a good blending base
A big harsh but somehow has a smooth finish. Definitely one to break out with your friends.
very nice sipping bourbon, a little sweet on the backend
Not my cup of tea. Tasted very little caramel. A nice sipping bourbon, but a bit harsh with a lot of bite.
Smooth, buttery, good kick of Carmel.
A stern and long lasting taste after each sip. Don't taste as much of the caramel though.
It's really sweet. I underestimated the caramel. It overwhelms the rest of the flavor.
The Nose: baking caramel, char, brown sugar and vanilla. Very deep and rich. The barrels for this bourbon are blessed with a #4 char👍🏼 The Taste: a little shallow compared to the depth of the nose. Flavors are reflective of the nose, with a hint of mint, and toned down 15%. Excellent dark caramel and char flavor, and the char it actually is the star of the show 🌟 Very delicious! The Quick and Neat: deep, rich aromas and flavors. I'd like to see 6-12 months longer in the barrel, and a 100 proof (this bottle is 88 proof). But that's being picky. This bottle is delicious! Would recommend?: most definitely! At $45 this is a much more interesting, layered and complex bourbon compared to similarly priced bourbons. If you're into dark and rich whiskeys, don't pass this up.
Not you're typical bourbon flavors. Carmel, Buttery, floral (rose and eucalyptus) with slight oak spice finish. Good, not great.
Very pleasant for an introduction to Bourbon
Very nice! Tasty and smooth sipping whiskey!
Great Bourbon! too bad it's not available now.
We really enjoyed this whiskey. Tried it based on the listed components you should taste. Its an enjoyable sipping whiskey as well as in an old fashioned. We attempted to shoot it just to see what the experience would be like. It's not recommended haha! We were pleasantly surprised that we enjoyed this whiskey and happy to add this to our home bar.
I enjoyed this whiskey. I cut it with a few drops of water, and it's smooth flavor really shines. Pleasant surprise!
Nice surprise. Above average for the price range. Great everyday bourbon you can drink neat or mixed.
An amazing bottle of bourbon and an unexpected surprise. For me the notes of vanilla caramel butter stand out with a bit of smokiness. This is a great bourbon to drink and neat. I would highly recommend this spirit
Loved it
Delicious bourbon with a very smooth finish and easy drinkability. The flavors are fairly pronounced and Easy to pick out. This is an easy "go-to" bottle for every day occasions. Delicious!
Average all around. For the price, I would pick up Henry McKenna or Blantons.
Nice , Surprisingly Tasty - nice from nose to mouth to finish. May be slightly light on proof. Good everyday bourbon - also very good for beginners.
Rich caramel and vanilla flavors, smooth...
Very solid, enjoyable whiskey with a smooth flavor and somewhat bold aroma.
This is the first shipment I have gotten from Flaviar and I have to say it is delicious. I am just now learning to identify flavors and I definitely get some caramel and vanilla with a smokey aftertaste. It is very smooth and I will definitely be getting more from Wyoming Whiskey.
Smooth and not sweet
I'm still a bourbon novice, and identifying flavors is still coming around. I definitely pick up caramel and a good amount of sweetness. I took a few minutes between sips, and the flavor that lingered was very pleasant.
My first purchase from Flaviar, and I was not disappointed one bit.
After reading the story of Wyoming Whiskey, this Patriot just had to try it. I am new to bourbon. This stuff is so dang smooth for this newbie! Git-yer-self some!
Sweet and Spicy! Nice to sip it neat
I liked the flavors, but overall it didn't linger long enough and felt too light to me.
It's not bad. Nothing unpleasant about it. But for the price, there are a lot of better options in my opinion. It's just a little flat and boring. Average bourbon.
Pretty good, but didn't seem to have much to set it apart.
Very good and smooth!
It's good but definitely spicier than i generally like my bourbon to be. The caramel aftertaste comes through really nicely though.
Very smooth. One of the best bourbons I've had. You can really taste the vanilla/caramel notes. Such a great bourbon with an ice cube or just neat.
It's ok.
Very good whiskey. Nice and sweet upfront and a spicy finish on the end. Goes down smooth. Will be adding to the home bar.
Very caramel; tastes as described. An enjoyable whiskey. Appreciate the non-GMO. Good straight or mixed. If you like Four Roses or Elijah Craig, you'll enjoy this Bourbon. I'd buy it again. Adding it to the home bar.
One of my favorite daily drinkers, straight up
Tasty, but prob would try something else over a repeat purchase.
It's a little bit strong for my tastes. It's good, don't get me wrong, I can only do small doses at a time.
Just picked one up locally, a bit of a punch of alcohol up front, however it has a really nice finish. This is another that I think will grow in years to come when it matures.
Smooth, no sting whiskey - excellent value.
Load more reviews
Back
A Dram for Your Thoughts
Cancel