Price, Shipping & Taxes may vary by state and will be recalculated at checkout.
Authenticity Guaranteed
We guarantee every product we sell is authentic.
Free Shipping
Flaviar Members get free shipping on their orders.
Buyer Protection
Money-back guarantee if things go wrong.
It comes from the upper-left side of our flavour map. In an explosive manner! 
The
Laphroaig
distillery was founded in 1815 by Donald and Alexander Johnston and is located in Port Ellen,
Isle of Islay
. Although Laphroaig isn't allowed to put the prefix 'Royal' in its name (yet), rumour has it that his royal princeness
Charles of Wales
is a fan of the 'L' Whisky. The 15-year-old is reportedly the prince's favorite Scotch.  
The craftsmen at Laphroaig have revived the practice and gave small casks another try. And boy did it work.   
Quarter Cask is a small type of cask (50 litres) used to transport Whisky on horseback during 19th century. They speed up the maturation process due to the larger wood contact.  Although there's no age statement on this Laphroaig, it is said to be around six years old (of which 7 months in the quarter cask). Instead of chill filtering, only barrier filtering is used.   
Trivia:
Donald Johnston died in 1847. It is believed that he died having fallen into a vat of partially made Whisky.
Flavor Spiral™
About The Flavor Spiral
What does Laphroaig Quarter Cask taste like?

The Flavor Spiral™ shows the most common flavors that you'll taste in Laphroaig Quarter Cask and gives you a chance to have a taste of it before actually tasting it.

We invented Flavor Spiral™ here at Flaviar to get all your senses involved in tasting drinks and, frankly, because we think that classic tasting notes are boring.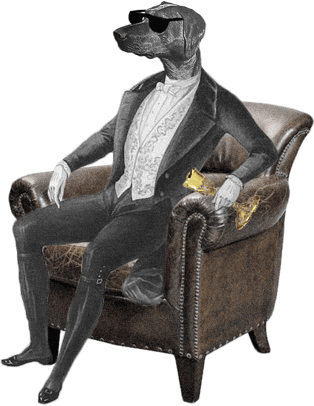 Dog Dogson's
Smartass
Corner
Single Malt Scotch Whisky is made in Scotland using a pot still distillation process at a single distillery, with malted barley as the only grain ingredient. It must be matured in oak casks in Scotland for at least three years (most single malts are matured longer).
Tasting Notes
Appearance / Color
Medium gold. 
 
Smell / Nose / Aroma
Maritime. Powerful phenolic smoke, peat oil, sweet malt, coal. Develops hints of chocolate, cinnamon, coconut and banana aromas.
 
Flavor / Taste / Palate
Deep, complex and smoky. Medicinal peatiness balanced by caramelized sweetness. Chilli peppers and hot spices. 
 
Finish
Really long, sweet and smoky, dries appropriately with smoke and spice. 
 
Comment
A successful Whisky experiment and innovation.  

Flavor spiral
Smoky, phenols, peaty, sweet, white chocolate, caramel, oily, spicy, coconut. 



More drinks we think you'll like
Ratings & Reviews
This was my first Scotch and I fell in love with the peaty flavor of Islay bottles because of it. The quarter-cask is smoother and fuller than the more standard Laphroig, and an upgrade worth the cost difference in my opinion.
Quarter cask lays in a sweetness before the peat hits, very enjoyable and a great entry point to peaty scotches.
I love Laphroaig in general, and I can imagine that this is delightful to a certain palate, but to me, this one just too "meaty", almost "sweaty". I loved the Lagavulin, though.
Too peaty
Peaty is a favorite of mine, so I may have been generous with this rating. But, man, what a great balance between peaty and oaky.
Love it, peaty with a hint of sweetness, but I've always liked the pleated ones, so no surprise there.
Signature Laphroig boggy marsh scents that lingers afterwards in your mouth. It really does taste like peat bog and Oak. That's about it for me. Not my favorite Islay, though I do keep it for my peathead friends.
Lovely smoke finish, not too harsh, slight warm feeling, excellent peaty smell
Wonderful full flavor. Just enough bite. Always one of my favorites
The smell is really nice but I'm not sure if the laphoraig taste comes through. that being said i usually like sweeter whiskies, so its probably just not to my liking
Wonderful smoky peat flavor.
Delicious, basically lagavulin 16 but not as smooth
Smokey
The QC never disappoints. Actually better than the flagship Laphroaig 10. If you haven't tried this, you owe it to yourself to pick up a bottle!
It's alright. I much prefer the normal Laphroaig to this one. That being said it's alright, but nothing special.
Smokey!!
It's like getting up and licking the campfire. Open the bottle and you can smell the peat throughout your whole house. Awesome.
I do like my peated whiskies, have a number of Ardbeg, Kilchoman, Octomore and Campbeltown whiskies in my collection but for some reason have always struggled with the the nose of Laphroaig in the past...something about the tcp, medicinal note was off putting, and for me much of the enjoyment of a whisky is the nose...for some reason though I decided to preserver and try the Quarter Cask...have to say not only is the nose much more to my liking, it might just have added Laphroaig to my go to whisky list.
Smoky and medicinal.
Fantastic scotch for the price. Aggressive and smoky, both in good ways.
For me is simply the best one, the smoky flavour is at the perfect point
Peaty yet smooth
Can't get enough of Laphroaig whiskys
Excellent peaty taste and exceptional bottle. Very memorable and worth getting again if I see it on the shelf.
I love this scotch whisky
Smokey and a wonderful peatiness. Enjoy with a nice block of cheese or chocolate.
Heavily peated yet deeply complex and drinkable.
Been drinking scotch since I was 25. Started with Glenlivet. This Laphroaig and the 10yr are my go to 25 years later. The Quarter Cask seems a bit sweeter if I can say that, compared to the Ten. For those of us that originally thought Laphroaig tasted like diesel fuel but now crave "The richest tasting of all Scotch Whiskys" realize that drinking it before food and after food create different experiences in flavor. Perhaps its because the enzymes in my system are different but some scotch feels and tastes hotter after food for me. The price difference seems too simple to pick this over the 10yr and if i want more subtle peat with a sweetness, I'll spend more on the Lagavulin 16. For those that say "too smokey".... just wait a few years, your taste buds may just crave the peat before this journey is over.
One of the few disappointing bottles I have purchased. Super strong peaty taste and smell. Tastes like liquid smoke. If that is your jam then this is your bottle. It has taken me a decade to finish this bottle. It only makes an appearance when there is an overly eager uninitiated scotch drinker in the group that needs a wide flavor palate experience. Would not buy again.
Not as flavorful as the 10, but definitely more kick.
My second laphroaig and it is amazing, once you get past the strong nose is is fantastic
Too peaty
Fantastic. A hint more subtle than the standard Laphroaig, and just extremely sippable -- with small sips.
Great taste love the peat however the 10 year has more of a peaty taste and is a little less so far the 10 is my favorite but looking forward to try other Laphroaig products because I'm a believer
King of Peat
Taste like licking an old ashtray
It was love at first pour. Had it at a scotch house in Seattle during a friends bachelor party. This is a wonderfully rounded Laphroaig. Sweet and smoky. Grab a bottle ASAP.
Super smoke. Love it.
Lovely
Campfire and peaty. Bite that lasts
A delicious bottle of Laphroaig. Nice smooth peat. While great, not sure if it's really worth the extra cash over the regular 10yr.
Give me the peat! Give me the smoke! This is the scotch that won me over and brought me from dabbling in scotch to going head first on a life quest to explore what kind of earthy / smokey flavors I could uncover. Though I'm mostly and Islay guy, it has been the anchor to branch out and try other flavors beyond just the smoke.
This kicked my butt but i am a whiskey masochist so it gets 6 stars. Need to drink more Laphroaig and Ardbed to get used to this. Hopefully I will want to up the stars the next time I have it.
I usually like Laphroaig, but this one was odd: I consistently needed to have a sip of another whisky first to really taste the subtleties in this dram. Once I did, they were certainly there, and a few drops of water helped to open things up as well, but I'd definitely favor Laphroaig's 10YO expression over this one.
Peaty (very) very nice. Benefits from whiskey stones. I think it would be nice with a strong cheese
Great
good balance between the smoky and peaty flavors.
Peated whisky is a taste I'm still acquiring. Laphroaig Quarter Cask is the first that I truly enjoyed drinking. Had I tried this one first, I don't think I would have held peat in aversion as long as I did. The salty, smokiness is something I've come to crave. (And as one who likes to cook with my booze as well as drink it, Laphroaig Quarter Cask makes for a damned fine butterscotch sauce!)
Love the Quarter Cask...it's got similar notes of the 10 year but a few subtle differences that I enjoy. For those who are purest and only drink neat or with ice I'd highly suggest trying the most smokey and peat filled single malts that Islay has to offer with an old school highball shot of soda water on ice...the smokey aroma and flavor are softened but still forward and makes it session drinkable!
Something like drinking a campfire with a salty and peppery steak, with flambé bananas in the finish.
Delicious whisky. Higher proof than regular 10.
Not too bad, either. A nice dram with some sweet notes in the finish.
A bit smokier than my personal liking but still something to look forward to on a wintry evening. Lovely finish
Tastes like a camp fire.
I absolutely love the smoke and peaty notes. This is one my favorites and a "go to" always stocked in the house.
It's my favourite ever.
I am a huge fan of the smoky and peaty tastes. I love the peppery finish on this one.
What is the word for this flavor? Acrid? Caustic? The smoky, peat-laden flavors are the first on the palate. Mmmmm, what a tasty sip. Unfortunately, there is an almost immediate blast from, i'm assuming, a battery spill into the cask. Not for me...
This is it! My true love in the form of liquid. I love experiencing other spirits but always say I would rather have Laphroaig. Smoke finished with vanilla sweetness is the beginning, then on your next few sips explore the complex other flavors. I can spend 30 minutes with one dram.
True peat!
Too Smokey for me.
Smell is full of smoke and peat, the smell is like a damp mossy forest with a babbling brook. Taste is sweet with spice and slight vanilla. after taste is long smoke with even longer spice. Mixed it with a splash of water did not care for the taste after that... enjoy this one neat only in my opinion! Worth the money all day I will reorder and keep this one stocked!
Like drinking peat. With your granddad.
Naice peat nose. Smoky taste with a nice long and dry finish
A wonderful, peaty scotch
Very rich flavor with a lot of peet
Very spice forward and lasting. Incredible nose. For people who really love their Islays
If you are drinking this, you already have a taste for smokey and peaty whisky. From that context, this is a wonderful glass. I enjoyed the initial taste of smoked, slightly burnt, pork ribs that transitioned to a nice spicy oak finish. One of my favorites in this price point.
Wonderful flavor! A campfire is always a memory away with this one!
Nasty kick to it
Very, very strong but in a great way. Extremely smokey and a good kick.
Next up from select / 10 year old and definitely bolder and after taste left much stronger. I like it!!
Definitely unique compared to the standard 10 Year, and only slightly less smooth than Lagavulin (my personal favorite). I have all kinds of love for Islay Scotch and will absolutely be savoring this one with my English blend pipe tobaccos for a smoky, peaky, fire-y, oaky heaven-like experience.
Rich and deep. Compared to Laphroaig 10, the aroma is lighter and sweeter with a bit of sea spray, and the flavor has more oak than peat. Very enjoyable.
Smokey goodness with a hint of the sea.
Smokey peaty lovelyness. Reminds me of the lox on my bagels
Sweeter than Laphroaig 10. Less smokey. More oak. Delicate version of 10 with more alcohol... maybe I like it better... oh and some water opens it so it is even better. Yeah it wins with 10yo.
Very smokey, warm and rich. Also excellent when feeling under the weather.
A bit of an anise liquorice flavor, but the scent is to die for. So wonderfully smokey.
Too smoky for my taste
Very good Islay. Lighter bodied/not as intense as others I've tried from this region but overall a decent scotch. Wish it was more complex.
So far I think this is my favorite scotch!!!!
Solid tasting with a bite.
Smoky and smooth in one. I'm used to drinking Lagavulin or The Macallan but this is a different taste entirely
Strong, peaty, well-balanced
The best. Very peaty. Lots of wood. Medicinal.
very smoky, heavy peat. very complex flavors, with a long finish. Love this one!
A wonderful complex smokey flavour
Very smoky
The smoke and peat will punch you in the throat, and that's a good thing! Absolutely loved my first dram, and first experience, of Laphroaig.
Far better than the Laphroaig 10, and maybe $10 more. Considering the Quarter Cask is 5% more ABV, and non-chill filtered, it's a no-brainer. Much better quality, and much more nuance for little more money than the 10. A great bargain, as is the 10 Cask Strength.
I love peaty scotch and this fits that notch. If you like your drams smokey, peaty, with lots of finish this is for you. As and added bonus Laphroaig gives you the honorary ownership of 1 square foot of the land that produces this awesome drink.
Smokey with a light sweetness
Must add a couple drops of water
Smokey, nice nose
Love this peaty scotch
I thought it was a lovely smooth drink with lovely peaty after taste.
If you don't like scotch or peated bourbon you will hate this. If you love the smokey taste like me you are in for a treat. Upon opening the bottle the smell of peat and smoke fills the room. It's like you have been smoking some meat all day and that beautiful smell is lingering and you never want it to cease. When it hits your tongue you get the taste of smoke, peat, and a nutty toffee flavor. The smoke almost over powers everything but you can still get the hints of toffee. You can definitely taste oak after the initial smoke and there is a sweetness to it that I can't put my finger on but lasts throughout. Take a second and third sip the smoke isn't as overpowering and you can get more of the toffee tatse. It leaves you with a smokey after tatse that you wish would stay forever. Great scotch!
I just love Laphroaig,but this one is superior. Islay whisky at its best
I am not a fan of the regular Laphroaig, but the Quarter Cask is great. All the Islay character, but a bit more mellow and smooth. I would recommend this to anyone who prefers Highland Scotch that is interested in exploring Islay.
This is one of my favorite Islays. Distinct smoky and peaty flavor.
Laphroaig Quarter Cask is one of my favorite single malts. I prefer smoky/peaty/spicy whiskys and this one has an added bonus of being a stronger alcohol than most.
Bout as close to a perfect 10 as I have experienced for an Islay - this is a full bore islay NOT for the faint of heart or "new" scotch drinker
This bottle has been my GO TO when I am in the mood for an Islay with some smooth flavor. The combination of using a Quarter Cask with an Islay means that you get the classic task of an Islay with the flavor of a more mature aging.
Nose: Smoky, a little bit pure alcohol Palate: Caramel / Wood Finish: Medium-low strong, smoky
Rich and smoky, almost a meaty flavor to it, smacking of bacon and capers.
Smoky and peat at first, after few minutes sweat and smooth love the combination! Finish long and sweet with touch of smoke. This NAS is much better then 10 year old in my opinion.
Smoky and intense in the best way
Very nice. Complex. Definitely needs a little water. Stiff, bold and strong.
BAM! You almost get knocked out with the smoke and peat, but you get used to it, and start tasting other parts of it. Well worth the price.
Very oily, smoky and sweet, and kind of hot - not exactly spicy. Love it.
Taste better with a little bit water
You can tell it's a Laphroaig product, but lacks the character of the 10 year.
Lovely, challenging Islay with great depth of smoke and peat.
Good
Peaty, oak woody
reminiscent of the smells and tastes of chemicals used to clean chicken houses back in the day.
Favorite Laphroaig so far! Smoky, sweet, and oaky. Great combination.
Has a band aid taste but very smooth!
Really, really long finish. Definitely pick up nose of banana and cinnamon and smoky and peppery to the palette
A wonderfully peaty dram, my first favorite of the Laphroaig profile. Going off memory, I remember it being a sherried yet woodsy dram. Quite full and rich yet not as overpowering as the cask strength 10 year old. A bit young, but the peat is stronger at more youthful expressions. A top notch whisky.
Bloody awesome!!
Not my favorite Laphroig, but a solid and tasty dram none the less. Recommend if you don't want to go for the triple wood.
Strong choice. I've been told this tastes 'medicinal'. Not sure I understand this but regardless, it's peated and excellent.
Epic!
Delicious
Extremely smooth and drinkable.
Sweet start, strong finish.
It's yummy
Nice, but a bit smokey for me.
Nice smokey nose but for me to strong of a flavor
Strong Stockholm tar reminder
Very strong peat combined with the richness of the wood flavor
Laphroaig Quater Cast is aged approx. 8 years. IMO it tastes far better than Laphroaig 10 Years Old. It's peaty and smokey with hints of sweetness and oak. For 48% vol. it's suprisingly mild.
Delicious, like a crunchy piece of oak.
I think the world of this one
I'm a vulin fan when it comes to peats, just wish it was smoother...
A great islay whisky!
Rauchig phenolisch charaktervoll
Salty, smoke for days, peaty nose. Tobacco, medicine like, slight mouth coating.
Great but a bit too sweet and mellow
If you like peat, brine, and smoke. Then this is the malt for you.
Seriously smokey!!!
The full complement of genius in an Islay malt -- oaked and salted peat smoke with a little cereal grain and vanilla that add to the layers. An easy go-to every time!
Smoky and delicious - a summer campfire for your tastebuds
Load more reviews
Back
A Dram for Your Thoughts
Cancel