Bunnahabhain Distillery
Distillery
Founded in 1881
Bunnahabhain sits northeast of the island of Islay, where the Jura peninsula reaches out to meet it, across the Sound of Islay.

Where most distilleries write paragraphs about the smallest historical detail, Bunnahabhain doesn't talk much about their past. We know that the distillery was founded by William Robertson, and brothers James and William Greenless in 1881, near Port Askaig.

"Bunnahabhain" translates as "river's mouth" and that makes sense. The facility sits just a few steps away from the spot where the small Margadale River, empties into the Sound of Islay. The distillery has been mothballed and reopened several times since then, and was at one point slowed to producing only a few weeks per year.

Quality suffered for decades too, until the Distell Group, who owned the Bunnahabbain distillery, put things under the direct control of master distiller Ian MacMillan. Under Ian's guidance, Bunnahabhain has transformed itself back into a quality-focused distillery.

Nasty things like chill-filtering, and artificial coloring became taboo, and the historic quality returned to the brand once again. Bunnahabhain is a classic, lightly peated single malt in the Islay style. Of course this means that it is a smoky, peaty man's drink in all the best ways which such words can be applied.

Interestingly, of the 2.4 million liters of production, only 21,000 casks are kept at the local rickhouses for maturation into their signature single malts, and their famous "Black Bottle Blend," -- a blended Scotch that contains Whisky from all of the distilleries on Islay. The Black Bottle brand is owned by Bunnahabhain. All the rest is sold to other blends across Scotland.
Flavor Spiral™
About The Flavor Spiral
What does Bunnahabhain taste like?

The Flavor Spiral™ shows the most common flavours that you'll taste in Bunnahabhain Scotch. It's based on all Bunnahabhain drinks in our large database and gives you a chance to taste Bunnahabhain before actually tasting it.

We invented Flavor Spiral™ here at Flaviar to get all your senses involved in tasting drinks and, frankly, because we think that classic tasting notes are boring.
Distillery Details
Country

Region

Established

Owner

Type

Number of stills

Visitor center

Status

Address

Bunnahabhain Distillery, Port Askaig, Isle of Islay PA46 7RP, United Kingdom

Phone

Website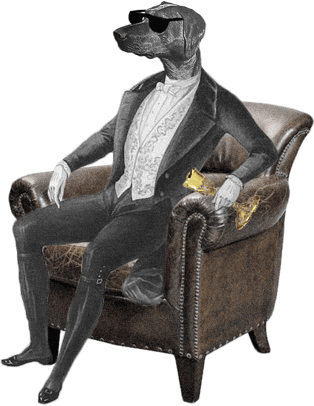 Dog Dogson's
Smartass
Corner
In 2012, a batch of old ledger books from the early 1960s were found in storage. Looking over the entries out of curiosity, one of the cellar-masters noticed an entry that he did not recognize, giving a storage location.

Investigating -- and to the surprise and thrill of everyone -- they found a single cask of Whisky in storage that no one knew about. It was now aged a full 40 years.

It yielded 750 bottles, to the delight of fans and collectors around the world, with a special presentation box and artwork to celebrate. This is one of our favorite stories of all the distilleries we have surveyed.
About
Islay
Islay - Home to the peated beasts.
The southernmost island of the Southern Hebrides is is the
fifth-largest Scottish island
. Whisky-wise,
Islay
is characterised by malts that are pungent with peat, smoke and salinity, revealing their complexity layer after layer. There are
eight working distilleries on Islay
.
Even the island's name is shrouded in complexity; the proper
pronunciation of Islay
is 'eye-la'.
Video transcription
Horst: Hello and welcome to Whisky.com where fine spirits meet. Behind me is the Bunnahabhain distillery and we are at the northeast end of Islay. It's very remote here and the distillery was established in 1881 which is a long time ago. Just recently in 2011 the distillery changed it products to products that are non-chill filtered and are not colored. That's what we're going to find out, how the Bunnahabhain is made today.

This here is the malt mill. It's a Prometheus malt mill from Leeds, very old one. It's still running very well. Bunnahabhain has only a few peated Whiskies so most of the time in the year they run with unpeated malts. During four weeks of the year they run with peated malt and they switch the whole production to peated malt and the whole distillery then smells differently.

In 1960 the distillery changed from the blend industry, which was very popular back in the days, to the more sophisticated, more premium single malt Whisky they produce today. Behind me is the huge mash tun of Bunnahabhain. It's from the 1960s when they changed their equipment and their style from blend to single malt.

Down, its steel and the top, you have a copper lead so you don't waste too much energy. It takes about 15,000 kilograms to fill up the mash tun. So you have four washings which two of them will recycle the water so the last two runs, the water doesn't contain that much sugar and starch, so they use it for the first washing to get a really good wash with much sugar for the fermentation.

I'm here at the washbacks of Bunnahabhain. Bunnahabhain has six washbacks. They are all made of Oregon pine and have a capacity of 100,000 liters. 66,000 liters are filled with the wort and then you add a bit of yeast and water to liquefy the yeast and then rest of the washback is empty so the foam can form and it's then crushed by these turning blades so the washback doesn't boil over. After 68 hours, we have a ready-made wash with about 7% alcohol. This is very long and then afterwards it is used for the distillation.

Behind me are the stills of Bunnahabhain. Bunnahabhain has two wash stills, both have a capacity of 35,300 liters. One washback has 66,000 liters wash and they divide it up into the two wash stills, but if you would divide them up into the two wash stills, the wash stills would be nearly full so they take about half of the wash, fill it into the stills so the wash still doesn't boil over. They are very pear-shaped and pretty big in size. That's quite unusual. It makes the Bunnahabhain unique.

The spirit still is a bit smaller. They have a capacity of 15,500 liters and they are also really pear-shaped and tall. Don't be fooled by this brown look. It is copper but Bunnahabhain chooses not to polish their stills, so the copper has a catalytic reaction and that's what makes the Whisky so smooth and drinkable that we know it.

After the spirit has been distilled, you dilute it down to barreling strength and this building is here to fill the spirit into the barrels. The barrels are rolled onto these [?] skis here then you plug in the filler and the filler automatically fills up the cask then you bound it, roll it to the other side, and it's off to the warehouse. Occasionally you have a cask that may have some leakage, so the people repair it here on-site that we don't have too much spirit lost during the maturation.

I'm in one of the newest warehouses of Bunnahabhain. If you look around them, these sites look a little bit familiar and that's because this used to be the malting floors. Bunnahabhain has enforced all the pillars with new beams and made it stronger so they can use the floors again as warehouses. If you look around this is a new warehouse. All the spirits are about two years old, and you see a lot of sherry casks, and that's a great look out for the bottlings to come because we have a lot of great Sherry casks coming straight from Spain. Bunnahabhain has about 24,000 casks on-site in nine warehouses. So I'm here with David Brodie and your tour guide here. You can answer me some question about the distilleries.

David: I hopefully can.

Horst: First of all, thank you for having us here.

David: Pleasure. Horst: So what are we having today?

David: We'll be tasting some of our core range. We'll be trying first of all our 12-year-old which will be known far and wide, I would hope, to most of your audience. We'll follow that up with a taste of our 18-year-old. It's along similar veins to the 12-year-old. Take it on a little bit further, we'll move on to our peated range initially with one of the first Whiskies in the peated range which is the Toiteach, and we'll be finishing off with the most recent addition to the peated range which is the Ceobanach.

Horst: Hard to pronounce but hopefully good. Let's dive right in with the 12-year-old.

David: Certainly. Now the 12-year-old is probably the Whisky that will be best known to him who knows Bunnahabhain distillery. Officially, an unpeated Whisky, although if you get scientific this may be half a part, two parts per million in the peating level. Strength wise 46.3% proof and it's a combination of Bourbon cask and Sherry cask Whisky.

Horst: You just changed recently to unchill filtered and uncolored.

David: About three or four years ago, we took a decision that chill filtering was going to be a thing of the past for Bunnahabhain Whisky. So you'll never see a little bit of caramel in a glass ever again coming from us. As a result of taking away the chill filtering process, it was necessary to increase the strength of our Whisky slightly. So you'll no longer see our Whisky any less than 46% proof coming out of Bunnahabhain, and this one sits at 46.3%. As I said 75% modern cask Whisky, 25% Sherry cask Whisky. So you get those lovely, dark colors coming through from the Sherry cask. On the flavor, yeah, you're going to get your typical Bourbon cask notes, you're going to get your oaky vanillas, your citrus fruits but you're going to get the darker sweeter notes of the Sherry cask Whisky coming through as well. A beautiful, beautiful Whisky.

Horst: Yeah, sweetness, got a bit of a citric maybe and some lemon but also sweetness, bit of that Bourbon style, a little vanilla, a little caramel. Very light.

David: Very easy drinking.

Horst: Wouldn't have expected that from that kind of still but very light and gentle. David: It's a wonderful Whisky for introducing people to malt Whisky.

Horst: Yeah, it's a bit unusual for Islay Whisky but I like it. I really like it. So there's one question that I found up early when I planned the tour. I was looking at the map and I saw Bunnahabhain Distillery and Bunnahabhainn Bane. They still spell differently. Is there a reason behind that?

David: The reason behind that is a little bit historic. It harks right back to the days when the maps were first printed by the owners of the company and they printed the spelling of Bunnahabhain with the two "Ns" at the end. However our name is most certainly Bunnahabhain with only one "N" at the end. Despite arguing with the owners of the company they've never changed it.

Horst: So they spell it with two "Ns" and you spell it with one "N." So it's a spelling mistake.

David: Correct. Yes. It's our village so we should know how to spell it.

Horst: Okay. So 18-year-old.

David: 18-year-old is a natural progression. It's the next part of our cool range of unpeated Whiskies.

Horst: That's dark.

David: I describe it as being the same as the 12, only more because you've got the advantage of those extra years of maturation taking us up to 18-year-old, but the percentage has changed slightly. We are now talking 60% Bourbon cask and 40% Sherry cask Whisky. So you're getting even darker colors and an even bigger influence from the sherry cask.

Horst: Oh yeah, it's more with, I would say, grapy fruits. You really see the Sherry influence.

David: The darker fruits.

Horst: So when you do, say 40% Sherry, do you do it time-wise, like first you barrel the Bourbon then you barrel the Sherry or do you do a marriage of casks?

David: It's a marriage. It's a vatting. It's not a finish. We take a percentage of casks and a percentage of Sherry casks and they're combined.

Horst: Oh, I really like that. It's stronger than the Sherry but there's something in there. There's some complexity I can't really dig through yet. It fades out quite nicely.

David: Very ripe. Lovely.

Horst: So one question, a few years you've been bought by another company. Does it have any effect on, let's say, products or production or anything at all?

David: Our ultimate [inaudible 00:12:14] rests with a company called Distell who are based in South Africa but who are big players in the European market. At this point in time, no, they're not having a huge influence on our products. Our products are still largely dictated by our master distiller who is responsible for our sales and for our two sister distilleries at Tobermory and Deanston.

Horst: Oh, okay, so they just provide the company background and have all the companies work together but, say, you do your products [inaudible 00:12:56].

David: Effectively that's the basis that we're all on.

Horst: Nice way to work. Okay, so we're getting into the peated range now.

David: Yes, let's move on to the peated range. The first one that I'm going to pour for you has been really one of the cornerstones of our peated range.

Horst: How did you pronounce it?

David: This is called Toiteach.

Horst: Toiteach.

David: Toiteach, yeah.

David: How about its meaning?

David: Toiteach is Gaelic, funnily enough and it is Gaelic for "smoky."

Horst: Smoky.

David: The emphasis here is on the smoky elements of the flavor. You see it's a much lighter color, all Bourbon cask.

Horst: All Bourbon cask?

David: All Bourbon cask. Although there's no age statement on the bottle, we're talking largely 8, 9-year-old Whisky as a minimum, and the idea really is, as I said, the emphasis being on the smoky aspects of the flavor. From my own point of view, if you're talking about the smokiness in a Whisky, it's the initial burst of the flavor. For peatiness, if you're talking about peatiness, again I can only speak personally but for me the peatiness tends to that lingering flavor perhaps down the sides of the tongue.

David: So quite sharp, quite active at the start.

Horst: I'm not sure what it is, if it's maybe a bit of the alcohol. Were you looking at 46 again?

David: 46, exactly.

Horst: There's like a curve of smokiness. It rises a bit and now it's fading out and got a bit of different flavors in there. Not quite sure what it is. Maybe a bit of slight honey. Okay, this I would estimate it at 20, 30. How much ppm are we looking at?

David: We're only talking 10 parts per million.

Horst: 10 parts per million? Strong for 10.

David: 10 parts per million but it punches above its weight. For only being 10 ppm, there's a good kick there.

Horst: Also depends on how it's been distilled, how hard the ppm is coming through. Great stuff, great stuff. And the last one, is that different to this?

David: The last one is a little bit different. It's similar in so much as we're still talking all Bourbon cask Whisky. This is called Ceobanach and the Ceobanach joined our peated range almost exactly a year ago, and this is the first batch that we're pouring although the second batch has just been released in the last week or so.

This is as peaty as we do. This is 35 parts per million. Although again, we have no age statement on the bottle, this is our first ten-year-old peated Whisky from Bunnahabhain. First time we've released a ten-year-old peated. Same strength as our 12 and our 18, 46.3% proof and much more typical of what people might expect from an Islay malt. If somebody was to to say, "What's an Islay malt Whisky going to be like?", immediately people think it's going to be peaty and it's going to be smoky. This is all these things, but it's made in the same way as our 12 and our 18. It's made in our big tall stills and it's still a light mellow spirit. It's not a heavy oily spirit. It's still an easy drinking Whisky although you're getting the peat and you're getting the smoke.

Horst: So what I get from that, it should be a bit older and a bit more heavy on the wood.

David: Yeah, it's quite a filled drum. You know there's a lot to it but it's not hard work at all.

Horst: It's great for maturing Whisky in here. It's still a bit cold. I would say it's a bit more intense than the other one.

David: Yeah, it's more lingering.

Horst: More the wood flavors I would say. So can we expect more on the peaty range in the future? Is that up in any plans?

David: It's still comparatively the small part of what we do, but we would be crazy not to provide it...

Horst: Yeah, I like it.

David: To the peated Whisky fans, and we do it well, so I think you'll see more and more of it.

Horst: Yeah, we'll keep our eyes and everything open to find it. So thank you very much for having us here at Islay.

David: Absolute pleasure.

Horst: Thanks everybody for watching. If you found this video interesting, and you have some friends who might also like to see this video, then please feel free to share this video with your friends, and thank you for watching.