Price, Shipping & Taxes may vary by state and will be recalculated at checkout.
Authenticity Guaranteed
We guarantee every product we sell is authentic.
Free Shipping
Flaviar Members get free shipping on their orders.
Buyer Protection
Money-back guarantee if things go wrong.
The Bourbon that's been making history for more than two-hundred years.

There has been distilling on the Woodford Reserve Distillery site for more than 235 years, making it the oldest Bourbon distillery in Kentucky. Now owned by Brown-Forman — one of America's largest wine and spirits companies — it has been refitted and set to expand. Since the beginning, the folks at Woodford have been influential in the development and codifying of Bourbon production. In short, they helped invent the spirit as we know and love it today.

We do not have enough room here to list all the awards and accolades. People just LOVE Woodford Reserve Bourbon. We do too. But let's be perfectly clear… there are definitely some higher end Bourbons out there. Heck, Woodford has a few top-end offerings that are wonderful. But when it comes to that magic combination of producing a high-quality Whiskey that consistently tastes great, has superior mouth-feel and texture, smells like the tears of angels, AND is affordable to most folks as a daily dram… Woodford Reserve is hard to beat.

Smartass Corner:
Woodford Reserve Distillery is named after the county where it's located. But two-hundred odd years ago, founder Elijah Pepper named the distillery after his son, calling it the Oscar Pepper Distillery.
Category

Style

Region

Country

Alcohol

Distillery

Age

Chill Filtered?

Maturation

American White Oak Barrel
Flavor Spiral™
About The Flavor Spiral
What does Woodford Reserve Kentucky Straight Bourbon Whiskey taste like?

The Flavor Spiral™ shows the most common flavors that you'll taste in Woodford Reserve Kentucky Straight Bourbon Whiskey and gives you a chance to have a taste of it before actually tasting it.

We invented Flavor Spiral™ here at Flaviar to get all your senses involved in tasting drinks and, frankly, because we think that classic tasting notes are boring.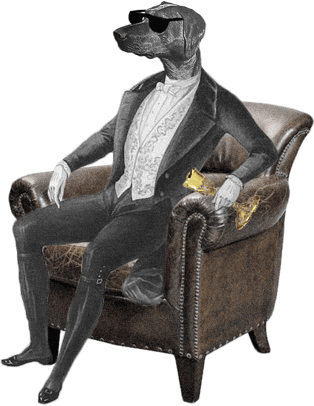 Dog Dogson's
Smartass
Corner
The temperatures of American warehouses are much higher, so the pace of maturation is much quicker for Bourbons than for Scotch Whiskies
Tasting Notes
Appearance / Color
Dark Amber

Nose / Aroma / Smell
Dried cherries, candies oranges, mint, vanilla, pipe tobacco.

Flavor / Taste / Palate
Rich and thick with the classics — toffee, caramel chocolate, baking spices, and orange zest.

Finish
Creamy with a lingering warmth.
More drinks we think you'll like
Ratings & Reviews
Great flavor!! Mixes well and can not so strong you can't just add ice.
Woodford Reserve is currently my favorite whiskey. It's bold, sweet, and pairs perfectly with an old fashioned.
Excellent flavor.
too grassy
Love it. Balanced.
One of my favorites to drink
A bit harsh, but perhaps my taste buds are not yet sophisticated enough to appreciate it.
Nose strong cherry followed by vanilla and sweet candy toffee
Overall a good whiskey, but does not have a lot of diversity. On the nose it has some vanilla and oak, with a bit of alcohol. On the palate it is sweet initially, with a slight burn developing and a little oak finish. The finish is short to medium. Great for mint juleps.
Definite notes of caramel. Great character. good bourbon to drink on the rocks even with a splash of water.
A favorite, for sure. A staple in any man's home bar. A warm taste of oak and satisfaction. Pairs great with Maduro cigars. Tasty.
One of my favorite bourbons
Another fine sipping bourbon
I really wanted to like it, but the only flavor I get is the pepper.
Smooth, Sweet, No Fire. Love it.
Sweet, fruity
Solid value bourbon. Smooth with great flavor. Belong in your bar at all times.
Smooth and sweet with a hint of mint.
Love it! Smooth, Carmel notes, the perfect bourbon
Nice color, dark brown. Shows it's a little aged. Sweet on the nose. Definitely picked up the Carmel. Smooth going down, but had a hard time picking up many of the other notes. So it was okay for me.
The smell is exceptional with a sweet aroma that has a hint of tobacco. Not really a tobacco fan, but it enhances the smell. Smooth with the American whisky lingering taste. Yum yum give me some!
The go to.
Smooth and buttery
good and easy to drink. nice and caramelly
My favorite bourbon to date. Really enjoy the peppery finish.
Though I prefer Scotch, this is a very drinkable bourbon. The sweetness complemented by a little spice is quite nice. Makes me want to see what else is out there in the bourbon world.
Easy to drink...old fashioned or neat. Always in the bar. Bit of a bite on the finish. Overall, tasty
My go to bourbon.
I know I know, this is a favorite to many, just not me. A woody bitterness overcame any flavors. I also feel it is slightly over priced. Can't win'em all.
Great daily drinker
My favorite bourbon. Classy, smooth, as good as some versions of Pappy I've had.
Love it! My go to whiskey especially for the price
Great corn whiskey with a smokey component. Great in a Manhattan.
Smooth with a warm finish a great cold night sitting by the fire with friends bourbon.
Easy to drink
One of the most underrated bottles out there. Top shelf quality, with a mid shelf price.
Delicious everyday bourbon.
This is my go-to bourbon. It's just as happy in a cocktail, esp. an old fashioned or Manhattan, as neat. Heavy on the caramel and toffee notes balanced well with stonefruit and citrus notes with a moderately spicy and tobacco finish.
Still my favorite and always affordable.
Dependable, deep flavor, pleasant nose and color.
As well as being very good on it's own this is my go to for making an Old Fashioned. I make mine with a cherry added and this pairs incredibly well.
Very hard to beat for the money. One of the best in this price range.
I think for the price, this is one of my favorites. something fruity like pear/apple and cherry, caramel sweet and smooth. Not too much Spice. Nice finish, just wish it lasted a little longer.
family fav
There is always a bottle of Woodford in my house. My choice whiskey for old fashions, manhattans and straight.
Very smooth....
Standard Bouron
Pure American Whiskey! Perfect Manhattan
My daily sipping bourbon. Always hits the spot.
Always have this on hand. I love it and most of my guests really enjoy it. A wonderful social drink.
Good stuff.
My stock bourbon. Love it
My go to whiskey.
Smooth and nice flavor
Great bourbon, but honestly was expecting more considering all the hype it gets. Had it back-to-back with Makers Mark, and Makers was more complex with a smoother finish.
Will always be my favorite and go-to. Nice finish. Complex, but easy to enjoy.
Smooth and enjoyable. Sip with a little ice and it is very nice!
Woodford reserve is my go-to bourbon. It is my standard for a "good bourbon whiskey." I add a splash of water to it to reduce some of the burn on my throat. I find it mixes very well if I am in the mood for a whiskey cocktail, like a Manhattan for example.
Smooth, gentle, no after task, a pleasure to sip or mix.
The nose: caramel, cherries and some leather. Taste: nice caramel taste with sweet spice Finish: sweeter with a little vanilla Overall: I love it, great for the price, everyday drinker ...I prefer mine with one ice cube ( but I do most) I just think it opens up most bourbon
Classic bourbon notes. Cherry, caramel, and wood spice with nice rounded edges. It's dangerously easy to drink.
Real good smooth drinker. Just nice to drink. Not much more to say.
Excellent go to bourbon to relax at night.
I'm definitely in the minority when it comes to WR. Tried it on 2 separate occasions and just did not care for it at all.
Good, nothing exceptional
Really smooth bourbon. Easy drinking.
One of my favorites. A very simple rye whisky. Nothing too fancy but always enjoyable. Good for a daily dram.
Standard
Very smooth without a spicey after flavor.
It is a very good, intense, Kentucky Straight Bourbon Whiskey that has an aromatic birth; while a rich & balanced life; that leads to a long & creamy death.
A bigger taste than Makers but nothing exceptional.
Strong orange on the nose and tongue. One of my favorite bourbons
Warmish. Smooth
Readily available go to
One of my regular go-to's for the home bar, inexpensive and readily available. The orange zest is a nice change that I don't typically find in the bottles I buy.
Oak char
A very easy to drink, simple whiskey that is sweet and has a deep flavor.
Goes down smooth but has great flavor profile.
Flavorful, consistent and all around good mid-level bourbon. Slightly sweet & spicy finish.
Great spice, pretty smooth, medium finish
Always delivers.
Absolutely fantastic. Whether you're looking for mixed on just on the rocks this whiskey will always impress the palate.
Damn good
Fantastic in every form. This is my absolute go to bourbon for making an Old Fashioned, however it sips just as nice.
When I can splurge on it, Its gone before it sits on the shelf for long. Its absolutely worth your time.
Definitely up there in my "Great" spirit listings.
Smooth and sweet finish... me likey
A personal favourite straight or in cocktails. Full on cherry bakewell aromas of vanilla, marzipan and cherries. Toffee and caramel flavours with a chocolatey finish.
A personal favourite straight or in cocktails. Full on cherry bakewell aromas of vanilla, marzipan and cherries. Toffee and caramel flavours with a chocolatey finish.
Nice nose and good finish
One of our 'must haves' to have stocked. Great straight, on ice and good for old fashions.
Delicious and smooth enough to drink straight
Local store pick cherry bomb with vanilla and traces of oak. Simple with an abbreviated finish
Smooth, prefer to mix it with ginger ale.
It's good but it gives me a headache.
Warming but not a big burner. Well-rounded flavor, with charred notes and caramel coming through.
I would drink this everyday. Affordable, tasty, classic.
This is my standard go-to
Decent whiskey. A little thin in the mouth, but the flavors abound. Vanilla, citrus, caramel, some oak, pepper. Worth a try.
great!!!!!!!!!!!!love it neat!!!
Solid bourbon good for everyday drinking. Preferred bourbon for an Old Fashion
Good for the price.
Great everyday drinking whiskey for the money.
A class act for bourbon may not be as good as it once was
My go to summer time whiskey, the colder the whiskey, the more flavors turn out
One of the best bourbons for the price. Mix or neat
Oaky with a burn. Subtle black cherry taste on the finish.
Solid sipping whiskey for a low price point. Some caramel notes up front with very little burn.
Very smooth and easy to sip neat. Outstanding.
Very good, classic, readily available bourbon with a good taste. My go-to.
love the caramel and slight sweetness
Great solid bourbon for the price
Apart from strong caramel taste, cherry could be sensed on nose and tongue. Strong pepper finish.
Amazing
My first introduction to bourbon and I love it.
At first, I was getting caramel and a hint of chocolate then it changed to black pepper after a few seconds. The best part comes second if you can hang on until be burn passes. I could taste black cherry. It reminded me of a Sam Adam's Cherry Wheat. The aftertaste was slightly minty, very nicely rounded it out. Great bourbon!
Great drink, one of my favorites
Great flavor and aroma. A true bourbon. Not a bourbon for those just getting into the bourbon scene.
Oaky but too hot
I like it but I use it as a counter taste to Bulleit. It's about the spiciest bourbon I drink. I'd have a hard time making it my regular. But when I need a tasty zing, I go with Woodford. Also my absolute favorite distillery to tour. It's just stunning.
Smooth and tasty
This is my utmost favorite bourbon. The flavor profile is one of the finest I've had
Been drinking Woodford for over 10 years. Just simply my favorite. That's all I can say!!
Classic. A bit spicy from a high rye mash. Not exceptional but no apology needed!
It was good. Been a while since I drank this, but I remember thinking "This is OK."
Wanted to try a 'classic' , found it to be middle of the road. May try the double oak next time.
This is my go-to bourbon. It's smooth with sweet caramel, cranberry, and tobacco hints. Classic taste. This is a must have for bourbon lovers!
Wow! That's good bourbon. really liked it on the rocks. sweet at the start. a bit of spice at the end. warm. my new favorite
Sweet smell . Great taste. Will buy again.
A standard of v.g.
Pretty good go to
My staple whiskey!
My go to for a slightly higher bar bourbon. I know it's not the highest quality, but I like it.
Good enough to drink, not my favorite but not too bad .
This is a great tasting bourbon. Awesome taste.
When someone says "let's have some bourbon" the flavor that comes to mind is this flavor. It is a delicious bourbon in the most traditional sense. Great drink
Super solid , go-to bourbon.
Classic example of good, smooth bourbon. The best for beginners and aficionados alike. Also the only bourbon my wife will drink neat.
a nice simple bourbon ,a definate go to.
First time trying this as part of a tasting box. Overall very good. Smokey Caramel taste on the front side little bit of a peppery bite after. Very smooth.
Very smooth butterscotch on the taste. Loved it for easy sipping.
This is exactly what I expect from a classic Bourbon. Perfect blend of oak, spice, vanilla, toasted sugar, caramel and a hint of burnt marshmallow. Medium finish with lingering oakiness that almost tastes like you have a barrel stave on your tongue. This could easily be one of my daily sippers.
I purchased this as a Christmas gift for my stepdad. He was over the moon happy to open it this year! Thanks for making him smile!!
My "go-to" everyday bourbon. Always smooth and enjoyable.
One of the best pound for pound bourbon choices you can get.
Love it...
Solid choice straight up or fir a Manhattan. I love the citrus I get toward the finish.
Good. Everyday bourbon
The go-to every day sipping Bourbon. Woodford is a very smooth Bourbon that is very flavorful. The tour of the Woodford Distillery is one of the best !
Like it
Eminently drinkable. Just an easy go-to if you're at a place with no interesting options. It's almost always around and it doesn't taste bad. Smooth. It's the Basic B$%& of bourbon. And it's helped me through a lot of long Delta flights!
Okay. A little hot feeling
Huhhhoo
Great taste alone or on ice.
Wonderful, full, seemingly complex dram. The cognac of bourbons. Really rich, and was very popular at my last blind tasting with five other friends. Great value.
Love it. My favorite. Well balanced, slightly sweet caramel finish.
Favorite Bourbon by far!
My go to every time.
A decent bourbon.
This is my go-to bourbon. Surprisingly balanced and never disappoints. Works well straight or on the rocks. Always stocked and serves as my end of the day bourbon.
My go-to everyday sipping Whiskey.
Good every day bourbon
My first bourbon, and one that I always go back to.
Good mid shelf bourdon
This is, by far, my favorite Kentucky Straight Bourbon. It is very smooth, with a notes of vanilla and a hint of spice.
One of my go-tos.
Solid bourbon.
Ok, vannila scent, strong after taste
Ok, vanilla scent, spicy after taste.
Smooth. Easy-drinking. A little sweet. Goes down almost too easily. Not a bad price for the quality. Definitely caramel notes. Maybe tobacco?
Very good straight. Good oaky taste
Very smooth.
Love it! Smooth an flavorful. Best yet!
New to bourbon and this one makes very good Old Fashioned cocktails!
i enjoy the menacing cherry smell, before it assaults my mouth with warm tingle and smooth mouth feel with just a little fire on the back end. All was consensual.
Perfect balance of vanilla and citrus... Just love and enjoy drinking this..
Very sweet (which I like for a bourbon) but also has a sharp and astringent smell.
Good bourbon. Standard, but solid.
Still my favorite!
Best i have ever tasted!!
My go to bourbon. I like others, but this is my favorite!!! Smokey and smooth.
The only bourbon I drink.
So smooth. My favorite . . . Lesser expensive bourbon. I can drink it all night.
Not a bad bourbon. Personally I prefer the double Oaked. I find this one isn't quite as smooth.
Tasty Whiskey, not too much wood flavor, Real smooth for Whiskey!
I think this is the most well known premium bourbon for a reason. Feels like I get the full flavor profile. Vanilla, orange, cherry. Maybe it is my experience with this bourbon, but it's the gold standard.
Very good smokey taste
This is my go-to drink. Straight. It never disappoints.
Very caramelly and zesty. Solid fun.
Outstanding!
peppery smell with a hint of sweet spice. When sipping it is a warm drink and smooth not enough smoke/oak for my liking, but the price makes up for that this is on to bring out when you have a bunch of "friends" over 6 star rating but since I do keep it stocked i give it a seven!
One of my favorites! Smooth with a great taste
My favorite for an Old Fashioned!
Wonderful bourbon! I'm still highly partial to WR Double Oaked... but this over an ice cube or neat is sipping joy. It is neither harsh nor complex. Smooth with just enough flavors to keep you coming back for more. I do recommend Double Oaked if you want something a bit more flavorful though. 👍
Hi
I believe this will be my new go to bourbon.
I've generally not been too impressed with Woodford. It's good bourbon but until this one none of them really stood out to me. Thought this was fairly smooth and sweet with a nice finish.
My favorite bourbon so far. Still developing the palate to understand why.
Classic bourbon. So smooth, but you do pay for the name.
My go to bourbon.
My everyday bourbon of choice.
Dark Amber/ Red color with medium thick and slow tears. The nose is floral sweet with notes of honey, toffee and licorice, like being at a fair. The taste has fruity sweetness up front that transitions into candy sweet before delving into a more spicy and woody flavor. The mouthfeel was creamy and delicate and the finish was short and smooth with notes of black pepper, oak, caramel and toffee. A classic and very enjoyable bourbon!
Great all round taste a go to
My go-to bottle of bourbon when on budget.
Super sipping bourbon. I'm newer bourbon drinker, but this is always my go to!
Bourbon. Whats not to like??
Very smooth and creamy finish
It's not revolutionary or a standout, but it is a solid/reliable Bourbon. It has an enjoyable flavor profile and is better than a lot of others at that price point. While it's not something I would personally crave to sip neat, it makes a decent gulit-free old fashioned or manhattan and has enough variety in the notes to play well with several different types of bitters.
A very fine bourbon. Perfect, of course, for use in a seasonal mint julip, or to enjoy neat. Just the right sweet undertones to warm you in winter thinking of spring, or to enjoy on a nice day in the sun. As someone who usually switches to Gin in the summer, this is one of the few bourbons that have year round staying power.
Everybody loves this very smooth- vanilla and caramel nose. Not overly complex and no real heat
Solid entry level bourbon
kind of overpriced for the flavor profile.
Very good bourbons for the person starting out, all three are different in their own rights and readily available. I think maybe $37 is a tad overpriced but it's the convenience factor. Overall pretty good I'd say.
Always top notch pour with a great finish
My main whiskey, hands down a favorite!
One of my favorite bourbons. Small bite but, smooth finish.
Really nice balance. Nice with the block or straight. Silky smooth
Love this whiskey
My fiancee is not a bourbon expert, so she bought this for me because she liked the way the bottle looked. Maybe I'll trust her to buy me other whiskeys based on that (!) as this is among the best-tasting bourbons I've had. Smooth, silky, caramel-ly... I can't imagine putting ice or water in it.
This is my go to whiskey, it sets the bar for standard whiskey in my house.
My favorite to make a Manhattan or drink straight.
Liked the oakiness
once you taste it, you get addicted,
This is the bourbon that got me into bourbon. The right balance of sweetness and a smooth finish.
This is a good solid bourbon that is a go to when needing a basic delicious bourbon. Or go to for one that is not too pricey.
The best bourbon i have tasted!
Must-drink in USA.
Good for a classy celebration or a really bad day, just a nice drink to mellow out with
Smooth, strong notes of cheery, great after taste.
Super smooth, rich caramel flavor. Has a nice finish with just a little bit of bite. Hands down my favorite 'everyday' bourbon.
LOOOOVE it
Love it love it , very smooth with lots of caramel
Very nice finish. Love the taste.
Solid bourbon that never disappoints
Incredibly smooth and drinkable. Lots of caramel up front.
Great bourbon (especially for the price) that can be used for cocktails or sipping.
Smooth with citrus notes
My go-to Bourbon. Very sweet and smooth.
Initial smells of vanilla. Tastes of raw honey, vanilla and earth. Sherry finish.
Loved the taste.
My got to bourbon. Great for Manhattans or Old Fashioneds. Smooth enough to go neat or with a cube.
Little bit to sweet for my taste
One of my favorites at its price point. It's a bourbon that will never let you down. A must for every bar and newcomer.
Just Perfect
This was my first bottle ordered on Flaviar and I must say it is excellent. I enjoy a good bourbon or scotch but I am not good at giving taste reviews. I will say that this bourbon is very smooth and I enjoyed every last drop.
My first bourbon and forever my favorite.
This was a very delightful drink smooth and good tasting
Very good taste. Easy to drink.
My go to drink on airplanes. Very good for a "big" name distillery
A bit of a bite but one of my go to drinks. For the price you can't beat it.
It's are second favorite to date.
Tough to beat regardless of price. (But the price here is on the high side.)
Really love the flavor of this bourbon.
A lot of people love it especially for its price point. The color is amazing. I find it a little harsh and it's not balanced to my likings. Great value for when I need a fix.
Great for sipping. Smooth.
Great Bourban for the price!
It's just such a simple, good drinkable bourbon. We always have it in the house. it isn't the greatest but it sure is better than average and for a good price.
Strong caramel flavors and good body.
Good all around house bourbon
My go to bourbon.
Not a fan; price does not match the value
A solid bourbon at the $35-40 price point. Very well balanced.
My favorite
Solid
Good go to bourbon
Perfect neat but also great in cocktails. So smooth with a great nose, great vanilla and caramel notes, and a smooth finish. A very good bourbon to keep in the home bar.
A very smooth sipping bourbon. Served on Delta Air Lines.
I always have a bottle on hand. One of my go to's.
Smooth
medium and smooth
One of my go-tos.
Pretty much my go to
My current go-to for Bourbon. A little sweeter than I'd like, but smoother than most.
Nice and smooth. A little bold, but not over powering. Comfortably warm finish. It's good for sipping when the old timers come visit.
Very Smooth, pairs wells with a splash of anything. Even better neat.
goto. good taste
Love it
Enjoyed on the rocks. Found it to be quite bold.
Great sipping whiskey.
A little smoke up front with a good bit of spice. Then toasted nuts and caramel.
Nearly perfect. So incredibly smooth.
Strong oak and smoke flavor, nice sweet aftertaste.
Load more reviews
Back
A Dram for Your Thoughts
Cancel