Price, Shipping & Taxes may vary by state and will be recalculated at checkout.
Authenticity Guaranteed
We guarantee every product we sell is authentic.
Free Shipping
Flaviar Members get free shipping on their orders.
Buyer Protection
Money-back guarantee if things go wrong.
Wild Turkey 101 is all about the power and the flavour.

In 1869, the Ripy Brothers started distilling on Wild Turkey Hill near Lawrenceburg, Kentucky. The namesake product became their number one seller and the name of the distillery was changed to reflect that success. The Ripy Family sold the distillery in 1952, and then the normal rounds of mergers and acquisition occurred. Campari Group out of Italy owns them now and they produce a wide range of Bourbons under the very popular Wild Turkey name along with several other brands.

Wild Turkey is one of the most well-known Bourbon Brands in the world, and Wild Turkey 101 is America's #1 selling premium Bourbon. Like all Wild Turkey Bourbons, it is aged in the deepest charred barrels — #4 "alligator char." This brings out a complexity and depth of flavour that has been winning fans for generations. But the 101 is special. It is made from the best casks of Wild Turkey and it served up at "101 proof" (50.5% ABV) — which is how the Whiskey gets its name and the reason that the flavours are so complex and powerful. The results are exceptional and it has consistently won so many gold medals over the years that we simply cannot list them all here.

Smartass Corner: Last year Academy Award-winning actor Matthew McConaughey became the brand ambassador and art director for Wild Turkey.
Category

Style

Region

Country

Alcohol

Distillery

Age
Flavor Spiral™
About The Flavor Spiral
What does Wild Turkey 101 taste like?

The Flavor Spiral™ shows the most common flavors that you'll taste in Wild Turkey 101 and gives you a chance to have a taste of it before actually tasting it.

We invented Flavor Spiral™ here at Flaviar to get all your senses involved in tasting drinks and, frankly, because we think that classic tasting notes are boring.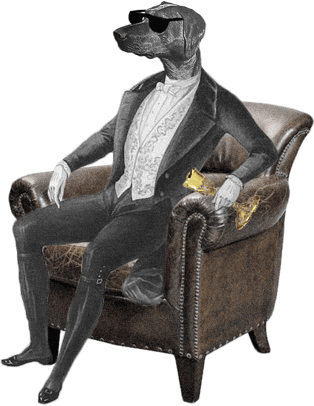 Dog Dogson's
Smartass
Corner
Straight Bourbon must be matured for at least 2 years. If a bottle does not bear an age it is at least 4 years old.
Tasting Notes
Appearance / Color
Dark Amber

Nose / Aroma / Smell
Fresh cream, pecan pie, warm buttered toast, and clove

Flavour / Taste / Palate
Powerful with nutmeg, cinnamon, milk chocolate truffle, more pecans, and creamy toffee

Finish
Smooth with a light burn and brilliant spice
More drinks we think you'll like
Ratings & Reviews
Great daily bourbon at an even better price.
This is truly fantastic for the price. Surprisingly smooth.
Was at the local market picking up a few things not needing to pick up any more whiskey than I already did. But I saw the Wild Turkey 101 on the shelf behind the cashier and just read the night before that its a must for every bar and can withstand a mixed drink like no other. Just cracked it open and yes it is big! All the right flavors that I'm very looking forward to mixing in to a few drinks tonight. Definitely agree, for the price, this is a staple for every bar!
Amazing every day bourbon, cherry vanilla pepper and barrel spice
Love this Bourbon. It's a good price for a nice pour over rocks or neat.
Great price point for a quality bourbon
This is my daily go to. Price is great and the flavor even better. Spice up front with classic Bourbon notes following. Ends with a nice black cherry finish. What are you waiting for. Go get some.
I do like this wild turkey, smooth with a hint of spice, I prefer it neat., goes down easy wit a lil burn at the end, naturally, it's 101 it's definitely worth buying
I like the pepper bite on this one.
Goes down a bit hot but has a good flavor to it!
A staple for any bourbon guy!
Pretty much my go to bourbon
Good mixer. 101 proof helps to ramp up the flavors, although the whiskey is a bit thin. Sweet, light caramel with some spice. Finish is fast, and mostly spicy. Good value for the money
Rye spice. Complex but a bit harsh on the finish. Very good value.
Very consistent, rye spice, full flavors of a bourbon.
Great bourbon for the dollar.
Amazing bourbon for the price. Holds up for incredibly well on the rock. Great neat or with mixed drinks. The best budget bourbon. On the rocks it tastes like chocolate covered cherries and pecans. It wasn't nearly as spicy as I was anticipating the barrel spice is balanced throughout the drink. Very round, no sharpness, easy drinker
Great flavor.
Classic bourbon notes: sweet, oak and a little nutty. Short finish but for less than $25 you won't do much better
So far in my early journey this is my favorite bourbon. Caramel, vanilla, and cinnamon nose. The taste is cinnamon role with buttery toast and a slightly spicy finish.
Punches way above its price point. Tasty, potent and very easy to drink. I go through this way too fast, but more is in my near future.
Caramel vanilla perfumed deliciousness. Rich tea notes and cardamom. Unbelievably under priced. Proofed at just the right number. There will never be a moment when I don't have 101 in the cupboard.
I was not a fan of Wild Turkey growing up. I kept hearing of Wild Turkey 101, and decided to give it a try. I loved it! Another great bottle at it's price point.
Great stuff on the rocks.
One of my all time favorites
I wrote off wild turkey as a college mistake. However, I revisited at 35 with a different palate and sipped it slow. Lots of cinnamon spice, a little sweet, like a cinnamon bun or cinnamon bear. 15-20 drops of water in a 1.5 oz pour was ideal for us. Will buy a bottle for the library.
My ride-or-die house bourbon. Punchy enough at 101 proof to carry any cocktail. Affordable enough (especially in a 1.75) to serve to guests en masse, and generally tasty enough to drink neat or on-the-rocks as desired. Gobble gobble!
WT101 is the best bourbon I've tasted to date. I find it to be a great flavor all-around, and smooth as can be.
Kickin Chicken. A favorite for bourbon and ginger ale
My top go to bourbon. I always have a bottle (or three) on hand. All the classic bourbon notes you expect. Doesn't get much better at this price point.
One of my favorite bourbons. Maintains a strong and enjoyable flavor with a strong burn and high proof. Very adaptable for all sorts of drinking but i prefer neat with a few drops of water
I have always liked Wild Turkey. It's always been a favorite of mine. Used to give it to my trumpet Prof at Indiana University every Christmas.
A very popular bourbon that has been around for a long time. Though I prefer Scotch, this is a satisfying drink with more of a bite than I'm used to. A good value at the price.
Marshmallow aroma that carries slightly onto the more bolder and spicier palate, light vanilla and dried fruit notes behind a high-rye profile. Finish is lasting and spicy, overall flavor seemed consistent and slightly dry. Following the end of the American Civil War, the Ripy Brothers returned to their native state of Kentucky and together, opened a distillery on the slopes of a hill in Lawrenceburg. The distillery operated continuously for nearly fifty years until the 18th Amendment, which prohibited the sale of alcohol in the United States, was ratified. Following the end of Prohibition, the Ripy Brothers Distillery was reopened and a distillery executive named Thomas McCarthy took samples of maturing whiskey from the distillery on a turkey hunt with a group of friends. The next year, his friends asked him to bring "some of that wild turkey whiskey"on their next hunt, giving birth to the distillery's new name. Wild Turkey 101 Bourbon is crafted using a high-rye mashbill, which gives the bourbon a unique and spicy flavor profile. Once the bourbon has been distilled, it is aged in American oak casks that have been charred with a #4 char; referring to casks that have been charred so heavily that the interior resembles an alligator hide. After maturing for six to eight years it is bottled at 101 proof.
Sweet, vanilla, sweeter than avg bourbon
Really good for the price
It's hard to go wrong with the bird
Good nice spice. Could be a regular sipper for me
Wild Turkey 101: 101 Proof: Med finish Nose: -Sweet -Honey Taste: -Honey -Dark Oak -Spicy -Caramel -Cinnamon -Slight nuttiness
The aroma of vanilla and oak fill the glass. The taste is a cinnamon spice, sweet caramel, and a creaminess with a nice burn. Its the lingering sweet creaminess that eases and complements the final spiciness and burn.
Good bourbon. Spiciness somewhat overpowers the other flavors.
Great bourbon with classic bourbon flavor and the price is hard to beat.
This is definitely my favorite "everyday" whiskey. And for the price is a real steal. This whiskey easily competes with whiskeys in the $30-$35 price range.
Go-to well. Nice rye flavor and a lot of bang for the buck in proof and flavor.
Not sure where the tragic myth of Wild Turkey being a bad bourbon comes from. The 101 is my go to bourbon truly enjoy the rich palate notes of dark fruit, vanilla, oak and wood which really come together beautifully in a 101 proof bottle. Works fantastic in cocktails as well. For the price you really can't grab a better bottle. 8.6/10
Appearance: Color is copper. Decent legs Nose: Starts with vanilla, baking spices, oak, and just a touch of caramel sweetness Palate: First sip is a balance of baking spice, oak, mild caramel sweetness, and an overall nice complexity. There is another layer of an almost malt flavor, as well as pecan. Above average palate. Mouthfeel: Good coating mouthfeel, a little drying from the proof. Finish: Linger of the baking spices. Overall impression: Solid budget offering, cohesive flavors, nice profile.
One of my fav low cos5 bourbons.
Great mixer and for good cocktails as the flavor will hold up. A little warm and not very smooth. But smooth for a high ABV
High rye presence in the nose and palate. High quality to price ratio. Worth a buy.
Nice and enjoyable for the price. Decent flavor. Good for a regular value option.
If you are looking for something spice forward, this may be your jam.
Strong bite. Enjoyed it more as I kept drinking. Caramel and vanilla. Great value for the $!
Very strong, not a huge fan.
Nothing speccial,,corny
A good bourbon for the price. Great for mixed drinks and it has a an extra oomf from its abv that will get you going.
I must say, I do love this whisky. An absolutely fantastic value for the price, making it an excellent daily option. I did get a lot of caramel, toffee, vanilla and a perfect bit of oak spice.
A surprisingly great bourbon for the price, would always recommend for a mixer or even solo - but don't put it on ice it isn't powerful enough on it's own.
Wild Turkey 81 is my daily drink. Couldn't imagine an evening without 2 or 3 shots. Single with a splash of water & plenty of ice. I certainly love trying others, top shelf of course, but I always grab my 81 over & over. For my taste this is absolutely the one, the eighty one! Something about Kentucky bourbon. I don't care for beer. I've lost my taste for wine over the years, but a smooth bourbon & water always does the trick. I rarely drink more than 4 or 5 shots in a night. Typically sip about one per hour.
Always a solid choice. Underrated by most in my opinion. Always stays stocked at my house.
Absolute fire! Amazing scorching feeling down the throat along with a singeing flavour on the tongue. Tastes better over time.
One of my go to sippers, well rounded high rye bourbon, don't let the price fool you into thinking this isn't a good bottle!
Best thing money can buy for $20. My dad drinks it and I snubbed it for a long time. After a few years of growing my taste buds, I thought I'd come back around to it. The nose has a bit of caramel but it's a little light until you get right up to it. Tasting it you get a quick kick of the sweetness followed by the spice. It melts into cinnamon and clove, followed by a nice, long sweet finish.
Just a very nice taste. Not as harsh as some. I like smoother but this is good for the money
First time I've tried any Wild Turkey and it is way better than expected. Good value priced every day sipper.
Having not yet dipped my toe into the Campari bourbon family, I picked up Wild Turkey's 101 as my entry point. Aged in deeply charred barrels and bottled at 101 proof, this often recommended and repeatedly rewarded bourbon comes with the promise of irresistible aromas and bold flavors. Poured neat into a Glencairn glass, I let it breathe for a while before diving in. The nose on the 101 is exceedingly pleasant with layers of vanilla, honey, cream, and autumn spices that create such a nice palette of scents that the alcohol vapors almost sneak by undetected. The sip coats the mouth just enough, carrying over the vanilla from the nose and adding caramel and cinnamon. The finish is moderate with the deep char and oakiness coming through and playing off the caramel layers and a biting spice that lingers long enough to savor. I was surprised to like this as much as I did being the highest proof bourbon I have purchased to date and think this was the perfect label to bridge the gap between the lower and barrel proof bourbons. I can see why Wild Turkey is a staple for so many, and it will be for me as well.
High rye bourbon done right. A smooth sipper straight, and it holds up like a champ in any mixed drink.
The BEST budget bourbon. High proof, big flavor, and under $25!
Heavy burn. Not too smooth.
Sweet upfront with a nice bite on the backend. Strong oak, molasses, and caramel
It is very average, but gets the job done. Cheap but the flavor isn't great.
Warm vanilla caramel nose, good bite. High rye
Love this stuff!
House staple
Perfect to drink neat, and with water.
Love it for the value, want to keep it stocked
i really enjoyed this. definitely my favorite
Simply spicy
Much aroma and long aftertaste.
I like it. Spicier than your average bear with high rye at the front. Almost, but not quite bitter after taste. Pecan maybe? Underrated.
Great tasting bourbon. Lots of rye flavor, smooth even at 101 proof. Can't beat the price and the taste.
My favorite mass market bourbon, and you can't beat the bang for the buck!
Always have a bottle. Strong, great taste and smooth.
Complex and smooth - a favorite daily treat.
My daily go-to bourbon. My favorite for the price point
great flavor add some water
Daily choice for mixed drink
A lot of bite but with cigar & the fellas
Very Drinkable for the price. A little young and a little "hot".
My goto party bourbon. Lots of heat, and lots of burn. You will know you are drinking alcohol, but it is a full, spicy flavor.
Can't go wrong with 101. Keep a bottle at the house 365
Fantastic bourbon for under $20
I love it it is smooth tasting. Added splash of coke and or Sprite.
Always a favorite of mine. Spicy, rich, and unrefined...
This represents all the things I like in a bourbon. A staple on my shelf.
I mixed it with Canada Dry's Lemon Ginger Ale. Excellent taste.
It's one of my all time favorites. Even way back in my high school days. Remember party till ya puuuuk. A those were the days. But now that I finally grew up, and learned how to drink so that I can appreciate more of the good things in life. Some times you just gota do things the hard way
Super Solid- the true classic
Love it
Great bourbon at a great price.
This is one of my favorites. But Rare Breed would put this to shame any day of the week.
This is my "go to" bourbon. Great flavor for an upper mid tier bourbon.
Tasty, wouldn't sip, but I keep it on the bar for cocktails.
There is the most incredibly priced bourbon for what you get. If you don't want an overly sweet bourbon that has a great alcohol percentage but isn't harsh this is the one to get. Could not recommend this more highly. Get this over the 80%. If it's too strong you can always water it down to around the 80%.
Spicy. Solid taste.
Great on the rocks or with a splash of soda
Great for what it is, an everyday pour.
Average bourbon. A little water helps.
It has a good flavor and goes down smooth
Gets shit done!
Great bourbon and economical compared to similar bourbon.
One of the best 100 proof bourbons. The caramel finish is always there. One of my favorites.
I'm not much of a connoisseur of whiskey, bourbon, tequila, scotch, and other high spirits but I try to experience the top shelf brands and learn more about them. I like wild turkey bourbon because it is 101 proof, I don't particularly like drinking anything under 100 proof. Wild Turkey has a nice mellow flavor with a kick.
Okay but not as clean as other Bourbons.
Good taste for your money.
Great budget bottle
Extremely smooth and flavorful
My poison. 3 shots turkey to 12 oz coke is near perfection.
My go-to bourbon. Enjoy neat or with a ice sphere on a hot day
Its a good all round Bourbon, smooth and reasonable priced.
Love the depth and the spiciness of this bourban!!
This is one of the better bourbons out there if you're looking for something to come home to every day. The price is hard to beat and it's a really solid offering. It's easy to look past Wild Turkey as something you drank in college, but their portfolio is incredibly strong/diverse and this is emblematic of how good the lineup is top to bottom.
Not as fond of this, but some of my friends are.
For a large commercial distillery, the heavy "woody" taste of the barrel is magnificent.
Nice
An easy drink.
One of this brands better bourbons. Inexpensive for what you get.
My everyday, go to bourbon. Always on the rocks. Great balance of fire and ice.
A solid sipper.... Definitely take it easy or you will sleep within an hour and out for the rest of the day.
My go to bar drink unless it is a higher end bar.
When you want to forget the day.lol
Literally, the best 30 dollar or so bourbon I've ever had. Never had Wild Turkey before, but now I'm a fan!
Wild Turkey is my go to. It's a great sipping whiskey. The 101 proof is just a bonus.
Great bourbon for the $$
Bold taste, unique from its competitors. I would also recommend taking the tour if you find yourself in KY.
Strong back-end taste, which is to be expected with a 50.5%. Great quality for the price, which I can advise is less expensive at most liquor stores I've been to (sorry Flaviar)
Perfect mixer. Great taste alone, but also great with ginger ale or coke.
Delicious, complex.
Great
I need it.
Load more reviews
Back
A Dram for Your Thoughts
Cancel