Price, Shipping & Taxes may vary by state and will be recalculated at checkout.
Authenticity Guaranteed
We guarantee every product we sell is authentic.
Free Shipping
Flaviar Members get free shipping on their orders.
Buyer Protection
Money-back guarantee if things go wrong.
Not "just" a great Bourbon, it's one of the top 20 spirits in the world… bar none.

Heaven Hill Distillers is unique. They are one of the oldest and largest Bourbon distillers in the world, they have the second largest standing inventory of aging Bourbon, and they have grow to become the seventh largest supplier of spirits in the US. BUT… they are still family owned. In fact, they are the only family-owned production house left in Kentucky. God bless the Shapira family! The spirit brands owned and controlled by Heaven Hill includes Evan Williams, Elijah Craig, and their namesake Heaven Hill, and many dozens more.

Some Bourbons put wheat into their mash bill as a cost-cutting measure. But Larceny does so with serious intent — loud and proud. This is a wheated Bourbon with just a touch of rye and barley. It's sweeter and smoother and perfectly crafted with notes of fresh-baked bread, butterscotch, and a finish that is both sweet and savory. And the Bourbon-loving world takes this dram seriously — it pulled down a double gold medal (unanimous decision), has been named a "best buy," and was ranked #18 among the Top 120 Spirits in the world by the Spirit Journal.

Smartass Corner:
Back in the day, John E. Fitzgerald was a federal treasury agent assigned to guard and certify the Heaven Hill Bourbon rick-houses. During the evening hours he would slip in to "sample" the barrels. They named the brand Ol' Fitzgerald after him — Larceny Bourbon is a tribute to the Whiskey he stole while "protecting" it.
Category

Style

Region

Country

Alcohol

Distillery

Age
Flavor Spiral™
About The Flavor Spiral
What does John E. Fitzgerald Larceny Small Batch Bourbon taste like?

The Flavor Spiral™ shows the most common flavors that you'll taste in John E. Fitzgerald Larceny Small Batch Bourbon and gives you a chance to have a taste of it before actually tasting it.

We invented Flavor Spiral™ here at Flaviar to get all your senses involved in tasting drinks and, frankly, because we think that classic tasting notes are boring.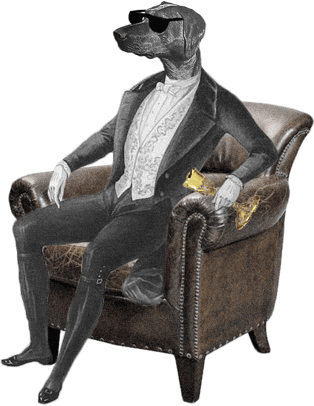 Dog Dogson's
Smartass
Corner
Bourbons are very high in vanilla, as American White Oak is naturally high in vanillins.
Tasting Notes
Appearance / Color
Polished copper.

Nose / Aroma / Smell
Warm bread, toffee, and a dash of butterscotch.

Flavor / Taste / Palate
Rich with caramel, orange blossom honey, and bread pudding.

Finish
Long, layered, and savory.
More drinks we think you'll like
Ratings & Reviews
Pretty decent for a daily sipper. Sweet on the nose with a light maple syrup on the pallet, clean burn finish.
Wow!!
Hot on its own, but great in an old Fashioned.
Had a grassy taste after sipping for a while which was unpleasant
For the price it cannot be beat. As good as Pappy and how many cases of Larceny could you by for the price of one bottle of Pappy.
For the price $24 , this is an excellent bourbon. Its fairy full bodied with slightly spiced finish. Its a bourbon that I usually make sure I have in the cabinet.
A bourbon that can be spicy and sweet at the same time with hints of cinnamon and clove.
Nose is grassy and sweet. Tastes of butterscotch and candy at first, then medicinal herbs and mint, the finish is long, at the end you are left with grass and hay like you lost a dare and licked the inside wall of a lawn mower. If you put a few drops of water in it, it dramatically improves the mouthfeel and brings out more of the butterscotch flavor. I wouldn't reach for this often straight, but wouldn't turn it down if offered. I prefer it with a few drops of water. I bet it would be interesting in old-fashioned or other cocktails.
I keep this one stocked at home. Sweet and bready. I recommend it to people just starting to dabble in Whiskey.
Bread, oak and to me a plum sniff. The taste is complex I could taste oak, banana bread and a bit nutty. Nice warmth glow finish. Come on for the price why wouldn't you keep this in your bar?
Best bourbon for price
Solid but not complex wheat bourbon. Sweet but finish is not too many liking after first few sips.
Good bite and spice, sweet notes are nice
Very different bourbon and tasty, especially for the price. Had kind of a bite on the tongue, but finished well with a little burn on the way down. Flavor was very good and the wheat added a bit a complexity (and earthiness) to round it out. Good bourbon, would not turn it down.
Caramel and oak on the nose. Grassy and harsh bitterness on the palate. Finish is hot with a lingering damp basement note. Not great but also not expensive.
Really smooth. Nothing too flashy or spectacular.
I'm not a huge wheater fan. However, Larceny is delicious and, for the price, totally worth it. I prefer it to some other more popular wheated bourbons.
hard to know since I never received the order
Always on my shelf. 1.75 liter bottle for $35 from Total Wine? Sign me up. Larceny never disappoints, and while I've tried some more expensive wheated bourbon since, I keep coming back to this as my standard. Great work Heaven Hill!
An average budget-ish wheated bourbon
Nothing special here. Use for mixers.
Great value. Easy drinking well balanced bourbon, neat or with a rock.
Wheated and great!
Wheat and corn are at the forefront, but caramel and hints of honey softens their heavy presence. Finish is thin, but followed by a tail mixed with baking spices. Overall was surprisingly enjoyable and unique. According to the legend, John E. Fitzgerald founded a distillery along the banks of the Kentucky River shortly after the Civil War ended. Fitzgerald began distilling bourbon and selling it to passengers aboard the trains and steamships that passed through town. Shortly thereafter, Fitzgerald sold his brand "Old Fitzgerald Bourbon" to Julian P. "Pappy" Van Winkle for $10,000, a small fortune at the time. Pappy moved production of Old Fitz to his distillery, where it became one of the most famous bourbons in the world. In 1999, Van Winkle revealed that Fitzgerald was not the man nor the distiller he claimed to be — he was, in fact, a bonded treasury agent. At the time, the Treasury Department was tasked with collecting taxes levied on spirits and as such, bonded treasury agents were the only people legally allowed to carry the keys to barrel storage warehouses. Fitzgerald did have a discerning palate for fine bourbon and would use his warehouse keys to pilfer the best barrels of bourbon as they aged. The barrels, which became known as "Fitzgerald barrels," and the brand were immortalized when Pappy named Old Fitzgerald bourbon after the treasury agent, and added a "Whisper of Wheat "to his bourbon's recipe. By using wheat rather than rye as the secondary grain in the bourbon's mash bill, Pappy imparted a rounder, softer flavor profile in Old Fitz as compared to other bourbons at the time. Larceny carries on the tradition of Old Fitz by using wheat as the bourbon's secondary grain rather than rye. After the grains are milled, they are cooked in Kentucky limestone water and fermented using a proprietary strain of yeast. Following fermentation, the mash is distilled through 70-foot tall column stills and the resulting bourbon is aged in honey barrels for six to twelve years. After aging, the casks are blended and brought to 92 proof before being bottled.
One of my go to's. It has a nice finish that does not make you cringe and makes a nice Kentucky mule that is just right for summer or spring.
More "toasted bread" or "roasted peanuts" than caramel as the dominant flavor. It's better than most $20 whiskeys but, there's better drams out there for the price.
Dangerously easy to drink. Silky smooth.
Expected more based on previous reviews
Very smooth. Great sipping whiskey
Love it, very smooth and light with caramel tone in flavor, mixes very well also
It was very mellow and lacking in much flavor or nose really. Easy to drink, but unimpressive flavor-wise. Not "bad" but just nothing special. Am I even drinking/smelling the same bourbon as some of these other reviewers?
Strong. Really good small batch
A good wheated bourbon. Not as good as Weller or Makers.
Meh
Bread, spice, walnuts, clove. A bit harsh. Decent flavor though and a good price point for this.
Bread on the nose; almost Banana bread Carmel, sweet, smooth on the tongue Nutty / Bread on the finish. I LOVE This and the price point is amazing.
Nose is banana bread!! Yummm! taste sweet has a nice spice, smooth and finish is woody ! I love this bourbon and it's affordable !
Larceny has become my favorite bourbon, especially at this price point. Smooth with a little smoky caramel. Love IT!
Has a very smooth mouthfeel, very little burn. Good finish with a light caramel taste.
Best bourbon I have had at this price. Not too sweet, as I find many bourbons, so that is a plus.
Very sugary taste, it was good to try but don't think I'd buy again.
Love it for a middle of the road bourbon to sip neat. Smooth oak notes with a hint of caramel.
Very smooth. I liked it a lot
A smooth criminal... a classic bourbon combining vanilla and caramel, with a solid follow through.
Sweet and simple flavor profile characteristic of a wheated bourbon.
Perfectly acceptable bourbon for the price
Tastes a bit like a classy Jim Beam. Fine on the rocks or after a few but isn't my preferred flavor profile.
An absolutely fantastic tasting bourbon for the price!
Great for daily drinker or even a mixer if you are into that. If you pair this with a Coke or Pepsi and a splash of grenadine it can be a VERY drinkable bourbon mixer for even those who don't normally like the flavor of bourbon. The wheat doesn't normally have quite the spice this has so it is a delightful drink. I can see this being at a much higher price tag later on.
Awesome
Nice as a mixer and nice on its own as well.
Decent but for the price its actually pretty good
Relatively inexpensive, suitable for mixing. Not bad on the rocks.
Got this as a bday gift from someone who knows I don't like bourbon. I was pleasantly surprised at the south taste and friendly palette of this bourbon. Long story short. I drank the whole bottle with a friend in one sitting.
Very nice for the price. At first I thought it was cask strength but that was because the proof was printed so powerfully on the label when I'm used to hunting for the % ABV to see what kind of a kick to expect. Quite a respectable bourbon and an enjoyable drink, especially at the price point it runs at. Would be happy to have this cross my table again.
Good taste considering the price, not too rough either.
Sweet bread and typical bourbon after taste. Great value and pretty smooth.
If you like larceny committed on your mouth and throat, then this is the bourbon for you. Harsh, non-distinct, no subtlety at all. How anyone tastes sweetness or calls this smooth is beyond me.
Smooth with caramel undertones. Prefer over many of the more expensive bourbons.
It's no wonder people like this bourbon and the name fits well regardless of the lore behind it. The quality for the price is a steal. Truly larceny in a glass. I don't normally think of smooth as a way to describe a smell, but the nose on Larceny is smooth and sweet with notes of caramel, butterscotch, and a hint of vanilla. The sweetness continues into the sip with the addition of honey and orange blossom and just enough spice to remind you that you're drinking whiskey. The finish adds cinnamon and oak and lasts delightfully longer than expected. Easily the best bourbon at this price point and punches above its weight. Steal a sip when you can, but buy a bottle for yourself. At this price, you'll feel like you're getting away with something.
great value
Clean wheated Bourbon with strong notes of caramel
Value
This is a very drinkable bourbon for the price. I have sampled it both neat and in a mint julep and it worked well in both.
Tastes watered down. Very weak and forgetful. No complexity or linger. Glad that i bought this bottle on sale.
Buttery Awesomeness!
For the price, this is incredibly hard to beat. Nice and sweet with virtually no bite. This one will be a mainstay in my bar.
My daughter calls this my "sassy" whiskey! I really have enjoyed it. I will be ordering more.
Wow, incredibly smooth without the bite you might expect from a 92 proof. Nice sweet taste at first with lingering carmel flavors. This will definitely stay on my list to buy again.
Best 92 proof bourbon for the price! Amazing value
Great value wheated bourbon. Great daily drinker. Must have bottle for any home bar.
Great value, great taste. Suitable for drinking on its own, but inexpensive enough where you don't feel bad mixing it. A little burn, but still quite smooth.
Balanced
Very disappointed. The heat overpowers the sweet, and it ends up tasting hollow.
Creamy, smooth, sweet
Slightly sweet start with a peaty finish
Best Buy bourbon. Not much burn very smooth.
I really enjoyed this bourbon. Has a little bite to it, but I really liked the caramel finish.
Excellent for the price.
Surprisingly smooth bourbon for the price point! Makes an outstanding bees knees!
A good affordable and available wheat bourbon. Smooth and sweet. My current "daily."
A really solid bourbon. An affordable staple to have on-hand at all times. Notably smooth for the price-point and proof. I enjoy practically everything from Heaven Hill, and this is no exception.
Go to wheated bourbon, rich and sweet with some oak spice.
Enjoyable to drink. Sweet and floral with just a little spice. One of my favorite wheateds.
It was a little spicy for my taste when I tried in on the rocks, but with a mixer it was good. The spiciness went well with Dr. Pepper. Everyone seemed to like it.
This one came highly recommended from several WhiskeyTubers, so I gave it a shot. The guy at checkout AND the guy in line behind me both said, "Great choice!" It took considerable restraint not to crack it open in the car on the drive home! Wonderfully smooth bourbon with almost no burn for 92 proof. Subtly sweet nose, and the finish actually gets stronger before it fades into oak, almond, fresh cut hay and just a slight bite of tannin. At a super affordable $25 (in my area) this one will stay stocked in my bar. If you haven't tried it, TRY IT.
Bulleit use to be my go to bourbon. That has now been replaced by Larceny. Great bourbon for sipping straight or with a drop of water. And strong enough to gave any cocktail (Old Fashioned) that extra kick.
This is some of my favorite stuff. It starts soft and leaves your throat warm for a long time. It's easy to drink. Its flavor is soft and sweet like vanilla, which makes sense considering this site lists its primary flavor as caramel. It's not even expensive!
This one put hairs on my chest and I am a woman. The men enjoyed the taste, so I will keep it in my home bar.
For the price, you really can't beat this. It's a great bottle to bring to an event or share with your friends. It goes down smooth and at the price, I don't even mind making cocktails with it.
It smelled great but it was way too spicy for me.
Smooth with a rich finish, one of my favorites, always stocked.
Best example of a delicious wheater for a great price. Has a little more burn that affects the finish than I would prefer but still better than I would expect for this price. This ends up finding itself in my regular rotation.
For he price a very good neat or on the rocks bourbon
I gave a bottle to a friend on a recommendation from a fellow bourbon drinker, and of course we poured a couple glasses to try it. It was very smooth and we poured a few more before the night was over! Recommended and good bang for the buck.
This is an excellent bourbon for the money. Smooth and easy to drink. I prefer to drink it neat but have had it on the rocks as well as in an Old Fashioned and enjoyed it all. I would highly recommend this bourbon in anyone's bar for an everyday choice.
Nose: lots of corn, light banana bread Taste:sweet with vanilla, some oak through the middle, finishes with lingering light spices, moderately hot
Very smooth and easy to drink! I prefer my on the rocks and neat is just as good!
Great
I could smell the orange notes the second I popped out the cork. My girlfriend has never been a "straight bourbom" girl but even she loved it and it was hard for us to make the bottle last. Even comes with a couple of cocktail recipes on the tab. Great buy!
Very nice, especially for the price!
I was expecting much more from a Burbon named Larceny.. but this bite is indicative of the name. Go for it if thats what your longing for. My go to is neat, this bit of Larceny needs some taming - slow sips and a great story and you just may get the buy in.
I was expecting much more from a Burbon named Larceny.. but this bite is indicative of the name. Go for it if thats what your longing for. My go to is neat, this bit of Larceny needs some taming - slow sips and a great story and you just may get the buy in.
Very smooth and easy to drink. Nice flavor and really nice price! Flavor spiral is pretty accurate in my opinion but I'm still not able to identify everything on my own and sometimes not at all but this one is close. Everybody is different though... 🥃
Super smooth
Absolutely love it
Good value; a bourbon best enjoyed in a cocktail such as an old fashioned
Smooth sipping bourbon
Sweet, caramel, honey, wheat, yummy! Does have a bit of burn, but the price point kicks it up a star, at least.
Flat. Bland. Slightly spicy hit at front of tongue, and nothing rolled after that. Disappointing.
Bought on a whim from another members suggestion comparing it to another bourbon. This is very good bourbon and not just because of the price! The bready caramel taste comes through strong but so delicious. Will keep on hand at all times. When price is a factor its 10/10.
For being so inexpensive this is a very good bourbon. Being a wheat product, it has a nice, smooth finish. No, it's not pappy Vanwinkle. But it's also $25 a bottle!
Excellent sipping bourbon. Hard to beat for the price
Pretty good in flavor, does have a "young whiskey" burn, had it neat, on the rocks, and shaken with iced lemonade and muddled strawberry
It was a gift for my husband. I like to buy him different bourbons since we are both fans. He liked it on the rocks with no additions.
This little number is great when theres a small whiskey budget or I cannot locate my blade and bow
I loved the strong sweet smell of caramel as soon as i opened the bottle. The taste is strong and the burn was expected. Makes a sour have a slightly sweeter taste. Great to have in my liquor cabinet.
Best Bourbon for the price, very easy to drink.
Not enough balance on this one. Mostly harsh. An ice cube opens it up a bit. Price may be right but I won't be using this as a sipper - will probably be used for cocktails.
Delicious, great bang for your buck
Excellent sippin bourbon!
Akin to Russell's Reserve, would recommend to have in stock. Little high on he proof but tasty.
I'm a fan of the Weller wheated bourbons (12 Year, Old Antique, etc.), so the local shop owner recommended Larceny to me. It simply did not resonate with me.
A little stronger and bityier than I like but overall not to bad. Would drink again.
So freaking delicious!
Great Bourbon with a great story!!! Larceny will always have a place in my heart!!
My new "GO TO" Bourbon!! Loved it. Of course anything by Heaven Hills is hard not to love!!
So far this is my favorite Bourbon. With its high alcohol content and smooth taste, John E. Fitzgerald Larceny is amazing. It tastes better than the Breckenridge Reserve which costs considerably more!
loved it.
I am not a Bourbon drinker but I do absolutely adore this one. Very smooth, with a decent flavor depth with hints of wood, and the taste of everything else that is normally present in a Bourbon is there without being an overpowering element
The best bargain bourbon on the market
Smooth flavor.great taste. I really like this bourbon.
Smooth and sweet
This should be your next "go to" bottle!!
I've had great bottles of this and not so great bottles. It's a little nuttier than Maker's Mark. (You know the other available wheated bourbon). I'd put this one between Maker's 46 and Maker's Mark. Most places have it priced between the two as well. Very much like bread in a bottle.
Very good bourbon for the price. Sweet and fairly smooth.
Excellent neat or on the rocks. Very smooth, but potent bourbon One of my favorites.
Great "go to" bottle. Smooth and nice blend. Of course anything by Heaven Hills is awesome!!
I don't like to drink it straight, I mix it into an old fashioned.
Great flavor and sweetness on the front of the palette
Good amount of sweetness. Nice candied flavor. Will be buying this one again.
Very drinkable. Smotth, velvety and long taste.
I save 10 star ratings for Pappy and Blanton's but at this price it deserves it. Buy it and you will find yourself coming back time and time again. Best <$50 Bourbon I've had. This is my daily bourbon.
A very drinkable bourbon, and you cannot beat the price point for value. I'm not a manhattan fan, but my in-laws swear that this is fantastic bourbon for a Manhattan. I like it straight. It's simple and to the point.
Excellent bourbon at affordable price. Highly recommend.
Excellent bourbon, would buy again. great price point.
It's good thank you
High marks for a low price
Very smooth,great tasting whiskey
Great flavor. Smooth.
I love the smell, sweet you can feel also the smell of the barrel, spicy and a little strong but I like it!
Great price for such a great whiskey
Very nice and smooth. Easy to drink without adding water
Vanilla forward
Bourbon the way I like it! Spicey at first with a nice smooth caramel, butterscotch finish. Great sipping Bourbon. And the price, please, you can't go wrong!
Wonderful spirit
Wonderfully smooth. Caramel, vanilla, tobacco... Beautiful finish
For my tastes this is one very good bourbon and I love the story about Fitzgerald, kind of gives this one some nostalgic character. For the price, I think it's a leader and I give it 9 out of 10 simply because Blanton's is my overall preference but it's comparable in terms of flavor characteristics. Price is excellent.
Honestly, I'm new to spirits. I've always been a beer drinker. I love this stuff. I haven't been drinking long enough to tell you why. It just suits my palette. I enjoy Basil Hayden and Blantons ad well, but for the money ($21) you can't beat Larceny.
Excellent bourbon smooth and aromatic highly recommended
Spicy and fairly rye forward (this coming from a wheated bourbon guy) but exceptionally smooth. The pepper hits first and then the sweetness but all with none of the burn you might expect from a $25 bourbon. I'm impressed!
Awesome! Sweet, mellow caramel and vanilla is what I taste, smells good too- tastes great by itself as well as mixed
Best cheaper bottle. Everyday drinker. Has a unique taste with hints of banana bread.
you put horse skat in there didn't you?
Load more reviews
Back
A Dram for Your Thoughts
Cancel