Price, Shipping & Taxes may vary by state and will be recalculated at checkout.
Authenticity Guaranteed
We guarantee every product we sell is authentic.
Free Shipping
Flaviar Members get free shipping on qualifying orders.
Buyer Protection
Money-back guarantee if things go wrong.
This heavyweight is standing in the upper-right corner of our flavor boxing ring.
Lagavulin
certainly is
one of the most
robust, peaty Islay Malts around. Established in 1816, the Lagavulin Distillery is located on the
Isle of Islay
, where you find miles of
peat bog
that provides the raw material that influences the Lagavulin.
Combined, a
slow fermentation
(between 55 and 75 hours),
slow distillation
(around 5 hours for the first distillation and more than 9 hours for the second) and
long maturation
ensure that Lagavulin develops all of its long, rich and peaty characteristics. This malt spends
16 years
breathing the sea-salt air, mainly in refill European oak casks. It's the Quintessential Lagavulin. The classic, and the most popular in the Lagavulin range, it has won too many awards AND too many hearts to count! Take it, run, and don't look back.
*No returns or refunds available for personalized items.
Category

Style

Single Malt Scotch Whisky

Region

Country

Alcohol

Distillery

Age

Maturation

Refill European oak casks
Flavor Spiral™
About The Flavor Spiral
What does Lagavulin 16 Year Old taste like?

The Flavor Spiral™ shows the most common flavors that you'll taste in Lagavulin 16 Year Old and gives you a chance to have a taste of it before actually tasting it.

We invented Flavor Spiral™ here at Flaviar to get all your senses involved in tasting drinks and, frankly, because we think that classic tasting notes are boring.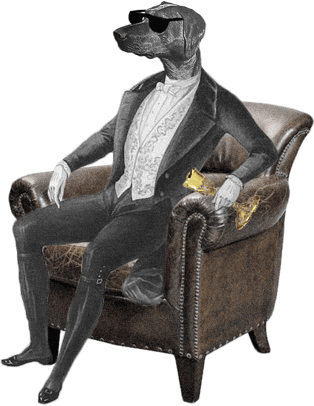 Dog Dogson's
Smartass
Corner
Whisky or Whiskey? The spelling differs geographically. In Scotland, Japan, and some other parts of the world, distilleries usually spell it Whisky; in Ireland and the USA, they spell it Whiskey.
Tasting Notes
Appearance / Color
Deep amber gold

Nose / Aroma / Smell
Intensely concentrated flavor, massive peat smoke with ultra-intense iodine. The fruity-sherry notes, vanilla and Lapsang Souchong.

Flavor / Taste / Palate
A rich, dried fruit sweetness of the sherry character with clouds of smoke and strong, barley-malt flavors. At the back of the mouth is an explosion of salty and peppery smoke.

Finish
Huge, long, warming and peppery with a distinct appetizing sweetness. A little spice lightens the grip of the peat and vanilla. Water brings out Indian spices.
More drinks we think you'll like
Ratings & Reviews
Excellent whisky: intense body with a lovely taste of peat which makes you travel straight to the heart of Scotland. A must try for all the Scotch lovers out there.
This is one of my go to Scotch Whisky's and I love it. I typically drink Bourbon, but the peaty smoky flavor of this Islay is so pleasurable that I have to have a dram every now and then. Always have a bottle on hand. Great taste on the palate and smooth finish - but I love the aromas on the nose with this amazing juice!
Nose - Peat, fruit, vanilla Front - fruit, vanilla Back - huge smoke, peppery
Very smokey and smooth. You must love extremely smoked spirit.
very smooth and very good
Solid overall with glaring no weak spots. Not as complex as other drama I've had but it delivers on the important notes
If you don't love this the first time you try it, there's a good chance you will the second time, and every other time after that. This was my first Islay and perhaps not surprisingly, the ashy, smoky, peaty notes were a bit much. Afterward I had the pleasure of trying Talisker 10 which has a similar flavor profile but with less intensity. I liked it a lot. Then I came back to the Lagavulin. Wow. A completely different perspective. All of the sudden my taste buds were craving that smoky earthy goodness. This is a bottle that I'll always have on hand going forward.
Smells of leather and smoke with a hint of earthiness. Sip starts with earth and leather then eases to a nice floral finish. Only reason it is a 9 is because I haven't had enough scotch to compare it to.
Really like the smokiness
A classic. My go-to whisky really, if I had to be stuck on an island with just one bottle in particular.
Very smooth, very peaty/smoky but not overwhelmingly so
Literally my favorite scotch of all time so I'm a bit biased here. We did a blind tasting with Kilchoman Machir bay, Laphroaig Select, and Bruichladdich Port Charlotte and of course this lovely bottle. On taste Lagavulin 16 came in first place. On nose it came 3rd (Kilchoman was 1st for nose). Laphroaig Select came 2nd on both taste and nose if you're interested...
I love the smoky smell and flavor. It's like a campfire by the ocean in a glass. Smooth sipping and tons of character. This is my favorite whisky.
The greatest standard Scotch? I think so.
Salt, smoke, caramel, vanilla nose. Moderate plus peat, heavy smoke but quick subsiding on palate. Slight iodine that fades into fresh mint.
This was the first peated Scotch I ever had, not a big fan of smokiness in my whisky. I would never buy this again or reccomend it to anyone who doesn't like the taste of an old charcoal grill.
This is my go-to Scotch. Perfect amount of peat.
Moderate Peat, smooth, hold the first sip in my mouth for at last 16 seconds.
For those who like a smoky taste this is an excellent choice. I just don't care for smokey flavors in scotch.
A little too smokey for me; right on the edge of too much.
Best Islay whiskey.
This is the gold standard if you're into Islay scotch. Orange peel, sea spray, and campfire smoke. Perfectly rounded and balanced. I would recommend this to anyone, and will always have a home on my bar.
Very peaty, not my favorite
This scotch is a dream. When tasted neat it's like taking a sip of liquid fire and emotion, complete with the ashes and coals burning white hot at the base of your flame. Then, mixed with a large block ice cube or a dash of water the flavor blossoms and reveals spice and caramel. Still aflame but with a more steady burn, it makes me imagine a Scot blacksmith at the forge, eyes reflecting the corona of heat emanating from each strike of his hammer as he sculpts a broadsword meant for battle.
I really could get over the mossy flavor. If not for that, I believe it would be perfect.
Love the smoke and peat
An excellent scotch. Picked up the smokiness, peat, and got the spicy notes later on. Smooth with a nice long finish.
Exceptional peated Scotch. Smooth and just the right amount of peat for me I will have this bottle in my collection always.
Favorite scotch of all time. I'm a big pest bomb / Islay guy, but regardless of that I still think it's one of the best out there.
Really good. A great scotch.
Peaty start with a nice long finish
Love it!
This is a good choice for a peaty scotch. I find it heavy and rich without a harsh hit . I give it a seven because it is a fine representation of its region. I don't give it a 10 because I have to be in a certain mood to pour it , not due to it lacking in what it's meant to be .
This is what I imagine the old rich guys who know their stuff enjoy in those old-time 'Gentlemen's Clubs' with the over stuffed chairs and big fireplaces.
YES! Well said,James.
Very strong ash, peat and phenol note in both nose and palate. However the finish, both smell and taste, seems be shorter than expected, especially when compared to Ardbeg and Laphroaig. Yet it is still a good peaty whisky.
The drink for when you have the time to sit and savor, to patiently take a wee dram, enjoy. Don't be turned by the first sip, the peat mellows and becomes the reason for its existence and why you have it in your glass.
Peppery clean finish on this classic. Worth every penny and all the notoriety.
Peet. More peet. Not very balanced, this is a love or hate scotch.
Very meaty and Smokey seaweed
One of my favorites! Smooth and complex. Great peaty flavor that isn't overpowering.
Peat
perfect blast of smoke with even finish
Peaty!!!
My favorite. Love the smooth taste and the little burning as it goes down and then the taste explodes into an intense Smokey flavor. Awesome with red meat and a good cigar..
Against advice, this was my first peaty whisky. It was a bit much I admit, but I have friends to appreciate it and hope to grow into it. It has helped me pick out peat in other bottles where it is much less prominent.
Super smooth and peaty.
By far the best
This one is truly amazing. It's all smoke and packed with flavor on the front end and goes down smooth like butter on the back end. Easily one of my new favorites. There's a reason Ron Swanson drinks this, it's one of the best.
My favorite dram. I love the peaty, medicinal smell. On a cold winter evening nothing will warm you like this full, heavy, smokey, peaty Islay whiskey.
This is one of the finest whiskys you will ever put before your nose. It is definitely a bit peaty, but for those of us who lean in that direction, it is incredible.
Smoky goodness. My personal favorite.
The best. It doesn't get any better than this.
Probably the first whiskey I ever tried, and to be honest, it's an experience that is really hard to beat. It is classic for a reason. No matter how many times I drink it, I always get this explosion of flavor, literally mushroomclouding up and away before the finish. NOSE: Heavy smoke and peat. Almost like gasoline. You can just get the slightest hint of sweetness from the sherry. TASTE: Explosions of smoke and peat smoke with hints of sherry, vanilla, honey and pepper. All around a pleasure. FINISH: Heavy opening up with lots of smoke and peat, almost like a mushroom cloud in your mouth. Pepper and spices that prick the tongue.
Near perfect. If you like peat and you also like a sherried Scotch, this is a must have. Different than any Scotch I've had yet. Update: I was wrong. This is the perfect Scotch. If I could pick only one whisky to drink, this would be it.
Interesting how so many mention camp fire as I take it with me on many backpacking excursions. Warms you on the coldest of evening around a fire.
This is like drinking a campfire, my hunting buddies say. It's very full bodied and super smokey. It's not for beginners, that's for sure. But, having said that, I enjoyed it.
This camp fire in a bottle and if you're not ready it'll be a kick in the throat lol. Overall a very smooth whiskey and I like to add a drop to any other whiskeys that need a hint of smoke.
Love the full body texture
Like drinking a cigar.
Liquid campfire
Perfect balance of Smokey peat and sweetness.
My absolute favorite, smoky and rich
far too smoky for me, for now.....
This is the whiskey that made me fall in love with everything whiskey can be and is. The magic of that first dram is rekindled with every time I take a sip. It is smokey and peaty yes. However, by the third sip an explosion of subtle flavors hits you. This whiskey is an exploration of the senses until the very last drop. It is a whiskey to be both shared with the best of friends and one to be a sole companion alone outside with a book and the cool autumn air. It is simply stunning.
my favorit...
Overpowering peaty flavor that masks any other flavors that are present.
Rich and smokey.
A nice dream but not quite as smooth as you would expect for a 16 year old. You can get this for around the £50 mark if you shop around - don't pay £70. A good price for a splendid drop of whisky.
My go to drink. You can keep your yoga and zen whatever. I like to sip This in a quiet room and think about nothing. I don't want to talk to anyone, just enjoy one of life truely beautiful moments with every sip.
I will never let my home bar run out of this.
My go-to. Love the peat, love the nose, love the taste!
Medium peat with deep flavor and consistent finish Good indoor winter drink
I love the perfect balance of peat and smoke, but it is not overwhelming. The perfect balance of flavor for someone who loves peat but still wants to explore the whisky.
Forever unmatched; the best Scotch whisky
The best scotch in the world - in my opinion I love the smoky taste and it is so very, very smooth. Drinking this scotch with a fine cigar is one of the nicest small pleasures still available to us.
I cant say enough about this smokey, peat-y whiskey. By far my favorite to sit down by a fire, smoke a cigar and share a bottle among friends. Get this bottle!
the best scotch
The peat the smoothness the overall standard for a smokey scotch!
My first intro to Lagavulin was the 11 year so I finally got around to the 16 year benchmark of the line. Wonderful peat and smoke. Some sweetness to balance it all out. The difference from the 11 year is both give a nice campfire in the chest feeling, but the 16 year feels like genuine oak burning, versus the 11 year which feels like the fire was started with some gasoline. I love both, just some nuance between the two.
Very nice but I believe I'd give Ardbeg the edge - just slightly.
This is one of my favorite bottles - certainly one of my favorite Scotches!
My son gave me 3/4 of a bottle which was given to him. You know what they say about Lagavulin 16 - you either love it or hate it. I have to admit that I fell into the latter group after my first dram. This smoke bomb was my first try at a smokey peaty Scotch. After about a week I poured another dram and I began to appreciate the marvelous complexity of this whisky. I came to really enjoy this Isle marvel and can definitely see myself getting another bottle in the not too distant future. Give it time friends, this one is really good.
Was unfamiliar with Islay whisky before diving into a tasting of Ardbeg 10, Lagavulin 16, and Laphroaig 10. I went into it a bit reluctant given all I have read about the heavy smoke, etc. but I loved all three. Completely changed the way I look at whisk(e)y. Of the three I preferred the Ardbeg, followed by Laphroaig and Lagavulin. I also like how Ardbeg does not use caramel coloring, while the others do apparently.
I fully admit my bias against smoky Islay scotch. However, the balance and appeal to other flavors of Scottish whiksy found here are undeniably great. Something novices and experts can agree on for a reasonable price considering the age and reputation.
It's awesome.
Wie hatte ich gehofft, dass mir der Whisky schmeckt! Alleine die Nase haut einen schon um mit aufregender Komplexität, der Gaumen ist eine Melange aus Torf/Rauch und angenehmer Süße, die zu überzeugen weiß! 10/20 - Wien; Abschluss der Tastillery Box "The Whisky Adventure" zur Feier des neuen Jobs
Go to whisky for peat lovers. Good balance, peat, licorice...very very good
Complex, spicy, smoky
Wow! The nose hits you like a thick piece of leather ! Amazing smoky experience and a spicy tone that keeps you wanting one more sip . Definitely recommended
WOW, just WOW! This is without a doubt some of the best Scotch I've ever had. Very smoky and peaty all the way down, but almost no "burn" at all. Very smooth and flavorful.
My all time favourite
A dram worthy of the Mount Rushmore of Scotch whisky. This full-bodied, peaty delight is a right of passage for any Scotch lover. It may take awhile to tune in your pallet, but once you get there it's worth the journey. I love you, Lagavulin
This is the best scotch I've ever had. Wish it was cheaper but it's worth the price.
Lovely.
Awesome Smokey flavor.
Extremely balanced full bodied Islay flavor
My favorite islay so far. Peat is not too heavy compared to other islays making it easier to taste the underlying complexity.
Nice Smokey taste with a good spice.
Super smoky and awesome
Probably a 9.5 tbh, but Flaviar doesn't let me differentiate. Peat heaven on the nose. Peat, leather, and oak on the palate. This is probably the best intro to peated scotch...a true classic!
It's excellent. If you're into the smoky, peaty scotch, you absolutely can't go wrong with this.
Very good
Loads of smoke
Ron Swanson.
Favorite peaty scotch, with hints of vanilla
My entry door to peated scotch. Simply a must.
Wonderfully Smokey. Good for the holidays.
A meaty campfire ash dram. Somewhat briny. Very rich with a black pepper finish. The perfect whisky if you want to get tossed around the room with each glass. Like getting in a fist fight with your bestfriend and eating a steak after with them and laughing about the fight.
My trusted go to dram. I maintain a bottle of this as my daily sipper.
Favorite whiskey to date.
This is the best Scotch Whisky I've ever had... and, I belonged to a Scotch Tasting Club for years! Smokey, peaty, sweet... love it! I was a fan of Parks and Recreation and discovered Lagavulin from the character Ron Swanson. Nick Offerman is a real fan of Lagavulin and the distillery made a special edition in his name (which I bought.)
Wow, l really did not expect to like this whisky as l told myself l don't like peaty whisky...but this was something else...delicious with a great kick at the end...will definitely be adding this to my collection
Best scotch whisky out there!! (but only truly enjoyed by those who appreciate the peat+smokey notes that make Islay whiskys shine)
quite smoky, balanced finish, nutty smell, not my favorite
One of the best most flavourful whiskeys I've tasted to date do not miss a bottle of this
King of its kind
Best whisky I've had. I love the smoke and campfire and bandaids and sea water
Perfect
Love it. Even better than the 8 yo that I had before this.
Stunning.
Sharp smoke taste, you can taste the sherry. Amazing stuff
Hands-down, my favorite Scotch in the world. I first started drinking Lagavulin when I watched Parks and Recreation, learning about it from Ron Swanson, who is a fictional character. Nick Offerman, the actor that played Ron, really likes Lagavulin and the distillery even came out with a special Nick Offerman Edition, which I also liked a lot.
Just perfect
The nose gives away peat, but the whisky has more to offer. The taste is sweet and smokey. The peat is there but not overwhelming, it's nicely balanced. It ends warm, smooth and peppery.
My current favorite scotch, love the peat and the carmel.
It starts smokey with slight spice. However, there is a sharp alcoholic taste that builds up to be the overpowering flavour.
Still has that TCP antiseptic nose but has so much more. Strong, such complex depth, meaty and salty. Excellent whiskey.
Amazing.
My favorite scotch! Smokey and sweet. Delicious in every way!
Just magnificent. My first heavy smoke and its love at first sight. Incredible!!
Incredible! Love the smoke and sweet spice. Best scotch under $100 IMO
For when one just wants to slow down and contemplate the universe.
In my top 10
My first Islay It definitely took a few glasses to get used to the smoke, but now I find myself reaching for this more and more.
Positively sublime, but you already knew that didn't you?
Beautiful deep amber color. Definitely peat on the nose. Slight burn then a flavor explosion in the mouth. I'm not sure I've tasted anything like it before. Warm aftertaste. I can taste the smoky peat and the salty air it was aged in.
My go to Isley for special occasions. Great all around.
Smokey
Incredible. Smooth, lovely peat smoke, vanilla and salt. Fall in a glass
Love the smoke and spice.
If you like the smokey taste of scotch, as do I, this is perhaps the best scotch ever. For those who live in the latitudes where you have four seasons, every time I drink Lagavulin and lite a cigar, I am reminded of autumn in Michigan.
My favorite islay scotch. The peat is outstanding!
Very flavorful. A bit rough from this batch. But the lingering taste is diabolically great.
My personal favorite scotch.
Smoke bomb that I love! Enjoy with your favorite cigar. Just a touch of sweet vanilla with a big peated smokey flavor.
My go-to for years now. The peat, the spicy touch of sweetness, and that body... One of the true elite
Great scotch. Very peaty. Worth the money in my opinion.
One of my favorites! Bonfire in a glass; no bandaids
One of my favorite scotches. May be due to the nostalgia that surrounds it for me, as it was one of the first scotches I ever tried with my father. Love the smokiness, very reminiscent of a campfire. Will always be one of my favorites.
My favorite
Very smoky and easy to drink. A bit watered down imo. 8/10
One of my favorites, great peaty taste with notes of sherry and vanilla.....
Exceptional. The flavor notes described by Flaviar are spot on and the expression is extremely well balanced. Sherry, peat, sweetness, saltiness, and a touch of vanilla. This is a must-try and, I would argue, a staple for the home bar.
If you are willing to spend the money on a Pete-monster, this is a fine example and very smooth. It is well balanced for an Islay.
Complex, peaty and approachable. One of my favorite examples of how great scotch can be.
A Classic with that punch of peat like an iron fist in a velvet glove. Room for improvement though so I'll just have to keep drinking.
This whisky is pretty much perfect. The complexity of the flavor isn't too much. The heavily peated smoke and wood you get on the finish is such a treat. This whisky is for real peat and oak lovers.
Getting a little tired of the peat
Wet
My most favorite single malt from Islay
This bottle is the pinnacle of smoke and peat but it is extremely smooth. If you're not a fan of that characteristic I would not purchase a full bottle but try first. It hits the palate hard with smoke and peat at first and then takes you on a ride to some citrus and vanilla followed by some sweetness that offsets the initial smoke but doesn't remove it. This reminds me of ARDBEG Uigeadail minus the leather and a little bit of sweetness. I am not a fan of Uigeadail but I can get down on Lagavulin 16.
This is the quintessential islay, smoke and peat for days
Very peaty. Very good.
A bottle of delicious smoke in every sip.
Another Islay scotch that leaves you asking for just one more, after every last drop.
Very smoky. Smooth and complex but not my fav flavor
Close to perfection For me this is about as much peaty/phenolic flavour as my palette can take without it descending into TCP (Laphroaig) level of phenols. I love this whisky, definitely in my top 3. A memorable combination of different smoky flavours both in taste and on the nose. Stunning!!
very medical
While I still think Laphroaig is probably my overall favorite Islay distillery, THIS is probably the bottle I'd pull out when asked "what is an Islay Scotch?". Heaven in a bottle.
My new favorite! Perfect with a Cigar. Lots of Smoke, intense flavors in this peaty scotch.
I feel like I taste Ron Swanson's mustache with every sip. Seriously though, very very peaty. Unique flavor through every sip!
My favorite scotch I've had so far.
Liquid campfire
Super Smokey
A little bit too smokey for my taste
My favorite scotch. Perfect balance of peat smoke and malty sweetness.
This was a 30th birthday present for my boyfriend. He absolutely loved it! He said it was so smooth an rich. I had to stop him from drinking the whole bottle since he's not really a drinker! Customer service was excellent and I will be back again for his whiskey needs! Thank you!
Smokey Smokey Smokey!
A grown-up scotch with depth and style. It announces it presence and never lets go from start to finish. One of my favorites.
Its a very good whisky whit a lot of smoke
my go to Whisky - whilst very peaty, to me there is a sweetness to it.
Dense nose of smoke and malt. Smooth finish. My Fav
One of my favorites. Smoky and smooth
You can taste the skeletons in the peat in this one. Bones and ancestors and all
My all time favourite whisky. Like drinking a cigar!
In the words of Ron Swanson, "nectar of the Gods". Smoky and reminds me a lot of slow roasted BBQ, with a sherry sweetness that comes through at the end and with a hint of pepper. This stuff is exceptionally smooth.
One of my all time favorites - rich, strong flavor.
I think it is understood Lagavulin embodies Islay and all it has to offer. The 16 is the balance of all things Islay. Fruity, peaty, minty and briny is what you will succumb to when indulging in the water of life.
Super nice smoky sweetness little bit of salty finish with a nice oaky vanilla. Easily the best scotch I've ever had
My top scotch. Perfect finish
Smoky rich classic
Strong smoky flavor. I think this is a good one to try, and have an opinion about. I really liked it, especially on the rocks. As others have said, it's a polarizing dram. So far, one of my favorites.
my numero uno, cant be beat
I was reading reviews and was ready for something very smokey/ peaty. But it was one of the best I sipped so far) Very nice!
Just the right level of peat
Lovely smokey flavor.
My first experience with a isly peat scotch. Very nice but I'm still developing my taste. That first slip is a surprise.
Strong but delicate oak and smoke taste
My absolute favorite
Perfect smoke, like drinking a campfire
Very different taste in comparison to what the normal Islay whiskies are like. I miss out on the softer sweet side. Quite salty and smokey. Nevertheless a very good one with a very nice and long aftertaste lingering.
First Scotch that got me to appreciate single malt whisky.
Perfect balance of smoke and sweetness. Smooth as they come.
Heavy peat, campfire, leather, tobacco and caramel. The best drink on earth.
This is, to me, about as good as it gets. Peaty and smoky, like an fire providing warmth on a damp beach on Islay.
Love it. Smoky and Peaty.
Im not a fan of Islay scotches. Still developing my palate. I was surprised by Lagavulin 16! Heavy smoke and peat up front and lingering throughout. Then comes fruitiness with vanilla, sherry, oak and sea brine. Delicious
Really good smoky whisky
Peaty, smoky and some vanilla. Very strong.
Personal favorite. Smokey and complex with deep flavors and lingering scent.
Meaty Bar B Que and just cries at you to savor!
Mmm.. peaty!
Rich yet fresh and smoky, really top whisky not usually a fan of peat but this is an exception
Not worth the price.
Nose: Wet Grass, moss, floral iodine scent Taste: Iodine and honey with a warm boozy and spicy flavor
Really enjoy this one, an initial hit of smokiness that doesn't linger in the aftertaste, so finishes relatively cleanly
I love that Islay peat smoke and Lagavulin brings it. Wonderful blend of peat, vanilla, sherry and oak. IT's a very smooth yet robust sipper that's very easy to enjoy neat. More of a special occasion bottle going from $65-$90 USD.
Classic. Peat and Sherry combined to perfection. Beautiful
Simply amazing, you must try this one
Smoky deep nose, but a surprising wide variety of tastes when you sip (this is the moneymaker). Lingering peaty goodness without being all about the peat. Not your average go-to-whisky but damn good..
A brilliantly peaty scotch that can only be described through the words of Nick Offerman: "mother's milk."
I love the peat smokiness and the final minty blast that doesn't linger!!
Simply perfect
Appearance Gold colour Clear No sediments Medium minus legs Nose Medium plus intensity Moderate age New oak Malt grain Medium plus smoke Spices. Clove, leather, tobacco, Sweet. vanilla, caramel, fig, raisins, cereal Fruits. prune, grapes, banana, orange Matchbox sulphur Iodine, tar, smoked eel Earthy. Dirt, seaweed, brine, forest floor Palette Umami, salty, Medium proof Medium proof Textures. Delicate yet heavy, rich and round Medium minus finish Medium complexity Solid bulk producer
Just perfect
Exceptional smoke - always have this on hand
Simply a favorite
One of the best scotches of all time. Smooth. Smokey.
One of my all time favorite scotches, I love how smokey it is!
Smoky
the first whisky i tried, turns out, my ABSOLUTE favourite of all time!! for those who find the profoundly peat-smoked aroma from the Islay region of Scotland adorable. not to mention, a worth-try for curious individuals desiring to explore the Islay's whiskies.
Peat with a strong smoky finish. Very rich and complex, currently my favorite scotch.
I like this scotch,but the seaweed aftertaste is horrible.
A very well balanced Islay Scotch
This is an amazing whiskey, it begins with smoke and brine, fades to sweet sherry with a hint of salt and finishes with a light minty note
It's the good stuff. Smoky-peaty notes with a minty-vanilla finish. Ron Swanson approved spirit.
Intense and Smokey.
Love this Scotch after the first dram. It's peaty and love the hint of salt.
Love it!!! Reminds me of being by a camp fire on the beach. Heavy peat with just the correct amount of sweetness. The finish is long and wonderful.
It is a good, intense, Single Malt Scotch Whisky that has an aromatic birth; while a rich & bold life leads to a long & spicy death with notes of Indian spices, figs & dates.
6/5
Even though smokies are not my favorites, this one at least has character. Also a little bit sweet with vanilla taste
Additional thoughts: This scotch is a bit more sweet up front than the ones I seem to prefer: Bruichladdich Classic Laddie, Bowmore and Deanston 12-years, and Laphroaig 10-year. The smokiness of the Islay is a plus to me....
Smokey, spicy, and musky. Tastes of cinnamon, clove, and peat throughout. I't reminds me of what the air smells like at night by the shore with a campfire slowly crackling. I enjoy mine best neat!
I actually described the front taste to a friend as 'caramelly'! Can it be that I'm learning something?
Malt and Smoke, a lovely balance.
Way too peaty. Tastes like burnt cough syrup
I love L 16. The smokiness is extremely pronounced, with sips almost tasting like you bit the bark off a tree. Very earthy and smooth.
The King of the Islay scotches. Smokey without being overpowering; this isn't like Laphroaig which beats you over the head with its peatiness until you can't taste anything else. The flavours of Lagavulin 16 are almost perfectly balanced for those that love the intense smoke and peat of Islay, but also want to taste the scotch underneath it, somewhere!
I am a new to whisky, I preferred vodka until a friend of mine "forced" me to sip from a glass of Lagavulin a couple of weeks ago. This was a life-changer... This scotch is so good!
Always have an open bottle. Love this
You have to really like "Smoke"! The intensely Smokey taste is unique and powerful. This is a scotch that is best enjoyed straight and in small amounts any one time. A truly unique taste.
Smell: Smoky Taste: peat/ salty After Taste: peaty
Always a favorite
When Lagavulin is good, it is exceptional and probably one of my favorite drinks. However, I find it to be very inconsistent from batch to batch and country to country so I find it hard to justify the price when there is 50-50 chance I won't like what I am getting.
My favorite. This is the dram that converted me to an Islay fan. This changed what I looked for in a good scotch.
Peat!
I was surprised I liked this so much because it is very smoky and peaty. Probably my favorite whiskey overall. May not be right for you if you're just starting to try Scotch or prefer the sweeter more mild variety.
One of my faves. Strong initial punch of peat and smoke with a light, smooth follow thru.
Almost overwhelming flavor!
Smoky taste is a signature taste. It might work ocasionalky, but... it is a bit out odmf ballance.
Bring it on!
It's like licking the warm barrel of a shot gun that has been resting in a pile of smokey peat.
My all time favourite dram. The smokiness is immense and such a lovely tasting whisky. Not many can match this in my opinion.
Nose: rich leather, smoke, and some melon Extremely smooth, finish of oak without too much tingle.
This is my go-to scotch when I want a peaty dram.
My favourite peaty whiz. For many years. A heavy tipple suited to slow drinking in front of a fire. A third to half proportion of very good water really opens it up. Sip neat only taking in a very small quantity. A long lingering experience. Not for the faint hearted, and something to be savoured rather than quaffed. A big winner.
love it! love the smoky taste
Perfect Harmony of sweet vanilla and smoke. Hard to find more taste for your money
This is (obviously) an excellent bottle, assuming you're ready for a punch in the face.
My first venture into Isley scotch. Was first almost overwhelmed by the deep peaty smoke and was not sure I would get used to it. After several months and half the bottle, it became my favorite. It is now the only scotch I've replaced after running out.
If you don't like it your first time spend some time getting to know this one. Really beautiful complexity with flavors unlike anything else. Sure, the rubber and peat can seem to boarder on self harm but good lord does it feel great. For me the nose gives chills every time.
I highly recommend anyone getting into drinking or that already is into drinking, they have such a larger variety that they truly have something for everyone, the Flavair community is extremely helpful with their reviews, the online bar is amazing at tracking what you have tried and liked
A smokey peaty wonder. Sooo smooth. Love it!
one of my favourite smokey tasting whiskeys
Love this Scotch. One of my favorites. The peat and smoke flavors are intense but leave me wanting more!
Love it.
This scotch packs a smoky punch. It is smooth with notes of dried fruit and leather. If anything will put hair on your chest it will be this.
Classic. What brought me into the world of whiskey!
One of the top contenders for peat
Strong chemical start (iodine or phenols?) with great smoky character. Honey/fruit with pepper and vanilla, all the way through a smooth finish
Too Smoky
Smooth and very smokey
Love the smokey, salty, brineyness
Tastes like drinking an ashtray
Very peaty. Spicy with just enough sweetness.
Perfect peat! My favorite hands down. Strong yet smooth with a lasting finish. Strongly recommend for any peat lover.
Amazing smokey/peated taste
Peat at it's best. There's smoked salmon, camp fire, burning tires, iodine, and seaweed on the beach mashed into liquid form and put into a bottle. Islay doesn't get much better than this.
Beautifully smoky with a strong taste and a lasting finish.
Favorite dream of all time
Absolute best. Great taste and dangerously smooth.
Loved it!
Peaty and Smokey wonderful flavor
Delicious, smoke and leaf up front. The second dram opened more vanilla and sweeter flavors.
Wanted to see what all the hype was about and went into this bottle with a Healthy amount of skepticism. I was even more apprehensive after the nose and heavy iodine notes. However, to my delight I was amazed on the taste and how balanced the smokey, peaty at the beginning gave way to great smooth light finish. I love this one!
This is the first I've tried from Lagavulin. As a peated whisky, I was a little intimidated but, wow! It's so incredibly smooth that I wasn't overwhelmed by the peat at all. I will definitely buy this again.
Perfect balance of sweet and peat.
great smokey and peaty flavor
Love it Reminded me of that TCP smell of childhood scuffed knees - peaty and smokey, slightly sweet & vanilla.
Warm and smoky with a bit of salt air. not as medicinal as the Laphroaig 10yr, an excellent dram.
very strong smoke flavor which i liked a lot but isn't for everyone, prefer macallan myself.
I have tried other smokey scotches in the past and didnt care for them. I prefer the sweeter scotches...until I had a glass of this. Couldnt stop thinking about for a day or two. Bought a bottle and fell in love with it. A sweet, smokey, sherried campfire in a glass. Excellent.
Smoky is an understatement
A bit too smokey for me, great scent, but found it difficult to finish
My Fav
Love it
Very smoky Little lighter than other Islay Scotches
Smokey, sweet, great start great mid and great end, amazing all around hard to beat this scotch
Smoky, peaty, medicinal.
It is a really good scotch I like it alot. The smoke is a bit overpowering for my pallet it was hard for me to get many other flavors.
tasted terrible
This is the scotch I think of when I'm thinking about Islay single malts. Heavy smoky peaty flavors, right on the edge of being too much but never crossing that line. Classic.
So so so good...try the distillers edition!!!
The right amount of all the tasting notes you would expect. Nice immediate smoke flavor with a clean peat finish down the back of the tongue. *The final after taste seems a little plasticky, but not enough where I would drop the rating.
This is special! By far the best peated Scotch I have tasted. A must have for your home bar. Level up!
Very smooth. Not too in your face with the smokiness. Doesn't oxidize well, once you hit a third of a bottle or so get to drinking!
Smoke. But not overwhelming
This is what started me on my quest for scotch. Love the peat, now paired with ralphy.com I'll continue widening my taste path and enjoy filling my bar.
The perfect marriage of rich, hearty smoke and sweet sherry notes. Surprisingly approachable for the amount of peat in the bottle. Unicorns do exist!
perfection
To smoky and to peaty for my taste but I'll try it again :-)
The g.o.a.t.
Perfect
Here I am, at the third and final Scotch sample from my tasting box. Thus far, my experience with Scotch has been...fine. I am a bourbon guy, and while I can appreciate a good Scotch, it doesn't seem like something I would choose to imbibe. The notes I get from Scotch are light and dry. There have been some distinct flavors, but nothing too bold and certainly nothing I would say is complex, which has often been my experience and perception of bourbon. I view Scotch as the white wine to bourbon's red. That said, this third and final taste is, from what I have observed as a Scotch outsider, the "best" one. One that is well regarded and sought after. I know this label is the favorite of my older brother, so I expect to have one of two little brother experiences with this dram: I will either be excited that I can share in the enjoyment of something my older, wiser, and more sophisticated brother has said is good or I will confirm, once and for all, that he is an ignorant boob and I am the superior son. Onward! The nose is smokey and peaty and not at all in my wheelhouse. It reminds me a bit of a campfire and does not make me excited to taste it. I didn't give myself time to savor the first sip and identify any flavors because I did not anticipate I would like it. I notice that the mouthfeel is oily and smooth and the palate is just as smokey and peaty as the nose. There is no finish to speak of and there is a slightly sweet, slightly woody aftertaste. I try to give the next sip a bit more time in my mouth, but it's just like drinking moss and then eating a cigar. I do not like this. I'm sticking to bourbon and I am officially petitioning Congress to declare war on Scotland.
Hello Nick...if youre a bourbon lover, but want a bold scotch with big flavor, try Glenmorangie Quinta Ruban. Has the darkness and punch of a bourbon and a lot more flavors as well. Cheers!
A little too smokey for me, but has a great smooth character to it and a nice finish.
All time classic. Smooth with a wallop of smoke. Yum!
Smoked bacon and tar
I generally don't like smoky scotch. While the smoke is strong, the smoothness and flavor on the finish are quite satisfying.
Absolutely delicious!
🤓
Perfect in every way!
This is a staple, if you haven't tried this you need to.
This is the best single Malt the market, the flavour and the smokiness of the are just incompatible to any other. Unless of course you want to pay a fortune for an older version.
One of my favorite Scotch's. Heavy on the smokiness.
This stuff tastes like a hospital is living inside my mouth. However, the effects a single glass has will make the taste worth it, but I won't drink this again.
Smoky but pleasant.
I did not like this scotch, the "smokiness" was overwhelming.
A bit too smoky for my taste, but great scotch.
My "go to" scotch! Just the right smokiness and full of flavor to the last drop. It's a great choice without breaking the bank!
Very smoky, a leather taste, stay a while in mouth. Very original !
Good scotch but the taste was really young ethanol on the front end with a mature smoky finish
My favorite
Unlike any whiskey I've tasted. The smokiness, the peat, its beginning, its finish. You can't get much better than this!
Smoky, spicy just what I needed after a rough day of dealing with crappy people. Finishes medium to long in my experience which lingers to the next sip. Two drops of water opened something in it scent wise and changed the taste ever so slightly. One of my faves.
Smoky iodine. Vanilla. Sherry. Fruity. Sweet. Peat. Long spicy smoke finish. Smooth for an Islay. Oily on the lips
A nice cigar with this Scotch is as close to heaven as you can get! I need one little ice cube just to really bring out the smoke!
Smoke, smoke, and Smoke! This scotch is reserved for people who love that peat.
If you like a Smokey tasting scotch, this is for you. Very Smokey, little bite
Perfect for anyone who loves a smoky scotch. Background of sweet vanilla aroma.
Smoke and peat on the nose and palate, although lighter than some other Islay whiskies. Ron Swanson's favorite, but not mine. Good, but I prefer the Ardbegs and Laphroaigs.
Great for a scotch but a bit too harsh.
Currently my favorite Scotch. Well-balanced and delicious.
I always leave room for me to find that ultimate special dram and Lavavulin gets closest of all the Scottish drinks I have tasted. This is two drinks in one, without a few drops of water it is Smokey with hidden peaty pepper on the edges of the tongue and a nose that simply delays you wanting to taste this drink. Add a few drops of water and the smoothness of the drink rises to the front and suddently the fruit and spices become the reasons to taste this drink. With the right amount of water this becomes cream of the Isley whiskeys lifting out the taste of aromatic tea and raisins on the taste leaving the smoke to lengthen the finish that goes on... and on... and on...
This was one of the best whiskies I have ever tasted. I would highly recommend this.
So unbearably smoky.
The best drink I've ever tasted!
Wonderful smoky, peaty taste
The best.
Lovely dram. Smooth peaty whisky from Islay. Quality in every pour.
Excellent smoky flavor and unique aroma
I'm not really a scotch guy. This is just a little to smokey and peaty for my taste.
Excellent flavor and superb aroma
Not my go to realm of Scotch, but a solid dram.
Like a campfire. Honestly better if only had a couple sips. The more I had the more i didn't like it as much
Very peaty scotch. Very smooth. A great night cap.
For the peaty people out there, this one is a regular in the smoky world. Great value for a good 16 year
Love it! It's like there's a campfire in my mouth
Awful.... tastes like rubber and pure charcoal, I think. Not good!
I rarely ever give 10 stars. This is what all other single malt Islays should taste like. Absolutely top notch. This is for those who already enjoy an Islay scotch. Or if you want to impress your friends. Not for beginners.
smoked, a classic
This was really not for me. I couldn't get any flavours coming though over the heavy chemical taste. This one will not be making my whiskey cabinet
I like it very much. Laphroaig is a little more tasty for me, But Lagavullin is also delicous.
I was introduced to this gem while traveling. The Smokey flavor of this scotch has changed the direction of my spirits journey for the better.
My favorite scotch whiskey! Peaty, smoky with beautiful sweet finish. Great for sipping neat.
Perfect amount of Smoke and so smooth. One of my favourites.
Amazing! The profile Flaviar listed is spot on!
Oooooooh! So good! One of my favorites, will be getting a few large bottles!
One of my favorites - smokey/peaty flavor is smooth and delicious. A must have.
Crisp, clean, and the perfect amount of smoke. Definite buy.
A must have in my liquor cabinet at all times. The perfect Islay. There are others I prefer but this is always available.
Number one from Islay.
Smokey, but not overkill. Enjoyed it a lot.
I love the flavor of this scotch, the peaty smokey notes make this more of an experience than a drink.
My all time favourite, so smoky and punchy.
Inspection: Thin in thickness, Darker color. Aroma: Very Smoky, and can definitely smell the Peat. Taste: The Aroma overpowers. Very strong at first. An Oaky flavor as well. Vanilla hints and smokiness all the way through. Exhale: very Smooth, a weird chemical taste on the breath tho. Kinda harsh Overall: Not very good in my case. Lots of Flavors but Not for me.
Wonderfully Smokey.
Way too peati for myself and my wife. Won't try one like this again. PPM was too high.
Perfection.
My go to favorite scotch, perfect amount of smoke/peat with a slightly sweet finish.
Love the smoke and peat, not to much and not to little. And the mix of sweetness makes it so much better
Peat, smoke, brine, and a hint of sweetness. As a neophyte this is at the upper limits of my tolerance for scotch, kind of like when you first start drinking black coffee. A great introduction to the complexities of scotch and a wonderful way to ease yourself into stronger, more developed drinks.
Smooth with a small bite. Hint of smoke
One of my favorites on cold winter evenings. Perfect level of smoke and sweetness.
Loved this one. Sweet and fresh and has a lovely colour.
This peated scotch whisky is a gentleman. The peat smoke is present but is not a "punch on the nose" peat. Behind the smoke you'll find a good amount of sweetness from the malt and the barrel influence. There is some complexity to it but is not hard to understand. A most on anyone's bar.
Some people really like this whisky. For me, all I could taste was campfire. It was just too peaty for my taste.
A caveat to start: This is my favorite whisky, so take what I say with a grain or two of smoky sea salt. This is NOT a beginner's Islay whisky, if you're new to peaty smoky whisky, and want an introduction to what Islay has on offer, Caol Ila 12 or Bowmore 15 are probably better places to start. That being said, I love this whisky, I love the intensity of the peat, the smoke and the taste of the sea. And despite the upfront intensity of those, and numerous other flavors, the finish is light and smooth. There's no better whisky than this for the cold, wet winters of the PNW, or Scotland for that matter.
This is my first love in whisky. I always keep coming back to it and it never lets me down.
One of my favorites.
My first journey into peat land... And to this day, my favourite Scotch by far :)
Excellent overall, classic whisky with a great flavor profile. Could stand to be turned up a bit, and could do without the artificial coloring.
Definitely one to have again. Wonderfully Smokey with a lovely finish.
Smoky chemical peat sweetness
Good start, good finish, a glass of this right from the bottle without any additions is my favorite scotch.
Love the peat and the depth of flavor. There's nothing like it.
peaty, but not too peaty.
Blech! Not a fan. So very chemical/artificial in taste.
I wasn't sure I would like the smoke, but it was very complimentary to the vanilla and sherry.
My favorite scotch....so far!. This is peaty but so balanced and smooth.
Great smoke..!
My favorite go to splurge scotches!
Smooth, warm smoky flavor nice mild blend of peat and vanilla with light sweet finish.
Simply the best lowland I have had. Classy, elegant, and mastered!
Very smooth, but VERY strong peat
The smoky/peaty flavour gratefully surprised me. It remains for long time in your mouth.
Smokey, salty, peaty and a tad bit sweet. Very smooth on the end
This is the best balanced Islay I've had. Great mix of peat and sherry influence.
Not a whiskey I would buy again. A little too much peat.
A bit too peaty for me. Wouldn't be my preference, but not a bad whisky regardless.
To much peat for me...
Hits the nose with a powerful peaty smokiness, some fruits and vanilla, Robust and full flavor of fruits and smoke that ends with a nice savory saltiness, Finish is beautiful with a huge cluster of fruits, spices and vanilla, some peat and barley that lingers together with a clear pepper tang,
Peaty, Smoky and just deliscious. My all time favourite Malt.
Probably to smoky
I absolutely love the peaty smokiness in this bottle!! It is smooth and exactly what I'm looking for in a Scotch
Smokey, peaty. Tastes like a fight against 800 years of English oppression.
Peaty yet complex, one of my favorites!
At first I wasn't a big fan of the peat flavor at the first tasting. However, it has grown on me. I can now see why Ron Swanson from Parks and Rec loves this.
I quite enjoyed this one. Bought it as a treat for a party we had and it was delicious to sip on. The most prominent flavors I tasted were the smoky and peaty flavors with some faint hints of vanilla and dried fruit. Overall, one of my favorites so far.
The fav! The best!
I love the peat and smoke in this Isla. Lagavulin never disappoints as it is as smooth as silk sheets.
For years I had only tried the Glens available at most bars and I wondered why so many people loved Scotch. I always wanted to, but just didn't get too excited about it. Then I tried Lagavulin 16 Year Old Scotch and it changed my life. My wife and I come up with all these random "special occasions" now to justify enjoying another glass of Lagavulin. It is a calm, relaxing, happiness in a bottle. It is warm and cozy, sit by the fire, look out at the lake, elegance. This is what Scotch is supposed to be. This is what everyone was on about.
Love the smoke and peat ---- the more scotch I taste the more I am drawn to peaty rates right up with Laphroaig!!
A classic go-to. Can't fault it. Also nothing new I can write or say about this, everyone's reviewed it a ton..
Taste as it should, great batch!
Tastes like it should :) great 🤘
Perfect balance between smoke and sweetness, with a little iodine and salt hints. After years of drinking many different great whiskies, this is my go-to regardless of price.
The smoke and peat was overwhelming. Terrible aroma and taste of leather. Very thick, it taste like a burning building.
Great taste and finish very unique taste
Favorite so far. Went from pipe tobacco to sea salt and caramel. Very intense; not for the faint of heart.
My favorite smokey scotch. Hands down.
Whoah! I have never smelled or tasted anything like this. Smoky iodine?!? Very smooth finish. Lingers on your taste buds and olfactory nerves for probably a week.
I never had scotch whisky and this was a new experience for me. This was by far the most delicious drink I've ever had in my life. When you first drink it, you get a subtle sweet peppery taste at the beginning, but when you swallow you get a very nice piney aftertaste. I am definitely buying a bottle of this to put in my home bar.
Newer to scotch whisky in general. Even more new to Islay single malts. Me and my more experienced scotch drinking neighbor both loved the Lagavulin 16. We sipped it alongside Oban 14, JW 18YR, JW Blue, and JW XR21 and we thought it was excellent. Smells leathery in a good way. Finishes smooth. I would definitely buy more Lagavulin 16.
Another classic. Don't miss it.
Best regularly available single malt I've had.
Deep smoke that lingers deliciously.
Wild and beautiful. Will take some getting used to, but I intend to.
I really thought the smoke was going to be overpowering with this one but I really enjoyed it, the taste stays with you.
This really surprised me how much I liked it. Opening up the bottle, the smoke was very apparent and I wasn't excited to drink it. I was quite pleasantly surprised by the other flavors that came through. This was my favorite of the three scotch selections in my starter set. I'm more of a bourbon drinker but this was a nice change of pace. I'm sad to see it is significantly more expensive than the others. I would probably use this as a special occasion selection only for that reason.
Smoky with over the top flavot
excellent peaty whisky, smooth ------ ah!
Heavy peat is not something I enjoy normally, but this has redeeming qualities. It is very sweet in the middle and is very smooth! Glad I tried it.
I guess if peat is your thing, this is awesome - peat is not 'my thing'. I don't like horseradish or wasabi either (but like heavy spice), so maybe it doesn't match my taste buds.
Tough as an old leather shoe, smooth as silk. I enjoy sharing a bottle at special occasions.
Delightful whiskey. It was smooth needed no water
I just loved this. I'd say it really is a you either love it or hate it type of scotch. But I loved it.so smooth and so much going on behind the peaty's flavour. One I use to relax with on a really stressful day.
Smooth and smokey. great tasting Scotch with little to no burn.
Extra smooth and pure fire going down.
Nose: loads of peat smoke, with some maple charcoal smell Taste: like biting a fireplace in a good way, some tobacco and fruit, no need for water here lingering strong smoke, delicious
Fantastic. Smoky start with a slow burn and nice lasting salted finish. Favorite from Islay so far.
my favorite go to bottle hands down. very rich, smokey, and peaty. hints of brine too.
dont know what to say about - not my thing...
Love the smokey flavor!
Smokey throughout with notes of Carmel and a sweetish nose
Love the smokey flavor. A very crisp whiskey.
Very smokey just on the border of being too smokey, i feel as though it's overrated by most people.
Second favorite bottle
Extremely Smooth!
Perfect smokiness!
A standard for peated whiskies!
This is an excellent, smoky little devil. Everything an Islay whisky should be!
I liked the smokiness to this. Not the creosote note so well.
Surprisingly smooth for a whiskey that has the initial nose of a tar bog. Underneath the heavy peat on the pallet are delightful flavors that keep you coming back for more.
I fell in love with this whisky in a blind tasting. Needless to say, it's my choice of war every night out, or quiet at home.
I love the club The prices the monthly free shipping and of course my quarterly samples. If you like sampling different alcohols this is the place to do it at a reasonable cost.
The smokieness of this scotch is phenomenal I don't know that it's everyone's taste because the Peet is very strong but oh so smooth.
Smoky, peaty, deli.
Deliciously smoky peat flavor, camp fire on the palate with dried fruit and leather. One of my favorites.
Love the Smokey after taste
Still is, and may always be, my favorite for the peatiness and depth of flavor.
This is not one of my favorite whiskeys, too peaty for me; however, this is far and away the favorite of my son-in-law. Therefore, I purchase this for his enjoyment, which he does.
It's not everyone's taste, this style of Scotch but it is phenomenal on the pallet. My wife says it smells like burnt tires I say it smells like heaven and taste that way too.
Consistently one of the best whiskeys out there. Always a great go to dram or bottle.
Nice but now I prefer more Japanese
Smoked butter. Starts out strong, but finishes smooth.
Super smooth. Love the peat but it's not too much. Great all around Islay.
Smooth flavor, very smoky after taste.
If it's good enough for Ron Swanson, it's good enough for me
Your quote says it all unfortunately... bought a bottle of this last year because of it's "legendary status", and I love peated whiskey. I've never been more disappointed especially at that price point. Just a weak dram all around, very bland and one dimensional. Lag 16 might be the Hipsters choice for "peated" whiskey (look at me, I can handle peated whiskey like Ron Swanson). But I'll stick to my Ardbegs and Laphroaigs with the occasional Kilchoman.
Best. Scotch. Boom. It's got it all- spice, caramel, peat, smoke, greasy nautical rope- you name it. It's heaven in a glass.
Taste like oak barrel
Amazing stuff. Smoother than the 8 year in my opinion. This will be one of my go-to beverages for years to come.
Perfect amount of smoke and peat flavor. Warm on the tongue. Outstanding all the way around if you like smokey taste.
As close to perfection as one can get without breaking (or denting) the bank
To me, the perfect whiskey if you like peated malts. Rich, warming smoke, but not overpowering. Finishes with almost a salty, sweetness..... If that's even a thing....
Very smooth and balanced. Heavy on smoke and peat but not so much as to turn ones palate. Hints of sweet vanilla and sherry on the finish. An amazing Islay
Smokey, peaty. And taste that is balanced and complete.
Simply put, this whisky is excellent!
My favorite
This is the best of the Islays on my shelf right now. Strong start with a buttery finish. Love it!
Great smoky smell and flavor. Very smooth, if you like peat this one is for you.
Love the Smokey flavor
My whiskey indeed. Ever since I tried this scotch, it has forever changed the way I look at whiskeys. It is hard to not compare all drinks to it. Smokey and peat flavor throughout but smooth at the finish. I would highly recommend every whiskey drinker to at least try once.
Be warn. If you don't like smoky alcohol, stay away. If yes, this one is for you. It's very good. The taste is so long in the mouth. After a first soft kick to the nose. It fills you. But going around all your took. And warm you with his great feeling along your throat. But you have this nice back feeling of soft sweetness. That can make it easily drinkable for beginner. He will be part of my home bar.
I guess my scotch pallet is finally evolving as I was never a fan of smoke until I tried Lagavulin 16. Definite smoke on the nose and the front end of my pallet, then like magic the smoke vanishes into a delightful smooth finish!
Hands down favorite peaty scotch! Smooth yet complex with spice and smoke. The sweetness European oak rounds it out beautifully.
Too smoky
Excellent taste and body, lots of flavor
Wow, smiley, peat. Finishes strong
So good that my peat hating wife will happily drink a dram with me
My favorite peated scotch!
Favorite all time scotch
Love it taste of oak and strong smokiness are awesome
My Favorite Scotch so far, Smoky and Yummy, just a great drink from start to finish.
The best bottle I have ever had. I almost cried. super complex sweet smoky peat fruit and a long finish. Worth every penny. I have already ordered a second bottle and will probably order a case after my collection is finished
Worth every penny I never believe in giving anything a 10 but this one blew me away smokey sweet complex long finish makes you want to cry it's so amazing
Probably the best whisky in the world... (In my opinion)
Its just wonderful!
Smokey and smooth
Best most smooth, great flavor single malt going. Love the smokiness. Best single imho
Huh
Definitely a smoky one. It didn't stand out to me to much compared to similar bottles but to be fair I've been a bit out of the smoky trench lately.
A little overwhelmingly peaty. Really have to be in right mood
Complex but way too peaty and smoky for me! But if you like that, you will Love this One I think
my favourite peated whiksy in this price range
Beautiful balance with smokiness and buttery, vanilla finish! One of my favorites and one I try to have on hand at all times.
Too smoky for me
Difficult to review this. All in all a bit disappointed. Flat Dr Pepper, fish oil, sweet peat. Lingering finish but not overall pleasant. That being said, I can see why it has the following it does. Complex, just not to my taste. Had me craving a dram of Ardbeg to wash it down
I LOVE peaty scotches and this was wonderful! Strong peaty smell, with a softer smokey flavor. Peppery finish. I loved how the sweetness was prominent as you hold it in your mouth, but then the smoke and pepper appear as you swallow. Absolutely love it!!
The best dram I've had. Nothing beats it yet. Warm campfire in your mouth. Who could ask for anything more.
Amazingly peaty and well balanced. Love the smokiness.
Very Unique Peaty Smoke flavor, I have never had anything like it.
Right amount of peat and sweetness
Too peaty. Apparently I'm not a fan of smoky scotch, so this one wasn't for me.
Never had a peaty flavor before but i think it'll grow on me. Definitely worth buying. - Update 2 years after tasting the first time: Extremely smooth and the peat flavor was much more complimentary to the rest of the flavors than I remember.
Lagavulin somehow managed to create an extremely peaty/smoky scotch while keeping it smooth and pleasant. 10/10 would buy.
My favorite whisky by far. Strongly peaty and smokey without overwhelming everything else thats going on. Flavor sticks around for a good while after it goes down. Have yet to find anything I enjoy more.
Perfection
Quite good. Very smokey and very smooth. Little to smokey for my tastes but wouldn't turn down another glass.
This is absolutely a drink to have when you want to kick back and just do nothing. Lovely aroma and taste.
Best I've had so far. If Ron Swanson loves it, its good enough for me - Novice Drinker
Smokey and smooth with a lengthy finish that let's you know this is a true peated islay scotch. For best results drink near a fireplace with a few good friends. Perfect pairing for charcoal grilled steak.
Probably my favorite Scotch ever. Smooth and a bit smoky. Big flavor and perfect for drinking neat. I'm. I expert, but I know THIS is what I like.
Smokey. Peaty. Smokey. Lush. Smokey. Complex. Smokey. Refined. Smokey. Elegant. And a little Smokey.
Smokey, sherry, pepper, with a taste of a Scottish beach and a hint of vanilla. It would go well with an aged cheese and a dry cracker.
Subtle smoke that doesn't leave a burning reflex feel. A perfect warming feel and taste of a campfire on a cold night at a log cabin.
Nectar of the gods.
This is one of my top Whisky's. The wonderful peat, the salty and oily notes, transport me to what I imagine the coast of Scotland must be like. If you like a peaty complex dram there are a few as good and a damn few better.
Very peaty and Smokey. This is my favorite scotch
Not a fan of the peat.
Likely a nice whiskey but I'm not a fan of the peaty/smokey quality.
The king of Peat. Islay's crown jewel.
This scotch will never let you down! Smokie upfront, smooth finish!
What more is there to say? One of the titans of smoke and peat. Delicious.
Too smoky
My favorite peaty scotch so far
It may seem tasteless to reference how I became interested in this beautiful substance, however, Ron Swanson has never let me down! Lagavulin 16 year is robust and I love the Smokey taste! For some, it can be rather strong and outgoing, but for me it pairs very well with a medium rare steak or at home sitting by a fire with my girl. Cheers to all!
Add a pinch of sea salt and a splash of good clean water for a nice rounded out flavor.
I have come to the conclusion whiskey from this region of Scotland may not be my favorite. To me, it has too much of a medicinal taste for my liking.
I have come to the conclusion whiskey from this region of Scotland may not be my favorite. To me, it has too much of a medicinal taste for my liking.
Smooth and peaty......The standard I compare other peaty drams to.
Nose has notes of sweet vanilla, campfire smoke, and sea-spray, with an overlying medicinal aroma enveloping everything (this last bit sounds more unpleasant than it should- all together it's quite nice.) Flavors start with deep, dark malts (not unlike one might find in a good pint of stout), a light touch of sweetness, a hint of dried stone fruits, and brine. This progresses into black tea-like bitterness, pepper, hints of tobacco, and miles and miles of powerful, assertive smoke The finish is long with lingering smoke and cracked black pepper. The whole package is super complex, but very articulate; one seems to notice new notes with every sniff and taste. It's uncompromising and possibly not the best starting point for those new to peated whisky, but it's definitely a paragon of what makes Islay great for those that have come to appreciate the style in all it's smokey, salty glory.
Enjoy the smoke, but the lingering effect in my stomach after is unsettling.
Mothers milk. Need I say more?
Great scotch. Peaty and heavy but with a smooth finish and a hint of sweetness at the end. Favorite whisky to date.
My all time favorite, the smoke is very unique in this
Best whisky there is. Complex and peaty but smooth and sweet if you take your time
It's ok, I like Lephroaig better.
Excellent with a steak, peaty
I detected a huge hint of old fashioned medicine, mixed up by some pharmacist in the 1700's, when arsnic was a staple ingredient. Tcp, then a bite from the alcohol. That's it. As I sip at this elixir of a day gone age, I struggle to taste anything pleasant. .... needs coke. There, I said it.
Love the peat
A Beautiful Islay Scotch. Smoky, Spicy, and slightly sweet Vanilla roll across your tongue. This is my favorite Scotch and something that i always keep at the house.
My favorite scotch. Love the smokey flavor.
I've realized that I prefer the Islay whiskeys over any other region. The smokiness that comes with this dram is so rich and warm. In transports you to a cold night in a cabin. The nose is smokey, oak, maritime scents with a floral undertone. The body hits you with more smoke, wet wood, sea air. The finish is warm, smooth and satisfying. The scent stays in your nose, mouth and empty glass for a good amount of time after the last sip. I've never been to Scotland but each sip makes me think that I'm overlooking the rough seas, dark clouds and green cliffs.
Too Peaty way way too Peaty, harsh.
I think for the price and the single non blended its great. I love all scotch from Islay and at 16 years old its great. All Islay has that smoke taste which I love along with a cigar or hams/cheese makes it a great combo. Straight up or just a few ice cubes and you are set...
Intense peat. This is the scotch that turned me onto this style and I still love it.
The Gold standard for peated scotch.
Smooth
I've been drinking this for years and I'm still getting small nuances that I've never sensed before. I love this because I know I'll never get bored of its intense profile. It's not for the faint of heart. You really have to get over the smoke and peat to truly appreciate the rest of this amazing scotch. Once you do, you'll be trying to figure it out for the rest of your life. It truly is an intimate experience that feels like it takes you to Islay itself. If you've tried the rest and want something completely over the top, then go for it!
Best Scotch I have ever had
Classy. Love this Islay one. Lot of smoke and salt. Can't find the sweet note, only the sherry and vanilla.
My first Scotch. Holy peat smoke Batman! Not a dram to be taken lightly, and one that will evoke strong opinions one way or the other. But eminently enjoyable to the right person.
Exquisite and delectable. Smokey and syrupy in all the right ways. My go to.
My first deep dive into Islay, and peat, now I cant stop!
Oh so smoky. It's like tasting a fine cigar. Smoky smooth and telling flavor.
For some reason I always circle back to this fine specimen. Never disappointing, ever pleasing.
Iconic and Fabulous: it's the daddy. On Islay, of peated malts, of Island Malts. The lot. Just remember 'there ain't no fooling with a Lagavulin'
Like lighting the fire of goodness. The smoke resonates throughout the air. LOVE this.
Nice and smoky!
I'm with Ron Swanson. Just give me this and a rare steak hot off the grill and I am set!
Always good
Peaty yet smooth. Smoky yet delicate. I compare all other Islays to this one.
My go to whisky.
Smooth, smokey, perferct
Love the subtle but lasting smokey flavor, by far my favorite Scotch.
Smooth flavour with a little tingle on the tongue. Leaving your mouth dry but ready for the next intake.
Delicately Smokey with a sweet finish.
Never less than expected - the oily peat charred smoke character lingers...
A really excellent Islay scotch. Hits all the right notes. Very satisfying. You know you're drinking scotch - it's smokey, flavorful, interesting yet smooth. And it has a nice lingering aftertaste with a flavorful bloom.
Very good! Nice balance of flavors. I like peaty scotches, this one is smoother and more balanced than many. Good stuff
Love this one.
Great mix of flavors. Smoke and peat and a little iodine. Smooth with layers of flavor.
One of my absolute favorites to drink. Great Smokey peaty flavor!
A near perfect Smokey, peaty, true islay classic.
Very full, peaty and smoky. Finshes smooth with a lot of smoke. Reminds of delicious BBQ smokers from back home.
A delightful Scotch with lingering peat smoke flavor. Scents of fruit, oak, and vanilla. Smoothly hits the palate, with the ever slightest spiciness one might expect. It's not until after you have swallowed it that the wonderful feeling, and taste of peat become noticable, and linger ever gently in your nose. For those who can't sit next to a beautiful peat fireplace and enjoy, this will bring the smells of that beautiful fireplace to you.
Not usually a scotch drinker but this one was flavorful and smooth.
The taste is a bit too smoky and peaty for me, even the smell gives a burning smell. It will not be a drink for me.
Salty, peaty, smoky, with vanilla flavor. I can say that at first I didn't think it was for me but then after having more through out the month it grew on me and it's one of my favorites. My girls friend asked me if I was drinking medicine because it does start that way but it later turns out to be a very good drink.
Amazing! Nice peat, present but not overwhelming done. Pared well with Padron 7000
What's the Padron 7k?
Oh nvm, found it.
Just picked this one up. Love the peat, smoke flavor. Spice at the end is great to finish off a smooth Scotch. Definitely a great addition to the home bar.
This is a fantastic winter scotch. It does taste like a smoker. If you're not into that intensity, skip it.
My favorite scotch - smoky, peaty, and smooth as hell. The gold standard by which all other scotch whiskies are to be measured.
Strong peat, spiced and sherry, tobacco and some dried fruits result in a complex whisky. Well balanced and long finish
Like drinking liquid smoke!!
Define "acquired taste" : Lagavulin 16 Maybe you need to drink the entire bottle to love this famous (over?)rated whisky. I couldn't pass the first ounce.
love the deep dark flavour with the smooth peaty finish.
I have an impression that it is very close to Ardbeg An Oa. Feels like Ardbeg was trying to make something similar to Lagavulin. I prefer An Oa, but because of my impression I have to appreciate Lagavulin ;)
Love it. Great smoke...
My favorite Scotch so far. Smooth with the right amount of peat and smoke.
Loved the long finish. There is a subtle sweetness hidden behind all that smoke that I cannot get enough of. Would buy again.
This one of my favs. If you like Peaty you will love this. Not overwhelming smoke, but a solid taste of it.This is a staple in my collection.
Best Whiskey I ever tasted, amazing body and great flavor. One of the best smoky whiskies out there. I always have a bottle in my bar, never fail to impress my guests!
When I am in the mood for a peaty Scotch I reach for this! But it is not for the faint of heart, a smooth scotch with a big kick of Smoky peat!
Love this Smokey peaty malty scotch.
A must -have for scotch drinkers
I wasn't a fan at all, it smelled like an ash tray and the taste was just as bad. I don't mind some smoke, but when it overpowers everything else entirely it's a little much for me.
Very smokey, and peaty, but really quite smooth.
Worst whiskey ever tasted.
You had me at La.....my first and go to single malt. I LOVE BOLD FLAVORS, and Lagavulin doesn't disappoint. Color, nose and of course the loooooong smokey finish is what makes me say, "Tastes like MORE..."
Feel bad saying this, but I thought this one was awful. Fortunately, it doesn't taste as bad as it smells, but the taste was still horrid. The only flavor that I could identify was a very strong burnt rubber taste that lingered far longer than what I could cope with. It didn't get any better after the 2nd...3rd...4th....5th sips. I'm writing this review about 3 hours after I trying it....and I still have the remnants of it lingering. Hats off to those that can stomach this on a regular basis
Ron Swanson called it nectar of the gods. Smooth going down for me with just the right amount of peat. I would drink this daily if I could
Everything I could ever want in a whisky ... and an amazing light finish.
Full of iodine, smoke and peat; the character of Islay in a bottle (perhaps not the iodine so much) - but like other reviewers, my go-to-bottle if I need a pick-up or need reminding of Scotland. The Double Matured version is sublime - no matter which year - and inexpensive for a quality master's choice. The 8-year old is lighter but a little harsher as a result. The 12-year old is the older sibling of the 8 and plays perfectly between the 16 and 8 accordingly. The 25-year old is so subtle it almost loses it's character - definitely don't drink the 25 after any younger ones, but rather I found progressing to the 25-year old AFTER a Hennessy Paradis is rather rewarding!
In my humble opinion, this is a go-to bottle that every bar should have. If you like smoke, you will not be disappointed.
Too smoky, reminds me of my mother washing my mouth out with imperial leather soap when I swore.
Smooth and Smokey. Great way to end the day. Product of Islay.
I like scotch, but this one has far too much character (bite) for me. I think it's too smoky, peaty, and if that wasn't enough, too medicinal (iodine). It tastes like a smoky Band-Aid. I know it is the way Scotch is supposed to taste but it's not to my liking.
Definitely one of my favorite Scotches. Costco, TJs and most Los Angeles liquor stores sell bottles for at or below $60
My go to scotch, no question. Except the Price 102 way over priced.
By far my favorite but 100 bucks no way. I buy it for 68 dollars.
My favorite dram! the smoke, a little peat, a touch of salty brine. Awesome! For $102.00 you are out of your mind. Recently, purchased for $60.00 - $84.00.
Too much black pepper for my taste
Favourite experience
very smoky . Not my liking
The best mix of smoke and interest
Peppermint scent after caramel and orange. Peppermint taste is sweet and salty. First peat whiskey that came to me.
Great scotch, but there's better for less money.
One of my favorites. Nice, in your face, peat. Always a winner.
Damn Bloody Good Scotch
Lagavulin is no doubt one of my favorites. It's heavy with the smell of tar. One sniff of its amber surface and you are instantly teleported to a fishermans wharf or the open sea aboard a galley. A true classic.
It's the best. I adore it.
Bigboned, smokey, peaty, iodide, long aftertaste. Always good
Lots of smoke, peat, and salinty, but satisfyingly smooth, and long and dry on the finish. A truly decicious dram I most enjoy served neat. An enjoyable experience from beginning to end.
Tasted neat. Nose has notes of oak, an iodine-ish medicinal quality, brine-y seaside air, and hints of spice (clove and vanilla mostly). Definitely assertive, but articulate at the same time. The taste for me was much smoother than the nose might make one believe- a very refined oak body blanketed by deep peat smokiness. The smoke carries over to a long dry finish, with spices and citrus rind tingling underneath. Every review I read of this pegged Lagavulin as a "love or hate" proposition. I can definitely see that- this is a powerful, uncompromising Islay Scotch, and not for everyone. I would put myself definitely in the "love" camp though- it's amazing how articulate this is despite all the complex flavors and the aggressive smoke.
All the best parts of a barbecue in a glass. Underlying sherry sweetness reveals itself after an initial hit of peat and smoke which is not overwhelming. Previously thought I did not like peated scotch. Glad to be proven wrong.
Smokey and peaty, but not a slap in the face like some of the others in this category. Really balanced with some other interesting flavors too.
Smooth and smokey with a clean finish.
Damn Bloody Good Scotch!
Combination of Smokey ness with some peat. Needs a little more sweetness and it would be perfect
Pretty good. Smooth and light on all of the flavors. The malty oak is easy to spot.
Peat and smoke with an easy aftertaste.
Always a good choice if you want a nice, smooth peaty whisky.
Sure. It's peaty. But it's just fine. But it does have a sweet logo.
Abundant smoke, leather, iodine, and vanilla. Was the first really good single malt I ever had, and was the whiskey that got my dad hooked. It will always hold a special place in my heart. I try to keep a bottle of this on hand at all times.
love the iodine pettiness of it!
Smoky and peaty but delicate. I don't like agressive smoky and peaty whisky. Here I have what I want.
Brilliant, love the smooth smokey peat.
Perfect, and a lovely Smokey taste that lingers
A favorite of mine from Islay, very strong smokey and peat flavor (not for everyone). For me its hard to keep a bottle around.
One of the best <3
Exceedingly smokey. Tastes like I was drinking dregs from the backyard BBQ. The only scotch I had to butcher by adding coca cola to cut the smoke flavoring.
Ron Swanson approves
I chose this as my entry to Islay. I've traditionally been a Highland and Speyside kinda guy, but I wanted to expand my palate. Initially, I was unimpressed. I expected myself to have to acquire a taste for this whisky, but I was hoping that I'd like it a little more off the bat... but I was determined, so I sipped a little nip here and there for a couple of days. Then, I brought it to my parents' house for Thanksgiving and by my 2nd or 3rd dram that evening, I was in love. In all, it took about 1/3 of the bottle (better than I expected) to like it. It took me about a week to finish the rest of the bottle because I just couldn't get enough. I LOVE this whisky!
I bought this as a gift for a friend. It was $10.00 less buying it through Flaviar than at the box store. Thanks!!
Smooth smoke and peat. A delight.
Fluent :)
I've yet to find an Islay I enjoy better than this. The first time I tried 16 it floored me. It opened my eyes to the Scotch world and will probably always be a 10 because of that. But seriously, the full bodied feel of this is perfect.
Perfect marriage of peat and smoke.
Smooth, smoky goodness
Outstanding; smooth and Smokey; best I've found.
way too peety for me
Warming, smooth, citrus and smoke. Really lovely. Peaty too. ("It's like a depth charge. Pow." says Brian Cox). A go-to, one of my faves.