Jameson Irish Whisky is as Irish as Irish gets.

Back in the late 1700's Ireland, there was one powerful distilling family in two branches — the Haigs and the Steins. John Jameson was originally from Scotland, but married into the Haig family and moved to Dublin 1777 where he was put in charge of the new Bow Street Distillery which was founded in 1780. After working hard for years, he eventually acquired the entire operation in 1810, and the Jameson & Son Distillery Company was born. Since then Jameson has become the most recognizable and best-selling Irish Whiskey in the world with a wide-ranging product line delivering over 56 million bottles of golden Irish nectar each year.

When the Whiskey-drinking world thinks of Irish Whiskey, they think of Jameson's. It's not only the largest selling brand of liquid Irish culture, it is the standard by which all others are measured. The core Jameson's Whiskey spirit comes from a single distillery in Cork, Ireland, but uses a unique mixture of grain, single malt, and single-pot-still spirits aged seven years. All of the grains are sourced from local fields within a 50-mile radius of the plant, making Jameson's more than just Irish in style and method — it carries the flavor of the land where it was born.

Smartass Corner: John Jameson used to enjoy sharing a drink and a story with his workers at the end of their work-shift. Jameson's has always been the working-man's quality Irish dram and to this day you'll see two barrel men balanced on either side on the bottom of the label.

Tasting Notes

Appearance / Color
Citrine

Nose / Aroma / Smell
Pear and ripe apple with a bit of hops and clove

Flavour / Taste / Palate
Marzipan and hops with cocoa and oak

Finish
Remarkably, it lingers with the essence of milk chocolate and butterscotch.

Category

Style

Region

Country

Alcohol

Distillery
Flavor Spiral™
About The Flavor Spiral
What does Jameson Irish Whiskey taste like?

The Flavor Spiral™ shows the most common flavors that you'll taste in Jameson Irish Whiskey and gives you a chance to have a taste of it before actually tasting it.

We invented Flavor Spiral™ here at Flaviar to get all your senses involved in tasting drinks and, frankly, because we think that classic tasting notes are boring.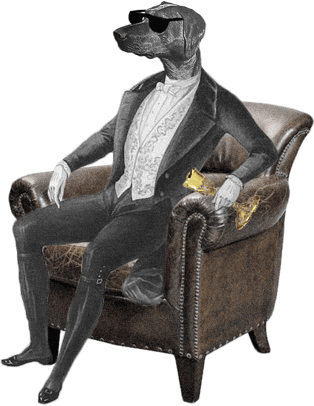 Dog Dogson's
Smartass
Corner
Whisky or Whiskey? The spelling differs geographically. In Scotland and some other parts of the world distilleries usually spell it Whisky; in Ireland and USA they spell it Whiskey.
Tasting Notes
Appearance / Color
Citrine

Nose / Aroma / Smell
Pear and ripe apple with a bit of hops and clove

Flavour / Taste / Palate
Marzipan and hops with cocoa and oak

Finish
Remarkably, it lingers with the essence of milk chocolate and butterscotch.
More drinks we think you'll like
Ratings & Reviews
Light with lots of pear and apple. I gave a 7/10 because you can't beat it for the price. Good enough simple or in your coffee.
This is the solid go to whiskey that I've been drinking for the last 10 or so years. It's spicy and has a bitter-ish aftertaste which someone said was the peat where the whiskey is made. I enjoy it, though I wish I could find something with a smoother aftertaste.
ahh yes - the basic Jameson. The perfect Irish whiskey to get started on!
Not a big fan
Coca-Cola immediately nose Which could be the Citrus Very different than other whiskeys Very citrus on the tongue Smooth but refreshing Sweet and reminiscent of childhood I think I had this in my baby bottle
When your craving whiskey on the rocks you can never go wrong with Jameson.
A go-to whiskey for our mixed drinks. Easy to drink and very smooth as I always have a bottle on my bar.
Semi-spicy
Smooth and great
Very smooth. Great with 7 up
Incredible whiskey. Perfect balance of sweet and spice.
Good, basic Irish whiskey. Never disappoints. Smooth. If I drank every day, this would be my go-to.
Still my favorite Irish whiskey. Always a nice bite at the end of every sip.
This is my go to have a long day and just want to relax.
Perfect for mixing or drinking straight. Some nice subtle hints. All round great choice.
Smell and taste initially good, but an after taste I did not like
The perfect every-day-dram of an Irish drop you'll find. You can do anything with it that is suitable for any time of the year. Indeed not the most complex but hey, if your looking for a loyal friend, this is your guy.
Classic Irish whiskey.
This is my "go to" always have some on hand. I call it my working man's whiskey. Good flavor at an affordable price.
Smooth and easy to drink but nothing special.
Reliable, always available, excellent for mixed drinks as well as on its own, neat.
Another solid affordable whiskey. Sneaky smooth, I didn't realize how much I drank.
Delishish fruity whishey. Very fine notes of mixed fruits. Easy sipping irish whiskey.
Just used to the taste. Was one of my childhood drinks of choice. Great also with come/Sprite. Love the Irish whiskeys.
Nose: Butter, Heather, Grass, and Fruit notes Taste: Light boozy, lingering warmth with ocean, wet dirt and Spicy medicine finish
My favorite!
I mean always an easy option to choose
A classic. Easy drinking
Does the job well
Tried and true - you know why you're here. Easy to drink, great flavor, soothes the soul. You may not impress many people when you bust this out, but they'll be happy you did
An easy and affordable choice. This was the drink that sparked my interest - Jameson and ginger.
My usual go-to when I don't have my Bushmill's around. Typical Irish whiskey that every lad needs to be drinking!
For the price a smooth solid classic. The apple tast with hops surprise make an easy to drink any time.
I like Jameson. Not the best bottle of whiskey, but also not the worst. I'll rate my whiskies and scotches based on this.
Honestly one of my go-tos, especially in dive bars. It is always on the shelf, and reliable. I know it can taste a little different from batch to batch due to the demand, but always a solid choice for me. Not overly smokey, tastes great on the rocks.
Best taste for the money. Love it anytime.
Love it. Consistent, smooth
Smooth and delicious - my go to shot
Smooth pero no tiene un sabor que me haga comprar una botella, no es malo pero no me encanto
Very smooth and enjoyable!
Enjoyable middle of the road whiskey.
The golden standard for Irish Whiskey! Good, solid whiskey, but nothing special...not bad at this pricepoint!
Hard to leave this brand, my favorite this far. Pleasing on the tongue, no stress on the nose or throat. Very drinkable. I like mine on the rocks.
The standard Irish Whiskey.
Solid
Darn good whiskey. Nice sweetness.
For the price this is one of my go to whiskeys when money is tight. Good flavor and consistent as well as availability
Love jamo
Like homecoming in the fall.
Good everyday whiskey; my go-to drink.
My 2nd choice for whiskey
Perfect Irish whiskey Great neat, on the rocks, in a Manhattan, with ginger beer
I gave this a 10 due to the cost to taste ratio. There is a reason this whiskey is a go-to for so many. It is low cost with a high grade. Best value of all whiskeys.
Great for mixing. A mainstay in my home bar!
Not great but ok.
I'll always love the taste of Jameson.
Its classic for a reason.
A classic,one of a kind
This is a classic Irish Whiskey and a must for everyone's bar. It is very smooth and a great sipper and mixes well with your favorite choice of ginger ale.
One of those timeless classics. Jameson is just a damn good whiskey! Smooth, enjoyable, and the kind of spirit that everyone has a special place for.
A great taste of the picking season. The fruits taste great follow through to the chocolate at the end. A great refreshing dram.
When you run out of Tullamore Dew and Bushmills.
Light. Good for when you don't want a complicated whisky.
Lite and smooth. Good after dinner drink. Straight up.
My go to.
Best of the Irish Whiskey class.
It runs in my blood
Mild enough to be easy on my tired body but bold enough to awaken my mind
My home base. Always get back to it after each of my taste trips. Trustworthy.
It's a staple.
One of my favorite whiskeys. As a rum guy, this is a great change of pace when I get a chance to enjoy it.
Smooth, smells sweet. 3 drinks in?
A staple part of every home collection, one of the basic pillars of whiskey drinking and collecting.
I like it, the best thing is the price.
Go to drink for the night.
My daily drink, perfect for anytime of the day
It's been a staple for me. But I am a novice and very basic whiskey drinker.
Waaaat? Regular Jamison's as a favorite? Yes, it's flexible and doesn't suck. Drink Jamison's with your Catholic friends and Bushmills with your Protestant friends and you won't cringe when they ask for Sprite or something to mix it with. It's an "all-day" whiskey because it is what it is without smoke, flavorings, unpleasant after-taste or - if you add an ice cube and wait a moment - rough edges (I like it neat tho). Think smilin' old Irish eyes and don't apolog-eyes. Irish coffee is always a hit at the end of an evening.
A solid choice for an evening out.
Not my thing, advertised as an Irish whiskey but is definitely not a traditional one. I'm not a whiskey lover myself though and tend to prefer a good scotch.
Great whiskey to make a mixed drink.
Potent. Aftertaste is a tad harsh but it's my preferred whiskey
Very smooth, slightly fruity.
Unexceptional in any way. Strong alcohol flavor. It's not bad for mixing.
Cheap drinking whiskey
Standard classic smooth whiskey
A fun smooth whiskey but somewhat light on flavor.
My go-to. Perfect for a beginner.
Nothing comes close to this classic.
Just a classic
Can't trust someone that doesn't like Jameson
A fine Irish whiskey.
Neat, rocks, mixer, good every way possible
Good Irish whiskey
11
Classic
It's smooth and easy to drink, just doesn't seem to be very strong. Not my favorite.
Go to whiskey
A bit harsh for me to enjoy straight.
My first Whiskey love. Slight bite, never leaves you wanting.
Black Barrel is our favorite of the Jameson family but this is a definite staple to have in the cabinet too.
Perfect neat at room temp
This is a drinkable whiskey nothing more
Smells of fruits lite apple and pear with a bit of hops in the background, Taste of pear, vanilla with a oily character, Lingers with a light taste of cocoa and coffee,
Call me crazy, but I thought this was a little to strong and I thought it had a bold spicy finish. It could be that I've had a few other whiskeys and it was neat. When I put an ice cube in the glass it calmed down and was a little milder with a shorter finish. I think I prefer it in a mixed cocktail, like an Emerald or Irish Martini.
Bite in the beginning and end. I could tases the hops but not much on pear.
A little on the bland side but has a decent taste with a clean finish.
Sweet. For those who like sweet Irish whiskey. Perfect mixer. Jameson and Ginger Ale anyone?
Hints of honey, vanilla and oak. Smooth with a quick finish. Good for sippin' or mixin'...
Go to shot, not much for sipping
The go-to. Perfect as a mixer.
An absolute standard. Every home bar should have Jameson for shots, drinking neat, over ice, or creative drinks like pickle back shots. Almost no alcohol burn and a pleasant, slightly smoky finish with oak, cherry and vanilla.
Favorite everyday drinkable whiskey
It's a nice Irish Whiskey
A completely decent Whiskey for the price. You certainly get what you pay for, but at $15-20 a bottle you can't do much better.
This is my personal whiskey baseline.
My standard.
Nauseating when sipping, but good shooter and a homeland classic
Smooth and approachable.
It's not bad, just not my personal favorite.
Totally for mixing. Spoke with a bar tender from Ireland who said that this was not even a popular whiskey back in Ireland.
A great inexpensive everyday drink
A great "gateway" whiskey. I prefer it over Bushmills.
Jameson is a balanced Irish Whiskey that is affordable and a "go to" if your strapped on cash but still want to have some to drink.
This is my go to Whiskey.
Because it's Jameson, that's why.
A great everyday Irish whiskey!
It's the high class of the low quality whiskeys. Good bang for your buck.
Sweet aged oak, very subtle almond legs with barely noticeable vanilla finish. Makes a great hot toddy---------------------------------------------------------------------------- ( 4 tbags of Bombay chai , 4 tbags of vanilla chamomile, sugar to liking while tea is hot. Pour in cup, add Jameson a shot at a time until it has the warmth and love of that spiced cider grandma makes at Christmas.)
Smooth, tastes good
I got a lot of brown sugar and a little bit of apple.
It's great on the rocks. Very smooth
I enjoy this as my go to whiskey for shooting but its a little to heavy with an oily sweetness for me to enjoy this as a sipping whiskey.
Go to Irish whiskey. Always solid wither straight, on the rocks, or in a cocktail.
Love on the rocks nice smooth sipping whiskey
My go to, never fails whiskey
My go to! I may be Italian but this Irish nectar holds a warm place in my heart!
Dig it
Always been my favorite. Smooth and tasty to drink on the rocks but also good to mix with a splash of ginger ale. Good go to for hardcore whiskey drinkers or somebody just getting into whiskey.
Loved it wonderful taste. Straight no chaser smooth
Smooth
Very smooth and one of the easiest whiskey to drink. It's my go to.
For me this whisky is filled with personal history, so I may have a soft spot for it, however I can't think of a better partner for Ginger Ale. In fact "Jamey and Ginger" is almost an entire chapter of my life at the local irish pub. Easy to find, always tasty, and often the smallest hit to your wallet when out on the town. What's not to love?
The classic Jameson is a great "ever day" whiskey to use for basic mixed drinks.
Like it , nice smooth overall taste
This is a standard go to Irish whiskey... Simple yet delicious and drinkable every day ...sláinte agad-sa
Tastes even better with a Montecristo
The most perfect drink on the rocks paired with a Romeo y Juliet
Good for the price level
Classic whiskey. Everyone knows about it.
Has been my basic whiskey of choice for years. Great taste and affordable. Perfect as a Jameson and ginger whenever I'm out.
My "go to" whiskey. Smooth and easy, good flavor, no after-shudder.
Jameson can be found at nearly every bar in the world—a true standby for the wayfaring whiskey lover. Friendly, but with an underrated spectrum of flavors that nurture my soul. A great way to introduce a skittish friend to the world of whiskey neat.
Stechende Nase voll reifer Früchte, wenig aufregende Zunge, intensiver etwas bitterer Nachgeschmack 7/18 - Wien
Standard for irish whiskies. Clean and due to their method of obtaining used bourbon barrels for aging - there are always slightly different notes to pick up on
Smooth for shooting.
Always smooth and easy going. Mixes well. My favorite Irish Whiskey.
"Nose - 3.00 Taste - 2.00 Aftertaste - 2.25 Overall - 2.30"
I love it. Such a great Irish whisky.
It's ok for cocktails. Too sweet for sipping.
Staple
A classic
One could enjoy this all evening; straight up, with ginger ale or ginger beer, Irish mule.
Light. Friendly. Biscuity.
Good wisky to start. Than of course go on with other Jameson's wisk's.
Not bad for the money.
Not crazy about Irish Whiskey but this is the best one I've had
Great mixer with Dr pepper. Killer with strawberry daiquiri.
Always a classic Irish that's smooth with a silky finish
Nice smooth Irish whiskey
Smooth, too mild at times though.
Like it alot on the rocks. I prefer the 12 year old.
Smooth and tasty, a must have for every home bar.
It's my go to whiskey
This is my "go to" dram. Very good. I'm not experienced enough to detail the "notes" or it's "profile" - I simply know it's smooth, I like it, and I highly recommend it.
Great whiskey for the price. Simple, smooth, slightly sweet, easy drinking, staple.
Good standasrd Irish whiskey.
Clean finish
Very smooth. Sweetness to it. Can sip on all night
Good neutral whiskey to drink on the rocks. A little flavor-less for me though.
I think this is the best profit - cost everyday drink. Slainte!
Classic. Smoke. Sweet. Smooth. A must for any bar.
Classic. Standby
One of my favorites. It is always smooth and goes with everything
Good old standby.
Smooth!
Solid, go-to whiskey.
Pretty standard, but the higher the age the higher the flavor
Regular ordinary everyday.
Standard whiskey, not a blend I would care to drink on it's own. Not a lot of distinct flavors.
My go to/favorite whiskey!
Gets me crunk
Good for every day. Not much more! This was the first whiskey I have tasted without anything else. It braught me to the world of whiskey.
Default go to blend. Not great, but most bars should stick it
Good and smooth
Love the taste. My go to Whiskey
Only tried it once on a long haul flight. I might need to revisit it to make sure this rating is accurate. Wasn't my favourite whisky to date.
Good
Standard, affordable, an Irish standard.
For me. The absolute best. Smooth and delicate at the same time. Light honey for me and great if I may with the lightest drop of lemonade. Sorry to those whose disagree.
This is my everyday whiskey. It is so smooth with a mellow sense of sweetness
Smooth by itself or mixed with ginger.
Smooth and easy going as most Irish are.
Mix with ginger ale.
Lekkere toegankelijke whiskey
Smooth.
Pfirsich Aprikosen leicht
Load more reviews
Back
A Dram for Your Thoughts
Cancel