Price, Shipping & Taxes may vary by state and will be recalculated at checkout.
Authenticity Guaranteed
We guarantee every product we sell is authentic.
Free Shipping
Flaviar Members get free shipping on their orders.
Buyer Protection
Money-back guarantee if things go wrong.
Bourbon, Rye Whisky and Scotch. A Flavor Explosion.

High West distillery is a manufacturer and blender of spirits, located in Park City, Utah, hidden deep within the Rocky Mountains. Founded in 2007 by David Perkins, this petite distillery makes its spirits in small batches and is the first legally licensed distillery in Utah since the end of the American Prohibition. Most of their spirits are sourced and blended, although they do distill some of their spirits themselves.

The High West Campfire is one of the most bizarre and unique Whiskeys you will ever taste. It was crafted in the mind of David Perkins in a certain Scotch distillery, where he tasted a dessert of ripe honeydew drizzled with peated syrup. That made his mind go numb with excitement and he thought, why not mix sweet Bourbon and peat?!

And so, they did. The Campfire is a blend of a 6 year old Bourbon, 5.5 year old Rye Whiskey and an 8 year old peated Scotch from the Scottish mainland. Now that's what we call transatlantic flavor cooperation. One second you taste the smoke and peat of the Scotch, when all of a sudden the peppery spice of the Rye bursts through and then they're both tempered by the sweetness of the Bourbon. It blows thy senses.

Category

Style

Region

Country

Alcohol

Distillery
Flavor Spiral™
About The Flavor Spiral
What does High West Campfire Whiskey taste like?

The Flavor Spiral™ shows the most common flavors that you'll taste in High West Campfire Whiskey and gives you a chance to have a taste of it before actually tasting it.

We invented Flavor Spiral™ here at Flaviar to get all your senses involved in tasting drinks and, frankly, because we think that classic tasting notes are boring.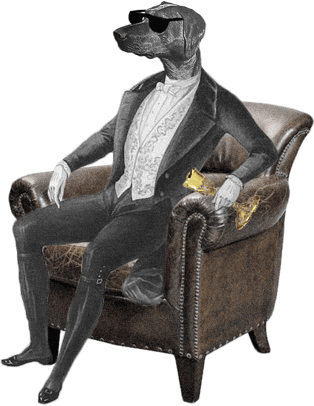 Dog Dogson's
Smartass
Corner
Bourbon set of rules refer to manufacturing method rather than location. It must be matured in new and charred casks of American white oak. No colouring or flavoring of any type is allowed. It must be matured for at least 2 years, if a bottle does not bear an age it is at least 4 years old. The mash bill must contain at least 51% corn.
Tasting Notes
Appearance / Color
Golden amber.

Smell / Nose / Aroma
Honey, Rye spice, leather, tobacco, pine resin, and a whiff of peat smoke.

Flavor / Taste / Palate
Rye and Bourbon influence at the beginning, smoke and peat comes later. Honey, blueberries, toffee.

Finish
Long, sweet and peaty/smoky.
More drinks we think you'll like
Ratings & Reviews
Very good american whiskey that has a scotch taste.
I love this whiskey. Righteous for scotch plus bourbon. Sweet and oak.
I really enjoy the blend of smoke and bourbon.
Excellent balance, with the scotch peat smoke really highlighting the peppery rye notes and the caramel, vanilla bourbon notes. Amazing whiskey
A unique whiskey that delivers as advertised.
If you want to bring the campfire into your bourbon, this is it. A great bridge between bourbon and Scotch. It still brings some of the sweetness of bourbon while giving a solid punch of smoke to live up to the campfire name.
Love it!
Always like High West's. If you like smokey flavors and whiskeys then this is the one for you. It has a very smokey flavor and legitimately taste like a campfire. Was just a little to smokey for me. Did make a mean Old Fashioned though.
Great combination of peated scotch, rye, and whiskey. Great way to introduce newcomers to a peated scotch. The scotch is subtle but comes through.
A really unique bottle, nothing Ive ever tasted came close the the blend of rye, bourbon and peated scotch. Definitely something to try for the adventerous whiskey enthusiast
Great sweet/smoky taste.
My good friend turned me on to this. Very good for special occasions. Old American type of whiskey.
I love the unique flavor of this fantastic little bottle! Nothing like it that is for sure and like all other HighWest products it is a quality item at the right price point!
The sweet vanilla and caramel of the bourbon with the smoky pear aftertaste of the scotch. One of my new favorites.
This is my absolute favorite as a lover of smoke. Perfect around the campfire or for imagining that you were sitting in front of one. High West really has a winner with this blend which I always have in stock!
First off on the smell there is a smoky caramel note on the nose and just slightly floral at the end, on the palate the first note that hit for me was a smoky butterscotch, it then turned just barely floral in the middle of the experience ( did not get this note until acclimated to the whiskey ) and then at the end there is the a classic black pepper, rye spice. overall a well balanced whiskey as far as a daily drinker goes I keep it stocked if nothing for but the name it is great around the fire.
It was good, but the finish was way too spicy.
This whisky is phenomenal. The blend is so well done! The smoke smoke, the underlying sweet tones all mix so well on the palate. This begs to be drank at a bonfire or campfire or chilly nights.
Smooth and fully bodied, but lighter than 4 roses small batch.
I'm very new to putting my tasting notes into specifics broader than smokey, sweet, and/or rye spicy. Having said that, I think this whiskey is phenomenal, and it has all the flavors that I like most about the different types of whiskeys that are blended into this bottle. I highly recommend it!
Definite winter whiskey.
If you love smoke, you'll love this. Still super smooth with a bit of spice and sweetness. Great in an Old Fashioned.
Beautiful blend of all worlds - rye, bourbon, and whiskey (scotch). Smokey on the nose and palate but drinks like a neat bourbon; excellent in an old fashioned or rusty nail.
It is definitely enjoyable especially if you're a fan of smokey whiskies. Forefront and back-end you get the smoke. Midway through you get the rye spice and slight sweetness but the bourbon flavors are the lower end of the profile in my opinion. I'm happy to have tasted this
Love the smoothness with the smokey finish! If you're a fan of smokey and especially Islay Scotches you'll dig this one!
Agreed!
Love the smoothness and smoky finish
Awful
Just too smokey. I've enjoyed the other High West. This one, not so much.
One of my favorites, but be ready for a ton of smoke. It ain't called Campfire for nothin.
To much Smoke
Very unique
Starts as a bourbon, great nose. Burns a little, like a whisky. But that single malt scotch finish that sticks around. Very interesting spirit.
Lives up to its namesake!! Amazing blend that does a nice job showcasing a Bourbon with a nice transition into a Rye and finishes with the subtle smokiness (like a campfire) of a Scotch. Well done High West!!
A smokey delight to sip
Aptly named, and pairs nicely with a good maduro-wrapped cigar around the campfire on a brisk evening with the boys. Strong, smokey, tasty. Not an everyday whiskey. Likely to be overpowering to those new to the wonders of wetting their whistles with whiskey. Enjoy.
High West does it right
Rare combination of scotch, whiskey and bourbon. Incredible Smokey taste, very smooth and unique.
Great smokey whiskey. Campfire is the right name for sure... tastes like a whiskey smoked over a campfire.
I love how many things are going on here. Starts like a good bourbon, finishes like a good scotch.
More smoke and burnt taste at the back then I really like, but interesting
A nice sweet smile flavor. I picture sitting around a campfire sharing a flak of this with friends.
This is the unicorn of the whiskey world. Starts sweet like bourban, moves to spicy like rye, and finishes with a long sweet smoke like scotch. A must try. The real question is, should it be spelled "whiskey", or "whisky"?
Too Smokey for me
Delicious.
Its ok, Very Smoky, as it should be... Quite a bite when you first taste it. Dry after taste/breath. Not very smooth compared to other High West Whiskeys Ive had in the past. Aroma is great very "campfirey", this one will probably sit on the shelf until we start having Campfires again.
if you like smoke, this is the one for you.
So far my favorite bourbon. Strong smoke flavor, slightly sweet, and with a bite. Totally a drink to have by an actually fire. Even if you don't, it will make you feel as if you were. Definitely will warm you up.
I think this offering is confused about what it is. Way too much smoke for a bourbon. I get the point, but it's not done in a way that is enjoyable. Their other stuff is worth your $
Non peat smoke. Spicy rye. Just a little sweet. It's perfect.
I never would have thought this combination would result in such a remarkable flavor, one og the best.
High West Distillery continues to innovate, and this is right out of a mad scientist whiskey laboratory. The blend includes bourbon, rye and scotch, and that unthinkable combination has resulted in a whiskey so complex and fun that I don't even know where to begin. Somehow the blend produces impressions from each of its key elements, and these impressions are layered amazingly well on the palate and through the aftertaste. A whiff of fresh wood smoke, a punch of sweet cream, a foundation of corn fom the bourbon, and a finish which is equal parts light smoke and pecan pie, turning to toasted corn, and lingering in that direction. The finish stays long and I'm glad of that. I'm not sure how they did it, but it's quite a ride and it's fun, particularly for experts who can pick apart the flavors. The risk here is that there's too much going on - too many elements all doing too much at once. But I am enjoying this wild, trend-bucking ride and have no intention of getting off the roller coaster anytime soon.
Sweet, caramel, just the right amount of smoke. The rye adds a nice amount of spice! Very nice blend to enjoy by the fire!!
Smokey and smooth.
Very smoky and tastes great
Phenomenal. A marriage that I didn't know existed or even allowed but wow, what a marriage. A wonderfully sweet and smoky nose with the rye spiciness and just a hint of peat. Fantastic
Blasphemy!! In a great way!
FrankenWhiskey, but wonderful FrankenWhiskey!
High West Campfire is aptly named, but could be even more accurately described as Liquid BBQ because there's no doubt you're getting a load of smoke from this one. High marks for the combination of sweet and smoke, and some caramel-y-sweet bourbon notes. For my palate the Rye was a minor note, and the overall experience was smoke-forward with even more smoke lingering at the end. Some people find the use of spirits for cooking blasphemous but in this case I can imagine how much character this whiskey could impart in a BBQ sauce.
Love the smoke! Camping whiskey for sure.
Amazing
Well, the name says it all...it's like drinking a camp fire, but that's not as romantic as it sounds.
If you like just a hint of peat, this is perfect. Interesting complexity
Sweet, smoky barbecue sauce. A genuine innovation. Sure to be divisive, but a must-try.
Truely tastes like a campfire! I love this whiskey.
Tastes like the name...a campfire!
If you like peat you will love this. Not overpowering but balanced. Good buy!
Personally it tasted like a campfire way to much smoke. I preferred the Regular High West to this one
Smoky, peaty, spicy, and hot, this whiskey has earned its name.
Not my cup of tea. Hits like scotch up front
Like it.
Overall descent but feel like a lot of the flavors clash. Doesn't live up to the hype.
Took this out on an ice fishing trip and drank it from a metal cup. Its name and flavor are a match for the experience. Loved it!
A bit too smoky for my taste. Great as a BBQ sauce flavoring though.
Great Smoke. Very interesting.
Smokey, sweet, and very smooth.
Nice!
Smokey with a little melon
My all time favorite! Wish is was slightly less expensive...
My first love. This is how I met smoke.
This is a great smiley whisky.
Woody almost plastic taste.
Smoke, and pepper, balanced well with some sweetness.
It's smooth but a little too spicy for my taste.
This is the whiskey that inspired me to taste, explore, and enjoy the many new American varieties. The smokiness is absolutely wonderful. So many other great flavors. This is a real treasure.
Great whisky, definitely has that campfire smoky flavor, and very unique blending of spirits. It's got some bite, but it's great with a cube.
A smoky punch in the face, oily mouthfeel, fairly spicy for containing bourbon and scotch. Opens up nicely with a little water.
I love it, has some rye spiciness, bourbon sweetness, and a campfire smoke opposed to a peat smoke.
Smoky like a campfire as the name implies
Amazing complexity. Each of the 3 whiskeys are represented well.
Bitter.. Not smooth
Load more reviews
Back
A Dram for Your Thoughts
Cancel