Price, Shipping & Taxes may vary by state and will be recalculated at checkout.
Authenticity Guaranteed
We guarantee every product we sell is authentic.
Free Shipping
Flaviar Members get free shipping on their orders.
Buyer Protection
Money-back guarantee if things go wrong.
From gunpowder tea to gunpowder Gin.
Drumshanbo, a small town in County Leitrim, is the home of
the Drumshanbo Distillery
and Gunpowder Gin. The brainchild of master distiller
Patrick J Rigby,
the mastermind behind multiple quality Spirits on the market, Gunpowder Gin takes its name from one of its principle botanicals;
gunpowder tea.
Distilled in traditional copper pot stills,
Gunpowder Gin
is made with 12 botanicals, the more sturdy of which are added to the distillate in the pot (juniper, cardamom, coriander, star anise, orris root, angelica root, caraway seeds and meadowsweet), and some which are
vapor-infused
(kaffir lime, oriental grapefruit, Chinese lemon, and the namesake gunpowder tea).
Gunpowder Gin is the meeting of
oriental spice and Irish tradition.
The curious mind of master distiller PJ Rigby had a flash of inspiration when creating the Gin. The bottle, a beautiful, ribbed blue glass, features the mythical creature of the jackalope; part Jack rabbit, part antelope, symbolising the remarkable Gin inside.
Gunpowder tea, which is
a form is green tea,
lends the Gin a slightly spicy freshness. Coupled with the other 11 botanicals, which give the Gin a citrus-led aroma and bold taste. It's an explosion of flavors in a bottle.
It's also the winner of the
Flaviar Community Awards 2019
— Flaviaristas know a good Gin when they see it.
Category

Style

Region

Country

Alcohol

Distillery
Flavor Spiral™
About The Flavor Spiral
What does Drumshanbo Gunpowder Irish Gin taste like?

The Flavor Spiral™ shows the most common flavors that you'll taste in Drumshanbo Gunpowder Irish Gin and gives you a chance to have a taste of it before actually tasting it.

We invented Flavor Spiral™ here at Flaviar to get all your senses involved in tasting drinks and, frankly, because we think that classic tasting notes are boring.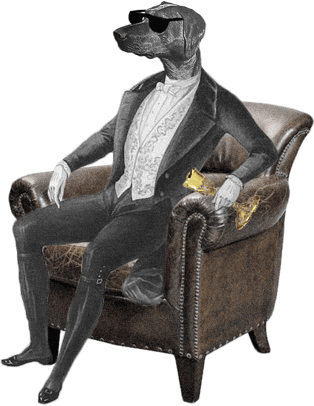 Dog Dogson's
Smartass
Corner
Classifications of Gin: London Dry Gin, Plymouth Gin, Old Tom Gin, Genever or Dutch, New Western or new American or International style.
Tasting Notes
Appearance / Color
Clear

Nose / Aroma / Smell
Citrus, star anise with notes of tea.

Flavor / Taste / Palate
Coriander, citrus and warm spice.

Finish
Bold, spiced and long.
More drinks we think you'll like
Ratings & Reviews
Light and very flavorful one of the best gins I have tasted.
This has become my favorite Gin. The Gunpowder green tea lingers on the tongue for minutes after each sip. This gin is smooth straight out of the bottle. The perfect gin for a gimlet or any other simple gin cocktail.
clean with citrus and a smooth finish
Uncomplicated and well received gin which fits Great with a quality tonic.
Cracking spirit
Not normally a fan of gin but this was very good. Light crisp and surprisingly smooth. Just the right amount of fruity flavor in the background.
Unique flavor. Very nice blend of citrus and spicy notes. Incredible, complex aroma of fruits and spices. Leaves a tingle on your tongue.
One of the best Irish Gins on the market. Vera tasty
Taste Like it's "NAME " gunpowder.
Excellent flavor and aroma; sweet and floral, not your standard London Dry, but great for something different.
Great flavor and aromatics. In a simple gin and tonic this gin really stands on its own. The spice from cardamom and other aromatics make it almost like a Christmas spice flavor.
Layers of flavors and smells. Not your routine gin. I use it with a light tonic to let the flavor profile show or just on the rocks. Works great as a sipping gin.
Gin is not usually my first choice but this one is really good! Smells and tastes delicious!
One of the best! My wife had it while we were in Ireland, and along with Poacher's tonic (can't get here in the States), didn't want anything else. She consider's it a treat!
Delicious - exotic with several layers of discovery
Great gin. I've tried some gin along the way and this one is on the top of my list. Quite smooth and has a nice aroma. The bottle is a deferent story by it self.
I like this gin a lot. Have been a Tanqueray fan for decades but this has distinctive aroma of botanicals used. Recommend in a Negroni.
For my first time trying Gin, I am extremely impressed with the complexity of the multitude of flavors. I strongly recommend drinking it as cold as possible, otherwise a very good aromatic gin.
Lots of different notes
I love the special "Gunpowder tee" taste in it. It has a unique flavor full of herbs that makes it quite bitter but lovely for me. My girlfriend didn't appreciate it much. Tried with Fever Tree tonics, and the best was the Aromatic one.
It was very unique spirit. I found it made a very interesting flavor in a Negroni. It has such strong character that it blasts through most tonic, for better or worse (read different).
perfect taste for GT
Ideal for drinking straight, without tonic.
I agree, my new go to Gin. Amazing fragrance, flavor and finish. And it is even comes in a cool looking bottle. Love mine on a couple ice cubes with a thin slice of cucumber.
Love it; citrus flavors and smooth. My go to summer gin with tonic for sipping in the sun
Excellent Gin. Love the taste and finish. My new go to!
Nice, sweet
Ever since we returned from Ireland over a year ago, my wife only wants a Gin & Tonic with Drumshando Gunpowder! A shame we also can't get Poacher's Tonic here in the States, but we have found a substitute.
Heaven on earth.
Smoothest gin I've had. Still has your classic gin taste, but layered with much more herbs, adding to the complexity. Very good drink for sipping, but makes a very nice gin and tonic.
Surprisingly complex without being a mouth full of herbs, it feels like this is what people desperately (and futilely) want IPAs to be. Add a little bit of carbonation via your favorite mixer and it's great, or just sip it plain.
Great taste and aroma! One of the best gins I've tried
Lovely fresh taste, great to have as an occasional treat!
Botanic, you can taste the different flavours, paradise of flavours. And the aftertaste is just so long lasting.
One of the best, very Smooth and delicious
This is excellent gin. Smooth enough for the wusses, herbal enough for the diehards. Our friends shared their bottle they bought in Ireland, and now, thanks to Flaviar, we have our own.
Beautiful gin. One of the best.
Floral, botanical notes with grass and lemon.
Love it! A hint of mint,on my palate,crisp...mmmm!
To put it simply, I hated Gin but then I tried this one! My tastes will never be the same!
Great complexity of aromas and taste! The best Gin I have ever tasted! A solid 10!
Color is absent, clear. Nose is juniper, sweet, and cardamom. First sip is mild juniper, with balanced tea, sweet, citrus and and other fruit notes. Mixed 3:1 with tonic water, this Gin shines. The tea provides a flavor base, with the citrus notes and now subtle juniper really rounding it out. Overall, very well rounded Gin with a great flavor profile.
A solid spin on London dry gin. It's like if Plymouth had some extra pizazz
Pleasant on the tongue, notes of citrus and pine.
Extremely floral in the nose and taste. There's a lot going on here - really citrus-forward, and a lot of cardamom comes through - but it's very well-balanced. Makes an incredible G&T.
I'm not a huge gun guy but I liked the complexity in this one. You can definitely taste the anise. Made a great martini!
Floral, bright, and citrusy. Really excellent in a G&T.
Stuff like this and gin grows on me
Haven't ever been a big gin drinker but this one might have me hooked. Smells absolutely amazing, tastes just as good. Citrusy, crisp, and smooth. Definitely worth a try if you haven't, if you don't like it send it to me! :p
May be the best gin I've had so far. Smooth with a nice citrus finish, very easy to drink straight or in a g&t.
Smooth
Love it! Great botanical flavor
This was the best one out of the set, and I don't even drink gin. Totally different compared the Hendricks my wife loves. Love the Anise notes upfront, then a great grapefruit citrus on the back. Really liked this one. Best with graipfruit sparkling water or just plan water to get the true taste of f this gin. Will buy this one and add to our bar.
Great Gin. Goes well with blood orange or grapefruit. We found that Fever tree tonic water worked best for us with this gin.
It is an outstanding, crisp, Gin with an aromatic birth; while a warm & spicy life leads to a long, bold & spicy death with notes of grapefruit & raspberry.
Not a big fan of gin, but this one I could get used to!
Enjoyed the up front Anise with a strong lemon favor.
This has become my favorite gin. So many unique tastes and a great nose. Nothing like I have experienced before.
A beautiful aromatic gin
How does one truly feel about sequin shirts? This gin is delightful. I smile every time I drink it. Not only does it have a great aroma and clean start but it has one of the cleanest finishes that has ever gone in my mouth. #sequinshirts
I think my friends hijacked my account. That said, the gin was impressive and caught our group off guard with the smooth start, strong herbal notes, and smooth finish. It also made for an amazing gin and tonic.
Bold tasty gin, would be my everyday drinker we're I not poor.
Very smooth and citrusy
Not a Gin drinker but this GIN will certainly be added to my home bar
Very smooth gin and balanced gin. Citrus, juniper, and pine are noticeable alongside a soft initial note of anise.
I don't even like gin and I could sip this any day of the week. Nice and smooth, the flavor is crisp without being overpowering, and the lingering tea flavor is very satisfying.
Not my cup of (gunpowder) tea, but well balanced quality gin. Great on nose!
The best gin I've ever had. Admittedly, I'm not a gin expert but I made a few G&T's with the Malfy, the Sapphire and the Gunpowder and it made the first two taste like rubbing alcohol.
The floral notes on the nose is wonderful, the explosive flavor on the mouth is amazing, my first straight gin experience just lingers lightly on the palate. Definitely buying a bottle soon!
This Gin is fantastic! Drink it with a small slice of grapefruit and tonic water! It is also very good neat! This is my new drink of choice for the hot summer days on the patio!
Tasted like a Christmas tree. Not a fan of this one at all.
Not bad but I am not a gin fan.
One of the best gins that i have had. you can really taste the anise and lemon. i also found it to have a bit of lavender.
I have never considered drinking gin neet, only used in mixed drinks. Got a whiff of the lovely "bouquet" upon opening and had to try it straight. Never expected the the taste sensations I got. Ordered a 5th immediately. This will never be used as a mixer.
Really smooth, good flavor. Small backend kick. Really enjoyed!
great gin for the price I can not think anything that can beat at this price point great in a g&t
Very unique gin, this one is more on the earthy / metallic / spice side than floral. The anise / licorice flavor is very predominant followed by the typical coriander and juniper berry gin flavors. Great for sipping neat. As a scotch drinker this is one is very enjoyable
Very smooth and citrusy
A floral gin - at times, light & refreshing; others, oddly sweet. Worth a try, but not a house fav.
Well balanced and goes with pre and after drinks either dry sweet or in the middle. Think fruity, Tonic or French 75 all work smoothly.
For gin lover my first impression was just UAUUU. One of the best ways to relax after long day.
I received this in the tasting box Flaviar awards 2019. I am not a gin drinker but this one changed my mind. Definitely an approachable gin for those who don't like gin because of the flavor profile in most of them. It reminds me of Rangpur because of the sweeter more subtle profile. Drumshanbo is way more complex with an excellent flavor profile. It clearly earns a spot in my home bar. It is good enough on the rocks or mixed in a cocktail.
Very clean. Great taste.
I'm not sure if there is a better gin
The initial scent when opening the bottle told it all! Excellent!
My favorite gin I have tried so far.
Having not been a previous Gin aficionado this spirit has change that. Intense citrus keeps me coming back for more.
Unbelievably unique. A Must-Have from now on for me. Strand me on a desert island with it.
Very good, surprised at how clearly the year comes through, makes a great sipping gin.
Love the flavor evolution that happens in your mouth.
Delicious!
I've never had neat gin but this one was an amazing experience. I'm saving the rest of the sample for a rainy day! The aroma had citrus and star anise, while the palate reminded you of a warm spicy citrus with some notes of coriander. I'll see if I can make a small G&T with the remainder.
We fell in love with Gunpowder Gin and the Irish way of making gin and tonics with excellent tonic and fruit (berries, citrus) while in Ireland this past fall. We found where we could buy the gin in Oregon and bought all bottles the store had! We LOVE our Gunpowder G&T's in our beautiful Dingle Crystal and Kinsale Crystal rock glasses! It takes us right back to our beloved Ireland!
I love this gin! After trying a lot, this is my favourite! Just the right amount of herbs
Absolutely delicious. Received in a tasting box and had no idea I liked gin straight. Lime on the nose, couldn't figure out it was anise I was tasting but now that I know I totally agree. Oily mouth feel left me wanting more.
Made one gin an tonic and immediately ordered two more bottles.
Great gin. Has a slight tea/peaty flavor that has a lot of layers to it. Almost seems a shame to mix it.
Very good gin 👍🏾
Simple delicious
Easily the most flavorful and aromatic gin I've ever tasted (though I admit I'm still a novice). Regardless, it has become a quick favorite, and while I plan on seeing how it complements my favorite cocktails, it definitely feels like one to enjoy neat more often than not. The bottle it comes in is also beautiful, and I plan on keeping it. Will definitely buy again.
I bought this as a present for my son on the recommendation of one of my clients. Not being a gin drinker myself I did not try it. My son howeverhe said that it was a lovely gin. He goes all around the UK on gin sampling trips and he said it was one of the best he had tried. So as you appreciate I can not comment on it. What I can say is that it was delivered timeously and the packaging was really good. In addition I liked the bottle. It showed some thought. On the basis of my part in the transaction, I was delighted. On the basis of what my son said, he was really pleased as well.
Strong aromas of piney juniper, lemon, grapefruit, tea leaves, cloves, and anise on the nose. Flavors come in with juniper, vanilla, lemon zest, and coriander up front. The gunpowder tea flavors rise in the mid-palate; star anise follows in smoothly after and leads into a warm finish, lingering along with juniper, white pepper and tea. All flavors are very bold, but so very well controlled that this one is wonderful to sip neat, in addition to making a tremendous G&T. Exceptional.
beautiful and different. citrus, juniper, tea and spices. Bold with a spicy finish. great in a G&T
I just looove this gin, there is no need for fancy frills with this one!
For some one who is not a real gin drinker i really do enjoy this gin. It has a different taste then most i don't quite kno how to explain but it's rather enjoyably.
Such a smooth gin, my absolute favorite!!
One of my favorite gin's. Plays well with other for cocktails as well as for straight. Hint of the tea finishes after the botanicals.
Great flavor. Smooth.
The best Gin ever. Very upsetting we can get this in the states. Would buy it more often if we could.
You should be able to get it in the states
Love this gin, very pleased..............
Just got into gin, but this Gunpowder Gin is already at the top of my list! With aromas of tea and anise, the taste of Coriander and citrus, down to the long spiced finish, this is an awesome Gin that most can be thankful for!
Very solid with tonic and lime. Probably my fave so far as a mixer
One of my favorite gin's.
Love this gin - a nice, unique flavor profile. Quite herbal with citrus notes and a smooth finish. Makes a great Gin and Tonic with Fevertree Elderberry tonic.
I wasn't expecting the flavor. It's really good but not a gin flavor you would expect. I feel like it's fruity and tropical. But it's soooo good. If you're looking for a different gin flavor, TRY THIS ONE!
My wife discovered this while traveling in Ireland. She had never had gin and tonic before. Our waitress suggested this because it was made with Fever Tree tonic, cucumber, and lime. She fell in love with it! We were so disappointed when we were told it could only be purchased in Ireland. She will not drink regular gin and sometimes will do Hendricks but when I surprised her with a bottle of Gunpowder she was elated. Please keep available. Price point very reasonable.
How was this prepared? Was the cucumber muddled, or just used as a garnish? Thanks for posting Charles!
It is GOOD!!! But not sure the price is right....seems a bit pricey for the quality.
Load more reviews
Back
A Dram for Your Thoughts
Cancel