The First Sipping Rum from the Philippines.

Don Papa was started in 2011 by Stephen Carroll, a former exec at Remy Cointreau. Inspiration came during a visit of Philippines' sugar capital of Negros. Carroll was fascinated by the stories of an island that had everything; from the World's finest sugarcane, beautiful beaches, mountains and volcanoes…even guerrillas in the hills. He deemed it only natural for Philippine Rum to be produced in Negros.

The brand Don Papa was inspired by an unsung hero, a healer, shaman, seer, rebel, and leader of a group of babaylane, who played a key role during the late 19th-century Philippine Revolution.

Don Papa Rum was aged for 7 years in American oak barrels in the foothills of Mount Kanlaon. It's the first sipping Rum of the Philippines, where the majority of Rum consumed is mass-produced, cheap and mainly meant to be mixed. But like everywhere around the World, people are waking up to pristine, small batch and craft products.

Smartass Corner:
Don Papa's bottle comes from France, the cork from Portugal, the label from Italy and the brand image from New York's Stranger & Stranger design firm. Don Papa has earned a double gold medal for packaging design at the 2013 San Francisco World Spirits Competition, and product innovation of the year at the 2013 Paris Cocktail Spirits Show. There are 50 animals hidden in the label. Can you find them?

Category

Style

Region

Country

Alcohol

Distillery

Age
Flavor Spiral™
About The Flavor Spiral
What does Don Papa Small Batch Rum taste like?

The Flavor Spiral™ shows the most common flavors that you'll taste in Don Papa Small Batch Rum and gives you a chance to have a taste of it before actually tasting it.

We invented Flavor Spiral™ here at Flaviar to get all your senses involved in tasting drinks and, frankly, because we think that classic tasting notes are boring.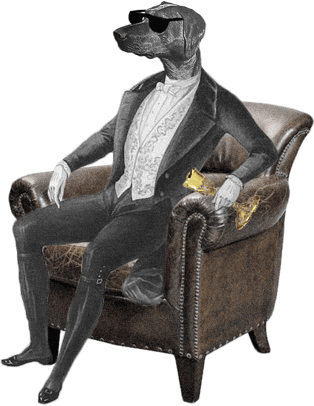 Dog Dogson's
Smartass
Corner
Rum used to be accepted as form of currency in Europe and Australia, a practice we should probably bring back into fashion.
Tasting Notes
Appearance / Color
Light amber.

Smell / Nose / Aroma
Light and fruity.

Flavor / Taste / Palate
Smooth and delicate. Vanilla, oak, honey with notes of candied fruits throughout.

Finish
Rich.

More drinks we think you'll like
Ratings & Reviews
Medicinal, like Orange cough syrup.
Nice honey sweet, but not too sweet. Smooth flavor all around
Very good rum. I like the sweet taste of caramel, honey, and vanilla.
Lovely rum, alone or with a mixer, nice aftertaste
I love a good dark rum and this had such bold flavor to it that I had a hard time only taking a sip (my husband and I share the tasting box).
Great flavor
Loved the flavor! Became a little too sweet after more than a couple drinks, but still one of my favorites.
A special rum from Philippines, I was hasty before tasting it, but for sure it exceeded my expectations. Totally recommended and one of my best rum selections.
Verry nice mixing rum. Sweet aftertaste with hints of Vanilla.
A sweet rum, with long fruity aftertaste. Totally recommended!
This was my worst rum experience. The taste is so sweet that nobody was able to enjoy it. I bought this because of the high score and good comment, now i really dont't know what are they taliing about. I would recommend you to buy a dictador or zacapa for this price.
Very sweet on the nose, almost dessert-like, but tasty. Would definitely buy for a sweet sipper
I'm not a rum drinker normally (whiskey girl) and I LOVED this. Smooth & perfect to mix anything with.
From the game of rums sample, this was my favorite. Incredibly sweet which for me was nice.
Definitely on the sweet side. Easy to drink on the rocks or neat. Not really a mixing rum but if I were to mix it, I would probably use juice.
Very smooth and sweet. Wonderful aroma. Overall great taste.
good rum overall, but wasn't a huge fan compared to the other game of rums samples
Taste was phenomenal nice sweet note, but not too sweet, great for sipping.
This rum could almost be enjoyed on its own. It would be fabulous in cocktails. There was such a depth of flavor, nice sweetness with little bite. This was by far one of the most interesting runs I've ever tried.
Nice honey taste. Mixes very well!
Loved this. Surprisingly flavorful. Very smooth.
There are some other very interesting notes . The orange is more reminiscent of jellied orange slices and the oak has some element of earthy de aged oak leaves. A very interesting sip!
Sweet but pairs very well with egg nog
Very sweet and smooth. Citrusy and a little bit of spice
It is an extra-rich, Dark Rumtht has a rich & aromatic birth; while a rich & full life leads to a long & rich death with notes of biscuit, sugar & caramel.
I'm usually not one to go for sweet drinks and rum is really not my thing, but the flavors of this one are amazing. This is a rum I would keep in my cabinet ... and the price isn't bad either.
The best
Sweet and delicious on the rocks. Lots of caramel notes.
It has a very specific Taste that even for me is too sweet to drink straight. However mixed with smokey cola's you get an amazing unique taste
Delicious after dinner. Added to my favorites!!
Tastes like pleasant honey/caramel candym definitely a dessert rum.
Hints of butterscotch
Loved it; the hint of cinnamon gave it a really great flavor. I enjoyed it with my steak and YOU should get you some too!
Rich and smooth, with crazy sweetness flavors. Not the perfect sipping rum but it was fun to try. This thing could make some crazy good and complex cocktails.
This is a great RUM, smooth and rich as well as little afternote of sweetness. Goes down easy and just a pleasant drink. By the way, I am a Don PAPA....great to have a namesake drink.
Extremely smooth with a lovely sweet aroma and one of the nicest finishes I've experienced
Amazing smell of honey and fruits, but smells nicer than it taste. It's too damn sweet for me. Won't buy a bottle of it.
Very strong herbal aftertaste, sweet dark rum, no extras..
Wery nice and sweet
Sweet fragrant and rather delicious.
A bit too sweet. Almost overwhelming vanilla kind of coconut smell and taste.
Very smooth, very prominent vanilla flavor, underlying hints of candy, caramel, popcorn, overall rather one-dimensional and too sweet for my liking. The rum equivalent of a desert wine.
Way too sweet for my taste.
Well balanced, but too sweet. Vanilla so strong that feels like added.
Almost cherry aroma, no harsh taste but lovely cherry vanilla that hangs around. Delicious.
Candied fruit and a Diet Pepsi syrup forward. Seriously, add some seltzer water and you've got a passable soda. Interesting key lime sub notes. Not a favorite but an interesting experience.
Love this one, smooth and sweet, will definitely be adding this to the bar!
Unusual rum, sweet and easy to drink. Very tasty!
Taste great!
Super smooth. Spicy rum with a vanilla flavoring. Great mixed or even better straight on the rocks.
Superior rum, excellent taste, fair price...
Absolutely loved it!
Very smooth and interesting flavors, quite fruity.
Nose 👃; A lot of candied fruit, a big raspberry (reminds me of Bacardi Raspberry), some fruit , big vanilla, Taste 👅; Vanilla, a lot of vanilla, big candied fruit, and that raspberry, some oak, Finish ; Rich sweet, caramel, some spice and more candied fruits,
Sweet! Citrus and biscuit combined to a very smooth rum. Oak comes just slightly in the end. Honey, caramel and candied are hard to divide in the overall sweetness. Smells a little like bubble gum.
Wow what a rum. It is very smooth and with coke and a slight bit of lime it really enhances the drink and makes it a wonderful edition on a hot day.
A bit sweet for my taste with a strong vanilla flavor. Smooth
Lovely, bloody lovely!! Very vanilla. Ginger ale and lime. Gorgeous
Very sweet rum with a vanilla punch in the face (in a good way).
Definitely a sweet rum, surprisingly very good over ice. I don't know if it's too sweet for 4 or 5 of these, only got tasting box. Overall very pleased
My new favorite rum!! Difficult to find though.
Very sweet, smell and tast does not follow each other.
A little too sweet and syrupy for me, fantastic banana nose though and overall tasty. Interesting and different from your typical Caribbean varieties; strong butterscotch flavor.
Very unique flavor. It's nice and sweet but perhaps too much of a candy aftertaste. Would be nice on its own, but no good mixed with coke which is what I like. Drinkable but not worth £32 a bottle in my view.
Sweet start, sweet finish, with a little fire in between. Definitely a thumbs up for me.
Smells sweet and sugary, can really smell the sweetness. Taste starts off sweet big hit of honey and sugar, then comes the oak and cinnamon and a vanilla after taste. Not one for mixing, keep straight over ice.
The best sweet sipping rum I tried so far..
Strong vanilla/butterscotch smell. Smooth taste, not too sweet. Good to drink straight on ice. Wouldn't recommend mixing it.
Loved it! Smooth and sweet
Haven't heard back on this rum. It was given to a friend as a gift.
Great aroma! And the flavor delivers just as much.
If your looking for a very sweet and friendly rum then this one is for you.
Nice vanilla and fruit finish
Nice citrus flavor and aroma. The burn on the end is a bit harsh to me.
A good sipping rum. Good change of pace from my normal bourbon or scotch.
Butterscotch and tropical fruit. Too much sugar
Very fruity and with nice finish
Absolute shit. Just boil molasses and sugar to a simple syrup and add grain alcohol and you've nailed it.
Just a great rum and not over pricey. Great flavors and although not my "go to" drink because I'm a bourbon drinker at heart, its a sweeter summer kick back taste..
Very delicious! Has a sweet candy taste that I enjoyed.
Smooth and flavorful, love the vanilla and caramel
Too sweet. Reminiscent of bubble gum or cream soda. While sugary on the tongue has a nice spice and kick on the way down. Definitely not to the taste of this bourbon and gin drinker!
Very good neat. Vanilla and Carmel aroma. A little spicy on the tongue. I really enjoyed it!
Extremely sweet, to much vanilla for my taste. I will probably use it for/in desserts instead of in drinks.
A charming and tasty sipper, I would consider scoring this higher, but it seems impossible that this rum does not include sugar and some other additives to boost the flavor profile.
Smooth, nice ,easy to sip,
Just great!! Easy, but interesting flavour
Great sipping rum
Amazing. It tastes of salted caramel. Hands down the most delicious rum I've tasted.
Love love it very smooth
Ok, it's really sweet. I mean really sweet. I would almost put this in the one pour after dinner category. It's smooth, but I don't think it would be possible to have more than one.
Completely love it. Will be ordering another bottle shortly
Real easy sweet rum to drink!
I really enjoyed it. The caramel smell was the most distinct for me. It has a light and smooth taste. I can definitely see this being a good rum for cocktails.
Not Rum. And enough vanillin to give a large rat cancer.
Not Rum. And enough vanillin to give a large rat or small dog cancer.
This rhum is good for mixing. But for a sipping rhum it just too artificial for it's tasting pallet.
This spirit is the nectar of the gods!
Empty, impossible to drink straight. Great with coke or juice though.
The smell is very tropical and fruity, the taste has so many more layers to it compared to others ive tried. its nice and sweet but with lots of subtle notes. Pinnaple, banana, honey, carmel is what i taste. Its a great one to sip in the summer.
Incredible nose, but unfortunately undrinkable. I would prefer a $15 bottle of Legendario Elixir de Cuba over this drink.
Great Rum
This one has an incredible nose on it. The flavor is very sweet with strong fruit notes I had not expected.
Very fruity and smooth. great price too.
Outstanding - well worth the bottle.
Favorite Rum of ours. perfect balance.
Lovely
A very complex smelling Rum with nice notes of caramel. However, in my experience the taste did not live up to the smell. A bit bland and too sweet. Added some water for my second taste but it did not do much for the flavour.
Aside from my namesake "Don Papa"- is just such a wonderful drink. I pour it over a little ice and just sit back and relax. So smooth and such a mild taste. So glad to have made the purchase. Thanks for making it available.
Vanilla, vanilla, vanilla. The first word that comes to mind. Very buttery on the nose. A lot of vanilla on the palate. Long spiced finish.. Almost reminds me of flat cream soda with a spicy kick.. I've only tried it neat though so it may improve in a mix but overall - nice try - but not great 3/10.
A real disappointment... tastes like soda syrup without the bubbles. A bought it as a gift for a friend but after tasting it with him I had to apologize and take it back with the promise of something better to replace it!
Typically I am not a straight liquor drinker, mostly because I haven't found much that I can enjoy without some kind of mixer. This rum is certainly meant to be enjoyed neat. It has a buttery flavor that is super smooth and easy to sip. I will certainly buy it again and keep it on hand for those occasions when I just want to enjoy the flavors the liquor brings on its own.
To much vanilla for me. But still delicious.
Vanilla, sweet and very specific taste but I prefer the 12 year old one.
Unique flavor, reminds me of Pussers Rum in its flavor profile. Vanilla, fruit, banana, sweet and excellent straight or with a little pineapple juice. Tropical vibes and Mai thais here is come.
I liked it. I know the purists will probably hate this, but as a sweet, dessert run, it's fine.
Sweet. Large hints of vanilla and caramel. A bit spicy on the palette. Easier drinking than Bumbu as it isn't as sweet but still pretty sugary. You really get the candied notes on the nose.
Smooth and full of flavor. This is a rum I could drink all day. Great as a stand alone, this tasty rum also goes great with other blends and perfect with cola. The sweet vanilla presence lingers on the pallet, which I happen to appreciate.
Smooth delicious rum, much better than their 12 year.
Very sweet dessert rum, the sugar cane used is too good to pass
Not a big rum drinker--but could drink this all day long
Love this! Could drink all day! Honey overtones to die for.
Delicious and sweet.
Really happy right now.
Very good with some very strong candied notes. Almost a little too sweet for my palate.
Excellent, great taste and very smooth, great for sipping.
I can't describe how good this is. It's like a a light sweet smokey caramel. It is the best rum I've tasted so far. Flaviar why don't you have bottles of this stuff?
I actually don't have the words to describe this, but I WILL be buying a bottle of this (got my taste from Game of Rums tasting box)
Sweety ron. Very nice
Vanilla-Fruity Taste, very delicious
Extremely smooth, very drinkable. Only negative was I found it slightly too sweet.
Top
Syrupy. It was very sweet, sugary. Almost like sugar cookie on the nose.
wow!
Light, lots of vanilla flavor. A great, lightly sweet run that's great for sipping.
This is no rum...
Very delicious
Sugary Orange profile, almost like a liquor. Nice for sipping if you like sweet rums.
Question - how is it 7 years old if it was only started in 2011 by Stephen Carroll? Was the spirit already distilled and maturing?
This one is almost as rum should be!!!
My Best 😜
Sweet and vanilla.
Zitronig, süß und frisch. Wäre ein hervorragender Rum, wenn die Vanillenote nicht wäre.
Sweet & Fruity. Something never tasted before. :)
great rum
Einer der Besten Rums zum gechillt trinken. Geile Flasche, tolles Etikett! Ich freu mich schon auf den Don Papa 10!
Load more reviews
Back
A Dram for Your Thoughts
Cancel