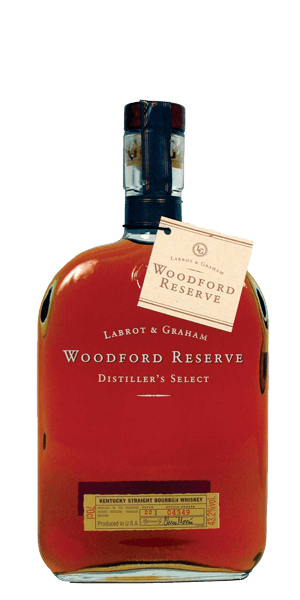 Woodford Reserve
Distiller's Select Kentucky
Tasting Notes
Appearance / Colour
Rich amber orange.
 
Smell / Nose / Aroma
Almost a tequila-like smell, black chocolate, coconut, honey, maple syrup, vanilla, woody, tones and black pepper spice.
 
Flavour / Taste / Palate
Firm, full of flavours, oak and vanilla in the beginning, then fruity, almonds and marzipan, honey, ginger, spiciness.
 
Finish
Smooth, long, spicy, tannic and flowery (violet). Oak adds dryness.
 
Comment
Top shelf, in Mint Julep or not.

Flavour spiral
Vanilla, spicy, toasted oak, honey, orange zest, mint, butterscotch, black pepper, sweet.


Oooops.
This bottle isn't on our current list of Home Bar Essentials... but it could be. Add it to your wish list and let us know you want it!
They say it is Official Bourbon of the Kentucky Derby. Horses love it! 
 
Woodford Reserve Distillery (owned by Brown-Forman) is located in the American state of Kentucky, close to the town of Versailles. It is Kentucky's smallest distillery and quite different from the rest. Instead of the standard column still method it uses pot stills from Scotland. 
 
Woodford Reserve Kentucky Bourbon is marketed under the former company name for the distillery, Labrot & Graham. The mashbill for Woodford Reserve features a high percentage of rye: 72% corn, 18% rye and 10% malt. Unusual also for being triple distilled and having the lowest proof upon entering the barrel where it matures for at least six years. Every bottle is individually numbered with batch and bottle identification.
 

Style

Region

Country

Alcohol

Distillery

Bottler

Chill Filtered?
Ratings & Reviews
Member Reviews and Ratings of Woodford Reserve Distiller's Select Kentucky Bourbon
Nice sweet taste...it's easy to taste honey and vanilla with a good spicy end...it doesn't cost so much but it worth more than you're going to spend.
Spicy yet smooth. Goes down very easily.
Sweet vanilla and honey, a bit reminding of rye
Slight Smokey flavor, missing the heavy oak flavor (that's a plus for me)
One of my go-to's. Love the smoothness!!!
I accidentally told a guy this was wheated. Got ahead of myself.
Nothing overpowering. Good overall. Sweet and vanilla at the front. Very mild smoke at the finish. Not a lot of spice or long finish. A great can't -get-hurt bourbon. Will appeal to a wide audience. You should have this in your collection to offer to guests who like a "mild" bourbon.
Very well!👌🏽
One of my very favorites!
One of my absolute favorites and my go to bourbon. Pleasantly sweet with that simple bourbon character. While I enjoy trying new thing, I always have a bottle of this
A bit harsh for my taste when served neat. A single cube tames the burn a bit.
Beautiful, very enjoyable to drink. Smooth with and excellent finish. This bourbon is the gift that keeps on giving.
It's smooth with a nice kick.., definitely smell and taste the vanilla and mint!
More of a rum guy but this is my go to Bourbon everytime.... Let's just say Old Fashioned
One of the best bourbon in this price
One of my favorite bourbons.
Smooth
Great flavor, I like how smooth it is.
Smooth with a slight bite
Pretty smooth
It's got s bite but not terrible.
Very smooth, smoky flavor.
More bite than Bullit....but almost identical in price. For 15 bucks a pint a prefer the Bullit burboun
My "go to" house bourbon.
Great bottle, a must have, pretty smooth and tasty.
My favorite bourbon for several years now. Intense vanilla up front with a smooth spicy finish that lingers. Like drinking leather. By far the best bourbon for the price.
I little one note. I had a hard time getting past the vanilla.
Sweet up front with a long comfortable burn throughout; smoky and woody flavors make this very enjoyable. I think it actually benefits from a half cube of ice.
Pretty good. I think for the money I can get better bourbons of similar tastes. But I do see why this is considered a top tier bourbon at each of its levels. Probably best described as a good at everything but not great at any one thing, so it will please a wider audience
One of my favorite bourbons nice and smooth.
I'm a sucker for vanilla and this definitely has the aroma and initial taste. I just wish it lasted longer. The spice kicks in quickly and lingers between sips. (I'm new at this, so I could be mistaking "spice" for the alcohol content just letting you know it's there)
Very smooth caramel great multi faceted bourbon
Velvety smoothness, and only a touch of sweetness. Aside from that, this is a bland and unimpressive bourbon that leaves your tongue expecting more from it. I'd heard many good things about this bourbon, only to be mildly disappointed.
I really liked the finish on this one, the smell is a caramel and vanilla combo that was very pleasing. The taste is not sweet and I didn't expect it to be, but the taste hit me like a brick, but not in a bad way!
Very sweet smooth taste. Great neat or with ice.
Great stuff! It's bold.
Very sweet floral/vanilla nose. Caramel-corn and oak on the palate. Short bitter finish, unfortunately. Too sweet then bitter. Try Four Roses if you like sweet without the bitter finish.
So smooth
Different than any other bourbon I've tried so far
Smooth. A treat.
Nice sipping whiskey.
love it
Excellent neat or blended into classic bourbon cocktails. Subtle sweet flavours that satisfy every time
The finest bourbon I have tasted, yet.
Easy drinker, full bodied and great in an old fashioned
The gold standard. Smooth and warm.
Strong and hits you nicely
Fire-y after taste
Gorgeous sweet bourbon.
Lovely smooth sweet bourbon.
Enjoyed the vanilla/honey flavor. Quite a smooth finish. Big fan
There is a lot of hype.
Smooth
Good bourbon! Decent regular drinker if you fancy a change from other bourbons or Tennessee whiskey.
Sharp, oaky.
Pretty good, sweet and a nice finish
Load more reviews
Back
A Dram for Your Thoughts
Cancel