Price, Shipping & Taxes may vary by state and will be recalculated at checkout.
Authenticity Guaranteed
We guarantee every product we sell is authentic.
Free Shipping
Flaviar Members get free shipping on their orders.
Buyer Protection
Money-back guarantee if things go wrong.
From the Big Daddy of Bourbon and Rye Bottling.
 
The Willett Distilling Company or Kentucky Bourbon Distillers, as it is also known, is a small, family-owned company that markets Bourbon and Rye Whiskey. They're located in Bardstown, Kentucky. As a relatively large independent bottling company, they're called the big daddy of Bourbon and Rye Bottling.
 
The company wasn't actually operating as a distillery from 1980 to 2012, when they re-established the distilling process using both column and pot stills. So far they've been using Whiskey distilled elsewhere to make their products, and it will be a few more years before they can use their own distillates because of the necessary ageing process.
 
Willett Pot Still Reserve Bourbon was introduced in 2008 and is a hand-selected, limited x Kentucky straight Bourbon, aged 8-10 years and bottled at 47% ABV. It comes in one of the coolest decanters on the market.
 
Category

Style

Region

Country

Alcohol

Distillery

Age
Flavor Spiral™
About The Flavor Spiral
What does Willett Pot Still Reserve taste like?

The Flavor Spiral™ shows the most common flavors that you'll taste in Willett Pot Still Reserve and gives you a chance to have a taste of it before actually tasting it.

We invented Flavor Spiral™ here at Flaviar to get all your senses involved in tasting drinks and, frankly, because we think that classic tasting notes are boring.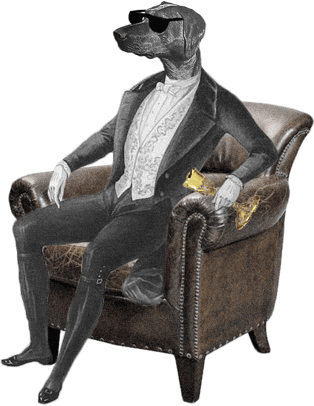 Dog Dogson's
Smartass
Corner
The temperatures of American warehouses are much higher, so the pace of maturation is much quicker for Bourbons than for Scotch Whiskies
Tasting Notes
Appearance / Colour
Mahogany.

Smell / Nose / Aroma
A bit cognac-y. Soft, delicate, with notes of jasmine, vanilla, sweet corn, cinnamon and ginger. 
 
Flavour / Taste / Palate
Woody and medium body. Hints of nut, oak, black tea, butterscotch, lemon, dried corn and hints of rye. Bananas when water is added.
 
Finish
Medium-long, spicy, herbal with notes of rye.
 
Comment
Niiice, extremely elaborate, bottle. 

More drinks we think you'll like
Ratings & Reviews
Great caramel flavor up front, finish with a slight honey sweet. This has become our go to for a sipping bourbon.
A bit spicy on the front side with honey on the back
I won't rate as low as many others, because I still find it somewhat palatable, once you get past the notes of gasoline.
To much like scotch. Peat is gross.
Super smooth, my buddy and I finished off a bottle the other night great caramel flavor low burn super enjoyable I'll be buying another bottle soon
A "hotter" version of a better bourbon.
Smooth, clean taste with a Carmel finish.
One of the most interesting bourbons I've had. Aroma and taste were totally unique to me. The finish is as advertised-long and warm. Awesome bottle, too!
Great!
Flavorful with a long, smooth finish!
great start and finish and cool bottle for display!
Excellent for sipping, difficult to find.
One of the best bangs for the buck with awesome taste and smoothness
Smooth and robust. Just enough sweetness at the finish.
At the 40-50 price point it's solid
This is a pleasant surprise. I bought it for the bottle because my sister wanted it and I can't say enough how enjoyable it was to drink every time I had a glass. Had a bit more bite in the beginning than I normally enjoy but finished so smooth it was worth the unique mix of flavors. Strongly recommend you try this one!
Very nice and surprised at mixed reviews I have seen. Light oak and cinnamon on the nose. The body is light as well with a good crisp snappiness of oak, brown sugar, sweetened orange rind and peanut shells. The finish is nice as it lingers just enough to leave behind more oak and honey roasted peanuts. All in all, I love me some Willet, they don't disappoint.
Great flavor from start to finish. One of my favorites.
Very satisfying with a smooth finish. I was pleasantly surprised by the complexity of the flavors and the balance right to the end.
A sweet aroma, hint of oak with Carmel or vanilla. Very smooth, nice sipping drink, goes well with a nice Cigar (Liga Privada No. 9)
It's got some bite to it up front but mellows out into that classic vanilla and caramel. The oak comes out on a lingering finish.
Amazing Bourbon with a caramel finish. Love it!
One of the very best Boutbons I have ever had.
This is the most unique, flavorful bourbon I've tried. It's peppery and full of oak at first and has such a long, rich, malt-like finish. It replaces Blanton's as my go-to. After trying Rowan's Creek this weekend, I'm surprised that I actually *may* prefer it. It tastes more Willet-y than Willett! So, I've dropped a star for now and will revisit.
Liked it.
I am usually a rye drinker, but thought I would give bourbon another try. Willett did not disappoint. I did however miss the pepper notes that rye brings to a cocktail.
Decent bourbon. A bit harsh neat but opens up considerably on the rocks.
Very smooth and easy drinking. Not too elaborate.
SO smooth for a nice evening of sipping with or without a cube. No drama here. The sweet and spice balance is really good. This is a hard one to find in my area so I was happy to see Flaviar carrying it!
Smooth carmel notes. Heavy ripe fruit and burnt sugars.
Exceptional the notes where hitting on all points. One of my favorite one so far.
An excellent bourbon for the price. Subtle sweetness with a touch of spice.
Decent bourbon once you let it breathe.
Smooth and comforting. Sweet vanilla and a touch of spice. Yummmmm
Smooth, mild, goes down dangerously easy
I like it, real god sipper with or without a cube.
I've had a couple bottles of this now. I like the flavor. It's not too hot on the finish. But has enough flavor.
Great flavors, excellent finish. Definitely would do again
There was very little the bourbon brought to the table. The bottle is the coolest part of the experience. I was happy to rid myself of a bottle I bought by selling it to a friend who enjoyed it more than I. I rarely rank anything below a 5 BTW.
My favorite bourbon, very smooth, no bite in the back
Not quite as smooth on the rocks which is how I like to enjoy my whiskey.
Smooth with lots of layers and a twisty finish. I bought this for my brother but had to taste it myself, and I was really impressed. He was too. A little on the sweet side for him, but was excited to share it and put it on his display shelf.
Nose of cinnamon, corn, and mineral elements. Taste of caramel corn, spice, and woodiness. Medium burn with a somewhat harsh finish that softens with a few drops of water.
One of my favorites..just ordered another
Nice and smooth. One of my favorites. Just ordered another...
Tastes exactly like Noah's Mill (no surprise) but at a lower proof without lacking any flavor. A perfect Noah's alternative for those who don't like 115 proof.
Smooth taste and finish and one of my favorites. Glad I was finally able to find this.
What a smooth taste and finish! One of the best shaped bottles as well as superb bourbon! My NEW favorite ...only none left :(
The smoothest I've had to date. This is my comfort drink though
Very flavorful. Exactly what I expected from a whiskey of this stature. Love the bottle shape.
great balance and flavor very smooth great balance
Love it. A must have whenever I can find it. Smooth and sweet.
Fantastic balanced flavor
What a wonderful taste!! I get a strong hint of cinnamon, but not overpowering, it is has just enough spice at the start, Very smooth finish with another spice shot on the back end. Wow I am very impressed.
My favorite bourbon
My preferred premium bourbon.Smooth drinking, semi-accessible, and fairly priced.
I received this as a Christmas present and I love it. So smooth and full. This is easily one of my favorite bourbons.
Very consistent flavor, always enjoyable. Had a personal tour of Willet.
Smooth taste, flavors are very delicious
Soo smooth and so fresh
Call me crazy, but I didn't really care for this. It had a weird texture to it. I'd prefer 3 fingers of Jim Beam over ice
Excellent. One of the best I have had at this price point, and I think relatively fairly priced. Paid $42 for this reserve collection. On Flaviar, wouldn't be surprised to have found it at $52-55 as they are almost always 15-20% higher than a normal mom and pop store. If you get a chance, definitely a good bourbon. Compares favorably to a barrel proof Knob Creek, Eagle Rare or Bulleit.
above average nose, nice complexity, finish is a little rough, cool bottle, price is about right
One of the best bourbons I've had. Incredibly smooth!
One of the best I have ever had
NICE AND EASY. LOWER PROOF.
Received this as a gift last year, turned out to be one of my very favorite bourbons.
Nose: subtle spice, some oak Taste: sweet and rye spice, oak, leather, strong spicy finish with strong caramel,floral and apple
Smooth. Oaky taste. Too good to put in apple cider!
Creamy and caramelly. Too much hype and far too difficult to find, but I liked it!
This is an excellent bourbon.
Good but not great. A little over priced
Very very sweet on the front end. Vanilla almond and very smooth with a hint of cinnamon to finish it off. The nose on this is pretty week. It really hangs on the side of the glass well.
Smooth and delicious. Will make love to your pallet. Hard to find and expensive outside of KY.
Very smooth with a lot of flavor. I'm a McCallum guy but this is right up there with my favorite Scotch. 3-4 drops of water really opens up all the flavors. And who wouldn't love the "I dream of Genie" bottle! Looks great on your bar shelf.
Beautifully smooth, woody and varied. I really like the way the sweet pairs with the spice going down. One of my favorite bourbons to date
Never was much of a bourbon drinker until I came across this one...
A very unique flavor, with wonderfully-strong notes of corn in both smell and taste. It definitely stands out as a different/unique kind of bourbon, which I loved about it.
The sweetness is up front but in an inviting way that makes for not only easy but superior sipping.
Fantastic bourbon! Smooth, full of flavor and easy on the palate. I'm surprised with the sub-8.0 rating; this is definitely a 9+! Right up there with some of the best bourbons out there. Hard to find but well worth it once you can find a bottle. Highly recommended..and I've tried over 100 different bourbons!
Great, on the rocks, whiskey, smooth and highly palatable
Great, on the rocks, whiskey, very smooth and easily palatable.
Exquisite
Fantastic tasting and easy drinking, a great combination and a worthy tribute to the legendary equipment the spirit is named for.
Very solid, not great depth but strong up front flavor profile
Great taste.
This was a really great whisky
What a great bourbon!
Drink this with an ice ball and it's perfectly smooth!
Smooth and sweet with a spicy finish, Well worth the price.
Initial sweets and caramels but near the end there is a bite... Definitely a most for any cabinet.
Sweet and smooth and oaky, with a spicy finish. Loved this. The bottle is a nice bonus too!
Bourbon at it's best. Hard to find but worth the effort.
Smooth and beautiful! I am on my 2nd order of this!
A reasonable bourbon, but not among my most favorite or memorable.
was smooth...little too sweet for me....wife loved it
The only reason I don't rate this 10 stars is because I don't know if there is anything else out there that is better. Willett was everything you want and more. Pleasing to the nose and smooth on the pallet. It's flavor spiral is right on and will leave you wanting more, so be careful. Will buy multiples of this.
Nearest bottle in town and the contents do not disappoint. Has an oakey taste, which I'm fond of. Finish is medium and overall a damned good bourbon.
Very very smooth! I love it. I am a real fan of Koval which is very smooth and always hesitate to buy anything else but wow this is a great one and have already ordered 2 more!!! Love it
Truly a delight. Nice smooth flavor with a little kick! Perfect for sipping and a great value.
Very nice sipping bourbon. Smooth with an early sweetness. My #2 after Bookers.
Really good to sip on.
Smooth. Great neat.
Outstanding - smooth with great favors
Really impressed, I will definitely be buying another bottle
Really impressed, I will definitely buying another bottle.
Incredibly smooth. Love it.
Best serve neat. Sweet up front with the spicy in the end. I would try other offerings from the Willett distillery, one of my favorites is Noah's Mill
A very smooth bourbon. I would say this is definitely a must-have for any whiskey collector
Have not tried it yet. Flaviar app states it's a single barrel bourbon and I received a small batch bourbon.
Surprisingly smooth. Long mouth feel with the rye coming in late. Really enjoy this one
Very enjoyable bourbon! Best neat.
One of the best bourbons out there.
I bought it intending to make an oil lamp from the bottle. What a pleasant surprise to find that the bottle is bought for its shape held such fantastic bourbon. It's become a staple for social functions among my friends. I can't recommend this enough.
Very smooth all the way around.
One of my favorites and priced to be able to have as a weekly drinker. Smooth and mellow. You have to try this out. If you like Basil Hayden you will love this.
I like it.
Stuff is legit
It is a very good, balanced, Kentucky straight Bourbon, with a delicate birth & woody life that lead to a spicy death.
Excellent. Has a sweet but spicy taste. I'm a big fan.
Very smooth very sweet. Wonderful for the price.
Nose: buttery, sweet vanilla, brown sugar, nutmeg, allspice. Tastin Notes: sweet and buttery, gradually warming, light oak. Finish: light oak, warm, sweet, maple syrup.
Like the vanilla on front end with smooth finish
Very nice!
if only.... I live in a small market so I've only had a small tasting. would love to have it featured all the time in my home bar!
Vanilla at the front of the tongue. Smoky and hot finish. Different. Not bad, just different. Some notes are too mild and I think the heat is too strong. Definitely worth having because it is different from other bourbon flavor profiles, bit I would have to be in the mood for it to drink it.
Top of my list
Not bad
Very smooth with a lot of flavor. I'm a big scotch guy, but love this bourbon.
Some junk drifting around in the tube. I don't know if that's normal but I assumed that anything steeped in that much alcohol was safe to drink. Tasted strong and the alcohol was a little overpowering to the flavour.
Warm but rough. Plenty of oak and with a little bitterness in the finish.
Hot
Awful
Smooth even when consumed neat. Sweet caramel and vanilla. Spice toward the end. DELICIOUS!
Great vanilla. A bit thin. Most of the flavors are delicious but too light. I would feel justified pay $50 for a bottle.
Smooth, easily drinkable, but not remarkable enough to be a mainstay in my collection
Load more reviews
Back
A Dram for Your Thoughts
Cancel