Virginia Distillery
Distillery
Founded in 2011
The late
Dr. George G. Moore
was a native Irishman, living in his adopted home Virginia with a
passion for distilling
. He founded his
Virginia Distillery Company
in
2011
, with a vision of creating a unique, quality hand crafted American
Whiskey
.
The American single malt Whisky is crafted in the heart of Virginia's
Blue Ridge Mountains
showcasing both New and Old World Whiskey-making.
The distillery is currently in the hands of George's son,
Gareth Moore
and his wife,
Maggie Moore
, who have kept George's single malt dream alive.
Virginia Distillery Company currently produces an American Single Malt
on-site
using malted barley from the U.S. and water from Virginia's Blue Ridge Mountains.
Virginia's
dynamic climate
significantly influences the aging cycle, imparting a
unique character
onto the Whiskey. The distillery flagship is aged in ex-Bourbon, Sherry and re-toasted Wine casks.
Virginia Distillery's line up include their single cask
limited edition
offerings, their line of
award winning
cask finished whiskies, as well as an exclusive product line to be released in 2020, developed under the tutelage of the late
Dr. Jim Swan
.
Named Courage & Conviction the American Whisky will feature three core barrel types:
Bourbon
, Sherry, and Cuvée.
Distillery Details
Country

Established

Address

299 Eades Ln, Lovingston, VA 22949, United States

Phone

Website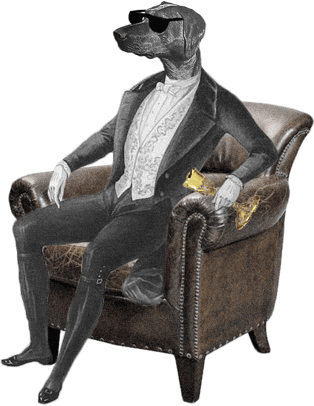 Dog Dogson's
Smartass
Corner
Their Virginia-Highland Whisky hybrid undergoes quite a unique production, after the Highland Whisky is distilled it's transported over 3,000 miles to the Virginia Distilling Company in Lovingston, Virginia where the Scotch is married with Whisky made onsite in Virginia before being finished in French oak casks.
Video from Virginia Distillery
Video transcription
My father was an immigrant from Ireland. He had a great passion for single malt Whiskies. Single malt is not something that's traditionally made in the US. It's more associated with Scotland or Ireland or even Japan. So putting a really unique twist on it by making it here in the U.S., embracing the natural climate here very very hot summers very cold winters unlike the traditional climate that single malt is made in in Ireland, Scotland or Japan. And that was his vision - to take the best of the old world, bring it right here in the new world to make it a little bit better. He unfortunately passed in 2013 and then my wife and I came in and stepped up to the plate to really see that vision through fruition and that's we're in the process of doing right now.

We're a fairly traditional single malt distillery. Currently our flagship product is a Virginia Highland Whisky and that's a six year Whisky that we bring over from Scotland. It was originally distilled and had first six years of life matured over in Scotland and we like to say it was born over there but it gets raised here in Virginia. Once it comes to us we do a secondary maturation - we call it a finish in a Virginia Port wine cask. Since we started distilling in 2015 we've been aging our own single malt that we made right here on site. That product is going to be coming to market somewhere between 2019 2020 really when the products says it's ready. We're not going to try to jump the gun and released an early product because we really want to let the Whisky tell us when it's ready to be bottled and brought to market.

And so what we do is we take the casks that those beers and ciders and different wines are aged in and then we do a second maturation with our Whisky which in turn gives a really unique Chardonnay finish or cider finish or even our beer finishes. So we're really proud of that because it really gets to showcase all the great products that are made across Virginia and really impart a sense of place on their own Whisky. We sell full casks here at CDC which is a little unique people can buy them when they're filled and they can actually fill them themselves we call that our cask society and then owners can visit their barrels they can taste them over the years as they're aging and at the end they can be part of the bottling process and get full cask worth of their own custom bottles.

For the raw materials that we use to make our Whiskies we really like to leverage the resources of central Virginia where we're located, being able to use Port wine casks from our neighbors over at King Family or Bear Tops vinyards or some of the Chardonnay casks from Grace Estate or from Paradise Springs really lets us lend a sense of place to our Whiskies and in distilling we get our grain from various places but we actually have six acres growing our own barley that we're going to be using later this year and really importantly the human resources nearby in Nelson County is really known as a craft production area between the breweries and wineries and the cider works and so leveraging those assets is really what gives our Whisky a sence of place.

We're proud of our products and we're proud of our State and so we put that name right there in front of the bottle.