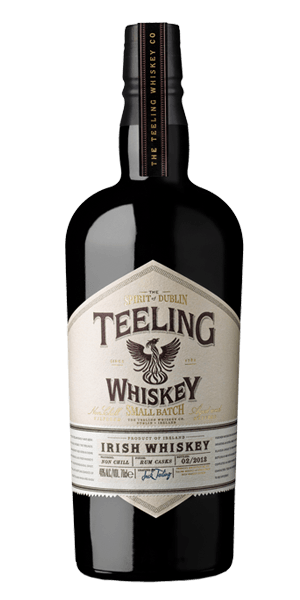 Teeling
Small Batch
Tasting Notes
Appearance / Color
Amber, mahogany.

Smell / Nose / Aroma
Vanilla, spices, notes of Rum, black cherry, orange, grain, apple pie, cut grass.

Flavor / Taste / Palate
Smooth, sweet, slightly spicy and malty. Rich, with rose petal jelly, lemoncurd, apricots, apples, hints of chocolate and raisins.

Finish
Slightly Moorish, and sweet.

Ratings & Reviews
Member Reviews and Ratings of Teeling Small Batch
MOST EXCELLENT. AROMA IS EXCELLENT AND THE TASTE IS LIKE SIPPING A DREAM.
Smooth and a little spicy. A medium finish. Tastes fantastic in an Irish Coffee.
At first tasting, I wasn't a huge fan (I was tasting several other whiskeys and I didn't think it could match up well against the other)...After a second revisit, I warmed up to it. Overall a smooth taste and smooth finish. Light taste, nothing overwhelming. Definitely a good, casual whiskey.
We didn't intend to drink more than half the bottle, but it went down so, so, so easy...and so we did. Super-smooth on the front, with just a little bite on the back, this is a VERY drinkable whiskey.
This Irish whisky is incredibly smooth. It's full of very pleasant flavors. I find them to be just sweet enough to make this a great everyday go to drink. It's not as good as my favorite scotch's, but very close. For the price it's definitely worth trying and it's a keeper in my cabinet.
Love this whiskey! It's a nice alternative to my Scotch obsession.
An absolute favorite of mine. This is a perfectly smooth drink to pair with a conversation amongst family and friends. It is gentle enough that everyone will enjoy it though it has a wonderful set of flavors to be appreciated by those who will.
Outstanding. Very smooth and an enjoyable easy drinking dram. I would have given it a 10 but it would need a bit more "kick" to it, but then it would not be as smooth.
Love it. This is one of my staples since my wife brought it back from Dublin!
Smooth with nice finish. Good pour for the price
I really like this! My wife brought some back from Ireland because she thought I'd like it. I guess she knows my taste. Smooth and "sipable" with lots of character. A bit young but all a part of it's charm.
Smooth as Ireland!
A great pour for the price!
Smooth and sweet up front with a nice clean finish.
good price and actually tastes good
Super whiskey, one that I have bought on multiple occasions.
Great taste for a great price.
Smooth, uncomplicated ... a pleasant sipping whiskey, though a little young and slightly thick.
Top quality Irish Whiskey with smooth floral notes.
Not my favorite. Seems too young.
fine as you can get smooth !
Wow
Easily one of the finest whiskey's I've ever had.
Smooth. Refreshing. Sippable
Creamy honey, crisp apples and sweet, malty pastry crust finish. Will keep this around as an everyday Irish.
Load more reviews
Back
A Dram for Your Thoughts
Cancel