It's the Moscow Mule of high-test Rum.

Biggar and Leith is a revitalization of an 18th century Spirits business founded by the great-great-great-grandfather of the current owner — a Mr. Thomas Gladstone — in Edinburgh. The current iteration of Biggar and Leith is based in New York where they manage their small portfolio of adult beverages which are produced locally and mixed and aged under contract with a distillery in Cognac, France.

Spytail Black Ginger Rum is obviously a spiced Rum. But most spiced Rums focus on cinnamon, clove, allspice, and other traditional baking spices. Spytail Black Ginger Rum puts the Ginger way up front by macerating fresh ginger root in a blend of Caribbean Rums. The result has a flavor profile like a strong Ginger Beer infused into a black Rum. Almost a Moscow Mule of high-test Rum… if that makes any sense. And it works really well, especially in tropical cocktails. The ginger and other spices add a good amount of heat that balances the fruit and sweetness nicely. And we think it pairs great with both sushi and jerk-chicken. Seriously.


Smartass Corner:
According to Biggar and Leith, The Spytail was one of the first mechanical submarines invented in France near their distillery partner. This plus the nautical theme lent its name well to their Rum brand. The bottle is shaped like a bathysphere, which is kind of cool too.

Category

Style

Region

Country

Alcohol

Distillery

Age
Flavor Spiral™
About The Flavor Spiral
What does Spytail Black Ginger Rum taste like?

The Flavor Spiral™ shows the most common flavors that you'll taste in Spytail Black Ginger Rum and gives you a chance to have a taste of it before actually tasting it.

We invented Flavor Spiral™ here at Flaviar to get all your senses involved in tasting drinks and, frankly, because we think that classic tasting notes are boring.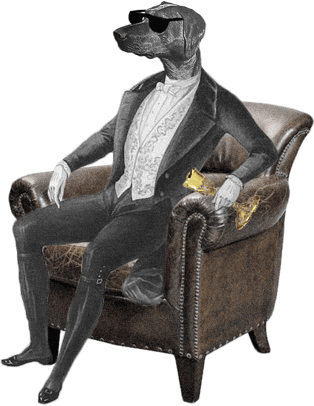 Dog Dogson's
Smartass
Corner
Rum (usually) comes from molasses; the sweet and syrupy residue left behind after sugar crystals are extracted from sugar cane juice. Molasses is over 50% sugar, but it also contains significant amounts of minerals and other trace elements, which can contribute to the final flavor.
Tasting Notes
Appearance / Color
Dark mahogany
Nose / Aroma / Smell
Sweet aroma with ginger and a bit of smoke.
Flavor / Taste / Palate
Brown sugar and ginger snaps with orange zest and pepper.
Finish
Brisk, with ginger spice and toffee.
More drinks we think you'll like
Ratings & Reviews
Excellent rum!! I drank my sample with a single small ice cube and it was unbelievable smooth, while at the same time spicy. My wife got hooked on the Dark and Stormy cocktail when we went to Bermuda last year. It is traditionally made with Goslings Black Seal rum, but this would make an excellent substitute.
I've no idea how this tastes because I was sent the ordinary version of this rum instead.
Very spicy when taken neat. I took it to our dancing session and poured it over ice cubes, was gone instantly.
Too christmassy
Good easy to drink rum. Just way to much ginger for my tastes
Strong ginger. Pleasant taste. Smooth.
Not fancy, but darn tasty. Sweet, fun ginger with some cloves and brown sugar. Easy to drink, but not complex.
Really nice if you like spiced, young rums. Nothing special for old rum fans, but still worth to try. Sweet and spicy are well balanced.
Sight 🧐 ; Dark Amber liquid with nice legs that quickly runs down, Nose 👃 ; Ginger, Christmas spices of cinnamon, clove, Taste 👅 ; Brown sugar, ginger, Christmas spice, slight zest, a clear vanilla and some slight tobacco, Finish ; Smooth, sweet with a lasting taste of ginger, rounding out with a bit of spicyness, 7 / 10 🥃
The ginger was so strong. Even more overpowering than in the "king's ginger" which is just a ginger liqueur
Ginger, a bit sweet, a hint of lime - might be a nice mojito or daiquiri variation
Lots of orange zest that's almost a lemon flavor. Not too much alcohol burn but there is so much flavor that it's refreshing. I'm more of a bourbon person but this was really interesting on the nose and palate.
Not completely horrible, but the ginger is so over powering and lingers on the pallet for so long after the sip. There are some nice flavors mid sip, the orange and brown sugar popping their head up for a second. Not a fan otherwise.
If you love strong ginger, you'll love this!
Very good Rum. I like the ginger and the softness.
Over powering floral flavor
This was fantastic, but you have to enjoy ginger of course, could have drank it all day long!
It is an intense, Spiced Rum that has a rich & aromatic birth; while a bold & spicy life leads to a short & zesty death with notes of ginger spice & toffee. I'm not a fan of Ginger Beer or the Moscow Mule!
I like the orange but the herbs are too strong for me. Ginger is a nice touch though.
Simply, awful.
Orange peel and sugar nose. Lemon peel notes overwhelmed my palate.
This is best enjoyed in a drink. On its own it tastes like disinfectant
I could only detect alcohol for the aroma. The flavor was a smooth ginger and orange zest, like a balanced mule or old fashioned. I think this would a great dimension to cocktails. Not bad for sipping but, I think it has more potential in other areas.
Very strong taste. Ginger forward with definite fragrant spice, clove, vanilla. Fairly smooth.
I miss the typical rum aroma, to smell it only alcohol, slightly taste ginger. Not alone, in cocktails better.
I found this to be way to sweet.
A diffrent kind of rum, im not saying that it is bad, but its not great, i love ginger and spice, and to me it is just meh...
one of my favorites big pepper and ginger then a sweet citrus after..with lovely rum bite. Different.
The flavor spiral is right on the mark. It's smooth too. Might be good as a mixer but definitely not on its own.
Received in the Rum Galaxy sampler. Not a fan of this. Seems the ginger throws it off. I get a spicy, black pepper, sweet bubble gum, medicinal taste from it. The smell was also a bit medicinal, almost like menthol or something else astringent. I don't think I'll be buying this one anytime soon, unless it's for a co-worker I don't like.
Not a great rum, it is special, but it is not smooth, and the flavor is almost cemical.
Smells very sweet and a pleasant smell, but the taste and aftertaste are disgusting. On the plus side, it is rather smooth. I would never buy this one, not even to give to my worst enemy.
Just bit too spicy for my taste.
Ginger and cardamom forward, with a nice amount of spicyness, clove and sweetness
Very ginger forward with a bit of sweetness
Liked it. Hard ginger flavor. Not sweet. The taste fades gradually
Better than I was expecting, as my experience with spiced rum is only the big names that are hard to get excited for. Of course the ginger is really strong, the nose is extremely alcoholic. The drink is much smoother though and the flavor spiral is pretty accurate -- definite clove and orange notes with strong sweetness on the back end. A satisfying dessert drink. I had it neat.
Instant heartburn
Very unique flavor, good to sip or mix with other items
Not quite what I call rum. But rather enjoyable if one was looking for a ginger beer- orange zest and soda mix. As one who prefers their drink neat and room temp ,his is not it.
I'm conflicted with this. I kind of liked it, but only after I accepted I'm not drinking rum. The taste is very unnatural, artificial flavors just shine through and rum is just the base here. You should approach this as a very strong cocktail instead of rum. Don't except anything fancy and you just might find a good occasion for this.
Good for cocktails. Interesting twist with the ginger.
Nose: Stale ginger beer mixed with cola and some lime. Some almost Amaro-like notes at the end. Palate: Sharp ginger. Not particularly pleasant. There's something artificial on the palate. Some medicinal qualities too. Palate: Some bitterness, almost metallic in quality. You know what I'm missing here? Rum. The rum is overpowered by the ginger. No thanks.
Different than what I am used to with the ginger, but a good unique taste.
Very ginger forward with a bit of sweetness
Not very good, more of a shooter; sort of like captain Morgan cannon blast. Kinda medicinal; too much cinnamon/ginger and sugary syrupy. Party rum, maybe better in a fruity cocktail or Caribbean mule.
Heavy on the ginger taste. Less like a rum and more like a ginger drink.
Interesting ginger taste, but lacks aftertaste.
Loved the flavor very interesting
It has a very interesting flavor, and kind of feels like you are drinking cologne. Better to drink when mixed with something else.
Ok for the price, but nothing more... a completely different taste of rum with the ginger flavor
Nose - 4 Mouth - 7 Aftertaste - 5 A bit too medicinal for my liking.
I like to use it in long drinks
Smooth, great taste. Lovely finish.
Ginger, sweet. Lots of Ginger.
Very short taste, strong sweet ginger, but surprisingly nice to sip. The whole bottle would probably be too much though...
Smooth, spicy, sweet but not cloying. I like this stuff
Delicious ginger notes - perfect for a dark and stormy.
Nice surprise due to the heavy ginger. Good for cocktails, but not for sipping and tasting with rum afficionados. It appeared a bit artificial after taating the monumental ron millonario (15 years) and ron centenario (30 years) of the rum galaxy tasting box
Heavy ginger taste in the front, followed by richer flavors later. Looks like it usually sells for about $25 and for that price, it's a good buy.
I tend to agree with Kalle's earlier review. I think this would mix well with soda water, or a light ginger ale (like Henry's), but it's not something I'd likely drink for its own sake.
Well this is p*ss. works only with citron and sodawater for me.
Very interesting. Smells so much like a sweet, warm candle. Pallet was heavy ginger, vanilla and smoke with a twist of lemon. I'm sure this will mix well, but seems like it will stand alone as it's own mixed cocktail.
Tastes like a spicy rum mixed with ginger ale.
Holy ginger and then smoke and zest. I was worried when I smelled it but it was a great dram.
Nose was nice, first sip was spicy with the ginger quickly coming into play. But as you caught the notes caramel/orange the ginger reared up and overpowered everything.
It was tasty, but the ginger caught me off guard , unfortunately I'm not big on ginger so this is why I didn't like it so much, my brother on the other hand likes ginger and he says it smooth and tasty
For rum I was not expecting this! Did not enjoy the ginger at all, the aftertaste lingered. Might be ok if used in mixed drinks, but not to sip and enjoy all by its self.
I'm not adverse to ginger, for example: I drink Fireball with great pleasure. This, however, was not the poison for me. No resemblance to rum what so ever.
Black Rum and ginger beer isn't so bad. But this was just too over the top for me...Didn't really seem like rum to me
Not my cup of tea. It just wasn't good. Tasting notes of medicine and listerine maybe? If you really like ginger flavored stuff then I would give this a shot... I like a good ginger beer but ginger rum .. nope.
Not a fan of anything ginger.
Would be perfect in a Dark & Stormy Cocktail!
Good ginger flavor
Might be better if I was a ginger fan...
with a strong ginger taste, very interesting and delicious
Very interesting rum. Quite gingery. My wife liked it more than I did. Smooth.
Very seriously ginger. If you like ginger beer, you'll love this rum
I'm a dedicated rum drinker. This was one of the best ever! Love the ginger in this!
Too gingery for me
Nice and Gingery, burns the nostril on the first sip but goes down nicely. Slightly sweet on the nose. easy to drink. Smells like Frosties sweets
Super ginger!
Love the strong smell
Load more reviews
Back
A Dram for Your Thoughts
Cancel