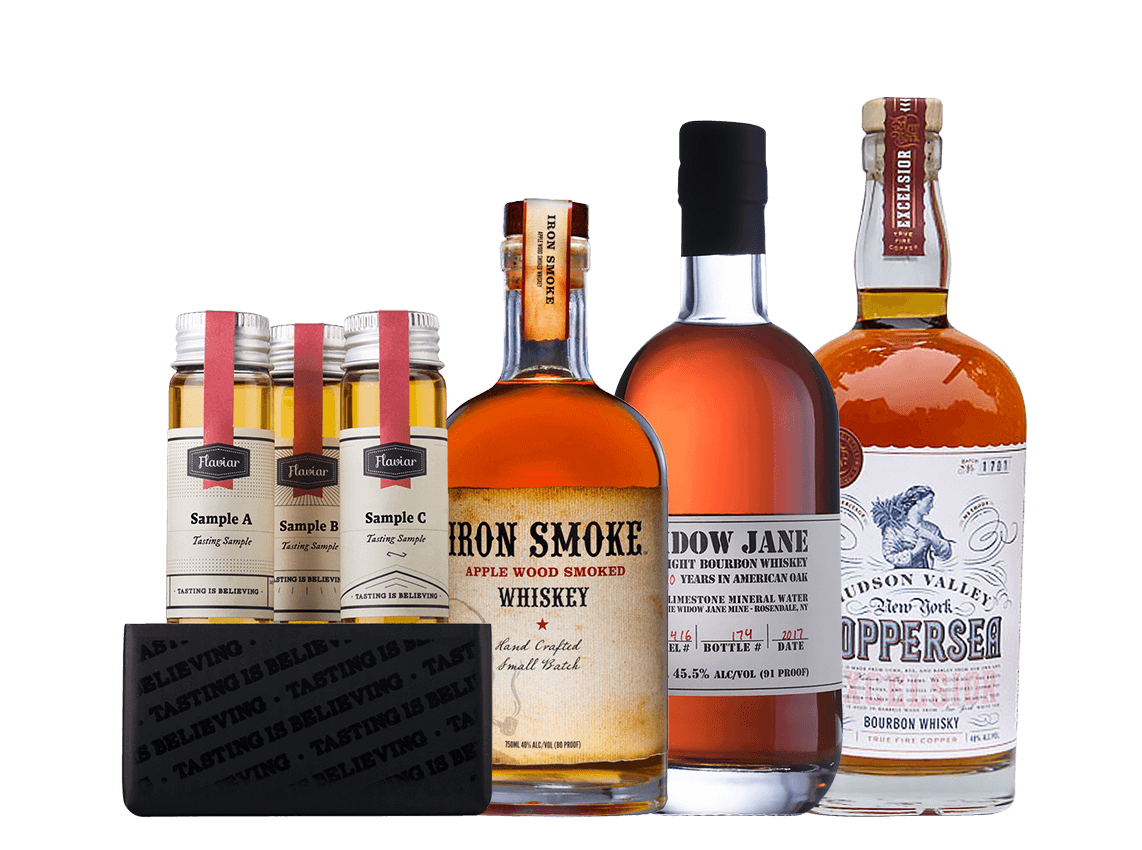 Whiskey Gangs Of New York
The NY Whiskey turfs
One of the benefits of being a Flaviar member is a standing discount on all Tasting Boxes.
Authenticity Guaranteed
We guarantee every product we sell is authentic.
Free Shipping
Flaviar Members get free shipping on their orders.
Buyer Protection
Money-back guarantee if things go wrong.
This Box contains 50ml samples of:
The Big Apple Does Whiskey
Whiskey. A spirit so precious, men have gathered across this great land and built wood-and-steel fortresses capable of producing the finest samples of this golden drop. Tennessee. Kentucky. And yes, the Big Apple itself, New York. A scrappy, prideful bunch, those New Yorkers. They've been in the distilling game since 1664—and that's a mighty long time to be defending yer turf.
They've learned a thing or two about distilling along the way. It's just what happens when yer cuttin' yer teeth around some of the toughest Whiskey barons around. Sure, some of the gangs have their differences. But if there's one thing they all agree upon it's this: it's all about the craft. And of course, being a New Yorker.
1664. That was the year distilling came to the state. The spirit was Rum (or some say applejack—no one can quite pin it down), and Staten Island was producing it by the bottle. By 1825, New York had more than thousand small distilleries. Count 'em: 1, 2, 3… ah, just go ask Bill the Butcher. He'll tell ya. What's crazy about that is that after Prohibition came into law, the brewing and distilling industry came to a screeching halt. You were lucky if you could find a proper bathtub Gin 'round those parts.
Fast forward to 2002: the New York state legislature passes the farm distillery license. That's what really ushers in great New York Whiskey Rush—spirit lovers of all stripes began legally experimenting with their own concoctions. Kind of like enterprising gangs in Five Points, back in the day. Some are smoking their corn, rye, wheat and barley over applewood. And some have used the state's natural limestone to filter their water, even boasting that it has a higher ratio of beneficial minerals than that found in Kentucky. Then again some have made their Bourbon in New York 100%. Them's fighting words right there.
Now, the time has come to join our New York brethren and partake in some of their hard-earned drop. All for one, and one for all...Whiskey!
SmartAss Corner

1) Even though it's called a farm distillery license, you don't have to be a farmer to set up a still. As long as the bulk of your ingredients come from in-state (in this case, New York), craft liquor licenses are practically free. Sadly, the Whiskey is not.
2) Widow Jane is a New Yorker through and through—they use the same limestone that created the foundation of New York, the pure waters from Widow Jane mine and set up shop in Brooklyn. The New York cred is strong with this one.
3) Ever look at a bowl of oatmeal and think "mmm...Whiskey?" Yeah, us neither. But the crew at Sunshine Reserve was inspired by the small, but mighty oat. It's the primary grain in their Whiskey and gives it a nice floral softness.
4) In preparing for his role as "Bill the Butcher" in Martin Scorsese's "Gangs of New York," Daniel Day-Lewis got into character by taking lessons from a master butcher who was flown in from London... and by listening to a ton of Eminem while on set.
5) Speaking of Prohibition, booze wasn't the only thing banned in New York City. In 1978, the city put the kibosh on the game of pinball, often engaging in raids or busts when they had a hot lead.
6) What's better than the smell of applewood bacon in the morning? Easy—it's applewood smoked Whiskey. Coincidentally, Iron Smoke Distillery smokes their grains over applewood before its milled and mashed. Truly the breakfast of champions.
7) In the 1850s, women in New York City made more than $2 million a year in liquor sales—close to the $3 million they were making for sex.
Flavor Spiral™
About The Flavor Spiral
Iron Smoke
Widow Jane
Coppersea
The Flavor Spiral™ is a quick, clear and visually-appealing way to look at the drink's flavor DNA.

It's tasting notes reinvented. The Flavor Spiral™ is a unique and revolutionary way of describing flavors. It was developed by Flaviar tasting panel, industry experts, and You, our dear Flaviar community member.

Your favourite drinks like never before. It could easily be an art form, but that's a conversation for another day.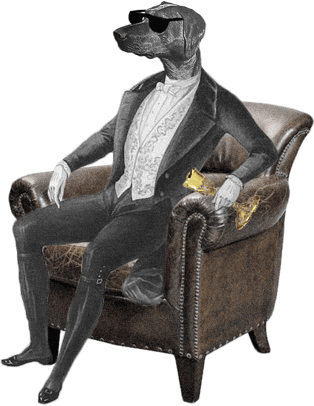 Dog Dogson's
Smartass
Corner
Bourbon must be made from a grain mixture that is at least 51% corn.
We think you'll like these
Ratings & Reviews
Member Reviews and Ratings of Whiskey Gangs Of New York
I liked all three. The Iron Smoke had a distinct smoky flavor reminiscent of a scotch while still maintaining the bourbon flavor. The Widow Jane smelled like paint thinner but was shockingly smooth on the tongue despite the smell. Finally, the Coppersea had a slight vanilla taste. All of them were very drinkable. I think that if I were order a bottle, it would be the Widow Jane (despite the sharp smell)
I tasted plastic - like play doh - it tastes like the smell of melted beads
The Iron Smoke was absolutely delicious. A smooth smokiness finished off sweetly with a little bite was great! The Widow Jane might have been my favorite of the three. A nice citrus note on the nose was a pleasant welcome to the spiced yet sweet silk smooth flavor profile! The Coppersea has a lot of promise and it was very good. I just think I hyped it up in my head too much and it didn't live up to my own expectations. However, still very good!
It is a very good selection of New York Whiskies!
Copper, Middle, Iron. My buddy who tried these as well. Went Middle, Copper, Iron. It was an ok sample overall.
Iron smoke and widow Jane were solid with complex enjoyable f li favors. The coppersea was not so good especially from a nose perspective. All and all was definitely worth it to try and enjoyed the first 2.
Fun pack to try. Agree that Widow Jane was the best.
Just okay at best. Each whiskey was subpar. If you're looking for a tasting box, I'd hold off on this one unless you are out of options.
Widow Jane is the hands down best of the three, smooth and a pleasant taste. Iron Smoke is not bad, has a mild flavor that grows on you. The Coppersea has an almost unpleasant nose and a charred/ashy taste. Not a bad sample box for those who enjoy Smokey whiskey's.
Like Christmas morning, but not Christmas. Widow Jane is the bees knees and the sample packs are great. Glad I tried this pack.
Definitely worth the time to try. Definitely good. Going to buy a couple bottles.
Was not an huge fan. I am sure they are great for others but not for me.
Fun tasting, Widow Jane was the better of the 3.
Nothing here was worth a purchase. Coppersea in particular, no thanks.
Yuck! Sorry but all them tasted like gasoline to me. My husband didn't like any of them either. I gave them a two because I was able to get them down mixed with Diet Coke but still left an after tase .
Iron Smoke and Widow Jane were solid! 2/3
Very smooth. Easy.
Widow Jane was ok. The other 2 were horrible.
Loved Widow Jane. Not the other two.
Coppersea had too much of a metallic taste. Iron smoke tasted very much like boiled peanuts. Widow Jane? I could sip on her a bit. Overall not a big fan of this group but still worth the try.
Loved iron smoke. Widow Jane was a close contender, but really didn't care for the Coppersea.
Overall not a huge fan of this batch. Iron Smoke is far too Smokey and Copper has an odd aftertaste. Widow is pleasant to sip.
Widow Jane, hands down, was the best of the 3. I enjoyed iron smoke next filled by copper sea. The copper sea's peach flavor was off putting for me and I did not enjoy it at all, but the widow Jane more than made up for it!
The widow Jane was delicious
Widow Jane was my favorite of this sampler, followed by Coppersea. Iron Smoke was not to my liking and frankly Widow Jane was not even as good as my go to. Angel Envy and Four Roses.
Very nice.
Coppersea was great flavor and smooth, Iron Smoke is nice but a little strong on the smoky while Widow Jane was too charred and over powering.
Great combinations of flavors and aromas.
Did not get what i was looking for, too sweet for me
My first tasting box. Loved the presentation. The Coppersea and Widow Janes were very good. The Iron Smoke was a little too different.
Solid box overall and a cool theme of NY micro distilleries, and a good value considering these are pours from full size bottles that run roughly $50, $70 and $70 retail respectively. The best overall is clearly the widow Jane 10 year, but the artisanal nature of copper sea is really cool too. The apple wood smoked will not be for everyone but it's a good fall tasting bourbon. All are good, the widow Jane is great.
Loved Widow Jane and Coppersea <3
Not impressed with this sampler. Would not buy one of these
Ugh. Only one was delish. Iron smoke.
Harsh, bold, finish was decent
Really enjoyed all the different flavors.
First tasting and definitely found them well paired - good mix of sweetness with the Widow Jane and spice with the Coppersea.
Loved this tasting box- I purchased the big bottles of all three!
Excellent presentation good selection
Load more reviews
Back
A Dram for Your Thoughts
Cancel