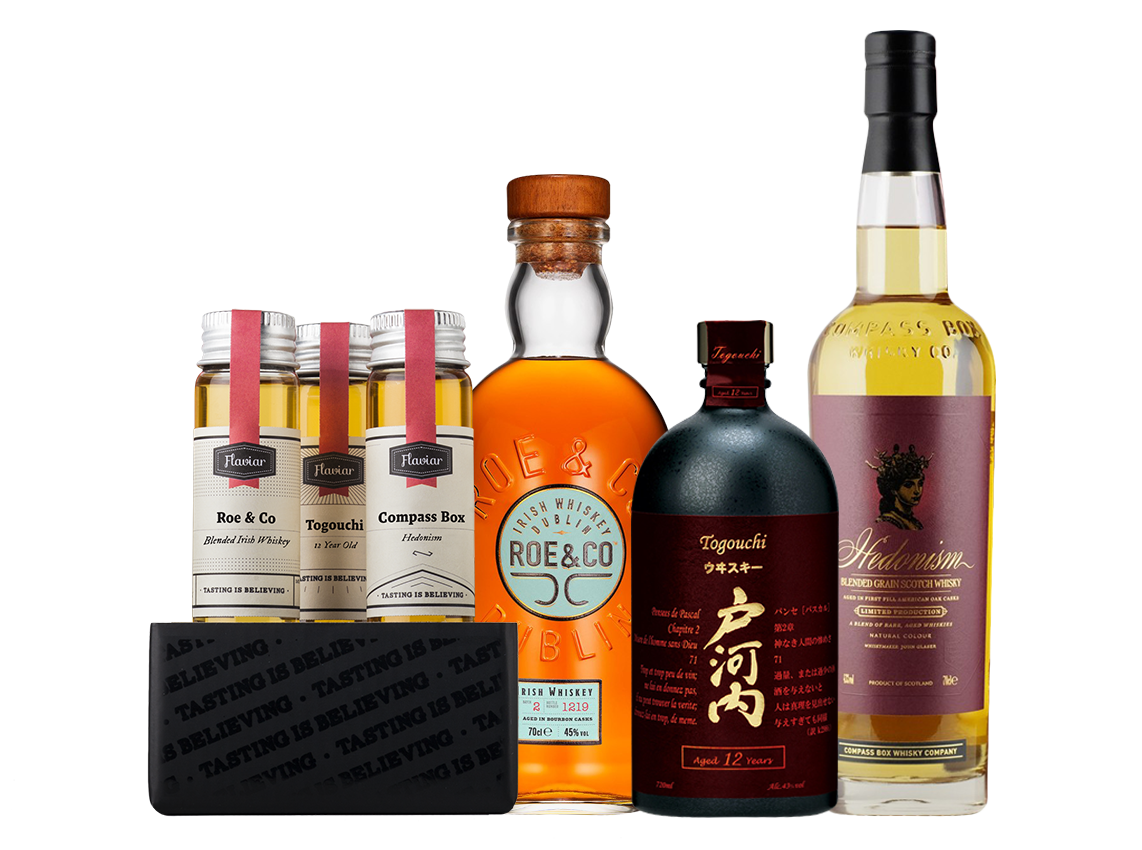 Blended, Not Stirred Vol.2
Blends from around the World

Oooops.
This tasting box isn't on our current list of Home Bar Essentials... but it could be. Add it to your wish list and let us know you want it!
This Box contains 45ml samples of:
Thirsty for more?

Dear friends, old and new alike, welcome. James Bond, our favorite British spy, likes to reappear every couple of years or so and Uncle Flaviar followed suit. We're back with another selection of Bond's favorites. For your eyes only.

As many of you already know, contrary to the impression courtesy of the films, 007 is much more of a Whisky man than his famed shaken martinis might lead you to believe. We're here to reacquaint ourselves with his taste.

The world is quite enough
Whisky purists – avert your gaze. Why? Well, because some of you might scoff at the fact that we'll be trying out blended drams. And we're not just talking Scotland, we'll be discovering the whole world, one sip at a time. We are talking about the international man of mystery, are we not? (Or was that Austin Powers?)

License to distill
Anyway, despite what some of you might believe, Scotland does not possess the exclusive right to make Whisky. In fact, some argue that other countries have edged ahead in the malt-making business. We wouldn't go that far, but we have to give credit where credit is due. A well-traveled man like James Bond appreciates diversity, and so do we.

Never say never to blends again
There is more at play than just diversity, though. Bond could make any drink cool, but blended Whiskies are a genuine delight – on par with single malts. Just give them a chance. We're talking about a mix of malt and grain Whiskies, sourced from several different distilleries. Master blenders use anywhere from 15, to even 50 different Whiskies to strike the perfect balance of flavor.

Same character, different movie
Blending Whisky is a delicate and sophisticated art. The malts and grains in a blend must be carefully chosen to complement and strengthen one another. The whole should be greater than the sum of its parts. Year in, year out. Identity and consistency. Or to put it in Bond terms – same character, different movie.

"Do I look like a give a damn?"
In one of his more recent movies, Bond again orders his signature Vodka martini. However, when asked by the bartender if he wants it shaken or stirred, Bond replies: "Do I look like a give a damn?" We concur with the rather ironic poke at this classic Bond phrase. Blended Whisky will work in a variety of fashions. Drink it neat or with a block of ice, whatever your heart desires.
Ladies and gentlemen, it's time to pour.

You only live twice, so we had to do the box once more.
Cheers!
SmartAss Corner

1) On-screen, James Bond has killed 363 people and slept with 52 women. He also consumed about 300 units of alcohol in the meantime. He kept busy.

2) Daniel Craig was the booziest of them all. Among the lot tested was a bottle of 1962 Macallan from their "Fine & Rare" collection. The bottle, signed by Craig and his co-stars, eventually sold for an incredible £9635 at auction.

3) Perhaps Bond is into single malts now, but in the golden age of 007 in the 1960's, blended Whisky was basically all there was, since the single malt category really only took off long after Ian Fleming had already written all his novels.

4) Single malt was not always as cultivated as it is today, but much harsher and more unrefined. Initially all the distillers only made blends – the more refined variety of Whisky, and by doing so made it the gentleman's drink we know today.

5) More than 90% of all the Whisky sold in the world remains blended.

6) It is said that if you are a fan of a blended Whisky, chances are you would also be a fan of the core component single malts that comprise the blend.

7) There's a common misconception that because a certain Whisky is labelled "single malt," it must be the product of just a single batch or barrel of Whisky. This is incorrect. Most single malts are a blend, in the sense that they're a mixture of Whiskies from one distillery, and from malted barley only.
Flavor Spiral™
About The Flavor Spiral
Roe & Co
Togouchi
Compass Box
The Flavor Spiral™ is a quick, clear and visually-appealing way to look at the drink's flavor DNA.

It's tasting notes reinvented. The Flavor Spiral™ is a unique and revolutionary way of describing flavors. It was developed by Flaviar tasting panel, industry experts, and You, our dear Flaviar community member.

Your favourite drinks like never before. It could easily be an art form, but that's a conversation for another day.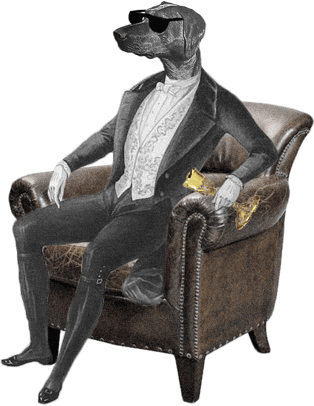 Dog Dogson's
Smartass
Corner
Poteen is a Whiskey made from potatoes, in other words, it's Irish Vodka.
We think you'll like these
Ratings & Reviews
Member Reviews and Ratings of Blended, Not Stirred Vol.2
Great tasting box, and a nice way to compare blends. 2 out of 3 were excellent. The Japanese for us was undrinkable. The scotch was a pleasant discovery (we're not big scotch drinkers) and the Irish wasn't one we'd had (we love Irish whisky). Adding both to our home bar.
It's a great tasting box.
This was my first tasting box and an overall fun experience to have a small tasting with my girlfriend. The whiskeys were good but we both agreed that we would not purchase any options.
All very good sweeter/more mellow whisky. Good for desserts or after dinner drink.
Back
A Dram for Your Thoughts
Cancel