Oh Dear, It's Beer
When Whisky and Beer make love
One of the benefits of being a Flaviar member is a standing discount on all Tasting Boxes.
Authenticity Guaranteed
We guarantee every product we sell is authentic.
Free Shipping
Flaviar Members get free shipping on their orders.
Buyer Protection
Money-back guarantee if things go wrong.
This Box contains 45ml samples of:
Hoppy Experiments
Whisky. You know it. You love it. Hell, the same probably goes for Beer. But when the two join their estimable forces you've got…
[cue intensely suspenseful music]
Eh, we don't want to ruin the surprise just yet. But we suppose a bit of background couldn't hurt.
For years, your favorite drams have been reaching across boozy party lines and crossing some spirit-soaked borders in the name of friendly experimentation. They've used wine casks in an effort to expand their flavor domain, but they're not done yet. See they've set their sights on Beer—Beer barrels, to be exact. And they're using them to age into a dram that's worth sipping again and again and… well, you get the point.
And master blenders from around the world are getting on board with the idea. But the notion isn't as farfetched as you might think. After all, Whisky is essentially a distilled Beer—both are made up of the same core ingredients of water, barley and yeast. Breweries began cozying up to the idea of putting their Beers to sleep in Whisky casks, so of course, Whisky wanted in on the action, too.
Now, you've got Whisky getting all warm and cozy inside of Scotch Strong Ale barrels. And Irish Whiskeys aging in India Pale craft ale casks, giving your dram a hoppy essence about it that'll come knocking on your palate's door. (Don't worry. It'll recognize it as Beer and welcome it in with open arms. Beautiful thing, really).
But it doesn't stop there. You've even got distilleries making something called "hopped Whiskey," where actual hops from craft Beer are added to the Whiskey itself.
It's a crazy delicious world, we tell you. And we'll happily toast to that.
Cheers!
Smartass Corner
1. The country that consumes the most Beer in the world is the Czech Republic, with a per capita Beer consumption of almost 143 liters (40 gallons) per year.
2. Whisky starts off as clear liquid. In fact, a barrel provides Whisky with 60% of its flavor and 100% of its color. Which is a large reason why Whisky finished in Beer casks have such a unique taste.
3. Whisky is immortal. Well, sort of. An unopened bottle can last 100 years. And if you've already partaken with a dram or two? A half-full bottle will last you five years.
4. The Locher family of Säntis distillery possesses very old oak Beer barrels—some of which have been storing Beer for almost a century. During their long service, these barrels have soaked up the aroma and spirit of their Beer, which then enriches the Säntis Malt.
5. Cenosillicaphobia. That's the fear of empty Beer glass. The fear of an empty Whisky glass? Well, let's just make sure that never happens.
Flavor Spiral™
About The Flavor Spiral
Jameson
Hyde
Säntis
The Flavor Spiral™ is a quick, clear and visually-appealing way to look at the drink's flavor DNA.

It's tasting notes reinvented. The Flavor Spiral™ is a unique and revolutionary way of describing flavors. It was developed by Flaviar tasting panel, industry experts, and You, our dear Flaviar community member.

Your favourite drinks like never before. It could easily be an art form, but that's a conversation for another day.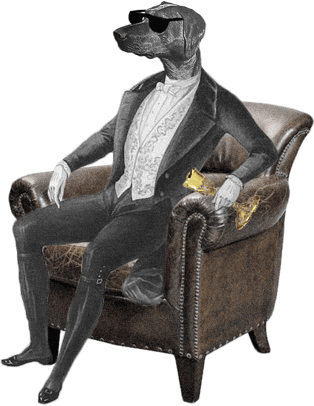 Dog Dogson's
Smartass
Corner
Poteen is a Whiskey made from potatoes, in other words, it's Irish Vodka.
We think you'll like these
Ratings & Reviews
Member Reviews and Ratings of Oh Dear, It's Beer
Back
A Dram for Your Thoughts
Cancel