In Finish Veritas Vol.2
The touch to spruce up your dram
One of the benefits of being a Flaviar member is a standing discount on all Tasting Boxes.
Authenticity Guaranteed
We guarantee every product we sell is authentic.
Free Shipping
Flaviar Members get free shipping on their orders.
Buyer Protection
Money-back guarantee if things go wrong.
This Box contains 45ml samples of:
The touch to spruce up your dram
The finishing touch that is. Sometimes you gotta go the extra mile to get the flavor you want. We have nothing against traditionally aged drams, but there is only so much nuance that can be squeezed out of a new or an ex-Bourbon Oak barrel. Many prefer it that way, nothing wrong with that. We won't play favorites, but there's no denying that the second maturation adds a bit of character to a Whisk(e)y.
The Romans believed that in Wine lies the truth*. Uncle Flaviar keeps an open mind. Whether it's Wine, Rum, Cognac or Beer - we believe in the Finish.
Finishing refers to the process of removing Whisky from its original cask and resting it for an additional, shorter period in another cask. Obviously, the second cask's gonna leave its mark. The first is typically an American oak barrel used to mature Bourbon. The second cask is where things get interesting.
It comes down to the cask
The Whisky soaks up the flavors of the liquid that was in the cask first. But this is not a game of simple addition.Secondary maturation is an intricate and somewhat mysterious art - the cask and its previous contents must complement the Whisky's inherent flavor. Easier said than done!
Something a little different
Nevertheless, the drams in this Tasting box have got the finishing art smack-down to a tee. Since we're feeling adventurous - how about a layer os Rye spiciness with a touch of honey, Pike Creek finished in Rum casks delivers just that! Le Pertuis Pure Malt Whisky is finished in three different seasoned barrels. Genfiddich IPA, the first single malt ever finished in craft Beer casks (with IPA made especially for this occasion!), is bound to seduce Whisky and Beer fans alike. Time to stretch your tastebuds with something a little different.
The trend of experimenting with different cask finishes is in full swing, and we're ready for another lap around the track. You in? See you at the Finish line.
Ready, Set, Cheers!
Smartass Corner
1) It is believed that up to 60% of the Spirit's flavor comes from the barrel in which it's aged, so you have to pay attention to the cask(s)!

2) *The Romans used to say IN VINO VERITAS (in wine there is truth) and it is often continued, IN AQUA SANITAS (in water there is health). It all revolves around water and things made of it. Supposedly Jesus made Wine from water, and we could say that the Scots chose to make Whisky instead. Combine the two, and you get the best of both worlds.

3) Wine casks are certainly not a new discovery in the Whisky industry. After all, casks that held fortified Wines such as Sherry, Port, and Madeira were the original vessels for aging Whisky, giving birth to the maturation process we take for granted today. Casks from unfortified Wines, however, like this Tasting Box selection, have generally been less popular when it comes to maturing Whisky. The trend is changing in recent years and we're glad.

4) Beer and Whisky have long been considered best buds. Whisky is essentially distilled Beer anyway, right? The world is awash with craft Beers finished in various Whisky casks and now some brave distillers have decided to return the compliment. A genuine friendship, indeed.

5) It's time to get even funkier. Whisky finished in Rum casks is all about unexpected flavors. Whisky with some delicious tropical sweetness? This is like a Christmas cake in a bottle. Count us in.

6) Using Cognac barrels for second maturation has been a bit of a curious practice until recently. The reasons for restraint are plentiful - size of the barrels, their price and availability. But the marriage tastes great, so we're glad the tide is turning.

7) If you've found a cask-finished Spirit that you love, savor it; many are available only in limited supply if that. If the Whisky is to be a permanent release, a consistent supply of quality casks must be secured. As with any trend in its infancy, many distillers are still experimenting with the art of cask-finishing.

8) Be that as it may, the Pandora's box of cask experimentation is well and profoundly opened. While other Spirit categories are also testing the waters of cask finishing, it has has grown to standard practice in the Whisky industry, embracing just about any type of cask imaginable. The Scottish regulations permit only "traditional" casks, but elsewhere the distillers are at liberty to do their own thing. This creative atmosphere has produced some unusual offerings such as coffee barrel finished Whiskey, maple syrup finished Whiskey and even herring finished Whiskey. Hey, don't knock it till you try it!
Flavor Spiral™
About The Flavor Spiral
Pike Creek
Le Pertuis
Mitchell & Son
The Flavor Spiral™ is a quick, clear and visually-appealing way to look at the drink's flavor DNA.

It's tasting notes reinvented. The Flavor Spiral™ is a unique and revolutionary way of describing flavors. It was developed by Flaviar tasting panel, industry experts, and You, our dear Flaviar community member.

Your favourite drinks like never before. It could easily be an art form, but that's a conversation for another day.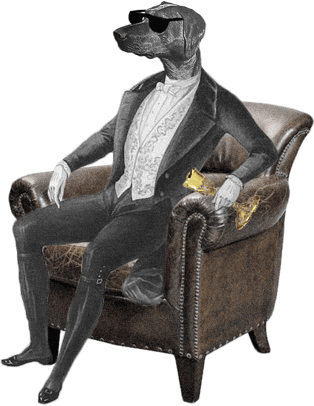 Dog Dogson's
Smartass
Corner
Poteen is a Whiskey made from potatoes, in other words, it's Irish Vodka.
We think you'll like these
Ratings & Reviews
Member Reviews and Ratings of In Finish Veritas Vol.2
A very good selection of unique Whiskies!
The best set yet. #1 Mitchell & Son - green Spot Chateau Leoville Barton. Splendid Irish whiskey. Fresh nice sipping on its own. Green Apple for sure. %2 ale Pertuis - French whiskey- surprising the #1 seemed more dee hen than this one. Pure Malt whiskey- leathery tobacco notes even tho not on the spiral- they list chocolate as first. #3 Pike Creek 10 yr- tropical flavor- definitely banana and coconut. Interesting but not a regular in my bar.
Overall a pretty good box. Each has a decent taste that is different from average whiskeys. More on the fruity side.
Back
A Dram for Your Thoughts
Cancel