Globe-trotting Whisky
It's a Whisky world after all
One of the benefits of being a Flaviar member is a standing discount on all Tasting Boxes.
Authenticity Guaranteed
We guarantee every product we sell is authentic.
Free Shipping
Flaviar Members get free shipping on their orders.
Buyer Protection
Money-back guarantee if things go wrong.
This Box contains 50ml samples of:
It's a Whisky world after all

An Irishman, an Australian and an American walk into a bar…

Stop us if you've heard this one before. Oh, you haven't? Well. Let's just say some serious Whisky drinking goes down. Because as it turns out, you can find some sublimely sippable golden firewater all around the world. From Australia to Ireland, you'll find rich traditions and drinking cultures along with some pretty unique methods behind their distilling madness.

Now, Ireland is the birthplace of Whiskey. Ain't no lucky four-leaf clover behind their tasty tipples—just plenty of time, experience and… alright, maybe a wee bit 'o that Irish luck. They've had hundreds of years to perfect their craft, using a mash of malted and unmalted barley that's triple distilled in copper pot stills. But for the Irish, the single pot still method is where it's at.

But leave it to the U.S. to turn age-old tradition on its head. American Whiskies use a mixture of corn, rye, wheat and barley for their mash. Then, they are matured in charred-oak barrels, which makes for a sweeter and smokier sip. Unless, of course, we're talking Bourbon. That mash requires a minimum of 51% corn and new charred oak barrels for maturing. Rules are rules.

The heart of Australia's Whisky production is actually on the island of Tasmania, where the single malt renaissance of Down Under began in the 1990s. All of the Australian Whiskey distillers are small-batch, and even though it's a pretty young industry, they've been wowing palates all around the world for the last couple of years.

...which means that Irishman, Australian and American at the bar can squeeze in an extra dram or two before the night is through.

Cheers!

Smartass Corner:

1. Someone call the census: there are more barrels of Bourbon in Kentucky than there are people. You can find over 5 million barrels throughout the Bluegrass State compared to its 4.4 million residents. Drink up, folks.

2. In 2017, there were more than 120 distilleries operating in Australia - 31 of them in Tasmania.

3. Modern Australian Whisky industry may be only decades old, but locals produced the amber Spirit more than two centuries ago. Unfortunately, Tasmania banned distilling in 1838, so the noble craft remained silent for over 150 years.

4. Whisky is made from water, yeast, and grain—pretty basic. It's the variety of grains, quality of water and aging process that give each barrel its unique flavor.

5. It would take the average commercial jetliner 47 hours to fly around the world without any stops for fuel… or Whisky.

6. Is it "Whisky" or "Whiskey"? Here's an easy rule to remember: the word "Ireland" has an E and so does their Whiskey. The same goes for the United States. Scotland, Japan, and Canada drop the vowel from their Whisky—and their respective names.

7. Monks were the first to bring the distilling method from the Mediterranean to Ireland hundreds of years ago. They called the Whisky they produced "Uisge Beatha."

8. In 1791, the United States treasury secretary Alexander Hamilton placed a tax on Whiskey to pay off the debt from the American Revolution. That led to some very unhappy distillers and tipplers, which resulted in the Whiskey Rebellion. Protests and violence ensued until the tax was repealed in 1802 by Thomas Jefferson.
Flavor Spiral™
About The Flavor Spiral
Kings County
Hyde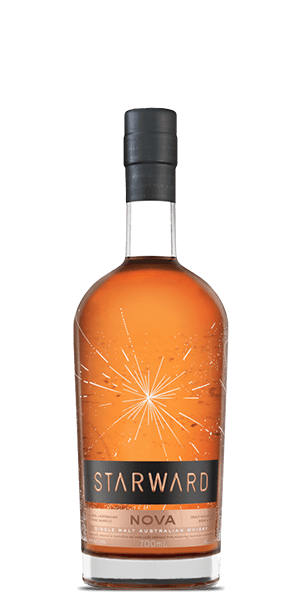 Starward
The Flavor Spiral™ is a quick, clear and visually-appealing way to look at the drink's flavor DNA.

It's tasting notes reinvented. The Flavor Spiral™ is a unique and revolutionary way of describing flavors. It was developed by Flaviar tasting panel, industry experts, and You, our dear Flaviar community member.

Your favourite drinks like never before. It could easily be an art form, but that's a conversation for another day.
We think you'll like these
Ratings & Reviews
Member Reviews and Ratings of Globe-trotting Whisky
Back
A Dram for Your Thoughts
Cancel