The Rum Galaxy Vol.2
The Universe of yummy Rum
One of the benefits of being a Flaviar member is a standing discount on all Tasting Boxes.
Authenticity Guaranteed
We guarantee every product we sell is authentic.
Free Shipping
Flaviar Members get free shipping on their orders.
Buyer Protection
Money-back guarantee if things go wrong.
This Box contains 50ml samples of:
Out-of-this-World Rums

"Houston, we've detected possible signs of life out here."
"Interesting, Johnson. Can you get a detailed read on it?"
"Looks like it's own universe, Houston. And it smells suspiciously like...Rum."
"Rum, you say? Hold tight, Johnson. We're sending back up."
Your mission, should you choose to accept it, is to explore the depths of the Rum Galaxy. Your galactic expedition will take you to the far reaches of the Western Hemisphere, where undiscovered worlds of Rum await. Here, the Dominican Republic, Panama and Colombia hold court—drawing intrepid Rum seekers into their orbit.
Now, it's your turn—and there's no time to waste. Are you bold enough to seek and savor these superstar Rums before they go supernova? Remember, luck favors the bold. Let the journey begin!
Ah, the Rum galaxy. Truly a wondrous place. But much like our universe, its origins are a bit, uh, murky. It's likely Big Bang moment: the 17th century.

Caribbean sugar plantations had a serious problem on their hands—an oversupply of industrial waste in the form of molasses. Clearly, 17th century planters weren't up to snuff on their gingerbread cookie recipes. As a result, they were left with more molasses than they knew what to do with. Turns out, slaves on these Caribbean sugar plantations had a solution for all that sludge: fermentation. Through a bit of tinkering, the result of this process yielded the drink you know and love today—Rum.
Today, the effects of this Caribbean Big Bang have rippled across the Rum galaxy. One of its biggest stars? Colombia, who lights the dark skies with an absurd amount of brightly shining (and award-winning) Rums. The Dominican Republic gently guides Rum seekers to its smooth elixirs with a luminescent glow And Panama, well—that's one to watch. Their Rums will suck you in faster than a black hole.
But don't take our word for it. The time has come to taste. We're counting down to lift-off! In 3…2…1…
Cheers!
Smartass Corner
1. Rum's got tropical blood coursing through its veins. Most of it is produced in the tropics because of how easy it is to grow and cultivate sugarcane in that climate. But to be honest, Rum can be distilled anywhere that you can ferment molasses (or sugarcane juice).
2. You might find Rum masquerading itself under other nom de plumes, like Ron, Rom and Rhum.
3. The difference between a dark and a light Rum all lies in how it's aged. Dark Rums get their brown hue from the barrels and casks they're fermented in. Steel drums are usually used to produce light Rums, hence the absence of color.
4. Technically, NASA astronauts are banned from drinking alcohol in space. In the 1970s, however, they briefly flirted with a "space wine" (a creamed Sherry) for the astronauts aboard the Skylab space station. The U.S. public was so outraged over the thought of astronauts boozin' it up, NASA decided to ban alcohol indefinitely.
5.
The Russians though
? They've been known to enjoy Cognac on their space travels. Doctors even recommended Cognac as a remedy to "neutralize the harmful effects of the atmosphere."
6. In 2011, NASA sponsored an experiment that studied microgravity's effect on Whisky and the charred oak wood that helps age it. They found that after 1,000 days in space, the Whisky's tannins were unchanged, but the wood chips imparted a higher concentration of flavor in space than they did on Earth.
7. If the center of our galaxy had a signature scent, it would be Rum. Yup, astronomers studying a giant cloud in the Milky Way found a substance called ethyl formate, a chemical that smells suspiciously like Rum.
Flavor Spiral™
About The Flavor Spiral
Grander
Afrohead
Dictador
The Flavor Spiral™ is a quick, clear and visually-appealing way to look at the drink's flavor DNA.

It's tasting notes reinvented. The Flavor Spiral™ is a unique and revolutionary way of describing flavors. It was developed by Flaviar tasting panel, industry experts, and You, our dear Flaviar community member.

Your favourite drinks like never before. It could easily be an art form, but that's a conversation for another day.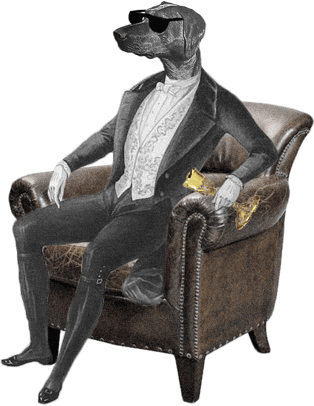 Dog Dogson's
Smartass
Corner
Rum used to be accepted as form of currency in Europe and Australia, a practice we should probably bring back into fashion.
We think you'll like these
Ratings & Reviews
Member Reviews and Ratings of The Rum Galaxy Vol.2
Only enjoyed one of the three, as a sipping rum. The others might mix well, but I was seeking something to stand on its own.
Good sampler. Two out of three good ones!!
Overall, solid box. Better as it went on.
Overall a collection of dark rums. Sweet but unpleasant.
Afrohead was best in the box. Grander was not good in my opinion. Other than trying something new, that one was a disappointment. Overall the box wasn't bad
I enjoyed the eye opening experience of exploring new rum I did not know existed! Looking forward to building my collection with every sample I try and helping decide what bottles are really worth my while!
I have the three rooms the best is the dictator. I did not care for the grinder at all. You could start your lawnmower with it. The Afro head was decent but I really enjoyed the dictador.
Auto correct messed me up agin. Should say of the three runs.
Nice variety. Definitely found a new favorite!!!
I really wanted to like this box, but found it lacking. One of the rums was more akin to Whiskey than anything.
This was a good tasting box, two out of the three were great!
Great tasting box..all 3 were new to what I've tried before
Not as good as the around the Rhum, other rum galaxy or game of Rums boxes
Excellent, truly enjoyed this tasting
It is a very good assortment of rich tropical rums!
Excellent tasting box for Rums! The selections here are lovely, and I may just purchase a bottle.
afro head was good. the dictator and the grander were not so good
This was my first tasting box and it was marvelous! Really goes to show what aging can do!
The Dictador 20 is a new favorite. The other two are not my cup of tea, but it was interesting to try them all side by side. Some distinct differences between the three helped me to learn more about rum. This kit includes some tasteful combinations of smoky and sweet.
Not really worth it. Afrohead is undrinkable and the Grander is nothing special. Dictador 20 is worth trying if your curiosity peaks about Solera Aged rums.
Good selection and a great intro to rum. Loved the Colombian selection. Superb.
Load more reviews
Back
A Dram for Your Thoughts
Cancel