Game Of Rums
Rum, Rum and another Rum.
One of the benefits of being a Flaviar member is a standing discount on all Tasting Boxes.
Authenticity Guaranteed
We guarantee every product we sell is authentic.
Free Shipping
Flaviar Members get free shipping on their orders.
Buyer Protection
Money-back guarantee if things go wrong.
This Box contains 45ml samples of:
The Realm of Rums is in turmoil!
Three prominent Rum families vie for their place on the Rum Throne. Armies of bottles are gathering by the thousands, spirits are high and expressions of proud lineage are being raised to the sky while chants of allegiance and the sound of war dRUMs fill the morning air. Everything is poised for battle.
The ArmaggedRUM is nigh. It's time for Game of Rums…
In a Land, Far Away….

The battle for the Rum throne began long ago, in the tropical hotbed known as the Caribbean islands. Back in the 17th century, that's where plantation slaves devised a way to turn molasses into something useful—gingerbread cookies. Kidding. It was Rum. Definitely Rum. And since then, many countries have vied for the crown with different interpretations, expressions and distilling processes.

Today, we introduce you to three noble houses, each hailing from a different corner of the realm. First up, Don Papa Rum, all the way from Philippines.

Not to be outdone, the House of Ron de Jeremy XO is a big and bold Caribbean tour de force being led into battle by none other than porn legend Ron Jeremy. Guatemala's House of Ron Zacapa XO descends upon the battlefield from its plantation high up on the volcanic plains of Retalhuleu—one of the highest ageing facilities in the realm.

But ultimately, it will be up to you to decide who will win the Game of Rums and benevolently rule from the Rum throne.
Trivia & Smartass Corner:

1.
Okay, you got us. Wine and ale are the clear-cut winners when it comes to what the Game of Thrones denizens are ordering at the bar. Except for
Lady Crane
, the Rum-swilling actress in season six, who nearly drank a poisoned cup of her favorite spirit.
2.
The ale produced in the Middle Ages was primarily brewed by women, known as
brewsters or alewives
. Unsurprisingly, it was a pretty significant boost to their household's bottom line.
3.
Believe it or not, hygiene was a priority in medieval times—it meant that you were civilized. Which also meant,
you had to bathe
. You could find public baths in most major cities along with fixtures in private homes. Interestingly, bathtubs were crafted using techniques that were not unlike those used to make wine barrels.
4.
Back in the 17th century, molasses—a by-product of the sugar production process—was considered
a pesky industrial waste
of sorts by Caribbean sugar farmers. Until an intrepid soul decided to ferment it with the liquid skimmed off of cane juice. And voila… Rum.
5.
Rum has its
fair share of aliases
, including: Nelson's blood, kill-devil, demon water, pirate's drink, navy neaters, Barbados water, grog and rumbullion. A grog by another other name would taste as sweet.
6.
Barbados
is the birthplace of Rum. They've been distilling the stuff since 1703.
7.
Think of the Rum landscape as
the Wild West
(with fewer dust-ups at the neighborhood corral). There aren't really any strict global classification systems or regulations that distillers have to abide by like they do for cognac or bourbon. Individual countries of origin may have their own standards, but pretty much any spirit that gets its start with some form of sugarcane can call itself a Rum.
8.
Let's talk about proof. The origins of the term are actually quite, well, explosive. Sailors who were issued Rum by the Royal Navy needed a way to prove that they weren't getting watered down product. So they'd
mix their Rum ration with gunpowder
. If it lit, the Rum was higher the 57% alcohol, or, "overproof." No explosion? The Rum was "underproof"—resulting in a highly displeased sailor.
9.
The award for most expensive bottle of Rum in the world goes to
J. Wray & Nephew
. A 1940s bottle of the spirit clocks in at $54,000 and was a favorite at Trader Vic back in the day.
Flavor Spiral™
About The Flavor Spiral
Don Papa
Ron de Jeremy
Ron Zacapa
The Flavor Spiral™ is a quick, clear and visually-appealing way to look at the drink's flavor DNA.

It's tasting notes reinvented. The Flavor Spiral™ is a unique and revolutionary way of describing flavors. It was developed by Flaviar tasting panel, industry experts, and You, our dear Flaviar community member.

Your favourite drinks like never before. It could easily be an art form, but that's a conversation for another day.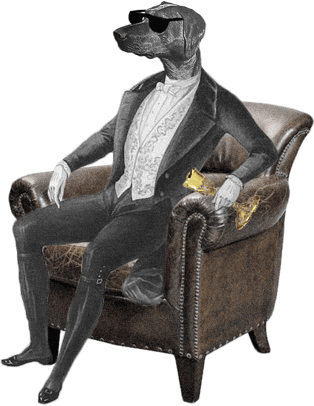 Dog Dogson's
Smartass
Corner
Rum (usually) comes from molasses; the sweet and syrupy residue left behind after sugar crystals are extracted from sugar cane juice. Molasses is over 50% sugar, but it also contains significant amounts of minerals and other trace elements, which can contribute to the final flavor.
We think you'll like these
Ratings & Reviews
Member Reviews and Ratings of Game Of Rums
The Don Papa was our unanimous favorite and honestly feel it will be my favorite go to sipping rum. The Ron de Jeremy was good and could be sipped or mixed. The Ron Zacapa felt more like a mixing rum but was good as well. The Don Papa was a surprise and I look forward to finding a bottle of the 10 year batch to try that as well.
Don Papa is super sweet for our taste. It was very candy/bubble gum tasting. The Ron De Jeremy was very smooth, but almost monotone in taste with a small kick on the end with a lingering finish. The Ron Zacapa was more bourbon like with a complex and Smokey/burnt flavor profile that was not overpowering and finished with a little heat at the end. Not a bad box, but not my favorite either.
Not bad for sipping but better options out there in this price range.
The two Rons were great, but the Don Papa tasted like cough syrup.
Great intro to rum. 3 distinct flavor profiles. Don Papa is very good, highest rated of the 3. Jeremy has a big flavor with a smooth finish that hits the back of the throat. Zacapa is sweeter than Jeremy, but similar profile overall.
They are all great. The Ron Zavala is amazing.
Great variety. Really tasty!
Very nice box overall. Favorites included Ron de Jeremy and Don Papa. Great to sip on the rocks, but could certainly be mixed as well.
I'm not a rum drinker and my husband is. We loved this sample box. Definitely ordering bigger bottles. Papa was my favorite even though I don't care to much for sweet rums this one was just right. I mixed it with Diet Coke & my husband made it with a pineapple soda and it was delicious. Zacapa is also smooth and tasty and my husbands favorite. Ron Jeremy was great too but not as smooth. Has a bite to it but in a good way.
Good selection. I'll be purchasing a couple of bottles from this group.
Great span of flavors. Rum fans will not be disappointed.
Must try Rum box! Zacapa is more of a traditional rum with Ron Jeremy and Don Papa being on the sweet side...really sweet! Both would be great mixers for fruity drinks or on the rocks. I purchased a bottle of Don Papa right away, tried to buy Ron Jeremy as well but it's sold out.
The overall box was a good choice. I really enjoyed trying the various flavors and scents of these rums. This was my first box and I cannot wait to try more. The rums ranged from a light and sweet flavor to a very strong and bold one.
Solid experience, nice diversity of flavors
This was my first tasting box and it was a great experience. The runs were nice but really belonged more in a cocktail then straight. Overall fun tasting box though.
Luckily, every one's nose is not the same length! An average selection of Rums from the tropics.
I really enjoyed the rum entries and all three were very good. I highly recommend this tasting box if you new to higher end rums
Mixed experience, but good quality for surely
It was sweet and easy to drink
Don papa and Zacapa xo amazing! The ron de Jeremy was not my cup of tea so to speak
I love the Don Papa
Great selection, all very different. Don Papa is outlandishly sweet and fruity while Ron Zacapa is sweet smoky and complex.
You will not be disappointed. Zacapa xo is a 10 all day soooo smooth. Papa is a butterscotch BOMB!!! Ron jeramy is ok but not what I expected for a 15 yr old. Not much smell at all
So so nice - difficult to pick a fave. If you like rums, you'll love this
Th is is some great rum!
The Ron Zacapa is amazing - near perfect rum. The Ron Jeremy is surprisingly good. The 3rd was interesting. Overall better than the around the Rhum box.
Really enjoyed the don papa, smooth going down and tastes like candied fruit. There's an old school sweet in there too but I couldn't put my finger on it. The other two were nice but didn't stand out as much after the don papa. I vaguely remember tropical flavours in the other two
Over two out of the three rums. The Ron de Jeromy definitely didn't hold up well against the other two. It had a much stronger alcohol smell and wasn't nearly as smooth.
Very good rums. Each had something different to offer and I think could appeal to anyone. I enjoyed the flavor of Don Papa the most.
The box gets better the darker you go :) enjoyed the variety of the box and learning more about what I can look for in runs. And found one (Zacapa) for my mostly bourbon drinking crowd!
Has a bite to it, but still sweet and flavorful
Ron de Jeremy would be good for mixed soda drinks. Don Papa would be a good Tiki rum. Ron Zacapa tasted great by itself. Different spectrum of flavors between the trio.
Pretty fabulous, especially for people looking to get into sipping rums! The Don Papa is to die for.
Bitte
Good Stuff. Don Papa alone makes it worth it!
Load more reviews
Back
A Dram for Your Thoughts
Cancel