Tasting Is Believing
Tasting is believing

Oooops.
This tasting box isn't on our current list of Home Bar Essentials... but it could be. Add it to your wish list and let us know you want it!
Where's your tongue at?
Challenge your friends, challenge yourself.
Tasting spirits is more than fun times, accompanied by great drinks. It's also about expanding your knowledge on Spirits and challenging yourself and your friends to see whose palate or imagination is the most impressive. It's about traveling the world with your senses and exploring the peatiness of Scotland, the sweetness of the Caribbean, the smoothness of Irish Whisky or the fruitiness of Cognac. And much much more.
In our previous Boxes you had a chance to taste spirits from a certain category and distinguish the differences between expressions… Here comes the twist! This box includes 5 mystery drinks that you and your friends have to name and settle once and for all, who the Ace of Flavours is (friends not included in box).
Our mission is to change the way people drink and taste. If you're not ready, pack your glasses and go, for it will change you – for the better.
Smell and sip … then close your eyes. Immerse yourself in flavours and enjoy the ride.
Tasting is believing.
Cheers,
Team Flaviar
Rules of engagement
OK, are you are ready? The game is simple, all you really need to know is that each drink comes from a different category, but it's up to you to figure out which one. Can you also guess the brand? Age? Casks it was matured in?
Follow these steps to set up for the ultimate tasting game:
Step 1: Play solo or invite friends
This will be fun, that's for sure. You can play solo or share the experience by inviting your significant other or friends to join. Due to the finite amount of liquid, the optimal head count is 3, but more is always merrier.
Step 2: Preparations
Following the enclosed instructions on How to Taste, prepare the setup: glassware, snacks, and water. This time you'll also need a paper and a pen to keep track of the game and minimize cheating. We all have that one friend who thinks he is the ultimate Spirits sensei, so make sure to write everyone's guesses down.
Step 3: Let the game begin
Start with the mystery drink No.1. Try to pinpoint the category first - is it Rum? Is it Bourbon? Or is it something else? If in doubt, take cue from the description and try to recall if you've tried this Spirit before. Write down your assumptions and proceed to No. 2.
There are many ways to play this. Getting it right can be a team effort, or you could simply say the one who gets the most answers right is the winner. If you're thirsty for victory, this can soon get as serious as a game of poker… Being a Spirits superstar is way better than a Monopoly winner after all.
Step 4: Enjoy
This is a game, and a delightful one at that, so tailor the rules as you see fit. When it comes to the fine arts of tasting, everyone's a winner in the end.
Step 5: Reveal the drinks
The moment of truth. The big finale. Did you get them right? At the end of this note you'll find the link to the website where the mystery drink is revealed.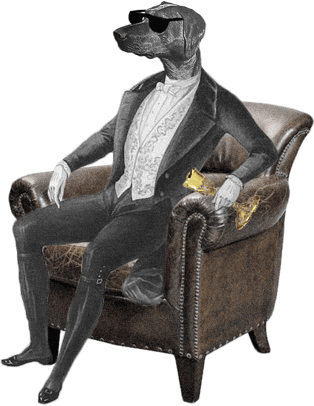 Dog Dogson's
Smartass
Corner
Whisky or Whiskey? The spelling differs geographically. In Scotland and some other parts of the world distilleries usually spell it Whisky; in Ireland and USA they spell it Whiskey.
We think you'll like these