Hemingway's Ways Vol.2
Papa's Favourites

Oooops.
This tasting box isn't on our current list of Home Bar Essentials... but it could be. Add it to your wish list and let us know you want it!
This Box contains 45ml samples of:
From Paris to Cuba
Ernest Hemingway. The myth. The legend. The rock star of his time. He loved, he fought, he drank. But that was Papa – he lived, goddammit.
He put everything into his work. All the jaunts and adventures, all the love and anger. He wrote to explain, not to confuse. Straight and to the point. He liked his language like he enjoyed his drinks. "No sugar. No fancying."
Whether applied to his writing or his Spirits, he always went all out. Like him or not, Hem was a man of his word and a man of the world.
"That's all we do, isn't it — look at things and try new drinks?"
(Ernest Hemingway)
Let's, then.

The notorious writer was a man of many desires (and many wives). And this Spirit selection reflects his style and preference. "Preference" being the operative word since Hemingway was an unconditional bon vivant when it came to booze. He took it all in — from Paris to Cuba, bullfights to safaris, and Negronis to Daiquiris. Like his characters, Hemingway was rarely found without a glass in his hands. Although he was usually satisfied with whatever was closest, he had his favorites. As we all do.

It's hard to separate fact from fiction when it comes to Hemingway, but we can vouch for the following picks. While covering WWII from the front lines, he kept his canteen filled with Gin. He loved Absinthe so much, he created his own cocktail based on the green fairy. Rum and Cuba were his shelter and refuge in the later years.

Despite not being particularly picky when it came to his alcohol, Hemingway was a sophisticated drinker, a connoisseur who knew what was good. When it comes to Gin, Absinthe and Rum, these are the cream of the crop. And if we know one thing about Papa, it's that he appreciated the finer things in life. This selection will appease your inner Hemingway because they're simply some of the best Spirits available.

We tip our hats to the man who lived to the fullest. He had his flaws, but he embraced them with a smile on his face. "In order to write about life, first you must live it." The Heming-way.

Smart-ass corner

1) Papa was no stranger to war and brutality. Luckily, he knew a secret remedy. "Gin could fortify, mollify and cauterize practically all internal and external injuries," he claimed. You'd better write that down.

2) Hemingway knew a thing or two about overcoming injuries since he survived malaria, pneumonia, a ruptured kidney, a ruptured spleen, a fractured skull and a crushed vertebra — to name just a few. He also recovered from two plane crashes and three car crashes. In the end, he took a shotgun to himself.

3) Hemingway was quite the ladies' man. He was married four times. But he didn't get along with everybody — after falling out with Gertrude Stein, the famous writer who had written the phrase "a rose is a rose is a rose," she received a telegram from Papa that read: "A bitch is a bitch is a bitch." Ouch.

4) Contrary to popular belief, the Mojito was NOT Hemingway's favorite drink. In fact, there's no proof he ever even tried one. A handwritten engraving on the wall of Cuba's famous La Bodeguita del Medio declaring his love for this specific cocktail is most likely a forgery. Besides, Papa took most of his drinks without sugar, an integral part of the Mojito recipe. He loved other Rum cocktails though. His favorites were the Daiquiri and Josie Russel.

5) Hemingway was not only an avid consumer of cocktails, but also quite the inventor. He supposedly came up with Death in the Afternoon — a potent blend of Absinthe and Champagne — while drinking in
Paris with his decadent Lost Generation contemporaries. Slainté!

6) The tipsy novelist once stole a urinal from his favorite bar claiming he had "pissed away" enough money there and deserved to take it home.

7) The secret to Hemingway's drinking stamina? His supposed lack of a hangover. He also relied on a combination of tomato juice and beer the next morning to ease some of the pain.
Flavor Spiral™
About The Flavor Spiral
Williams
La Clandestine
Gosling's
The Flavor Spiral™ is a quick, clear and visually-appealing way to look at the drink's flavor DNA.

It's tasting notes reinvented. The Flavor Spiral™ is a unique and revolutionary way of describing flavors. It was developed by Flaviar tasting panel, industry experts, and You, our dear Flaviar community member.

Your favourite drinks like never before. It could easily be an art form, but that's a conversation for another day.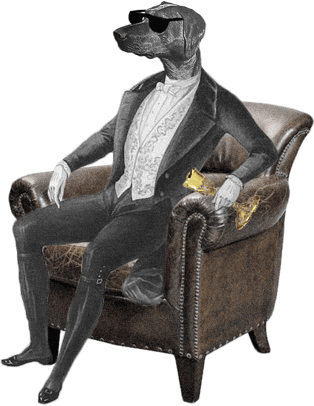 Dog Dogson's
Smartass
Corner
Hardcore Gin lovers say the word Martini should never be preceded by vodka, lobster or pomegranate. They say the original and only real Martini consists of Gin, vermouth & olives, period!
We think you'll like these
Ratings & Reviews
Member Reviews and Ratings of Hemingway's Ways Vol.2
It was a fun tasting to enjoy with my son, who is something of a Hemingway fan, but otherwise just okay. The Goslings was tasty but I like their basic black rum better. The gin was gin. And the Absinthe was fine, but I'll stick to my $20 bottle of 12 Ouzo rather than a $100+ absinthe. Nevertheless it was fun.
This would make Papa proud.
Very good. The absinthe and rum were spectacular choices however I could've done for a more complex gin. Still 3 very good pours
This was a terrific tasting box. Some of my highest individual ratings all around.
I don't know if it's a great 1 sitting taster, but I rate it high because all 3 drams were superior. If it's not already obvious, save the absinthe for last. It will overpower everything else, and crackers won't cut it.
I didn't really like anything in this box, but I still learned a lot about my tastes.
So I tried this tasting box not knowing anything about Gin, Rum or Absinthe. With that being said i'm sure the Rum is outstanding to folks who like Rum, for me not so much. Now I have to say it was incredibly smooth and i drank it neat but it just didn't bring me into the realm of fandom. Onto the Gin, I actually enjoyed this one which i first tried neat. My second tasting I tried with a cocktail (Gin buck) which though not my favorite wasn't bad at all. Absinthe, what to say of Absinthe? Well it's heavy on the anise which is different from what i'm used to and honestly I have only had it neat but with that said I look forward to trying it in a cocktail. Overall, I am glad I veered from my usual whisk(e)y to try something different, but I guess i'm more comfortable in the Islay wheel house of spirits.
A fun and interesting tasting box. The Gosling's rum and Williams Gin were particularly good.
It is an outstanding sampling of spirits that Hemingway probably drank. (Vol.2.3?)
Load more reviews
Back
A Dram for Your Thoughts
Cancel