Terroirs De Cognac
The Turfs of Le Cognac

Oooops.
This tasting box isn't on our current list of Home Bar Essentials... but it could be. Add it to your wish list and let us know you want it!
This Box contains 45ml samples of:
The Turfs of Le Cognac.
Le Cognac, the most Eminent of all the Brandies, the Ceasar of Eau De Vie's, the Uncrowned King of Spirits and one of France's most distinguished Liquid Treasures.
Funnily enough, not French but Dutch traders began the swirling history of Cognac (named after the town of Cognac in France). In the start of the 17th century they distilled French wine for the purpose of maritime transportation (remember the story of Port, Sherry, Madeira and Marsala?). Soon after, the French discovered double-distillation and began producing Cognac to satisfy the growing thirst for this fine stuff.
In 1875, years after Napoleon drank his fair share, Phylloxera (aka the Great French Wine Blight) broke out, commencing the Dark Age for Cognac. Oh, mon amour. That was the beginning of the Absinthe/Irish Whiskey era though. But decades later a new sort of vine was brought from North America, Absinthe was banned and Cognac emerged stronger than ever.
Six Cognac regions
(cru)
were introduced by law in 1909 to protect the uniqueness of Cognac. From the six we sadly had to pick five.
Grande Champagne
, the crème de la crème
cru
that lies in the heart of Cognac.
Petite Champagne
, the little one of the Champagne brothers known for delivering a slightly shorter palate than his bigger bro.
Fins Bois
, where Cognac ages faster and is a bit heavier.
Bons Bois
, with its hard and poor soil, and last but not least,
Bois Ordinaires
, the
cru
bordering the sea, thus giving Cognac a maritime angle sponsored by the whipping winds of the Atlantic.
Santé!
Trivia & SmartAss Corner
1) Age & Quality
Three different qualities of Cognac are recognized by law: V.S., V.S.O.P., and X.O. (the names are English because the Cognac trade was originally developed by English speakers):
- V.S. - "Very Special" or "Three Stars" designates a blend in which the youngest Brandy has been stored for at least two years in cask.
- V.S.O.P. – "Very Superior Old Pale" designates a blend in which the youngest Brandy is stored for at least four years in a cask, but the average wood age is much older.
- X.O. - "Extra Old" designates a blend in which the youngest Brandy is stored for at least six years but on average upwards of 20 years. On 1st April 2016, the minimum storage age of the youngest Brandy used in an X.O. blend will be set to ten years.
2) The wine used for Cognac is very dry, acidic, and thin, but excellent for distillation and ageing.
3) A blend of Grande and Petite Champagne Cognacs, with at least half coming from Grande Champagne, is known as Fine Champagne.
4) Rancio is a highly desirable nutty flavour normally found only in extra-aged fortified wines (Port, Sherry, Madeira, Marsala …) and fruit-based spirits: Cognacs, Calvados, and Armagnac. It appears in Cognac after roughly 10 years of ageing in oak casks, becoming more intense over the years.
5) 10 liters of white wine is needed to produce 1 litre of Cognac.
6) The late Kim Jong Il was one of the biggest consumers of Cognac in the World.
7) The French aren't too fond of Cognac. They export almost 90% of it.
8) Here is a simple Cognac cocktail classic, the French Connection: pour 25 ml Cognac and 25 ml Amaretto into a snifter glass with ice cubes. Stir gently with a bar spoon.
Flavor Spiral™
About The Flavor Spiral
Château de Beaulon
Dobbé
Louis Royer
Cognac Park
Camus
The Flavor Spiral™ is a quick, clear and visually-appealing way to look at the drink's flavor DNA.

It's tasting notes reinvented. The Flavor Spiral™ is a unique and revolutionary way of describing flavors. It was developed by Flaviar tasting panel, industry experts, and You, our dear Flaviar community member.

Your favourite drinks like never before. It could easily be an art form, but that's a conversation for another day.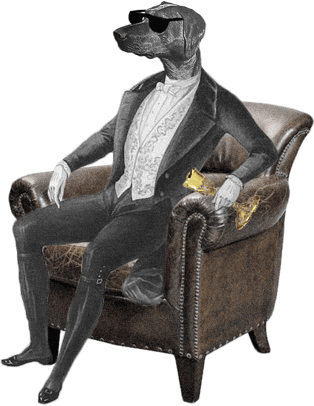 Dog Dogson's
Smartass
Corner
Three different qualities of Cognac are recognized by law: V.S., V.S.O.P., and X.O.
We think you'll like these
Ratings & Reviews
Member Reviews and Ratings of Terroirs De Cognac
Back
A Dram for Your Thoughts
Cancel