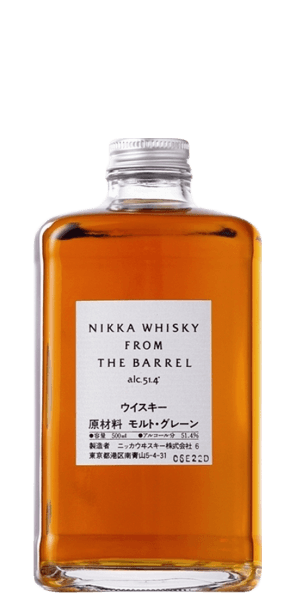 Nikka

From The Barrel Whisky
Reviews and Tasting Notes
Appearance / Colour
Gold.
Smell / Nose / Aroma
Floral, fruity and a bit spiced. Notes of citrus/orange peel, apricot, vanilla extract, caramel and wood. Christmas pudding, new leather.
Flavour / Taste / Palate
Complex and smooth. Caramel candy, toffee, vanilla, dark-chocolate, nutmeg. A spicy Christmas cake.
Finish
Long, warm and creamy. Loads of oak and a bit of smoke. Red chilli on the back of the throat. Notes of vanilla are present.
Comment
Wonderful aroma makes for an excellent start. Great bang-for-the-buck Whisky.
Nikka From The Barrel Whisky is adored for its caramel, vanilla, spicy and oak flavor notes.

This Japanese Whisky is carefully distilled at Nikka distillery, Japan.

Based on 239 votes, the average rating for Nikka From The Barrel Whisky is 8.2/10.

Top reviews for Nikka From The Barrel Whisky:

— Exquisite bang-for-the-buck blend! If you like Monkey Shoulder, this is a more flavoursome pumped up version! Chewy, round, plummy sweetness with a moderately long finish. Stock up on these!

— Not for me never again

— Nothing bad to say about this, the best qualities of blended whiskey and scotch. Dangerously drinkable!
Category

Style

Region

Country

Alcohol

Distillery
Ratings & Reviews
Member Reviews and Ratings of Nikka From The Barrel Whisky
Just wow!
Round Fruity Sweet
Exquisite bang-for-the-buck blend! If you like Monkey Shoulder, this is a more flavoursome pumped up version! Chewy, round, plummy sweetness with a moderately long finish. Stock up on these!
Got this about a month ago. The harder alcohol bites nicely but the flavor is there also to balance the drink. Only minus comes from the shape if the bottle, which is probe to leak and drip the whiskey on your hands and on the bottle, especially if the bottle is full. Good thing that the problem (fullness of the bottle) is not an issue long, because it is that good.
Has a flat, metallic taste
Dejlig blød og kan ikke få nok
Considerable burn and more on the American whiskey scale, but interesting to say the least
Spicy forward flavor but very sweet on the backend, this is a very flavorful whisky.
Not for me never again
Lots of characters, this square block of booze from the land of the rising sun! I can definitely taste the hint of peat, a little salt, and a tinge of smoke maybe? But not too strong. It was just right, not overly overpowering like Laphroaig An Cuan Mor, which basically took control of my palette and turned it upside down. I like this Nikka bottle, as the finish is quit long lasting and warm. Truly complex.
It's ok
Amazing Japanese whisky, for the ABV this is very smooth, awesome caramel notes, nice finish. Definitely worth the money spent!
Wow this is good. I was very pleasantly surprised by this one. Tastes like a nice smooth bourbon without losing its Japanese character. The ABV is perfect for a small piece of ice. Wonderful oak, spice, and caramel, tangy sweet finish. Excellent.
powerful. had to put it on ice.
Nothing bad to say about this, the best qualities of blended whiskey and scotch. Dangerously drinkable!
good and delicious taste. Very strong chili flaver, I can easily recommend it if you are into a spicey whiskey..
Full bodied and smooth on the back end.
Powerful stuff but cut it with 20% water or have with a massive ice cube and its absolutely delicious
Incredibly tasty, good long aftertaste. Lightly smoked, naughty and strong. I am happy to have it in my home bar.
I love this whiskey!
Perfect caramel and smoke blended in a clean finish. I couldn't be happier with this purchase.
Awesomely smooth with a terrific finish. Not easily available but thoroughly exciting to imbibe when it is...
Leave it in thr glass for 10min with a drop of water and you will see why is this dram is probably the best in its range.
Delicious sweet vanilla and some oak, notes of caramel, sweet citrus and a bit of spices with a smooth and long finish. Awesome whisky winner of Whisky Advocate 2018
One of the best blends I have ever tasted.
Was a little strong on the nose but could have been my mood, put an ice cube in and a splash of sugar free ginger beer and wowee, the caramel and maple popped!
Not quite as smooth as Yamasaki, but a bit more complex. Delicious.
Reminds me of pecans and sweet salt! Great spring sipper!
Smooth but complex... different from the coffeys
Fruit and fruit and some more fruit. There are fruit everywhere :) Strong but not heavy. Very nice.
Awesome whisky. It starts with a surprising kick in your nose and finishes with a non ending prickling in your whole mouth. Highly recommended!
My first Japanese whisky, perfect taste, ideal daily drink
It is a very good, intense blended Japanese Whisky with a long & complex finish.
Very smooth and easy drinking
Full of flavours and has a really serious finish - a bit too blunt for my taste
As most Japanese whiskies tend to be rather sharp this certainly is no exception. Sharp and hot on the throat that being said it is nice on a cold day sat by the fire! Nice to have to add to the collection, Nothing will ever compare to Irish whiskey.
Wonderful flavour ,rich and very slightly smoky a lovely 'sting' to the lips as this is 51.4% , very satisfying drink .
Appearance: gold. Spiced in aroma. Notes of wood and almond. A combination of almond, toffee and coconut and a hint of milk-chocolate in flavour. Finish: medium with fresh fruit. Overall, strong and complex. It's worthy trying.
Full of flavours and very pleasant to serve to others. It almost doesn't matter what your preference is, this one is a real crowd pleaser in my experience
A little too oily for me, but worth a try and a REALLY cute bottle!
Take lots of water and enjoy :)
My first experience with Japanese whiskey, and I was pleasantly surprised. Full bodied, rich flavours and a smokey yet gentle touch. Hontou-ni arigatou gozaimasu!
1
Really nice whisky to a good price :)
Harsh but also smooth. Really rich taste, worth a try. I always keep a bottle stashed.
Beware...this whiskey will and CAN sneak up on you...what remains in my bottle is set aside for that REALLY tough day... :)
Smokey but smooth.
Very good!!
this is great!
Drinkable but slightly harsh aftertaste
Strong and powerful taste, full of aromas kicking in at the first sip. Then the flavors all come in mouth and let your palate enjoy the smoky, oily and fruity taste. it's a really good whisky with a lot of flavors, a bit too agressive (I prefer to soften it a bit with water) but the aromas in the end gives you a long oily finish that makes you want to take another sip !
Strong character
Great
Fruity velvet very sophistic
Vollmundig
Loved it!
Load more reviews
Back
A Dram for Your Thoughts
Cancel
More drinks we think you'll like