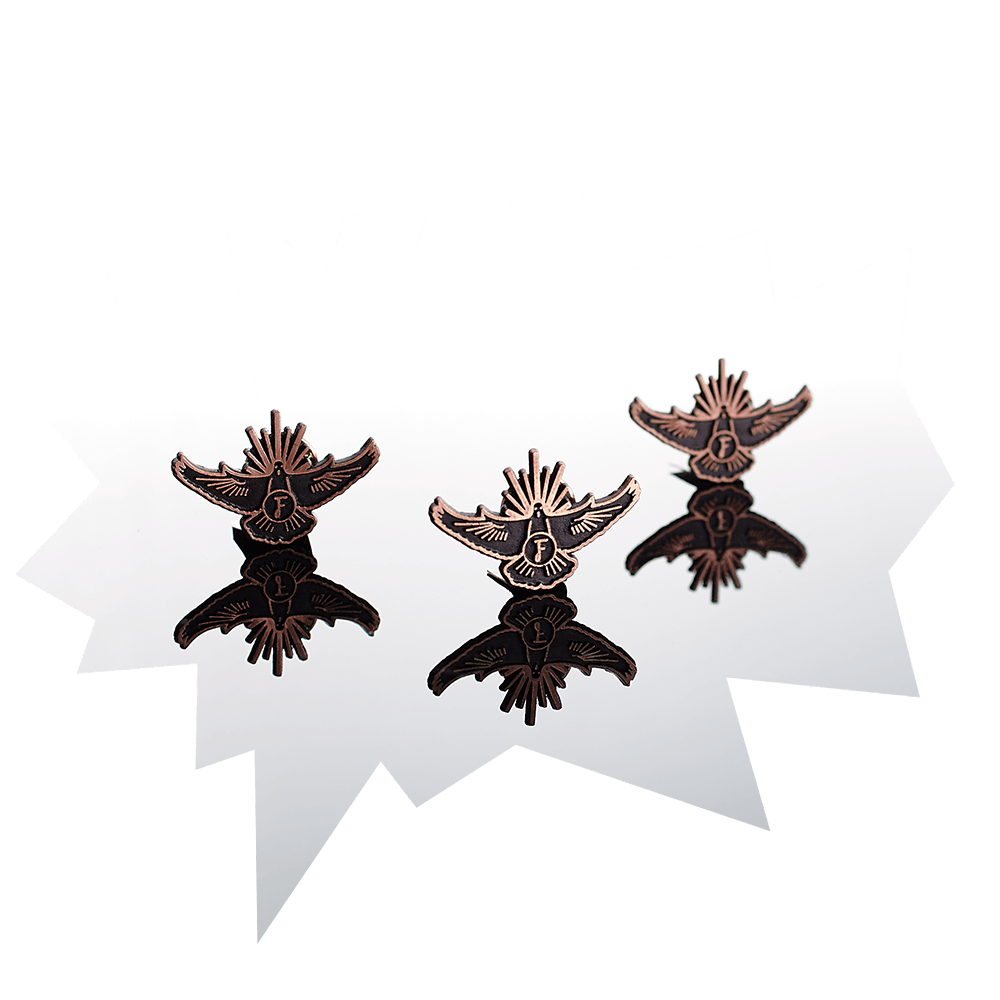 3 Flaviar Brethren Pins
Pack of three premium metal pins
Get your hands on exclusive Flaviar Products, while stock lasts. As a Flaviar Member you get access to many members' exclusive benefits.
Authenticity Guaranteed
We guarantee every product we sell is authentic.
Shipping Included
No additional shipping costs on Merch items.
Buyer Protection
Money-back guarantee if things go wrong.
A pin that tells everyone you're a sophisticated badass

Secret clubs around the world employ various shenanigans for the members to recognize each other: elaborate handshakes, enigmatic tattoos, secret codes, and whatnot.

Well, we're not some X-Files brotherhood of lizards, so we can show off our affection for fine spirits proudly and loudly – with a cool premium-metal Flaviar pin that looks way better than your uncle's Illuminati badge. You can pin it on your shirt, your hat, your bag, or your pet Shetland horse. Please, don't pin it on your pet Shetland horse, though. Show everyone you're a part of the largest family of Spirit lovers on this planet (we're still working on our Planet Blorbz expansion) and bear the badge with pride, dignity, and a pinch of panache. You're one of us, big shot!
Ratings & Reviews
Member Reviews and Ratings of 3 Flaviar Brethren Pins
I also think that this should be given as an award for loyalty.
This should be awarded at intervals. Asking folks to purchase this is a little like scraping the bottom of the barrel.
Why would we pay for something that advertises your product? these pins look awesome, but they should be awarded at different terms throughout your membership, as a badge of honor. they would still advertise and allow better brand representation... Just a suggestion
I agree
I think these should be giving out to all members that has been a member for a years or more. Be a nice thing to have but shouldn't have to be purchased.
Agreed
Agreed. This is nice, but not something that I would likely pay for.
Very much so. Been a member for years and have plenty of coasters. A pin would be nice.
good thoughts gents...
Back
A Dram for Your Thoughts
Cancel