The Maker's Mark Bourbon that started it all and still stands tall today.

The original "Burk's Distillery" was built in 1885 just outside of Loretto, Kentucky. T. William "Bill" Samuels bought the operation in 1953 for $35,000. Samuels wanted to make quality, so he used the sales of the existing stockpiles to finance a revamp. The first bottle of the new flagship brand "Makers Mark" was bottled in 1958 and dipped into the red sealing wax that has become the company's trademark — making them one of the first to carve out a space in what we now call the "premium Bourbon" market. Currently owned by Beam-Suntory, members of the Samuels family still work at the company.

Maker's Mark Kentucky Straight Bourbon is THE signature Whisky of Maker's Mark. And while the oh-so-trendy crowd dabbles in spice-bombs, this dram is designed to be smooth. And that starts with a wheated mash bill (no rye) using soft red winter wheat. The barrels are rotated by hand in the warehouse on a regular schedule and — as hey say — aged "to taste, not time." It's even bottled to 45% ABV on site and dipped into their famous red sealing wax which is left to drip down the sides, making it one of the most recognized brands of premium Bourbon.
Category

Style

Region

Country

Alcohol

Distillery
Flavor Spiral™
About The Flavor Spiral
What does Maker's Mark Kentucky Straight Bourbon taste like?

The Flavor Spiral™ shows the most common flavors that you'll taste in Maker's Mark Kentucky Straight Bourbon and gives you a chance to have a taste of it before actually tasting it.

We invented Flavor Spiral™ here at Flaviar to get all your senses involved in tasting drinks and, frankly, because we think that classic tasting notes are boring.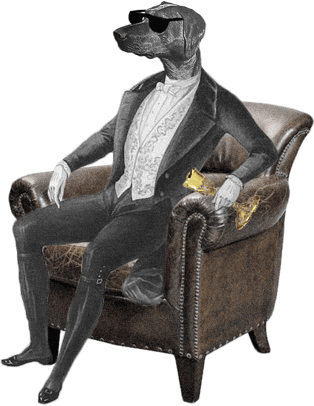 Dog Dogson's
Smartass
Corner
Straight Bourbon must be matured for at least 2 years. If a bottle does not bear an age it is at least 4 years old.
Tasting Notes
Appearance / Color
Warm Maple

Nose / Aroma / Smell
The aroma opens sweet, then grows into a rich fruit and grain fragrance.

Flavor / Taste / Palate
The palate leans toward warm roasted nuts with balanced notes of caramel, spice cake, and cobbler.

Finish
The finish is medium length and very smooth with a hint of cinnamon.
More drinks we think you'll like
Ratings & Reviews
Straight, spicy, to the point. Short finish. Quite pleasant. My go to for cheap drinking. Good for the price.
Solid go to bourbon. Smooth, but also not super complex.
This bourbon is very consistent a great everyday bourbon. Very good bourbon for a great price.
Tried a long time ago. Not the best memory. Need to try it again though.
Smooth with a bite, good mixer.
love this flavor, strong but with a sweet edge
Caramel
Good. Not great but an old standby.
Good smooth bourbon.
Go to for versatility. Great with a few rocks, neat, in a manhattan or old fashion
classic wheater, what can I say. easy to drink, find, and the epitome of constant. Available at every bar any where you bound to go and ready to be drank in any way you want to consume it. A safe mainstay drinker.
Primarily drink this only when mixing drinks.
Good everyday bourbon. Smooth and not overly complex.
Really suprising nose, with dense cherry and vanilla. Taste is a bit thin, with vanilla and honey, along with a dash of wood spice. Finish almost non existent, as it disappears very quickly. Good flavor, great nose
Tasty
The nose is pleasant, sweet and nutty. But the taste is too spicy and very 'ethanol-y' for me, especially since the finish is the same way and lingers. It has it's use as a cheap mixer or cooking ingredient. But I'd rather sip something else.
Nose: Toffee, Sweet, Vanilla, Dark Fruit Palate: Vanilla, Cinnamon, Oak Linger: Decent Overall nothing exceptional. For the price there are other whiskey's I'd rather drink.
Basic. Cheap. Mix with Schweps.
Not bad, but definitely would not go out of my way to purchase. Sweet and spice with a long finish.
Old stand by a smooth sipper, nice on a summer night neaor on rocks
Good bourbon always consistent. This is my go to bourbon for a Manhattan or Brooklyn cocktail
A solid bourbon, especially great to use in an Old Fashioned and other cocktails. Strong smoky oak flavor.
This is a great versatile bourbon to have at home. It's great in cocktails as well as to sip alone.
Very nice bourbon, sweet, hints of charcoal, lingers on the palate. A good go-to sipping whiskey.
Tastes thin and cheap, with lots of ethanol. Would not buy again. If you're looking for a wheated bourbon, try and get your hands on some Weller's.
Sweet and smooth, with a spicy undertone.
Not bad. Palatable enough to be taken straight (maybe with an ice cube) and also a good mixer. I'd rather pay a little more for something to sip on neat or pay less for a mixer with a little more kick.
After experimenting with various brands and flavors, this has gone to the back burner. This has become too hot and Spivey for me but is more suitable in an old fashion or whisk(e)y smash. The heat is on in thus one but there is a huge taste of cinnamon on the back end. Overall it's not too bad, but I prefer EC these day's.
Deeeelicious!
Not bad, has a bit of a bite. Will look to upgrade to other Makers Mark products.
Great sipping bourbon a very good everyday bourbon. This not a top of the line break it out to impress you friends drink. This is the drink you keep on hand because you like it.
Not too strong with good finish
Comforting, warm
too sweet for my taste, but a decent enough mixer
I have loved Makers Mark For the last 30 years. Smoky, smooth, crisp... always satisfying.
Inexpensive go-to whiskey. It is always in my family-vacation-survival-kit!
My favorite sipping drink. Goes down smooth.
Ah the Makers Mark truly a timeless bourbon. One of my favorite aspects of the Makers Mark is how fantastically it pairs with food most especially steak. Nose-much like Jack Daniels the minute you get a waft of the nose you know exactly what it is. Trademarked Makers Spice,Vanilla, Dark Fruits, hint of cinnamon Palate-More of the Makers Spice which is unique as the nose as well palate match up. More dark fruit..vanilla..hint of orange zest. Finish- the finish is medium ending in some wood notes. 8.68/8.7/10
My go-to bourbon. Great on the rocks and makes wonderful old-fashioneds. Nutty and caramelly.
Not my favorite
This is my go to. Great flavor, nice bite but still smooth and enjoyable.
Too spicy for me but otherwise good stuff
Not too bad.
Good, I keep it around as a last resort or for company that wants to drink but either wants a mix drink or isn't used to drinking whisky.
Gorgeous smell. Bit too much burn for me.
One of the smoothest. Great combination of carmel, vanilla flavors with no spicey after flavor
Solid
Love it. Been whiskey of choice for awhile.
Great easy drinker
My favorite go to bourbon
Standard bar choice
A good standby.
Great basic bourbon
My daily drinker, if anything I'll always come back to it. Very spicy but smooth and flavorful.
Eh. Would drink if nothing else is available at the bar, and there isn't a decent IPA on tap instead.
A trusty go to entry level whisky
Solid
Good go to
Very drinkable. Straight or mixed it isn't overpowering but tastes great
Outstanding value
My go to in college and at bars, cheap and full-bodied.
Favorite bourbon for mixed drinks.
My go to bourbon when I'm looking for something to drink straight.
One of my favourites so far. A pefect proof, that good quality doesn't have to be hyper-expensive. In my opinion a must have for every home bar. You can't go wrong with this one (at least dor that price!)
Maker's Mark is often described as a good introductory bourbon owing to the sweet and smooth profile provided by the wheat in the mash bill, as opposed to rye. I've somehow managed to make it pretty far into my bourbon experience without trying this label, but fashionably late has always been my style. The nose is nice with vanilla, caramel, and slight brown sugar, but that is all buried under a pretty solid layer of ethanol. I let it breathe for a few more minutes after my first few whiffs to see how the aroma would change as some of the alcohol dissipated. The second run had less alcohol with the other flavors heightened and the addition of oak underneath it all. The mouthfeel is smooth and creamy, thanks to the wheat. A sweet sip with the vanilla and caramel continuing, the charred oak becomes bolder and is accompanied by corn sweetness and butterscotch. The finish has a slight peppery heat and ends fairly quick. What does linger is leather and brown sugar, but neither is there for very long. Maker's Mark is good enough that it has certainly earned its reputation and definitely belongs on the list of good introductory bourbons. For the price, I prefer Larceny as my wheated everyday sipper, but Maker's tastes good enough and has the versatility to remain on my shelf permanently.
Mentor of mine told me bourbon was to be enjoyed. Not mixed or shot. This was his favorite and one of mine also. Smooth and hard to beat.
Solid everyday drinker. Prefer in a Manhattan.
Nice Bourbon, strong, a little bit, fine flavor
Love it.
My go to budget burbon.
A decent go-to. Reasonably priced and drinkable.
My go to Whiskey. A great clean taste on ice.
Modest price for modest spirit . Fairly one noted compared to others in price range. Typical caramel and oak. Short on length
Sweet, spicy with a bit of a sweet aftertaste. Good for the price. I think it's a better mixer than sipper. Classic but not impressive.
Great neat or as a mixer. Very solid.
Old reliable
Solid bourbon
Great bourbon. My go to, and it is always tasty.
A great go-to for a mixed cocktail
Good for the price
Good standard bourbon. Good for mixing.
solid whiskey for making cocktails
Go to bourbon in a pinch
My all time classic choice. The definition of Kentucky Bourbon to me...
Strong and bold
Nose: vanilla, spice Taste: vanilla and sweet, lots of oak, cream, brown sugar, fair amount of burn, oaky finish
Love the flavor and is a good choice to sip on.
It's good
My go to! I love it
My favorite budget bourbon.
Smooth and easy to drink.
My go-to-bourbon. Not too sweet. Best served with one rock or in a Manhattan.
Better than average but could up the 1st impression with a cork top, not screw on
Not my style.
Love it. Too inexperienced to say why - it's smooth, and just tastes great.
Maker's is my at-home staple, my general go-to.
Smooth start. Lovely taste. No bite. Sweet finish.
Keeps company with Jack Daniels, Wild Turkey, and Jim Beam in being the most available bottle at any average grocery, gas station, or bar well. Literally made to be easy drinking and easy mixing, and lives up to its purpose. Not super complex, tons of sweet notes, but mostly you'll probably be drinking it mixed with other things, so it's charm is in it's lack of notability. A bit better than it's retail peers when taken alone or on ice.
Good to drink all night.
Better on rocks. Sweet and spicy.
I am trying to dial in my flavor profile for what I like most. I wanted something with low Rye content but this still has a lot of spice for my preference. I like the brown sugar early but not a fan of the bitter late. Good, but not "The One"...
Not bad. I like to use this to make cocktails like old fashioneds.
Maker's Marks is the go-to for any mixed drink like a Manhattan. It has also won blind taste tests here at home. Great value.
Very little flavor and way too strong of a bit in the finish with very little reward in the nose, palate, or finish.
Very new to rating spirits. Enjoy Maker's Mark but hoping to find better and better as I refine my tastes.
If my standard weekday whiskey wasn't Eagle Rare, I'd give it to Makers. It's a solid weekday drink. Good flavor and will get the job done.
Great bourbon for the buy, and definitely creates a place on the shelf being wheated.
Love makers
I like to simply mix with coke and it's perfect!
Not a fan - good in a cocktail but on it's own the finish is sour/bitter You can find better options
Has alot of bite to it. Not my favorite, but has more dimension than Jack Daniels.
Haven't tried Maker's Mark in years. Been drinking scotch for 2 years, and delving into the world of whisky for the last few months. Was floored to learn this is one of the world's best selling. May have to give it another go since it's been so long, but for now, just the memory of original Maker's Mark makes me cringe.
Nice bourbon, some vanilla and wheat notes with medium aftertaste
As basic as Maker's is, it's still great every time.
It's been my "go to" for a long time
I enjoy this bourbon but not as much as some others. A good choice.
Great Intro to Bourbon
Excellent "middle ground", widely-available bourbon - just good enough to sip on its own, and just cheap enough to use in mixers. A classic. My "go to" for gifts and basics.
Aromas of sweet almonds, spiciness - almost like evergreen trees (rye?), Tastes sweet, spicy Nice finish, long to medium aftertaste - very drinkable, I want to keep going back for another sip
Always like makers straight and mixer
I like it.
I don't know much about it . It's good . Just looking to broaden my horizens
a bit too sweet for my taste
MY GO TO FOR BOTH MIXING (OLD FASHION) OR FOR SIPPING ON THE ROCKS
Best value in bourbon right here. I'd take Russell's Reserve over this in a snap if this were not $10 cheaper. This is sweet, smooth, and consistent. Perfect on the rocks.
great for price point, mild-medium and smooth
This is a Founders bottle, label has founders picture and says specially made for you .
Drink weekly
Its good, one of the go to whiskey/bourbon
Maker's Mark has a bitter sweet birth of oak, caramel & vanilla; a life of honeyed fruit that leads to a sweet death of nuts & toffee.
This is my goto bourbon. I like the smooth flavor and rich wheat tones.
Mandarin start with a subtle tobacco flavor. Finish is smooth caramel
Very smooth - good value
Less spicy than other bourbons but has a heavier finish. Bulleit tastes better and costs less
Very tasteful for the money!
Хороший такой середнячок. Всё на месте без перегибов.
Go to favorite
Go to Bourbon! Not only is it delicious but the company in general is great.
Favorite low-price bourbon
My favorite every occasion bourbon. Smooth on the pallet with little burn. Great taste as a cocktail or on the rocks by itself.
Love the stuff
Still trying to find a bourbon as a go to for social situation. I like the sweetness of this one, and I like it with one cube of ice.
Great stuff
A staple on any bourbon drinkers shelf.
неплохо. Сладковат. Ваниль. Карамель.
I love it, it's my go to any day!
Absolutely love this
Makers is a nice middle of the road whiskey.
Good whiskey
Kokuda meşe, vanilya, tatlı. İçim yumuşak, taze Fındık, vanilya, meşe, tatlı şurup Yüksek alkolüne rağmen tatlı, yumuşak içimli.
Very sweet
I love this Bourbon.
Smooth. Easy
Load more reviews
Back
A Dram for Your Thoughts
Cancel