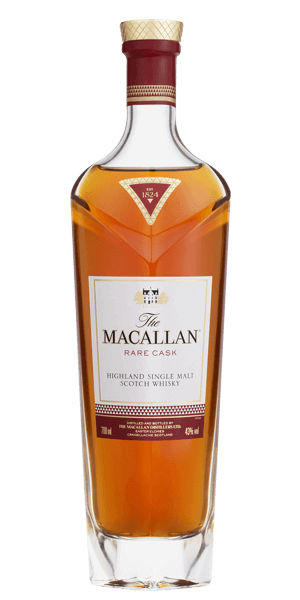 The Macallan
Rare Cask
Tasting Notes
Appearance / Color
Light mahogany 
 
Nose / Aroma / Smell
Orange zest, chocolate and spice   
 
Flavor / Taste / Palate
Raisins and oak, vanilla, milk chocolate, and walnuts
 
Finish 
Warming, Grand Marnier Cognac and cocoa

You don't ask questions… you just stop and drink it in.  

In 2009 The Macallan issued a statement saying that they had passed Glenfiddich to become the second largest producer of single malt Scotch in the world, behind only Glenlivet. The Big 3 definitely stand far above the others in production, and, fortunately for us, they have achieved this scale without sacrificing quality. No small feat.  
For master cooper Stuart MacPherson, wood is serious business. Wood is so integral to the making of Macallan whiskey that Stuart has the actual title of "Master of Wood."  
 
Macallan Rare Cask is a single malt of the first order. Every drop is pure Macallan, and all of it is aged in Stuart's carefully acquired Sherry casks. This is where Bob Dalgarno comes in. Bob is the Official Whiskey Maker, and he gets the awesome and intimidating task of blending Macallans of various casks and ages to achieve a special flavor profile. If it needs a little citrus and stone fruit, add younger Whiskies. If it needs more chocolate and wood spice, add older. Taste is the key… and with Macallan Rare Cask, taste is achieved. 
 
Even the packaging is special. The bright red box swings open like French doors to reveal the cut crystal decanter with a perfect taper and plunging neckline. But you won't find an age stamp on the beautiful packaging that it comes in. A gentleman never asks. Besides, that is just the gown … the dressing for the luscious spirit within. The color is a light mahogany, the flavor gently sweet and rich with a full body, intoxicating aroma, and a mouth-feel that is … sensual.  
 
Cheers to Stuart and Bob … nice job lads. 
 
Ratings & Reviews
Member Reviews and Ratings of The Macallan Rare Cask
Awesome!
it'll give you the goosebumps; it's smooth and yummy-yummy!! yeah it's permanent on the bar
love the smooth and sweet finish
Amazing. Smooth. Oak and cinnamon up front. Mellow in the middle. Long leathery finish that lingers but does not burn. Mildly peaty. His ruined all other scotch for me.
Fantastic Scotch! Best I have had thus far!
Loved it, just too expensive to drink all the time.
Tasting wheel is pretty accurate. Over time the chocolate becomes even More pronounced, some moderate spice then milky texture on the back end. Really enjoyed but over priced in the end
This review is for the 9 year old cask strength matured in Sherry casks. Hints of maple syrup and spice, with a smooth finish after the burn!
Incredible smooth scotch!!!
Blue contender but not a winner
It's one of the best I've owned or tasted.
Amazing
Raisin, mahogany, leather, chocolate
The best and smoothest I have ever had.
Very well rounded. Great from start to finish. Very smooth.
This is a very nice little tipple. Not "M", but a very fine whiskey in its own right.
A really fine whiskey. Thoroughly enjoyed it. Not the biggest Macallan fan, great flavors but not a lot of depth or dimension. Enjoy the 15 more over this one.
It's wonderful, when you drink it you will love it for life
@ robert, arrggghhhhh me hearty! but seriously; i fell in love with a 25 Y.O. MacAllan received as a gift from my Irish employers/friends in 1986 when i was the last bartender out the door as they closed Shaunasee's in Santa Ana that year. Pat and Kevin were great Irishmen but neither had a CPA! i was still partaking of that bottle in 1993. wish i had had the strength to keep it longer. that, and Martell Cordon Bleu are my two favorites liquids of all time.
i felt like a drunken pirate king
Load more reviews
Back
A Dram for Your Thoughts
Cancel
More drinks we think you'll like