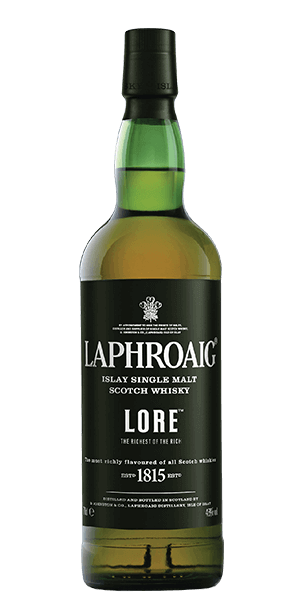 Laphroaig

Lore
Reviews and Tasting Notes
Appearance / Color
Antique Gold

Nose / Aroma / Smell
S'mores cooked over a seaside campfire

Flavor / Taste / Palate
Great texture and body with smoke, sea-salt caramels, and chili pepper Finish Dry and smoky-sweet

Laphroaig Lore
is adored for its smoky, phenols, white pepper and peaty flavor notes.
This Scotch is carefully distilled at
Laphroaig distillery
, Islay.
Based on
128 votes
, the average rating for Laphroaig Lore is
8/10
.
Top reviews for Laphroaig Lore
:
—
Looooooooove it!
—
Great stuff
—
Delicious! Such a rich and savory smoky peaty flavor with a decadently long finish.
Ratings & Reviews
Member Reviews and Ratings of Laphroaig Lore
Woody but that's it
I like the Lore. This is my first lephroaig so I can't compare with other batches.
Peaty . Way too peaty.
Looooooooove it!
Nose: peaty smoke with some sweetness-vanilla Taste: full bodied campfire smoke, some heat, slightly salty, strong full, nutty, aftertaste, very complex, lingers nicely
Clearly, Laphroaig has learned from some recent mistakes and is going back to the flavor powerhouse profile that sets them apart. Over this, I'd still take a Lagavulin 16 or an Ardbeg Corryvrecken. However, this stands above the standard 10-year Laphroaig, which many of the offerings in recent years could not say. For the price, I label this an occasional buy. Something I'll keep on hand for special occasions. Like Saturdays. Easily scored in the 90s.
Amazing! Smooth and easy to drink, almost too easy. Love the peat and oak to the nose. One of my new favorites!
All the smokiness taken to a new height of deliciousness with caramel, vanilla, brine.
Great stuff
Delicious! Such a rich and savory smoky peaty flavor with a decadently long finish.
Maybe the best Whisky I have ever had. It bought a tear to my eye on my first tasting.
Peaty but with a Smokey undertone which really balances out the peat.
Harsh. I don't see how this is an international award winner. It's not characteristically Laphroaig IMHO.
Very good; my house scotch is the Laphroiag 10 yr, and the Lore was well worth the incremental cost.
Love it
Toby, the whining single malt scotch drinker, is kind of a douche. I also enjoy single malts, and it seems like you have a very good variety. I look forward to the rare finds. This Laphroaig Lore is wonderful..
I'm a single malt Scotch drinker, I didn't sign up as a Whiskey drinker. If you can't send me Single Malt Scotches, then cancel my membership today.
One of my favorite Laphroaig Whiskeys
If you love peat, this is exceptionally smoky and yet nicely balanced. A must for peat aficionados.
Classic laphroaig classic flavors, but just a little cleaner and smoother
Love love love the peat.
Gross. Too smokey
Fast shipping and great scotch. First time ordering. Just sent in second order for Kilchoman....
I was not expecting too much from this bottle. I was admittedly biased against another NAS offering at such a high price. I am glad that I bit the bullet and purchased it! It is wonderfully smiley and has the usual Laphroaig notes but is bolstered by the youthful blend in the mix. I wish it was offered at half the price. Try before you buy if you're on a budget.
Everything about a Laphroaig that people object to in one bottle. For the true Laphroaig fan.
Very peaty, great if you enjoy a leathery taste.
Delicious
#Ufffff
Very very smokey. If that's your taste, don't miss this bottle. Keep it in your mouth for a while to feel the extra smoke - if you drink it too fast tastes just like a regular Laphroaig. A must have for peated whisky lovers.
Load more reviews
Back
A Dram for Your Thoughts
Cancel
More drinks we think you'll like