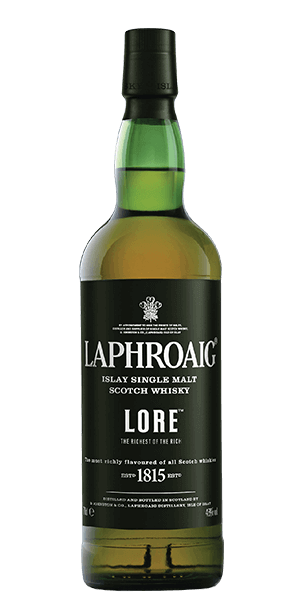 Laphroaig
Lore
Tasting Notes
Appearance / Color
Antique Gold

Nose / Aroma / Smell
S'mores cooked over a seaside campfire

Flavor / Taste / Palate
Great texture and body with smoke, sea-salt caramels, and chili pepper Finish Dry and smoky-sweet

The most peated Laphroaig. But not in a "prove a point" kind of way.

Laphroaig distillery was founded in 1815 by Donald and Alexander Johnston and is located in Port Ellen on Islay. For a long while there's been frenzy for Laphroaig's Scotch. Rumor has it that Prince Charles of Wales himself is a big fan of the brand. But no matter what, Laphroaig is the Islay Single Malt by which all others are judged. They are the standard-bearers for the hearty, smoky style that Islay is famous for. Their core line up has no fewer than a dozen Single Malt drams plus a host of special releases and travel retail specialty editions.

The folks at Laphroaig call Lore "The Richest of the Rich." And it's easy to see why. This is a classic Islay-styled Single Malt Whisky to be sure, but they go a little beyond the normal. The name Lore comes from the very old-school production methods.

The peat is hand cut. The malt is hand turned and cold-smoked. All if this harkens back to how they did it decades ago. The results are impressive. If you like your Whisky smoky, you will find Laphroaig Lore to be their most heavily peated dram. It won Double Gold medal at San Francisco World Spirit Competition 2017. 

Smartass Corner
Want to own a piece of an historic Islay distillery? Register to be a "Friend of Laphroaig" and you can obtain a lifetime lease of 1 square foot of the distillery grounds for the "rent" of 1 purchased dram of Whisky per annum … payable at the distillery pub.
Ratings & Reviews
Member Reviews and Ratings of Laphroaig Lore
Peaty but with a Smokey undertone which really balances out the peat.
Harsh. I don't see how this is an international award winner. It's not characteristically Laphroaig IMHO.
Very good; my house scotch is the Laphroiag 10 yr, and the Lore was well worth the incremental cost.
Love it
Toby, the whining single malt scotch drinker, is kind of a douche. I also enjoy single malts, and it seems like you have a very good variety. I look forward to the rare finds. This Laphroaig Lore is wonderful..
I'm a single malt Scotch drinker, I didn't sign up as a Whiskey drinker. If you can't send me Single Malt Scotches, then cancel my membership today.
One of my favorite Laphroaig Whiskeys
If you love peat, this is exceptionally smoky and yet nicely balanced. A must for peat aficionados.
Classic laphroaig classic flavors, but just a little cleaner and smoother
Love love love the peat.
Gross. Too smokey
Fast shipping and great scotch. First time ordering. Just sent in second order for Kilchoman....
I was not expecting too much from this bottle. I was admittedly biased against another NAS offering at such a high price. I am glad that I bit the bullet and purchased it! It is wonderfully smiley and has the usual Laphroaig notes but is bolstered by the youthful blend in the mix. I wish it was offered at half the price. Try before you buy if you're on a budget.
Everything about a Laphroaig that people object to in one bottle. For the true Laphroaig fan.
Very peaty, great if you enjoy a leathery taste.
Delicious
#Ufffff
Very very smokey. If that's your taste, don't miss this bottle. Keep it in your mouth for a while to feel the extra smoke - if you drink it too fast tastes just like a regular Laphroaig. A must have for peated whisky lovers.
Load more reviews
Back
A Dram for Your Thoughts
Cancel
More drinks we think you'll like