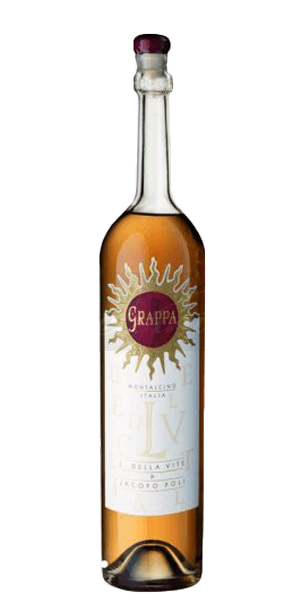 Jacopo Poli
Luce della Vite
Tasting Notes
Luce della Vite was the first wine ever produced in Montalcino by blending Sangiovese and Merlot grapes. In 1998, Luce della Vite teamed up with Jacopo Poli to create a Grappa of exquisite quality that honours the terroir from which this outstanding wine originates. This is young-special-edition-single-vintage Grappa. Certo.
 
Appearance / Colour
Straw-yellow.
 
Smell / Nose / Aroma
Penetrating aroma, green vine shoot, floral - violet.
 
Flavour / Taste / Palate
Dry but smooth, harmonious, full-bodied floral and herbal (anise) character.
 
Finish
Long lasting, even hot and intense finish.
 
Comment
Serve cold, but not too cold (between 10°C and 14°C).

Flavour spiral
Coffee, floral, grape, herbs, anise, dry, plums, figs.

 


Oooops.
This bottle isn't on our current list of Home Bar Essentials... but it could be. Add it to your wish list and let us know you want it!
A straw hats maker gets a bit carried away and his son ends up being a professional Grappa producer. Che bello!
 
Poli was founded in 1898 in Schiavon, near Bassano del Grappa (in the hearth of Veneto, the most typical region for Grappa production), it is an artisan distillery solely owned by the Poli family. Jacopo Poli's great-grandfather took his hobby size still door-to-door on a small cart, collecting pomaces from winemakers. Now the Poli family no longer goes door-to-door, instead, they now use an alembic still with 12 copper cauldrons. Naturalmente.
 
SmartAss Corner:
1) Repetitio est mater studiorum (this one is in Latin!). Grappa is grape-based pomace brandy of Italian origin. Fermentation and distillation must occur on the pomace ('the leftovers' of winemaking), no added water is allowed.
2) Italians also add Grappa to espresso coffee to create a caffè corretto, meaning "corrected coffee". Incredibile.
3) Italian law requires winemakers to sell their pomace to grappa makers; this is a measure that was taken against moonshine operations. They say it works. Sfortunatamente.
 

Style

Region

Country

Alcohol

Distillery

Bottler
Ratings & Reviews
Member Reviews and Ratings of Jacopo Poli Luce della Vite Grappa
Probably the worst thing I've ever paid to consume.
This is the first grappa I have had and I hated it. Tasted like somebody wrung sweaty socks out. I'm normally a whisky drinker so maybe this just isn't my taste.
Doesn't overpower you with fire or flavor, unlike other grappas I've tried. Very light, very subtle.
Right from the beginning this drink presented a very heavy "Oranges" flavor to me. I slowly sipped the drink in an effort to allow the proper mixing/dilution of the ice and Jacopo Poli to see if perhaps the overwhelming Orange flavor would somewhat subside. It did not and I cannot recommend this presentation. I would not purchase again.
Decent. I liked how it smelled better than how it tasted. Grappa so far isn't something that I particularly like.
Odd and definitely different. Wasn't my favorite. Wasn't the best on the nose but did taste better than it smelled. Had a slight heat and spicy profile to it, definitely carried itself with the consistency of a wine. Decent but just not my preference.
Excellente!
Load more reviews
Back
A Dram for Your Thoughts
Cancel