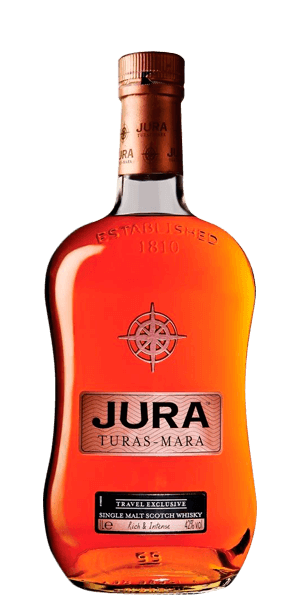 Isle of Jura
Turas Mara
Tasting Notes
Appearance / Color
Golden yellow.
 
Smell / Nose / Aroma
Fresh fruits such as plums, black grapes and cherries with vanilla and hints of toffee.
 
Flavor / Taste / Palate
Lots of vanilla, honey, chocolate and yummy things like that. The sherry influence is especially present making it really bitter-sweet.
 
Finish
A long and full finish with oak bringing the most in there.

Around the World, Around the World.
 
Established in 1810, the Isle of Jura is found north-west of the Island of Islay. As with many other Scotch distilleries, Jura went through a rough patch in the first half of the 20th century. It wasn't until 1960, when two local estate owners, Robin Fletcher and Tony Riley-Smith rebuilt the distillery and introduced taller stills that Jura was able to create a wider mix of malts. Jura's Whiskies are just as unique as their place – a range of rich, seafaring Whiskies – some lightly peated, others carrying a heavier peated profile.
 
The Isle of Jura Turas Mara honours the islanders who migrated to North America in 18th and 19th century, 'Turas Mara' meaning long journey in Scots Gaelic. It is a non-age statement single malt matured in mixture of Bourbon barrels, Sherry butts, French Oak Casks and port pipes. The choice and sheer number of different casks reflects the exotic and unique flavor that comes from wood sourced from around the globe. This Single Malt will simply leave you craving for more and everso a little more…
 
Ratings & Reviews
Member Reviews and Ratings of Isle of Jura Turas Mara
Nice easygoing whisky.
This would be a nice "table whiskey": not too peaty or smoky or complex. A nice sweet balance that doesn't linger too long.
Perfect amount of smoke hidden in this one. Its sweet. Plenty of flavors to explore and find. I liked this one.
Beautiful rich amber color. Fine fruit bouquet. While flavor is simpler than expected, and finish is shorter than expected, still an enjoyable dram
Very smooth, not aggressive in the least.
Surprising! Nice caramel nose, and bold chocolate and oranges on the palate. Very drinkable, even if not particularly subtle/complex.
The only one in the tasterbox I would order.
The caramel and the orange compliment each other well. This is worth a bottle.
Nice caramel finish.
Dark amber color. Caramel and oak on the nose. Salty palate with bitter dark chocolate and honey, and light bodied. I enjoy it better with an ice cube.
This was pretty good. Not my favorite. It had a bit of a lingering after taste that I didn't love.
Nice sweet fruity flavor with hints of vanilla and cherry.
Easy to drink, not outspoken. I had expected some more
Smells of caramel and cherry. Very sweet flavor with distinct flavor of cherry. Very tasty! This would be a good scotch whisky for parties or guests!
I like this one kinda suck they don't have a bottle to buy anyone one know of something similar to this one?
Mild dram. Mainly tasting the smoke and oak. Very short lived.
I found it extremely rough, hard to drink neat
Very smooth. One of the best I have had. All flavours are present and not masked by spice.
So smooth it's almost boring at first. But there's some complexity to be found if you stick with it. An easy drinker perfect for sharing with friends.
So smooth it would be s crime to mix it.
Smoky
Good mix between the sweet and smoke
Nice and balanced. Will buy this one again.
Nose of vanilla with a beautiful light amber color. Caramel on the tongue with a light finish. Good for new scotch drinkers but it's a little boring for me.
Very light and enjoyable drink. Very good for someone looking for an introduction to single malts; it doesn't hit you in the face with smokiness but still brings you all you enjoy in a single malt. Might be too simple for the experienced drinker, but still worth a spot on the bar.
Very appealing scent of caramel, vanilla with a hint of fruit. Taste of smooth chocolate with almost no peat or smoke flavor. Very smooth. The best Scotch I've had.
Nice blend of bitter and sweet
Definitely on the lighter side. After diving in head first with Talisker and Deer Bear and moose Puncheon; this one is a little too simple.
The first thing that hits my nose with this is fruit followed quickly by vanilla and spice, maybe cinnamon and/or cloves? The nose on this is very complex and I can't quite put a finger on some of the notes I'm picking up. But it is wonderful! So much going on in there! On the palate I get spicy dry fruit. There is a little sweetness, but not much. Just like with the nose there is more that I can't quite pin down. The finish is fairly long and dry, with a hint of smoke and pepper. Adding just a touch of water brings out some caramel notes in the nose and more of the sweetness, vanilla and chocolate tones, on the palate. This is one complex dram and definitely leaves me wanting to try more.
Very good, very drinkable.
Very tasty! It has a lot going on, and it's all good.
Nice taste.
The flavour spiral has nailed this one spot on! Yummy!
My favourite of the pack. Light and easy to drink, full of flavour.
Load more reviews
Back
A Dram for Your Thoughts
Cancel
More drinks we think you'll like