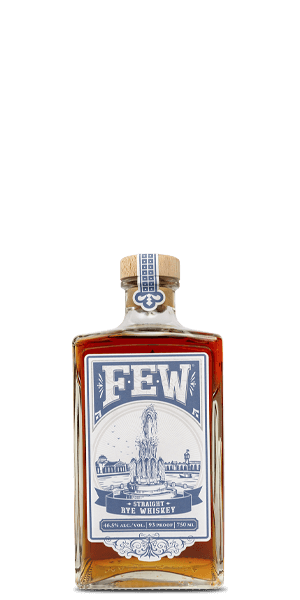 FEW

Rye Whiskey
Reviews and Tasting Notes
Appearance / Color
Caramel with an orange tint.
Smell / Nose / Aroma
The prevalent Rye succeeded by complexion of Vanilla, Brown Sugar, Cinnamon and Wood. Some hints of Butterscotch, Citrus Zest and Pepper are also present.
Flavor / Taste / Palate
A kickin' and vivid flavor that starts with buttery Rye, Raw grains, Fruits and some Honey. In between some Citrus, Baking Spices and a bit of Wood is also felt.
Finish
Long and slow pepper finish.
Price, Shipping & Taxes may vary by state and will be recalculated at checkout.
FEW Rye Whiskey is adored for its rye, sweet, dark honey and spicy flavor notes.

This Rye is carefully distilled at FEW Spirits distillery, United States.

Based on 16146 votes, the average rating for FEW Rye Whiskey is 6.7/10.

Top reviews for FEW Rye Whiskey:

— This is my first rye and worth the wait. I get a silky, anise rinse with a toasted almond finish. Spikes Torrone in liquid form.

— Excellent

— This is a very unique and exceptional rye with notes of nutmeg and cinnamon. Think of this as a dessert or holiday whiskey. Excellent on the rocks or with an ounce of water to open it up. Highly recommended.
Category

Style

Region

Country

Alcohol

Distillery

Age
Ratings & Reviews
Member Reviews and Ratings of FEW Rye Whiskey
Very tasty Rye. Slightly sweet and spicy. A little pepper on the finish. Enjoyed thoroughly.
Very good Rye. Love the buttery notes upfront and really enjoy the long finish.
The notes on this were brilliant and I thoroughly enjoyed my sampler of this. I don't typically go for Rye's, but this one was tasty. I do have to say, though, I don't like too sweet a drink, and this barely made the cut on that front. Overall, I'd gift this to someone, or have it in my bar as a lighter less intense whisky. It's either that, or I'd be using it for knocking up some cocktails. It was a little too syrupy for me, but did enjoy it enough because of the spice it offered. It is quite the blend. In summation, I enjoyed this due to the spice elements and that's why I'm rating it as highly as I am. If it had not been for the spice, I'd dock this to 4 or 5 stars. It's priced well enough, that I'd encourage anyone pick up a bottle. I, honestly, feel at this price, for myself, there is something else out there for me; however, I am still considering getting a bottle of this.
Really smooth. Sweet on the front, and a little pepper on the back. This is great in a high ball, neat, or with a rock. Probably makes a great old fashioned.
Love the dark honey smell and undertones. The smooth set after taste. Mostly a bourbon drinker but I would add to my collection.
This was my favorite out of the tasting box I got from the membership. Honestly debating about putting it on my wishlist. Definitely spicy but not to much cut was respectable. I don't know I can't decide I feel there's something else out there for me but this one is just good enough to put in the rotation.
This is unusual rye. It's sweeter than most, with an almost syrupy mouthfeel, while being very spice-forward. It makes a phenomenal Manhattan.
Lots of barley and rye. Not too complex. Probably a great old fashioned rye. Actually GREAT with peanuts
Very sweet upfront with a long peppery finish. Pretty enjoyable as a sipper.
Wow. Exceptionally smooth. Very slight sweet then peppery. Dried fruit yet luscious. I enjoyed sitting a few minutes between sips. It has a very classic rye nose and forward flavor but the spice notes are really nice. Got this in a tasting a immediately put on the wishlist.
I agree with what is seems most others say about this: tastes pretty standard - it's fine, but I would not purchase a bottle.
I'm getting honey, vanilla, pear, and some freshly cut wood on the nose, with softer notes of the same plus a bit of ash on the taste. Big kick of spice on the finish that stays for a while. Pretty good.
This has a taste of honey and finishes with a pear taste. It's good but not my favorite
Tastes pretty standard, it's fine but would not purchase a bottle. Did not taste as sweet as the descriptions make it seem.
Want to give this one another try. Definitely tasted the spicy-ness. Not typically a rye drinker.
I am not really that experienced with ryes, so I'm unsure what to expect. However, this one didn't quite sit right on my pallet. The fruit/honey/caramel mix was a bit overpowering, and the combo spice/dry finish didn't do enough to balance it out.
My first rye, so still unsure of what to expect. Found tobacco to the nose, but alcohol scent could overtake. Harsh to my palette, spicy, again with alcohol overtaking most sense.
Smells of honey/caramel and spice.
Smooth with touch of sweetness with a fruity nose
strong to nose. wood smell
Nice rye
Light nose (smoky). Taste of charred wood, cinnamon and spice. Long alcohol burn. Needed too much water to balance for my tastes
Nice rye
Has a bite but satisfying flavor.
Black horse! I was pleasantly surprised on this one. Very good rye.
My first rye and I was pleasantly surprised. Preferred it to many bourbons.
Nice and smooth with not too much sweetness and some spice.
It begins with a sweet aroma and quickly moves to a spice that is very surprising, almost too surprising. Once it settles on the tongue it hangs around. It's a little bitter and warrants a cube or two of ice to subtly remove it's harsh alcohol background. Drinkable when you are prepared for the characteristics it possesses, but I would sway to another rye if given the choice.
A surprisingly smooth rye with a caramel note you'd think was from a bourbon.
6. It's an ok whiskey, makes a good old fashioned
Delicious Rye. Smooth throughout and just the perfect amount of spice
I loved the backstory of this whiskey, just wish the taste lived up to the name. I would say this is a moderate whiskey.
Sweet and spicy loved the Rye flavor
Maybe I am just not a fan of Rye whiskey. But all I tasted was Rye with a hint of honey...and didn't care for it.
This was just ok, not much depth to it.
Easy RYE, with a sweet nose, bright flavor with a citrus front and a spice backward finish. Has a medium longer. Would be good on a cube or in an old fashion.
Very good flavor. It has quite a bit of heat and spice while being flavorful and sweet. Good rye that's for sure.
A nice Whiskey with some great nuances. I would like to purchase a whole bottle and try it on the rocks a few times to get a better feel.
The nose packs big Rye flavor. First sip is balanced with caramel and sweetness. A few drops of water bring out pear and zest notes
Carmel for sure!! Sweet as well. Nic3 finish as well.
Honey taste was very predominant and smooth. I agree with Logan, nice heat without being overpowering. The finish was very smooth. I did not notice the citrus flavor, but noticed the distinct pepper flavor on the finish side which was just perfect touch.
This one was good, I would have liked more Rye flavor.
Not a big Rye Whisky drinker, but this was very good. Smooth with an enjoyable aroma, taste and finish.
Great flavor and has the signature whiskey heat, without being overpowering.
I enjoyed this one quite a bit. Very light going in, then that dry bitter hits on the way down perfectly.
Nice, smooth finish, warm, sweet taste
Not a rye fan.
Enjoyed this one from the welcome box. Will look to pick it up.
Rye is not my first choice but this one wasn't bad. The light flavors were good but the finish is a bit dry for me.
Prominent pear and honey notes. Spicy finish and dry. Very slight smoke.
Caramel on the nose, with very dry and spicy flavors that ends in a bitter finish. Not our favorite, although I like the alcohol level.
Very nice rye! Sweet on the front and just the right amount of breadiness.
Smooth, great mouthfeel, a little sweet. Delightful!
Smelled sweet, but very spicy. Not for me
Not our preference.
Great flavor very smooth all around very enjoyable
Love the peppery finish.
Sweet—lacks flavor
Did not like at all....
Sweet and spicy, you can taste the corn just underneath the surface. Not my favorite, but a good sipper and makes a great Manhattan or Old-Fashioned. Definitely a great value for the taste.
Bit sweet, I was really hit by the Rye, citrus, and cinnamon. Nice peppery finish though.
This is my first rye and worth the wait. I get a silky, anise rinse with a toasted almond finish. Spikes Torrone in liquid form.
Very good. Little bit sweet.
Surprisingly smooth. Definitely on the sweeter side. Really good for this price range.
Delicious rye, spicy notes on the finish, fruity on the tongue.
Spicy rye character on the nose but with some nice caramel notes as well. Similarly the flavours were a nice balance between savoury rye notes and some sweeter caramel.
Bold rye with good spice.
Definitely an "American" rye. After that first sip you notice the barley and has a hoppy beer taste at the end.
Not bad for a whiskey. Complete novice here. Definitely enjoyed it
Smells good, nice and sweet, full bodied
Smooth, specially for a rye. The finish was buttery and lengthy. Very enjoyable neat.
A tad spicy for me
Slightly bitter
Excellent
Pleasant, dry with a fruity finish.
Dry caramel notes with some nice spice.
The first rye I have liked so far
First tasting and I wasn't overly impressed, but I am not sure I know what I am doing yet.
Flavour profile is crisp yet bold
My fav in starter sampler
This is a very unique and exceptional rye with notes of nutmeg and cinnamon. Think of this as a dessert or holiday whiskey. Excellent on the rocks or with an ounce of water to open it up. Highly recommended.
Not a fan of the taste
Tastes like berries soaked in turpentine
Average rye very spicy and strong burn. Not my cup of tea as far as sipping.
Mostly barley taste, slight burn. It's decent but nothing special.
Pretty average rye...works well in an old fashioned but nothing special when you drink it neat
My very first rye. Obviously, my palate needs a bit more training. People always describe ryes as being "spicy" so that's what I was looking for. I didn't find it. A bit of fruit and honey. A bit of a bite in the finish. Not as smooth as I generally like. This won't be my last rye, though.
Very smooth with initial spice with a little sweetness. If you are a bourbon drinker this rye will not overwhelm you.
My preference for rye is typically more grain forward and less chemical. The nose on this was initially all malted barley and the slight citrus peel later. I would have enjoyed more spice
This is the first rye to really grab me. Spicy but still pleasant, not overwhelming and pretty sweet. having difficulty picking out the individual flavors but it's very enjoyable.
Honey and caramel come thru for me. I'm not a big rye guy but am enjoying this
Nice rye whiskey 🥃 that pairs well with a good cigar!
A very good Rye. Could be a little smoother and have a better nose.
It's Rye, nothing special.
Rye on the nose. Definitely spice and rye on the taste, finishing with some pear and honey.
Good, but was expecting more
This was a decent rye but a bit too much spice than I like.
I chose this as my quarterly bottle selection. I am so glad I picked this. Few Rye will enter my bar as a solid "go to", and one that I am going to keep "in stock". Smelled like a rye, but also detected sugar and cinnamon. Found the taste to be very smooth and sort of creamy. I felt the honey, some sweetness, and some rye spiciness (but not over powering). I did not get the fruits yet...Finish was solid and very enjoyable. peppery for sure. No bite. not bitter. Awesome!
First Rye I've had and really enjoyed the flavor, smell, and the smoothness of it. Definitely dry and spicy.
Nice crisp flavor
Heavy pepper ends on Carmel and honey notes. Is fairly smooth
Very nice Rye. Smoother than you'd expect for nearly 47%. I usually only drink rye as part of a cocktail. But this was good neat and really good over ice. Received as part of a member sample - never had the brand before but I'm now buying a bottle.
This was a great departure from what i normally dislike about rye. This was my favorite from the welcome box. Nice malted caramel aroma with a bright citrus finish. The spice of the rye and pepper lifted it up - perfect sipping whiskey.
Disappointed in this Rye. I had their Bourbon and it was fantastic but the Rye didn't come close.
Malted barely not yummy
I enjoyed the spice flavors; reminded me of winter baking. Even though I normally strongly dislike smoke flavor, the hint of smoke in this was just enough, and very tasty.
I have never been a RYE drinker but this is just beautiful and smooth over ice.
Best of the flaviar welcome whiskey box. Really enjoyed it.
Spicy smell and taste
Spicy, but nothing spectacular
smoother, not much bite, surprising for a rye
Smooth finish with hints of caramel and spice on the nose. Easy to drink without the strong alcohol burn. I would drink this neat or in a Sazerac rye cocktail. .
Spice heavy on the nose, kind of slaps you awake on the first sip. Add some ice and it is a good flavorful rye, has a kind of allspice taste to it. Spice lingers, no real sweetness qualities to it. A slower drink, but good none the less.
Easy on the nose with a caramel spice start. Rye, dark honey, spice with an easy slightly pear finish taste
Can't beat the price on here man. 50 or 60 bucks at BevMo. Either way is the best right for the money no matter where you buy it. And I have tried many many rye whiskey but I keep circling back to this one, usually when I find a whiskey that isn't especially impressive to me it turns into old fashions but this one I just take the bottle out the shelf and pour it in the glass. 10 out of 10 I even like it better than whistle pig. Fight me
Very spicy with a slight nuttiness. Pretty smooth.
Nose
This would be a better value for the Flaviar price, as compared to the higher price I paid when visiting the Chicago area (when in Rome)... A nice straightforward rye without any surprises.
Tasty....
Very strong up front, reasonable finish hints of carmel
So much rye
Finding that I really like the taste of Rye and this is a good one.
Real nice like
Very smooth. Good flavor without a bite. I really liked the peppery notes.
I was pleasantly surprised by this, it's not the best I've very had but it's solid. I had this in the sample and drank it neat. I'd buy this again.
This had an off and strange taste to my pallet. Had is blind in a tasting set at home. It smelled of paint thinner and damp cardboard. The nose was the bad to say the least. The taste went downhill from the awful nose.....
Good flavor and taste, barely and caramel were very apparent
Muted at the start, almost dry. It's has qualities of sake.
Very smooth from start to finish.
A decent rye. Strong spice taste.
This is good. I like the butter in the beginning and the pepper towards the end. Takes a while to feel the pepper but this is one that is easy to drink and burns a little at the end, which I like.
It is not good. It is dry and peppery. The spice is the only flavor. It really taste like nothing.
Decent rye. Sweet start with a good finish. Not my favorite but would have again
Overpowering rye spice
Don't take my review to seriously! It's not really fair I can't stand rye whiskey. However, I couldn't pallet it.
I like this Rye a lot and at this price point will keep it stocked!!
Typical rye. Balanced but lacking depth and complexity.
Deep, rich flavor with oak at the end.
My first rye, a good sipper.
Smooth, balanced, creamy and slightly sweet with the typical rye finish. I would drink this again, best of the whiskey sampler this month.
Very easy to drink on rocks. Great for Manhattan
Very peppery, would prefer neat, water brings the pepper out more
I got it in the Craft Side of Bourbon box. Not a fan, but I haven't been a fan of any Ryes straight. The WhistlePig Piggyback came in for this quarter and I'm not fond of that straight either. PiggyBack is great in a cocktail, but I didn't have enough to try variations of this one. NOSE: sour, licorice MOUTH: oily FINISH: herbal, short, spicy, leather Given that I'm not drinking it straight, I think I'll be going for cheaper rye's for my cocktails.
Smooth and full of flavor with a big pepper finish. Would definitely stock this in my home bar. Would make a good cocktail as well.
Dad-doesn't like it. Very spicy. Daniel-Wouldn't choose it is my main but a good spicy option
Sweet beginning. Grassy end notes make it less enjoyable.
Very solid mix of Rye and Corn. Just spicy enough to enjoy the rye but smooth all the way through. I would like more complexity to the flavors though, it felt a bit too cohesive.
Really liked this one. I tend towards Rye in the first place though
This rye just isn't for me. I get an overwhelming scent of dill and coriander. Perhaps I'd be better off using in a cocktail. I appreciate the brand and what they do, but I wouldn't go out of my way to purchase a full bottle.
Incredible flavor, on the rocks or old fashioned
I love this Rye. It lived up to the other reviews and exceeded my expectations. The little bit of sweet up front with the smooth, warm spice of the rye on the back end was a delight. I will definitely be keeping this on hand.
Very smooth, a bit sweet and very drinkable.
A lot of interesting notes, but a true rye flavor. While I drink it with just a splash, it makes me want to try it in cocktails.
I typically go for Bourbon...but FEW may have me trying a lot more of the Rye's...It was very tasty and smooth
Delicious, Lot of flavor, This is one Whiskey I will always keep in my home bar.
.
easily in my top 3, and I'll get another bottle asap
I found it to be spicy, aromatic, dry, a touch fruity and nothing short of delicious. A really nice effort especially for the price. If you like Rye Whiskey, I find this to be an excellent representation.
Pepper is prominent.
Strong burn, which overwhelms the flavor... not my kind of Rye.
I love ryes but this was definitely not my favorite. It tasted like the smell of burned gunpowder. I almost ordered it as my full bottle but I'm definitely glad I didn't.
Smell: lemon + slight wood Taste: nothing but rye Finish: short and dry This is very approachable for a rye whiskey, but at the sacrifice of being incredibly one-noted. I see why it's included in the Welcome Box; however, if you like this, go try yourself a proper rye.
Tastes close to straight alcohol. Has a bad smell and tastes the same. I would not pay $1 for this if I had known.
I was pleasantly surprised at how light and smooth this Rye is. I'm beginning to think I have missed out not adding more Ryes to my bar.
Citrusy, low burn. Orange zest. Perfect finish to binge watch Netflix and sip on
Smooth,Great Spice
I never drink Rye, I am a Scotch or Bourbon fan. When my first tasting kit arrived, I looked with disdain at the FEW Rye sampler. What a pleasant surprise... it is nice and light, crisp... very good. I'm going to order a bottle of this to have around! Thank you for the introduction!
Very smooth, easy to drink. Even my wife liked it!
Not a real big rye whiskey drinker. Smooth with a bite. Not bad!!
Deliciously full bodied with just the right amount of spice that lingers pleasantly on the tongue.
Needs to breath, nice mellow vanilla and honey flavor
Very nice, very smooth. F.E.W never had it before really like it
This drink was spicy, with a strange aftertaste.
A rather smooth rye whiskey.
Interesting aftertaste. But smooth with a little spice. Enjoyable
Not a big fan of Rye and didn't taste any of the zest finish... but over all smooth with a big bite up front
Smooth a little too much spice
It was a nice surprise, a little crisper than I was expecting but not unwelcome.
Yummy and warm.
Few is a great Rye Whiskey. We will buy it again. It is good in Deadth Wish coffee.
Was not of my taste. It was like I wanted to like it..
Good strong peppery taste.
Decent rye. Not as much spice on the palate, more grainy. Even some herbal Dill or Olive in the nose. It was a fine whiskey but not anything to write home about. If you're looking for some smaller rye brands it's worth a try
Right away the aroma fills the air and is amazing! The flavor is right on point with my style of whiskey and is perfect for an evening drink.
Strong start with citrus. Nice surprise
Like the mix of sweet on the front spicy on the finish.
Nice balance of sweetness and spice S and surprisingly dill pickle .
Enjoyed it. Wasn't sure what expect, surprisingly smooth.
This was very good. Nose: Honey and charcoal. Taste - many complex layers, nice long finish.
Being accustomed to small batch bourbon, this was definitely a different taste. Although not terrible if it wasn't for getting this in a sample I won't purchase
I'm not normally a rye guy, but this was pretty good. Tasted like it was made for an old fashioned.
Easy drinking! Love this addition to my home bar. Great sipping.
Very Enjoyable, Easy to sip neat or immersed in a delicious Old Fashioned. BTW Frances not Francis.
smelled of new sneakers, fell flat in delivering rye spice.
Did not like it..really harsh
Did not like it!
I dig it! The spice stays long after you've swallowed. I definitely taste the caramel notes. I bet this will make a great Old Fashioned!
I have never tasted Rye Whiskey before and I have to say I love it. I will be getting a bottle.
My first rye. Not bad, and a relatively cheap bottle to keep in my bar.
Smooth with a nice light honey finish.
Truly spirited and enjoyable. An afternoon delightvwith a fine smoke shared with friends.Dressed as an old Fashion flavors were all over .
Me: Brown sugar and black pepper overlaid by rye. Reminds me of pfeffernusse cookies. My husband: Tastes like horchata with a hint of laundry detergent. I really like it though.
Not at smooth as I typically like, a little harsh initially; was better with a small amount of ice - I'm sure it would be very good for cocktails
Impressive Rye with a hint of citrus (lemon) and a very nice finish. Worth the purchase and will be added to my hone bar for certain.
Too hot on the palette at first, but some very tasty notes during and to finish.
Too much pepper and char
Bland. Not very good for a shipping rye. May work better for cocktails and mixed drinks.
I really liked it. It is sweet and spicy on the front end with a bit of the bite of rougher rye. Has a bit of the barrel in the finish warms up the pipes pretty well.
A very good rye whiskey. Smooth at first and a good spicy finish. The rye stands out more so than many other rye's. While not my favorite, still a very enjoyable spirit!
Sweeter rye - not a bad sipper.
Great tasting with a hint of spice.
Great taste for an affordable whiskey
Solid rye with a very smoky finish.
Like fiery candy. Incredibly smooth but not much of a nose. M
We thought it was honey based with a spicy aftertaste. Loved it.
Great Rye, with a smooth finish and sweet notes
Loved this! Sampled this in my welcome tasting kit. Was my favorite of the three samples.
It wasn't bad, but I've definitely had more appealing ryes.
Great flavors at the finish.
Rye! Quick pepper hit with a spicy zest before going dry and light
Harsh. Better with a splash of water and cold.
I love american rye whiskey but this was not good. Too sweet with an aftertaste of burnt orange.
I'm new to rye whiskey and wasn't sure what to expect. Nose is heavy grain. Taste also heavy on rye with some caramel and spice. Decent finish.
Nice start with some richness. Little raw on the finish.
Smooth, easy to sip.
It has a wood flavor that I did not find appealing. It's harsh, and does not expose any real notes in nose or palate. It's whiskey, but it should have more flavor than a shipping pallet.
This is a sweeter rye than I'm used to, but still had a spicy odor and finish.
flavors don't overpower each other, pretty smooth with a nice finish!
I don't sip Rye, so I was surprised how pleasant this went down. Smooth barely, malt, rye, followed by some pepper & sweetness, ending with just the right amount of burn. I think this might make a great old fashioned! 🥃
Slow initial taste but packs a spicy punch at the end. A very nice sipper.
Not a bad whiskey if you like a bit of acidity in the finish.
Great taste. Would buy.
Goes down smooth, nice flavor
First time tasting rye and I loved it. This was smooth and sweet. I'm not much of a connoisseur of spirits but I'm learning to be one.
Not bad. Above average but not my favorite.
Decent bourbon that is ultimately not memorable or distinct in any way. Has an easy drinking quality but not distinguished.
Spicy! In a good way... Has a kick and a smooth aftertaste...
Nice aftertastes
Dry and citrusy enough to tame the sweetness - which carried the spicy through to a lovely finish.
Nice combination of flavours. A little sweet, smooth
V v tasty
Balanced
Spicy and fruity!
Nice rye interesting sweet tones but not sure about the spicy element.
Just ok. Nothing to write home about.
Probably the only time I've ever said "no" to bourbon.
Spicy, Smokey, sweet, vanilla. Good sipping wine
Nice aroma, but the shock hit my sinuses and then left pretty quick. It was ok, but nothing to really write home about.
My reviews are usually more substantial but this is a day old (lol). It's like this, light on aromatics and body, it left me feeling like I needed more for the 6yrs of aging. It didn't wow me or cause me to take notice. It's a pass for me.
It's good but it don't blow your mind
Reminded me of the rye whiskey version of a jalepeno-IPA a local brewery makes here in Charlotte that I enjoy quite a bit. A good value for a light spicy rye.
On the nose I smell something that reminds me of smoky BBQ, which sounds odd but I kind of like it. Definitely has some spice but it's not overwhelming. A good savory, not so sweet, rye.
Smell:. Peppery brown sugar with Slight caramel. Taste:. Almost butteryy rye spice and wood, that's it. Finish:. Dry pepper. Not my favorite straight up, but great mixed to add a spicy peppery aspect. On rocks: peppery spice is all I get.
Good sippin' whiskey, as Grandpa used to say. Great nose, not-to-strong not too harsh palate, enticing finish. Makes me want another, the ultimate test.
I enjoyed this rye a great deal.
Clean nose with hints of sweet breads. Light, clean mouthfeel with very light flavor.
Was the best of the three. Good spice note but not over the top.
Solid drink. Definitely caramel forward. Enjoyed, but not the flavor profile that makes a go-to rye for me
Pound for pound I would say this beats Bulleit, which says a lot because that is my go to when it comes to Rye. Highly recommend this bottle for those that don't like the harshness a rye can bring but like the smoothness that a bourbon does.
everything a rye is supposed to be with a slight spicy bite that nevers seems to be more than a smooth final delivery to the tongue
Not for me, I'll stick with Rittenhouse
Very fruity on my palate. Smooth.
Very smooth rye, melts like butter on the palette.
This has been a fan favorite at the home bar. Everyone seems to love this rye. Got turned on to it through one of the tasting boxes. Not too sweet, but very smooth. Definitely plan on reordering.
Pretty good, would make a good daily drinker.
Fruit forward bouquet was pleasing to the palate. Spicy notes were subtle but noticeable. Not too sweet...just right.
Not a fan, I like the spicy but otherwise tastes like cardboard.
Creamy and malty. That is a delicious taste of America.
Leaning toward bourbons for decades, it actually surprises me that This was my first clear identification of rye flavor. After tasting this I realized I'd detected it before... but not so clearly. Wild Turkey 101 came to mind. I tasted the WT 101 after finishing my glass of FEW rye, and the FEW was hands down a winner. Much more complexity and way more smooth. This is a bottle I will be keeping on my shelf at all times. Traditionally I'm a bourbon man, but lately scotch has captured my interest... however THIS rye whisky has me captivated completely. I feel like I'm cheating on both my wife and my lover when I settle in with a glass of FEW rye. Very, very good whiskey.
Very spicy. Can't really taste the citrus, but get a subtle hint of caramel after it's done kicking you in the mouth.
Excellent!
Very warming and needs ice to enjoy. But nice flavor profile.
This is my first rye whiskey and I was woefully unprepared for the spicy burn. Tried it neat at first but had to water it down a bit and add ice. From then on, after a few sips, the flavor comes through more than the shock. It smells lovely, but I think rye whiskey might be too much for me.
Nice rye spiciness.
Don't care for rye, but surprisingly good and could definitely get the caramel.
The caramel really came through on this one.
Don't like rye.
Nice, not overpowering, rye taste mellowed with caramel and honey.
Light flavor, not heavy or spicy. Typical rye flavor is spot on. If you're looking for something middle of the road price, this is a good start. Not sure it would be great in cocktails per say.
Not bad, but not a favorite.
Smooth, easy sipping. Typical rye spice with a little bourbon sweetness. The overproof doesn't hit you in the mouth.
Not a fan
Not bad!
Not a huge fan of this one. Little to no barrel flavor. Very grain forward flavor Has a nice spiciness to it, but a little medicinal for my taste.
I enjoy this quite a bit. It's a very well balanced whiskey with nicely integrated flavors. It tastes of fresh grain, earth (like the smell of the dirt on produce plucked from the ground), light smoke, dried dill, allspice, Panettone Christmas bread, fennel. It's got spice, but more in the way you would describe a holiday muffin or pumpkin bread. Not spicy hot or spicy peppery. This is a good whiskey to sip on a cold winters night that was so deep.
I'm new to the rye whiskey world but this one was a good one to use as a starting point.
Not a fan.
Loved the color and caramel on the nose. Not as spicey as most ryes I have tasted. Very light spice notes.
Liked it. Best rye I've had so far.
Liked it. Best Rye I've had so far.
Sweet barley, easy drinking
Light with a slow finish.
Not a bit rye fan, but this had a bit of a sweeter taste.
Smooth with a little bite, pairs well with just about every cigar I've thrown at it
Taste is so subjective. IMHO Few Rye is underrated!. I give it 8.5 stars based on price point to drinkability. Been through several bottles now and the consistency is it's strong suit. Does not have the bite and hard finish of 10 yr. WhistlePig nor the heavy pumpernickel of a similar priced Bulliet 95. It is Rye like I like it so there...
The finish surprised me, in a nice way!
A little bit more volatile than I'm used to, but a nice dried fruit after taste
Notes of cinnamon but kind of harsh, but I'm not much of a rye whiskey person
Notes of apple, cinnamon, tobacco, pepper... Got a little bit of clove at one point. Sweet on the front, spicy on the back, and a wonderful aroma. First rye I've liked, but to be honest I've only tried 5-10... I've always been an Irish whiskey and bourbon fan.
Spicy and strong. A rye novice so I don't know what to compare it to. Hope to get more experience to be able to understand it better.
few i had found to have a grate nose a little like oak smoke with some sugar it's taste was strong yet not overpowering with a mild vanilla taste.
Made me think of baking sweet bread, very long pepper finish. Pretty solid rye, wouldn't mind having it again at all.
Much better on ice, but still a bit too spicy for my tastes.
It's a sweet rye good for those who like bourbon neat.
My opinion is that if a whiskey or bourbon can be enjoyed for its flavor neat, then it's a quality drink. I enjoyed this one neat.
I like rye, not a fan of this one. There was nothing special about this
Not impressed as the first taster I tried from Flaviar. I was excited to open the Rye first as I'm not as experienced in Rye. The Ryes I have had, I've liked a lot. I'm not a mixer with my spirits so I drink them with two cubes of ice. Few Rye just left me wanting more.
Not a fan
This rye honestly had too much going on. You can smell the pear when beginning your sip, and then you taste some citrus, and then you get a burnt and rye finish. It wasn't too smooth going down.
I was not a fan of this rye whisky.
The spice stands out above everything else. Sweet and easy to drink. Smooth, doesn't have much of a kick.
Aromatic nose. Definitely can smell the wood notes. Smooth with a nice balance of spice and vanilla.
This one was ok. It grew on me as I drank it more but it wasn't a standout. I got a lot of citrus, honey, and burnt wood.
Had to make it into a Manhattan to stomach it
Of the welcome box selections, this was the real standout for me. The rye spice strikes right up front on the nose and the palate, with shining pepper notes and zest, carried through the finish on a solid bed of corn sweetness. Tasty as hell. Tasted in a Glencairn glass.
Very smooth, not spicy, hints of caramel... need more!
Nice warm peppery note. Smooth finish, this is a good rye.
Disclosure: I drink mine over an ice cube. I do like the flavor. The normal caramel, spice, rye, honey. I'm not getting anything too unique, here. Tasty.
Not bad at all
Tried this one both straight and chilled with a splash of water. Straight, it was so sharp that I could barely swallow it. I didn't get any sweetness, only spice. Chilled with a splash, it became a little more palatable, but still not one I could imagine wanting to taste again..
Strong honey off the nose, follows through on the taste as well. Not super spicy for a Rye and well controlled. Somewhat single note though but prot makes an amazing base spirit for a Sazerac.
Lush, complex, and spicy.
To date my favorite rye I have tasted and am heavily considering getting myself a bottle of this for the home bar. Great complexity, love the 46.5%, beautiful rye flavor and goes down very smooth. Would love to see a 10-12 year aged version of this product on the market.
Too spicy!
Being new to this it was really hard for me to taste the differences of the whiskey's and there characters. However, the rye was so distinct and different. I was pleasantly surprised by how much I liked this one
Really good, smooth and fruity. Very mild and pleasant finish.
Very good. Sweet smell and spicy taste that mellows into sweet citrus flavors. Big fan. Would buy a bottle for the bar.
Great Rye extremely smooth.
Aromatics: fairly straight forward sweet notes of vanilla and cinnamon with a hint of butterscotch which (yes) is what's above in description. Flavor: immediate spicy overtone of rye grain zest, a citrus tang of tangerine rind oils, cayenne dark chocolate with a nice white pepper finish ala a good Paso Robles Sauvignon Blanc. Impression: I could get into this when I finally start adding Ryes to the Bourbons. Would make a nice old-fashioned.
It's got a bite like a rye, but very smooth and sweet. Very strong Carmel taste with a strong pepper undertone. Phenomenal. I will buy this bottle.
we got a real hot mic here. That's a Rye for sure. Pretty clean, you get the spice of the rye and not a lot of linger.
Fairly smooth with an easy finish.
Spicy with woody notes. The body is relatively short-lived but overall a good-tasting sipping rye.
Not terrible
Light, sweet aroma. Complex taste... Carmel, something sweet and fruity (pear or banana), with a rye and pepper bite. Mine was from the sample kit, so I had it neat. Might be better in an old fashion or over ice.
Not my favorite. very dry tasting and spicy.
Sweet and smooth barley beginning with an spicy fruity (more spicy) finish. Would recommend and would like to have this bottle in my bar.
Explosive flavors from the start. Not my favorite finish. Licorice notes
Very bold flavor, but smooth around the edges and great complexity in taste
I think this was very good. The nose is awesome and the taste is smooth and malty. This will surprise you every time.
Beautiful caramel color. Intoxication to the nose. Very smooth on the palate. Recommend neat!
Nice spice I think it would work well in an old fashion with the spicey finish against the citrus and bitters.
Pleasant "rye" bite, and heavy on the caramel and (unfortunately) black pepper. Pouring over ice is recommended and brings out the caramel, honey, and light spices nicely.
I don't know, made an old fashioned with it but I couldn't really taste any flavors. Like I was about to taste something like sweet or honey but it just had that harsh alcohol taste and smell. Very strong as well not that the alcoholic content is anything above normal.
Made myself a sazerac with it and its was quite good
Really nice balance of grain, fruit, vanilla, oak, and spice
Super light nose - sweet, spiced bread. Taste -bread, caramel, cinnamon Bitter unimpressive finish. Uninspired. If I had bought this, it would probably end up in an old fashion or Manhattan. If it cost more than Rittenhouse rye (my go to old fashion) i would not buy it... probably wouldn't buy it period.
It's alright, rye spiciness doesn't come on too strong, finish is fairly weak. But overall a pretty smooth light sipper.
Peaty!
Amazing bourbon. Smooth, sweet
Thought it was ok. Had some strong flavors but fell a little flat for me
Favourite brand. Sweets and strong
Was a nice rye, not heavy in any variable. I found it smooth with a nice finish.
Smooth peppery taste with a bit of a Citrus finish... good solid rye whiskey
It is an outstanding, balanced, Rye Whiskey with an aromatic birth, while a rich life leads to a long & balanced death with notes of pepper.
Caleb loved this rye whiskey. It tasted very smooth and sweet. The smell of this spirit was disingenuous as the flavor was far sweeter.
Very smooth and loved the honey finish.
Really enjoyed this one. Opened with rye spiciness undercut by maltiness, then lots of vanilla with some honey and caramel, and then a surprising finish of baking spice. The hard rye hit at the beginning might turn off some, but the malt sweetness smoothed it out nicely and the rest of the flavor progression was a fun ride.
Surprisingly good. Very long finish, but not harsh.
Not my favorite, guess I'm not a fan, a bit spicy, I had to really water it down
Nice. Little burn on front. Vanilla. Not overpowering.
Pretty good.
Very surprising spicy finish. Perfect sipping while watching the baseball game.
Not a big rye drinker but this was very pleasant all around. Nice aroma. Interesting taste, better than the other ryes I have had.
It was okay but not a fan of rye whiskey.
Very smooth and easy to drink
I don't get the malted barley but solid honey and caramel. Nice rye spice. Nose and finish could use more.
I've always been a Scotch drinker so Rye Whiskey is new to me. The smell was really nice, sweet with caramel and barely. I really liked the sweeet, spicy flavor, but the finish tasted like a surgical glove to me. As this is my first Rye, I will have to explore further to determine my likes and dislikes.
Initially a medicine-like taste to my tongue. The spicy component saves the drink somewhat.
Yumm. Love the warm spicy taste.
Very solid. Cant go wrong. May not be your favorite, however, you probably wont be upset either.
Solid spirit. It's the runner-up in the taster I received
Love the spice!
Easy to drink, dry and leaves a nice spicy finish.
Great flavor. Mildly spicy to me. Very easy drinking rye.
Hints of a single malt. Spicy. Smooth. Nice sweet honey scent.
The malted barely and caramel flavors make it pleasant to drink. Great to pair with dried fruit.
Rather spicy. Very rich tastes and interesting flavors.
Good
Spicy and sweet, just a little bit. A little harsh to sip but I mixed it up into a Sazerac and it was really good.
That's a really nice rye. It's mild with a rich mouthfeel and the rye sneaks up on you at the end. It might not be for a real rye head, but it's a good transitional brew.
For me a rye is usually a mixer but I always like to try them first. This one has a great nose, and an interesting start, but left me with the taste of rubber band for the finish.
Good Caramell flavor with just enough right sweetness
Best of batch in the introductory box. Like a good night in Chicago- cool, sophisticated, but friendly.
I really am new to rye whiskey. Actually liked his one a little better with a splash of water. I had a hard time tasting many of the flavors. Definitely had a peppery finish though. I'll keep an open mind on Rye for now.
Not a huge fan of Rye, but this one was nice. A good balance between sweetness and heat
The sweetness is what makes it so smooth
Smooth with both sweet and spicy notes. Will be buying a bottle.
I'm not a whiskey fan, but I loved this. Very smooth with the hint of sweetness and a burn that lasts just long enough.
Never had rye before, this was OK, I guess.
You can really taste the fruity flavor Along with the space
I'm not generally a fan of a traditional whiskey but this had a very bourbon taste to it. I'd buy a bottle of this
👍
Decent whiskey for the price. Fun blend of spicy with caramel & honey. Won't be purchasing full bottle for collection but was nice to try
Not a Rye fan but, this one was good
Nice rye nose and flavor. Good spice with some licorice. Finish was warm and spicy.
Love that spicy end note. Lots of pepper. A definite winner for me.
Smooth with a little spice to it. I really liked it.
Great initial Taste spicy bite at the end. Not for me
Spicy with orange, chocolate and anise. Its a nice, enjoyable rye, but not my favorite.
Rich caramel aroma. When first hits tongue the honey comes through with the pepper and fruits flavor to finish.
Real sweet and spice. I only did neat and very little at a time. Delicious.
This was first Rye whiskey and I liked it! I liked it on the rocks.
It was fine. Wouldn't kick it out of bed, but might not invite it for breakfast.
Overpowering flavor of spice and barley
Not my favorite rye but not bad! There are better examples for a better price out there for the price point I will probably pass on this one.
Spice tends to overpower the other flavors.
I really enjoyed this.
Really heavy on the spicy front, was alright once mixed with water.
Very nice sipping whiskey
Ok, a little hot for me, couldn't enjoy the faint hint of honey- vanilla, maybe black licorice.
Never had rye before, but I kind of liked the maltiness of it. Also quite smooth.
Wonderfully spicy and foreword—preferred this one on the rocks with a splash of branch water.
Don't like Rye whiskeys. That being said, the finish was smooth
very tastey
This is my favorite rye! The balance of flavors is magical, just the right amount of sweet, strong rye, smooth and lingering after. I like it both straight and in a Manhattan.
My first taste from the club and it hit out of park. The rye was right on point, strong flavors with great after taste. A bold drink
I loved it, but it definitely is only for certain tongues. I love intensely complex and bold types of flavor, black licorice, for example, is a big flavor coming to me from this one. If you want a good bite surrounded by a hint of smoothness with a balanced spice burn at the end, try it. If you're looking for aged and smooth/easy drinking, maybe not for you.
Goood
Definite notes of honey and vanilla and a spicy finish. A little immature needs some age to round it out.
Get the rye aroma and flavor like you would expect from a rye. There is some malty notes as well. Spice hits you in the flavor and ends with a sweetness. Reminds me of fruit but cant put my finger on it.
Bready. Otherwise disappointing
Brady. Disappointing
Good Rye. A bit dry for my taste.
Great rye. Nice spice, grainy/fruity mix. So good.
The honey and caramel round it out nicely.
Don't like the smell of it initially, but sort of smooth at the end
A lot of flavor !! Fantastic rye !
A bit underwhelming for the price point. Not a bad rye though. A bit "minererally" that is what threw me of and the finish is a bit short.
Very easy to drink.
Smooth to start and pepper on the end. Definitely drink on the rocks.
Good taste, great finish
I liked it a lot. Good to drink on the rocks.
Got some spicy notes at the start and lingering through the finish. Bold flavor with some hints of honey - and, of course, rye. Not bad, but probably wouldn't buy it. Prefer things more on the smoother side.
Solid rye. Love the honey notes. A little pricey for what it is though.
Really bold flavor very peppered flavor.
Definitely tasted the pepper, spicy, and caramel flavors. Interesting taste, but not my favorite.
Good. Strong flavor. Tastes and smells woody.
For the price.. I can find a better tasting whiskey... but this is definitely a whiskey for someone who doesn't like the sweetness of whiskey.
This is a great whiskey for those who like rye or who aren't sure what rye tastes like - the rye is the dominate nose and flavor. Nice spicy finish. Will enjoy again
I enjoyed this one. Not my favorite whiskey, but it's good. My favorite of the three in the Welcome Box
Spicy
Good rye. Would be good in Manhattans. Barley and a little sweet.
So I saw a lot of people saying this one makes them realize they don't like Rye. Well, it was the opposite for me. I thought I liked Rye and now I'm sure. Found it smooth and a hints of oak and spice without being spicy. Great overall taste.
Not a fan at all. The rye in the aroma overpowers any notes of vanilla, brown sugar, or cinnamon. It is a smooth whiskey, but my pallet cannot pick up the flavor profile. It has a strong finish of pepper and citrus. Not worth a second dram.
Amazing and smooth
Not my favorite. Weak rye flavor, harsh pepper and citrus notes. Finish is very medicine/antiseptic like and lingers.
Aroma: Rye and brown sugar Flavor: Rye and honey with a spicy finish Decent for sipping but missing a little something which keeps it from being a favorite. Probably best for manhattans; not enough rye to stand up to a sazerac.
Great whiskey. Doesn't represent a Rye well.
So smooth. Citrusy and spicy. Easy drinking. Good hanging out on the couch spirit.
its really good
Not smooth, pretty spicy. Nice flavor but not exactly enjoyable.
Smells like turpentine, nice caramel and dry finish. Would love to try this in a Manhattan. Came in my welcome basket.
The harshest of the welcome box. Better on the rocks to take the edge off. The pepper taste is prominent without being overwhelming. Not bad.
The description and flavor spiral is spot-on. Definitely an enjoyable rye to sit back and sip on a drab after dinner. I enjoy how it seems to tip-in with honey and malted barley before hitting you with the pepper and spice before finishing with a hint of a buttery sweetness that hangs around for a bit. Definitely one to consider adding to the bar.
Have not gone deep into the Midwest well just yet, but this was pretty good. My experience is mostly with Kentucky Ryes. Could have had a little more noteable finish, but overall..I'd say i'm a fan.
The dominant flavor in this is the pepper and spice. I like it as a novelty but it is not something I would seek out for a full bottle.
Just average. Came in one of the initial tasting casks. Kind of a rough taste and finish.
Was cautious with an Illinois whiskey but since much of the pre-prohibition rotgut came from there via the cheap whiskey baron Greenhut (who killed better distilleries) I figured what the heck, give it a "shot". Actually given the good reviews and the sample in my taster box, I bought a bottle. Being a big rye fan, I love it. Very earthy sweetness behind the rye spice and heat, it reminds me of the earthy smell of wet sasanquas (a flower in the Camellia family here in Louisiana), which is my favorite smeoon the planet. Nose is pure earthiness and floral. Pallete is hints of cinnamon and other Christmas spices with some cayenne heat. Will buy another bottle when this one runs dry since you can't get this yet in the original American whiskey market- New Orleans.
My first Rye, so I am not a very good judge.... yet
Loved it
Not a rye drinker normally, and I'm not sure I'll ever develop a real taste for it. That being said, I can still recognize a good quality spirit, and this is definitely good. It has a great mouth feel initially, very silky smooth, and a great flavor of honey and spice. Cinnamon wasn't on the flavor spiral, but to me if you made red hots out of honey, that would be a pretty good comparison. It ends with a nice tingly caramel finish.
The smell is a bit of a deterrent at first- like paint primer. But the taste oh my goodness. Buttery. No bite. Smooth. Love the corn flavor.
I'm not normally a fan of Ryes but this whiskey is exceptionally smooth with a great finish.
Smoldering after-note. Pleasant, but not dynamic enough for me.
Little more smokey than my pallet prefers, but still a very good drink.
It has a sweet, Carmel taste that was quite enjoyable. Got a bottle after tasting.
This is a sweet whiskey with a deep caramel tone, easy to drink with a little after bite. Nice place between smooth and harsh it's neither.
Like the flavor, smooth
Loved it
Lingering pepper spice
Very bold flavor, but smooth around the edges and great complexity in taste.
Nice and smooth with spicy finish. Enjoyable with each sip.
I have never really enjoyed Rye, and I'm sad to say this one wasn't much different for me. Very bold, and for me didn't spiral well. I think it would be a good mix but not neat.
Didn't think I liked Rye before this. Distinct floral on the nose. Solid, juicy bourbon in the mouth. Definitely taste the dryness. Really nice overall. Would definitely purchase. Pure rye, fruity tone coming through with complexity on the back of the tongue.
Moderately sweet and fairly smooth. Possible notes of vanilla?
Love the mouthfeel
Nice and spicy, and it sticks with you.
So glad this one wasn't too malty; just enough earthy sweetness in the backdrop, with all the moxy and pepper up front. Held up to a few drops of water as well, as it blasts its spice out when given a drink without being clingy on the palate.
Too much pepper. Can't get past the aftertaste. Not a fan, but everyone has their preference. Rye whiskey isn't for me.
I had a difficult time distinguishing the flavors in this whiskey, but I did enjoy it. And I love the smell. It was smooth enough to sip. I've never really tried Rye whiskey before, but this one was good enough to open my eyes to the possibility.
Lot of bite for a bourbon with sweet finish
Good, strong rye. Plenty of nose and good spice.
Loved the complexity of the flavors! Never tried a rye before. I was impressed.
A fine rye. A bit too spicy for my palate.
Nice rye. Light fruit and a spicy finish. We enjoyed this one.
I'm guessing I'm not into Rye.
I really like Rye, but this one just didn't sit well with me, I got the weirdest nose on this it smelled like a tire store... also got some honey, and play dough... the taste was VERY honey strong, and not much else. Given the choice I would take Bulleit ALL DAY LONG!
Decent, but would not pay $56.00
Nose: rye, corn Taste: rye, spice, some fruit and light honey
Has a great aroma of vanilla and cinnamon. It's overall really spicy. It was a nice change of pace from the normal rye.
Delicious rye sharpness and flavor, while nice and smooth. Great flavor.
This tasted weirdly like home to me. Yes. Solid pick for the welcome box.
Not a fan.
Smooth rye, warm lingering aftertaste. Not really worth the price point but a pleasant drink.
Smooth sweet rye whiskey, not really worth the price point, has a strong alcohol taste but the aftertaste is warm and long.
Taste of honey, runs hot
Delightful
Gross
Surprisingly smooth whiskey. I haven't been a fan of Rye Whisky but I did enjoy tasting this. I think it's the bit of sweetness from the honey that really smooths this whisky and makes it easy to drink.
Vanilla nose and smooth drinking. Spicy from the rye but honey comes through.
I'm pretty new to Ryes but I really liked this one! I enjoyed the spice and bold flavor.
Eh - if I'm honest I'd have to say it smelled and taste a bit like rubbing alcohol. Not a lot of notable flavors jump out when tasting.
Meh, much better rye options out there
Not my favorite, but thank you. A few drops of water did help me find more of the nuance of flavors. I appreciated the honey, but too much spice for me.
This packs a wallop. It was a bit harsh for our taste.
Spicy on the forefront with a sweet caramel finish. I'm not usually a rye guy (don't get me wrong, I'll drink it when offered) but this one could change my mind. If you like spiced rum or black pepper, you'll dig this.
A decent rye, but suffers from too many spicy notes. Similar to their spicy bourbon but overpowering in the rye form.
Way too spicy for me. Even with water it was too much. Might be good mixed wit hot cider.
Very sweet aroma of caramel. Finish is rough probably due to the alcohol content. Leaves a burn in your throat.
Have not sampled many rye whiskeys, but this one is a favorite for me. Loved the spiciness. Going to buy a bottle.
Great flavor. Smooth with a good aftertaste. Really enjoyed it!
Ranked 4th of 4 for both Jeremy and Jason. Would not buy ever.
Not a huge fan of the rye, but if it's your thing, not bad. Good taste and great color.
Love the spicy flavor
Really smooth with good combo of sweet and spice
Never really liked rye whiskeys prior to tasting this one. Smooth, sweet and spicy. Might consider adding this to my home bar.
Nice and spicy. I get some cedar which is interesting. A splash of water brings out the sweeter notes of fruit. Very good rye.
Very good rye. Has a very nice spiciness to it without being unbearable. One of the best Rye whiskeys I've tried.
The more rye whiskeys I drink, the more I'm not a fan of them
Spicy and sweet.
Grainy, and very tasty.
So/so, a little to mix rye
Spicy and grainy. A bit too much if you don't love the warming feel
Lacking in flavor but okay
Not a rye guy
Nice sweet taste
Sweet for a rye. Like the spicy sweet mix.
Nice barely flavor
Has a little bite ... some sweetness, and a little smoke.
Whoa pepper! Spicy in a way that would go well with a steak but a bit harsh on it's own. Good liquor but needs to have something to hug, other than your mouth alone.
As rye whiskey goes it isn't bad, but just over the top for my preference.
Very sweet initial flavor followed by strong pepper spice.
The vanilla aftertaste is great, but the spiciness turns me off to it. Still a decent whiskey though.
I thought this was a great Rye. It has a nice flavor with a smooth finish. It isn't a whiskey that I would drink often. It is, however, a whiskey that I would have occasionally, or when introducing someone to something new/different.
Not too bad. Very smooth.
Muted flavors
First time tasting a rye, did not enjoy it
Not a bad rye at all. If you're new to them, you should start with this.
More spice than I typically enjoy, but quite good. Sweet with notes of caramel.
Spicy rye!! A tad harsh, but I enjoyed the complexity.
Just beginning my appreciation for rye whiskeys. Love the nose on this with a strong rye aroma coupled with a hint of cinnamon. The rye continues to come through on the palate.
Never had a rye before, very interesting
Comes on spicy pretty quickly.
Strong barely and rye up front. A bit harsh for my tastes
Sweet nose like spiced cookies and a warm grain taste.
Will definitely buy a bottle of this.
Tasteful rye. It has a raw grain taste initially followed by a spicy astringency which lingers and finally finishes with a warm caramel flavor.
A rye from Illinois. Nose: Tons of spice. Clove. A touch of anise. A whole lot of black pepper. Some dried fruit underneath. Some must buried underneath; takes some digging to get to. Palate: Rye, obviously. Still heavy on the spice. More clove than black pepper. Some tannins. A touch of cinnamon apple. Finish: Lasts a long time. It's a good, rye finish.
Only reason it got 3 stars is because there was no anise flavor. I found this very rough and very spicy. Might go well with some kind of apple dessert, to counteract the spice.
This is the best of the three in the tasting box.
While a lover of whiskey, rye, and bourbons, I found this rye too hard to keep down. I am not a professional so I don't know the finer points of tasting, but as a person who likes to sit down and have a drink every once and a while, I will not be reaching for this one any time soon.
As a huge rye whiskey fan I was disappointed with the corn blend which pulled away from the natural spicy component to rye. Seems as if they tried to compensate with pepper but it doesn't give the same rounded and not overpowering complexity that rye gives. I can tell it's craft and that they put a lot of love into this but I'll pass. There's also a level of flavor that's been stripped out of this. Not enough head in the distillation or maybe they charcoal filtered it? That said the backstory to this whiskey is unrivaled and I'll try more of their offerings in the future.
Very nice! Pine and lilac nose. Full flavor, warm, caramel, spice.
As a fan of rye whiskey, I was impressed with the flavor. Sweet at the beginning with a fine peppery finish.
Very smooth in the beginning with long lasting spicy at the end
Not a fan, to sweet at first and finishes like cheap booze.
Sweet at the beginning, smooth, and a nice short finish; with many flavors. All I had was a sampler; so I didn't have enough to figure out the individual flavors. I will definitely think about purchasing this one.
Sweet up front; little bit of spice on the back; very smooth.
It has a bitter flavor but a lot of interesting tastes
Enjoyed the flavor profile of this rye. Well rounded and a great finish.
Syrupy, lots of honey flavor combined with traditional spicy rye. Not sure I like this combo. Good for sipping if your in the mood. I could see it as a great fireside whiskey on a cold night.
Great flavor. Smooth and balanced.
Strong spirit
Not too sweet with a good rye feel to it. Was smooth however a bit strong. But the higher alcohol didn't ruin any of the flavor.
Tried it neat and with a little ice. Liked it much better with a little ice. I do get the honey and caramel. Decent rye. I liked it much better than WhistlePig.
Have to say this is one of the better rye whiskeys I've had.
Rye taste prevalent then a honey sweetness. Long spicey finish. Solid rye but overpriced for what one gets.
Rye holds up for sure but something else felt deterring to me. I could work more with this but don't think it would be a regular since I find more enjoyment in less expensive variants. I believe worth a taste at least and possibly more to get better acquainted.
Became more acquainted with this as I sampled it against Bulleit, Rittenhouse and Whistle Pig. Have to say, I find more to appreciate and respect after the first taste - with certain complexity that I'm sure was carefully crafted. Think I still stand by the 7 but could lean closer to an 8 (just a sharp price to pay that keeps me from a sure 8).
Definitely spicy!
I did not think I would like a rye but this was great! This was awesome in a mule with a small lemon wedge. Typically I am a bourbon drinker but now I will have to explore other ryes.
Good for a rye but I'm not a huge Rye drinker so it was just ok for me.
Very smooth. A fantastic rye
First Rye tasting. Really enjoyed this. The honey and barley really stood out. Nice pour.
Good flavor and sweet aromatic.
Strong notes of malted barley. Enjoyed it best with a bit of water added. Good introduction to rye and looking forward to trying others.
Great taste, smooth finish
Really smooth and great flavor.
I truly enjoyed it's smoothness on the palate. And it is flavorful, but retains a very clean taste. No bitterness afterward. Very nice spirit indeed.
Decent, but not great. If I rated this after the first taste, it would have probably been a 5, but the flavors became more apparent as the ice ball melted. Overall, it was a good drink, but I wouldn't carry a bottle in my bar.
Smooth as silk, great taste.
For Rye, this was fairly flavorful. That malt was definitely present, also a fruity almost pear flavor to me. As rye goes, I liked it.
This went right up my nose. But after that, it was nice.
Not bad
Nose of citrus peel, mellow rye spice, pumpkin pie. On the palate, there is promise: toasted marshmallow, orange oil, very comforting, very nice. An easy dram. The finish is a bit of a letdown. The flavors dissipate pleasantly enough, but there's no real there there. When it's over it's over, and it doesn't impart any mystery that would invite you back again and again.
Not bad for a rye. Bready and grainy flavors. Didn't taste pickle, so that's nice.
A bit harsh.
This one was worth the intro kit. Loved the malt, smooth with great caramel and honey supports.
I guess I just don't like ryes too much. This has good flavor though.
Quite a bite and a bit of a harsh finish. Ice balances it out but at this price point, I'm not a fan.
Spicy, hot and the Rye stands out A LOT! In the right cocktail it could be incredible, but not my cup of tea. Interesting story behind the bottle though!
Not as fruity as some other ryes I've tried, but I did like the aftertaste. Very smooth. Good nose.
Pretty decent but nothing special
I love this whiskey! So I floral and easy to drink. Can't get enough.
This is an absolutely delicious rye, with multi layered notes of honey, oak, vanilla and strong pepper. A gorgeously full and complex whiskey. I got this in my sample box and am just ordering a full bottle.
This is an interesting one. The nose carries sweetness, honey, and orange through to the palate. The finish reminds you that you're drinking a rye - the sweetness fades, allowing the peppery spice to come through. I feel that the finish is missing something, but I can't quite put my finger on it.
Very tangy rye, enjoyed quite a bit.
The only other Rye Whiskey I have had is Pendleton, which I enjoy. This one is just not for me. I received it in the welcome box. The aroma I got was a strong rye, cinnamon and brown sugar smell. The flavor was very strong on rye and honey. The rye is just too much for me.
This was my first rye. Not bad, but I do like a good funk in my spirits, and this one didn't meet my expectations of funkiness, I suppose.
Smooth taste. Great addition to any bar.
Not a huge fan of this rye whiskey. As many have pointed out, it does have an interesting spiciness to it. It's a bit harsher then I care for and I feel like for the price, there are better options.
I liked this one. Different than what I'm used to and still smooth
Very nice surprise. Lots of flavor, unique, assertive without be overpowering.
Well rounded, malty, with a nice pinch of orange zest and pepper on the nose. Soft on the front but spicy and solid on the way down with some linger of dried fruit. A truly good rye...
surprisingly sweet for a rye, with a strong aroma of the mash. Water seems to diminish the experience with this one - brought out more acrid qualities. Nice, rye appropriate spice. Not too hot.
Come from sampler. I wasnt sure if I cared for it at first taste but I kept craving more the more I tried. I am going to pick up a bottle and hope I continue to enjoy.
I don't think I have ever truly described a drink as truly spicy before in the same way food can be spicy, but this Rye is exactly that. The Flavors of Rye, Pepper, and Of course the ever present Spicy flavor dominate this drink. Yet they are not too overpowering, there is a sweetness that rounds out this drink and make for a long and surprisingly smooth finish. These flavors make it extremely enjoyable if you like spicy foods in my opinion. This drink may not be a good day to day spirit but it is certainly an experience that I would like to share and revisit on a regular basis.
Not a fan, strong aftertaste
It was one of a sampler. I didn't like it. I need to sample more rye but I have a feeling I won't like rye.
Rye proeminente! Fruity!
Unlike so many whiskies, very sweet and juicy but the finish is like a dry spicy pepper. Smelled a bit like tobacco with the more typical vanilla and honey.
Musky
One of my fav. Super smooth
Nope. Just nope. Unless you like a strong drink, not for you.
Really liked this. A little spicy. A little caramel, though lighter than a scotch. East to drink. The first rye I think I would buy again.
Very smooth start with notes of orange and honey. Very easy drinking, add to your list.
Definite rye notes balanced with a smooth, caramel-y flavor. Yum. A fave at this year's Swingfest golf outing.
This was really good. Smooth and packed with flavor.
Nice body, flavor depth, and strength of cask!
An unapologetic drink. Strong, intense, but subtle. Rye fans who enjoy something on the harsher side should give Few a look.
The nose is incredible, with spicy, woody, and vanilla notes. The taste matches the nose, with a long peppery and fruity finish. This is definitely a good go-to rye.
Very nice. Nice sipping. Nice!
Not my favorite.
I'm not sure what happened between now and the last time I tried this, but I'm finding a very enjoyable caramel-like mouthfeel. (Btw I hate the term mouthfeel). It's still as fiery as I recalled, but I guess I'm just more predisposed to a warmth in the ribs tonight. Wish I had more!
It was good, I really enjoyed it
I really wanted to like this Rye, but it was a bit too harsh for me. Don't get me wrong, I'd drink it, but it wouldn't be a first option.
It's ok. It's too hot for me. I diluted it some and it is still too hot.
Smooth and strong with a clean finish. Warms all the way down.
not great
This is my first experience with rye whiskey so I don't really know what it is supposed to be like. If this is a better example then I probably will not be a fan of it. To hot and spicy -too much like moonshine. If that is what it is supposed to be, that's cool, it just isn't for me.
tasted the rye flavors and lots of spice. Not a big fan of ryes (yet) but I think over time they will grow on me.
Lots of rye, malted barley, honey, and spicy fruit. Dry and peppery aftertaste. Smoo
It was the perfect mix. I am a new rye whiskey fan!
my first rye, got this in the welcome box. i loved it!
Carmely rye richness! Kick on the finish. My new favorite for rye cocktails...Honestly 5 stars on ice alone, 8 stars as a mixer.
this was an amazing rye for me. heavy smell of the caramel and a nice rich rye flavor. very smooth finish. definitely my favorite rye. little spicy notes but not overwhelming at all
I can see why some people might like this but I do not. All I am tasting is rye and barley.
wooooohhhhh this one was not for me. fire in the chest.
Jasmine/floral, dried corn & caramel on the nose. Pepper & floral... DRY. Not bad, but not for sipping neat.
Good but not great, a young rye aged in small barrels. Meh
I'm not much of a rye guy. This was high quality, but not my preferred flavors.
Not too bad..
Has a lot of pepper on the finish and taste a little rough to me. Much better ryes to be had at this price point.
This is my first rye whiskey and it has a very peppery finish. Pretty smooth going down.
I'm just getting into Ryes but this one is extremely flavorful. It is a little rough on the smell test but comes through on the taste with full flavor and slight smoothness.
Nice rye - not as sweet as most and pretty smooth. Nice for a change.
Not a fan of Rye however, this one isnt bad. Fairly smooth, not strong on the nose. Very strong black pepper at the end.
I think the evidence is mounting for my preference for lower rye content in whiskey and bourbon. Seems like a always get the spicy after taste. Not as smooth as I would like. I can smell the sweetness and I taste the honey initially before the pepper and spice takes over.
Extreme burn at the end not very smooth
I love rye. I loved this bottle of rye.
Not bad, The spiciness is the most dominate quality. It has a bit of zing that betrays it's bland aroma. Aside from that, not much else to say. It's certainly not a bad whisky, but not necessarily I'd want to buy.
Subtle flavors, warm
I thought this whiskey was remarkable for the price. It had a pleasant punch to it that was refreshing and was an attention grabber.
very harsh taste straight, mellowed out with ice and a splash of water
Nice flavor and subtle bite, definitely one of the better ryes. Over priced for me, wouldn't pay more than $50.
Full bodied, bold, and spicy. Strong flavoring throughout with a little bite at the end.
Love this! So smooth and great tasting!
Full bodied. A bit sweeter than Whistle Pig, for reference.
Like it a lot, rye whiskey is my favorite
Very good. A little bit harsh up front, but it mellows out into a caramel and barley sweetness that is a true pleasure.
First time tasting Few Rye Whiskey. Really enjoyed the carmel noise and the smooth finish. Will have a bottle in my bar soon.
Not bad, nice pepper spicy finish. Sweet hints, nice evening sipping whiskey.
Nice spice, with a caramel sweetness.
The caramel and honey come through strong, making this a perfect match for late summer sipping.
Spicier than I particularly care for, but the hints of vanilla and wood are quite nice on the nose.
Smooth and easy to sip, but you still know you're drinking a rye. I could drink this again.
Not as bad as I was expecting my wife enjoyed it more then I did but I can see sipping on this before bed.
Not too big on Rye. This one did feel smooth but the spices are there
Decent Rye Whiskey very little burn and can be sipped straight. A little pricey though for the quality.
Lots of spices. Very smooth.
We all loved the woody taste! Like drinking in a wood shop after cutting pine planks. Some of us weren't a fan of the buttery rye.
The malted barley and rye were a little strong to start. As I kept sipping it smooothed out nicely. The caramel and honey mixed well with the peppery finish. Solid rye with a good story.
Not really what I anticipated. Strong on the barley and dry notes. The honey burst and spice is noticeable. Ditto on the slow long peppery taste.
Starts with a rush of flavor that dissipates in a peppery flourish. Love the taste of this
Mild & sweet to start, but finishes with that spicy rye bite.
Super smooth - almost can't taste the rye. More vanilla than caramel.
Mild aroma. Dry-Not too sweet just subtle pear/fruitiness. Spicy.
Very smooth
Smooth and silky
Very smooth, caramel flavor, with just enough kick
Smooth, with nutty and caramel notes.
Spices, licorice aftertaste. Dates or dried fruity taste. Rye is present.
A bit harsh. Some nice complex flavors.
One of the better ryes I've tried. Really enjoyed the flavor profile.
I'm am not a big fan ryes, but it was one of the better ones I've had.
I'm personally a rye whiskey drinker. Received this as a sample included in my welcome kit, I enjoyed the spicy flavors with each taste.
This was a sample included in my welcome kit. I've never been much for rye whisky and this sample was a bit abusive on the senses until opened up with a 1/.5 slash of room temperature water. This really brings out the wood, caramel, and cinnamon notes. Pleasant enough, would sip again.
Decent
Not a long going on here. Almost no nose to speak of. Almost a mix of isopropyl and cracked black pepper. If I were to drink this blindfolded I don't know that I would know I had just been given whiskey. I believe this is the second sample I've had from this distillery and both were underwhelming. They may be better suited for hospital cleaning supplies.
Good mellow taste.
Definitely, not for me. I did not find this friendly, but I'm not a huge rye fan. It was an extremely spicy heat, with a touch of black licorice. It might be okay with a mixer, but nothing I want to drink neat.
Sweet, i like the flavor profile. May get a bigger bottle to "test" again
Sweet and savory
This is a very good rye whiskey. Smooth sweet notes to the nose. As for the tasty spicy with a nice bite and a little heat to the tongue. Very good rye.!!!
Can't understand most of the ratings. This was SMOOTH and tasty. My favorite Rye to date.
Good flavor. Smooth with little bite.
Received this in the welcome kit. Simply not a fan of the burning taste of Rye. Don't hold my vote against it.