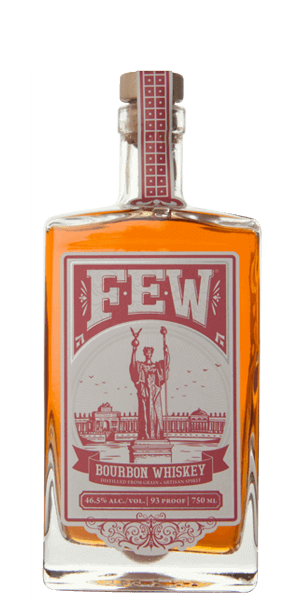 Few
Whiskey
Tasting Notes
Appearance / Colour
Caramel
 
Smell / Nose / Aroma
Sweet caramel and rich malt with hints of spiced cloves.
 
Flavour / Taste / Palate
Cloves develop and are joined by cinnamon, more caramel and toffee, tangy wood and malt
 
Finish
Lingers just long enough with the malt being the most obvious flavour.


Flavour Spiral
caramel, rye, clove, cinnamon, dry, sweet, tangy, charred, malted barley

Oh baby, I want Bourbon now.
From the city of
Evanston, Illinois,
where the Temperance movement originates, comes a craft distillery that put a stop to long-standing dry laws in these parts. Situated in the backside alley of a former chop shop,
Paul Hletko
and his skilled team are crafting the
finest spirits
made from
Corn, Rye and Barley.
The distillery's single purpose is to bring the best products made from the best grains, perfectly matured and finished under one roof.  
Now to give you a brief backstory. In the 19th century a woman named
Francis Elizabeth Willard
was elected President of the Chicago Christian Temperance Movement. She embarked on a decade-long crusade to prohibit alcohol in the US, and had succeeded.
Mr. Hletko
worked hard and lobbied against the law, and eventually, made it go away.
Ironically
 and
hilariously,
he's named his craft spirits after
Francis
(
FEW
are the initials of her name).
Bold move for sure.
Matured in charred
Minnesota Oak barrels,
this is a wonderfully unique
three-grain Bourbon.
Minnesota Oak barrels have a
tighter grain,
which gives a lot of character to the liquid inside. The presence of the three grains are felt throughout, with a
maltedness
that lasts from
nose to finish
. But the flavours do not stop there. This Whisky is rich and smooth, with the thick sweetness of caramel that combines elegantly with a signature
Bourbon spice.
These flavours jump out and make a lasting impression on the palate.  
Style

Region

Country

Alcohol

Distillery

Bottler
Few
Whiskey
(0.75l, 46.50%)
Ratings & Reviews
Member Reviews and Ratings of Few Bourbon Whiskey
This came in my welcome box, and I think I've found a new favorite. Beautiful coloring, sweet tasting, and I already wish I had a bottle.
Nice spice and a great compliment to the steak done we had. This was the first out of the taster box i tried. Very bold, but great flavior imo
Flat tasting - not powerful. Just bland.
Young. Burn on the finish just ruined it for me. I like a good burn but this was too young.
Tried it in the sample box. Did not enjoy it at all. Definitely young and harsh.
This was "C" in my Flaviar Welcome Box. I shared this with my wife who is NOT a major whiskey/bourbon drinker. We often drink Jim Beam...I go neat and she takes ice and water ("But don't drown it!" From Patricia Neal, movie: Harm's Way). We tasted this box together and I adjusted my rating based on her input. Journeyman was a "7". We would both order it in any lounge where such quality was found and we'd buy in our liquor store if they carried it!
For some reason I love this - not too sweet but smooth and slight caramel taste and smell.
Nice spicy taste but finish short for my preference
Some hints of tobacco, refreshing start to a smooth findh
The flavor is harsh and lacks depth, but one may like it if they're a fan of whiskey with strong helpings of rye. (I changed this from 4 to 5 stars because it's grows on me by the end of the glass.)
It was an enjoyable whiskey but nothing memorable. I would buy it again to have around for casual drinking and mixing, and recommend it for people looking for an enjoyable 'simple' whiskey.
WONDERFUL tobacco smell! Good mouth feel. Slightly spicy finish.
Liked best of the 3, smoother
Interesting, but i did not like it
Meh... it's ok.
An interesting complex Bourbon definitely worth purchasing a whole bottle for later.
Spicy and smooth. Delightful
Light and unremarkable.
It was just Bourbon and, as such, pretty unpleasant - I recommend that all three companies sell everything and use the proceeds to buy single malt scotch and distribute it to their former victims.
The rating I give this fine Bourbon does it no justice. I am just one who prefers light flavors rather than Dark flavors. Still a Fine Way to end the day. One Thumb Up
I didn't enjoy this one at all. It had a sour note that I could get past.
Very good! Our second favorite. Great aftertaste.
I was very pleased with this whiskey. It seemed very light but flavorful. I enjoyed it very much.
Nice in the mouth, not to overwhelming. Swish around and a little burn going down, very nice.
A sweet drink with a strong yet peculiar aftertaste.
Didn't fit my palette. Not bad per say but I didn't enjoy it
Pleasant surprise really enjoyed this. Nice finish and bold initial taste
Smooth. Fruity, sweet and delicate to the point that it's almost not a spirit. Not my cup of tea.
Few was a good sipping bourbon.
It was good.
Very sweet. I thought it was OK but probably wouldn't purchase a bottle.
Not the smoothest but pretty sweet. Vanilla Carmel and some spice. Long warm finish. Worth a taste but maybe not worth buying a whole bottle
This whiskey tastes like a Manhattan, without having to go through the trouble of mixing a drink.
Not a good bourbon at all was very unpleasant.
Caramel and cinnamon... sweet and smooth... worth a try
This one also has sweet notes. We liked sample A better.
The taste is rich... love this one
This was strangely dry on the tongue. As a novice, have not experienced that before. I didn't mind. Nose and taste were very good.
Good bourbon. Not as great as the Rye, and other bourbons are better and cheaper!
Good but a bit spicy for me.
Very smooth and enjoyable!
Very smooth.
It's a bourbon that drinks like an Irish. Very smooth. Right off the bat you get caramel and cinnamon. Then the rye comes in and you've got yourself a party. Personally, I like my bourbon to have a. It more bite to it then this, although that doesn't mean I'm not enjoying it. I think it would make a wonderful old fashioned, I just haven't gotten around to trying that yet.
Smooth and delicate.
Excellent smooth rich bourbon. In a class of its own.
Spicy
Load more reviews
Back
A Dram for Your Thoughts
Cancel