EAST LONDON LIQUOR COMPANY
Distillery
Founded in 2014
The East London Liquor Company was founded in 2014. Based on the site of an old glue factory in Bow, East London, the distillery also houses a bar and bottle shop, where visitors can purchase any one of the ELLC's four Gins, Vodkas or Rums, along with a number of other Spirits, bitters and vermouths.

In 2013, founder Alex Wolpert, bought the land and transformed it; the cellars hold aging barrels of Whiskey, the back room holds the two custom-made copper pot stills, and the front is the bar.

Wolpert enlisted the help of an expert team, including distillery consultant Jamie Baxter, whose previous experience includes Williams Gin and the City of London Distillery, and set to work on creating the ELLC's first offering; Gin – all before the doors opened in 2014.

The ELLC uses 100% British wheat Spirit to make its Gin and Vodka, and uses both vapor distillation and direct infusion to bring through flavors.
Distillery Details
Country

Established

Owner

Visitor center

Status

Address

Unit GF1, 221 Grove Rd, London, E3 5SN, United Kingdom

Phone

Website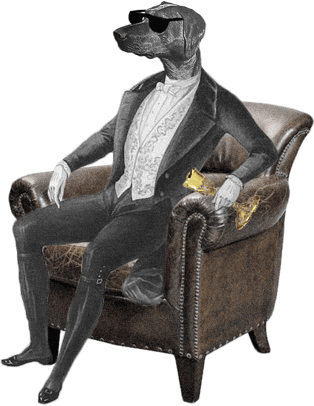 Dog Dogson's
Smartass
Corner
The East London Liquor Company is based only a few miles from where the Lea Valley Distillery once stood over a hundred years ago – one of the last places in England where Whiskey was distilled, before the recent revival.
Video from East London Liquor Company
Video transcription
Female: If you've ever fantasized about giving up the day job and becoming a Gin distiller, I'm here today at the East London Liquor Company to find out what it's like from someone who has done just that.

Tom: Hi, my name is Tom and I am the head distiller here at East London Liquor Company. We are the first Whisky and Gin distillery north of the River Thames for over 100 years. So, a typical day in the life of a distiller would involve getting here at about half past eight, quarter to nine-ish. I'll come in and, kind of, switch on all the machinery, blow down the boiler, lots of kind of boring, technical things that need doing. The most important part of my job is what's known as making the cut. So this is where when Gin comes out of a still there are certain flavors that you don't want in your end product. So my job is to stand there at 10 a.m. tasting 90% ABV alcohol as it comes off the still.

When you have these herbs and spices in a mix of alcohol and water, it's quite like if you soak a teabag in hot water for too long. It gets kind of really astringent and bitter. So towards the end of the day, they've been in this boiling mixture all day and, yeah, got to decide when to stop collecting. So I've got to taste it all again and then make the cut, turn everything off and then usually I'll sit down and have a Gin and Tonic. That's a typical day.