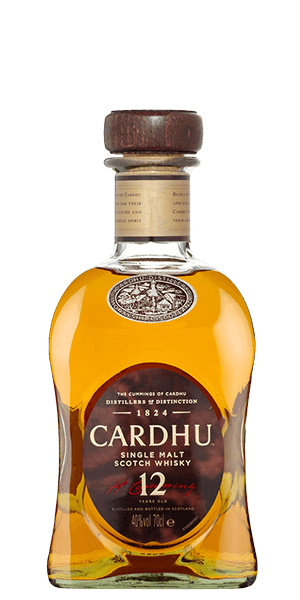 Cardhu
12 Year Old
Tasting Notes
Appearance / Color
Medium amber

Nose / Aroma / Smell
Lightly sweet with pear, apple, and a bit of charred oak

Flavour / Taste / Palate 
Well-rounded and rich with more autumn fruits and a hint of distant peat

Finish
Long and dry with toasted grain and warm smoke

Cardhu 12 YO single malt is a return to greatness … and it's about time.

John Cumming was one of the rare Whisky smugglers that successfully transitioned to legal operation when the oppressive tax and production laws were eased. Thus, Cardhu was born in 1824. You may know Cardhu as one of the signature core malts of Johnny Walker, but it was a single malt long before the blenders got their hands on it. Happily it's been restored to its former delectable single malt glory where it is pleasing customers and winning awards once again.

Like many Highlanders, the core Cardhu offering is a 12 YO. It's a fairly straight-forward example of a Speyside Whisky, but with a mild, peaty influence — but not for the usual reasons. Where some Whiskies taste of peat because it's used as fuel to dry the malt, at Cardhu the water source is exposed to a large peat bog — delivering a "natural peat" flavour and an experience akin to second-hand smoke on the finish. In the spirit itself you will find a medium body, light sweetness, and a taste of baked pears.

Smartass Corner
The word Cardhu comes from the Gaelic "Carn Dubh" which means "black rock."
Ratings & Reviews
Member Reviews and Ratings of Cardhu 12 Year Old
Very smooth but not too light. Flavor is a bit sweet, but the complexity and smoothness is impressive at this price point. Great every day scotch.
Good flavor and complexity yet very smooth. Excellent scotch at this price.
Very nice dram. Consistently fine and very drinkable. Modest price belies this tasty malt and refreshing finish
My all time favorite
Super smooth and easy to drink. Fruity and sweet. Definitely a good daily drink.
Great every day sipper. Light and fruity. No water or ice for this one.
First attempt at Scotch.. going to have to add more notes as I get more experienced
Very good Speysider; light and fruity on the nose with a sweet, spicy palate. First impressions were not great, but this dram definitely grows on me. Very good overall.
Not as smokey as I would like. Still, nicely sweet and smooth.
Very easy to drink. Smooth and lovely!
Nice and smooth. I usually go for Islay stuff, but this is more affordable, really good run for the money.
My old man favourite (can't judge it freely)
Sweet Speyside
Pretty typical for its type. Not bad at all.
Nice and smooth
Good dram, sweet and easy, typical Speyside.
Load more reviews
Back
A Dram for Your Thoughts
Cancel
More drinks we think you'll like