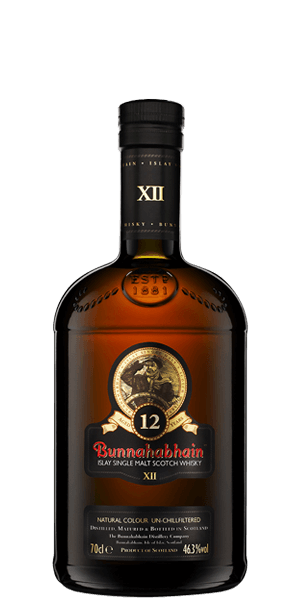 Bunnahabhain
12 Year Old
Tasting Notes
Appearance / Colour
Amber
 
Smell / Nose / Aroma
Fruits such as pear and apple, juicy and ripe, with vanilla sweetness and only the subtlest hints of peat
 
Flavour / Taste / Palate
A nod towards the coastal Islay shores, nutty cereal and more light fruit tones
 
Finish
Salt of the coast air comes through with a lingering end, delicate smoke completes this malt.


Oooops.
This bottle isn't on our current list of Home Bar Essentials... but it could be. Add it to your wish list and let us know you want it!
A different kind of Islay Scotch.
 
Bunnahabhain distillery was constructed in 1881 by the Greenlees brothers, and first opened its doors in 1883. It's located on the island of Islay, with 11 employees and four massive stills – among the biggest in the industry, alongside Glenmorangie.
 
Recently re-released with new packaging to signify the distillery's move to un-chilfiltered Whiskies, Bunnahabhain 12 Year Old is a lightly smoked malt. Somewhat untypical of other Islay products, this is a delicate expression of the characteristic peated smoke that is normally found in Islay Whiskies. 
 
Not only is there that light smokiness, but the Bunnahabhain 12 Year Old also has a fruity sweetness that combines with a subtle vanilla undertone. There is also a beautiful tang of sea air, a homage to the rough rocky shores that surround this malts coastal home. All in all the Bunnhabhain 12 Year Old is an exploration in softer smoke tones and has a great variety of flavours to complement this.
 
It will appeal to peat veterans as an interesting exploration, while those new to peat will welcome it openly and happily. Cheers!
 

Style

Region

Country

Alcohol

Distillery

Bottler

Age
Ratings & Reviews
Member Reviews and Ratings of Bunnahabhain 12 Year Old
Wow! The MacAllan was for me the best scotch I had ever tasted, until this beauty arrived at my door. I am not a fan of overwhelming peat, so this one was right down my alley
Nose is a lovely mix of soft vanilla and caramel with a hint of smoke and coastal air on the back end. The sweet sherry influences hit the top note on the palate, with traces of caramel and nuttiness in the middle, and ends with a bitterness not unlike savoring extra-dark chocolate, which lingers during the finish with a touch of sea salt and smoke. A very complex scotch that belies its age. My personal favorite.
Good daily scotch. Well balanced with sweet and smoky
I love smokey, peaty Islay malts - this particular Islay malt takes a more delicate approach to the smoke and largely leaves the peat behind. Instead, there's more emphasis on sherry and vanilla, particularly in the aroma. Also surprisingly smooth! Really enjoy it.
Really enjoyable scotch. Notes of caramel and apple on the nose. The sweetness really opens up with a little water. Finishes with a hint of salt and smoke.
This whisky is both sweet and complex, without the normal smokey essence typical to Islay Scotches. I'm an instant fan!
Super Smooth! Sweet and right for the pallet. Something to drink to great music or with friends.
Too smokie for me, it is almost a peat. I'm not a fan of peat.
Very smooth Scotch that is worth the price. Definitely one of my top choices now. Excellent!
Bunnahabhain 12 Year is a very good delicate Scotch with a birth of vanilla fudge & barley grist leading to a life of fresh sea spray, berry & nut; blending into a gentle death.
The older versions get extremely pricey over $1,000-$3,000. So I figured the more affordable 12 year old has to be delish. I was right on and this is in my top 10 to drink with friends for somewhat special occasions.
The briny, almost salted caramel and dried fruit on the palette with a smooth lingering finish kept me coming back for more. Excellent coastal style dram!
👍🏻
Excellent. Very smooth
Probably an 8 1/2 for me. Not quite the 18, but delicious.
A smooth yet rough complex experience.
Very nice, smokey vanilla, and sherry. nice balance.
Smooth and smoky!
An average single malt scotch. Not bad, but nothing fantastic.
Quaich Bar tasting set - slightly too salty and smoky for me
awesome- 12 year is as good as many 18 years
A really fine and yet rough whisky, salty sweetness pairs with nutty caramel smoke. Delicious!
Excellent
One of my favorites
That's a strong, bitter taste.
🌸
Sweet nose, slight smokiness, sharp after taste
It is my favorite scotch.
Load more reviews
Back
A Dram for Your Thoughts
Cancel