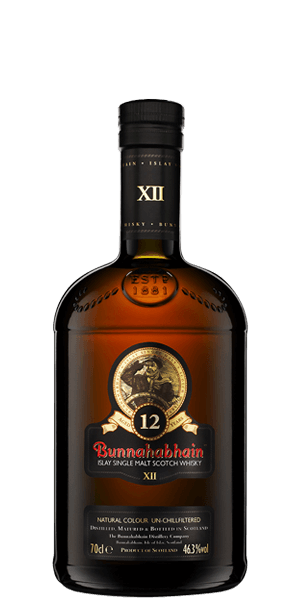 Bunnahabhain

12 Year Old
Reviews and Tasting Notes
Appearance / Colour
Amber
 
Smell / Nose / Aroma
Fruits such as pear and apple, juicy and ripe, with vanilla sweetness and only the subtlest hints of peat
 
Flavour / Taste / Palate
A nod towards the coastal Islay shores, nutty cereal and more light fruit tones
 
Finish
Salt of the coast air comes through with a lingering end, delicate smoke completes this malt.

Bunnahabhain 12 Year Old
is adored for its smoky, sherry, vanilla sweetness and fruit flavor notes.
This Scotch is carefully distilled at
Bunnahabhain distillery
, Islay.
Based on
152 votes
, the average rating for Bunnahabhain 12 Year Old is
8/10
.
Top reviews for Bunnahabhain 12 Year Old
:
—
Islay, but not peaty. Great notes and tells a story, but super easy to drink for a single malt.
—
Very nice smooth scotch
—
this Scotch was smooth and not peaty at all. I loved it and would definitely purchase it again!
Category

Style

Region

Country

Alcohol

Distillery

Age
Ratings & Reviews
Member Reviews and Ratings of Bunnahabhain 12 Year Old
Smoke-ish, very light peat with lasting notes of vanilla, warming and complex
Delicious!
I thought I would like it more, but for a full flavor it is very nice.
Islay, but not peaty. Great notes and tells a story, but super easy to drink for a single malt.
Very nice. Not as smokey as I expected from an Islay whisky, though it has peat character. The interesting thing is the vanilla and fruits, not very common on this malts.
Very nice smooth scotch
Very smokey. Didn't quite expect it because the initial smell was light. Very heavy in the mouth but the spices hit the back of your tongue in a very satisfying way. Most of the heat presents itself in your throat. Only then did I taste the nuts. Tiny hints of vanilla emerged with 2 drops of water. If you rub it in your hands you can smell the nuts as the alcohol runs away. Very pleased with this malt.
this Scotch was smooth and not peaty at all. I loved it and would definitely purchase it again!
A nice mild Islay. Similar to Bowmore, but a bit more subtle, complex, and smoother. Ends with a surprisingly wonderfully full finish.
Smooth. Fruity, nutty, slightly spicy. very sweet finish. Enjoyed it very much.
Nose has lots of caramel, toffee smells. Very creamy scotch. Not much peatiness or smoke for my taste, but that may just be because my tastebuds are burnt out from Laphroig. :) Great drink nonetheless when I'm looking for something lighter.
Almost superb. Almost :) I would not mind getting it for a present but I would not buy it.
Wow! The MacAllan was for me the best scotch I had ever tasted, until this beauty arrived at my door. I am not a fan of overwhelming peat, so this one was right down my alley
Nose is a lovely mix of soft vanilla and caramel with a hint of smoke and coastal air on the back end. The sweet sherry influences hit the top note on the palate, with traces of caramel and nuttiness in the middle, and ends with a bitterness not unlike savoring extra-dark chocolate, which lingers during the finish with a touch of sea salt and smoke. A very complex scotch that belies its age. My personal favorite.
Good daily scotch. Well balanced with sweet and smoky
I love smokey, peaty Islay malts - this particular Islay malt takes a more delicate approach to the smoke and largely leaves the peat behind. Instead, there's more emphasis on sherry and vanilla, particularly in the aroma. Also surprisingly smooth! Really enjoy it.
Really enjoyable scotch. Notes of caramel and apple on the nose. The sweetness really opens up with a little water. Finishes with a hint of salt and smoke.
This whisky is both sweet and complex, without the normal smokey essence typical to Islay Scotches. I'm an instant fan!
Super Smooth! Sweet and right for the pallet. Something to drink to great music or with friends.
Too smokie for me, it is almost a peat. I'm not a fan of peat.
Very smooth Scotch that is worth the price. Definitely one of my top choices now. Excellent!
Bunnahabhain 12 Year is a very good delicate Scotch with a birth of vanilla fudge & barley grist leading to a life of fresh sea spray, berry & nut; blending into a gentle death.
The older versions get extremely pricey over $1,000-$3,000. So I figured the more affordable 12 year old has to be delish. I was right on and this is in my top 10 to drink with friends for somewhat special occasions.
The briny, almost salted caramel and dried fruit on the palette with a smooth lingering finish kept me coming back for more. Excellent coastal style dram!
👍🏻
Excellent. Very smooth
Probably an 8 1/2 for me. Not quite the 18, but delicious.
A smooth yet rough complex experience.
Very nice, smokey vanilla, and sherry. nice balance.
Smooth and smoky!
An average single malt scotch. Not bad, but nothing fantastic.
Quaich Bar tasting set - slightly too salty and smoky for me
awesome- 12 year is as good as many 18 years
A really fine and yet rough whisky, salty sweetness pairs with nutty caramel smoke. Delicious!
Excellent
One of my favorites
That's a strong, bitter taste.
🌸
Sweet nose, slight smokiness, sharp after taste
It is my favorite scotch.
Load more reviews
Back
A Dram for Your Thoughts
Cancel
More drinks we think you'll like