Authenticity Guaranteed
We guarantee every product we sell is authentic.
Free Shipping
Flaviar Members get free shipping on their orders.
Buyer Protection
Money-back guarantee if things go wrong.
An experiment gone awesome.

Back in the days when George Washington was the first U.S. President and Kentucky State only but 4 years old, Basil Hayden was hard at work experimenting with the inner workings of Bourbon.

"You can take the boy out of Maryland, but not Maryland out of the boy?"….Mr. Hayden's early exposure to Rye in Maryland gave rise to a certain playful curiosity. Later in Kentucky he started making corn based Bourbon but with a higher percentage of Rye, with the result being a different, smooth Bourbon that to this day remains truly distinctive.

Basil Hayden's Bourbon Whiskey is aged American oak barrels and made from a grain mixture that is more than half corn, the rest is harmony of barley and rye. To add to this there are also a number of finer ingredients that highlight the attention detail of this small batch craftsmanship, but without overly affecting its broader Bourbon appeal. Basil's Bourbon took risks bucking the prevailing trend 200 years ago, thankfully even today it still stands out as being different and bucking away!

Andy Warhol "Art is anything you can get away with" was an American artist and leading figure of the visual art movement known as "Pop Art". His works explore the relationship between artistic expression, celebrity culture and advertisement during which they flourished in the 1960s. Being creative on many fields he worked with different celebrities and rock stars too, such as Lou Reed & the Velvet Underground, The Rolling Stones and many others. He lived a vivid life, nightlife included which often saw him willfully succumb to one of his favorite drinks, Bourbon.

Is it any wonder that his lifelong city of residence, New York also gave birth to the Manhattan cocktail?



Category

Style

Region

Country

Alcohol

Distillery

Age
Flavour Spiral™
About The Flavour Spiral
What does Basil Hayden's Bourbon taste like?

The Flavour Spiral™ shows the most common flavours that you'll taste in Basil Hayden's Bourbon and gives you a chance to have a taste of it before actually tasting it.

We invented Flavour Spiral™ here at Flaviar to get all your senses involved in tasting drinks and, frankly, because we think that classic tasting notes are boring.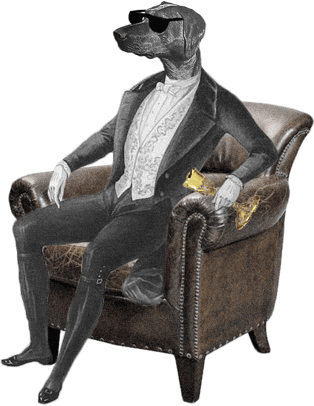 Dog Dogson's
Smartass
Corner
The temperatures of American warehouses are much higher, so the pace of maturation is much quicker for Bourbons than for Scotch Whiskies
Tasting Notes
Color / Appearance
Golden amber.
Aroma / Smell / Nose
Spices, more spices with some herbal and tea fragrances.
Flavor / Taste / Palate
Flavors of white pepper, orange peel, lemon and corn notes are offset by gentle cinnamon, rye spice and sweet caramel.
Finish
Dry and rather brief finish with a big bang of refreshing nice cinnamon pepperiness and light vanilla oakiness.
More drinks we think you'll like
Ratings & Reviews
A solid choice with loads of flavor.
It is an outstanding, intense, Kentucky Straight Bourbon Whiskey with a spicy birth, & complex life that leads to a quick & dry death.
Nice taste. Good value with no too much Kentucky hug.
My wife's great-great grandfather was named Basil Hayden, I have no idea if this whiskey was his name sake, but its high on my list of great bourbons.
Fine, almost too mild though
Smooth with very little burn . Can sip straight.
4 stars
This is extremely light and smooth. Couldn't be more pleased with how well this one finishes. Has a bit of a black licorice aftertaste, and I love black licorice!
Extremely smooth
there is something I really like about it (somewhat unique taste, super easy to drink, well balanced, sweet in the beginning), and something I don't like about it (little weak in the middle, almost "watered down")
Tasty.
Fantastic
Good stuff
One of my favorites. Always keeps it stocked.
love it
This is very smooth with good flavor, but not at all overpowering in any one area. I tend to drink on the rocks but have had it with whiskey sour or neat. It has virtually no alcohol burn and leaves a mellow, almost sweet and oak finish. My opinion anyway. Very, very good sipping whiskey.
a breath of honey, charred oak, and toasted almond notes. beautiful neat, over rocks, or mixed into a cocktail. my absolute favorite spirit.
A good, solid, smooth sipping and mixing bourbon. Good for a summer day or for a mint julep, and a good starter bourbon for new drinkers.
Light sweetness, light spicy rye flavor comes through nicely on the finish
Lighter side, less sweetness and carmel, more smoke and rust.
Decent go to when at an establishment that has limited bourbon selections
My go to favorite
A simple, reliable friend.
Like it
I adore this!!!
Easy to drink. Good for the price-point.
great for simple cocktails
Its ok. Was expecting better.
Pretty smooth and flavorful with a mellow, lingering burn. Not too sweet or spicy.
Sippable, light. Not as spicy. Smooth caramel flavor.
Good for the price Good change of pace
Strong pepper and cinnamon zing. Just a hint of sweetness.
Perfect balance of vanilla!
Very smooth.
So smooth!
Very good option for Manhattans and Old Fashioneds. The above average rye content and spice allow it hold up well with a few additives, but it is solid enough to still enjoy on its own or on the rocks. It is obviously not the best available, but better than most at that price point.
Basil Hayden's is my go to drink of choice. I prefer it neat but it is also pleasant with a couple of ice cubes. Definitely one of the smoother ones out there with a spicy aftertaste that reminds me of the holidays.
Has a smooth pleasant taste with a flat finish. You can easily find more complex and distinctive bourbons for $15-$20 less.
I found this to be a very light weight, immature bourbon. The packaging is impressive, but from nose to throat to finish, it simply did not come through.
Not bad, but I thought it would be better
I love this stuff. Gives off more of a traditional Rye taste than most Bourbons and I dig the spice notes. Bottle looks good in my bar too.
Mellow, smooth. Beginner's bourbon.
Great go too sipper at anytime
Incredibly smooth and friendly. Strong caramel notes.
Just tried it for the first time and it immediately shot to the top of my list.
Swill
Very smooth finish. Lots of caramel and vanilla, not too much heat.
One of the better bourbons out there. It's flavor is distinctive and the cinnamon is notable but muted at the same time. Masterful blend.
So many people like basil. It's probably the most approachable bourbon I've tried. It's very mellow smooth with a medium taste. For me it's perfect over rocks.
A nice medium bite, with mellow follow-through. Sure to bring a wistful memory or two about, when shared with good friends.
Love it
Has a nice oaky flavor but a sweet after taste
Great burnt caramel flavor, very smooth
Smooth with complex vanilla and honey notes, finishes well.
Sooth oaky notes with a mild bite in the finish.
Very smooth. More carmel notes. Another of my favorites on the rocks, with a steak
This is my go to for quick Manhattan's. The price point and availability are perfect so I can drink it without worry of running out. All the flavors are there and the finish is what you expect from a Kentucky BOURBON at a higher price. This is certainly one to keep in stock for entertaining and more frequent drinks. It holds it own with the big boys, too. I'd love to gate an aged option available.
Enjoyed by myself and many neighbors, especially during the Kentucky Derby, in a mint julep fashion.
Love it!
Very smooth. Almost too smooth, but very flavorful. Tastes like a rye although it's technically a bourbon. A staple in my cabinet.
Love
Super excellent.
Very smooth finish with a sweetness nutty flavor
Love basil Hayden
Quite smooth excellent sipping bourbon!
Excellent sipping whiskey, great introduction piece for people who aren't into whiskey or don't "get it" yet. Shows people what just a little bit more money gets them in terms of quality.
Honestly can't believe I got the corn tasting note right! Very good bourbon. Cinnamon, spice and everything nice...
Dry, smooth, and perfect amount of flavor. Great hints of vanilla and pepper with huge cinnamon. Definite buy.
A solid bourbon.
I am new to Bourbon however to date Basil Hayden's is my go to.
Love it. It is nice and smooth. Not too harsh. It is great on it own, with some ice or mixed with Ginger Ale.
Go to for known taste.
My go-to. Good for an old fashioned.
Gently spicy and sweet. Perhaps a touch too subtle for drinking neat IMHO, but totally comes into its own in cocktails that accentuate the rye character.
Vanilla on the nose and sweet on the mouth with a nice warmth in the end. Very nice.
Smooth and very aromatic.
Basil H is my all time "go to" favorite! It may not be the most sophisticated bourbon, but it's smooth and has a great taste that is just relaxing to me.
Very smooth and not very complex
This is a good bourbon for a novice like myself. It is smooth and not very aggressive on the tongue. I don't get a bad alcohol burn on the way down.
Quite good for the price. I'm new to bourbons and looking forward to experiencing them.
Loved it. You can taste the initial cinnamon followed by caramel and citrus as well as spiciness. This my second bottle and will definitely be buying more
LOVE IT!!!! awesome sipping bourbon. Do not mix it with anything, please. Some leather, brown sugar and rye. The finish is way smooth with caramel and honey!!!!!
Smooth, a bit sweeter than expected. Nice finish.
Nice flavor
This is a staple in my bar. I buy two so I never run out! First sip is spicy and finishes with caramel sweetness. Awesome!
Always very smooth dependable deep rich taste.
Very smooth and mild. Great neat.
One of my new favorites.
Spicy but excellent on the rocks with a twist
One of my favorites, besides, I'm a ninth generation direct descendant of Basil.
Smooth, sip ot, kick off your night by the fire with it. Real nice flavor for the fall/winter, as advertised in the add, tastes the same as described. Not high-end, does not need to be and you will not find in the ABC in VA.
Basil Hayden is certainly a Bourbon of exquisite taste. Very smooth and full of flavor, whether neat or on the rocks.. This Bourbon is certainly "Top Shelf" D. Blackshear Sr., Hinesville Ga.
A nice sweet and smooth bourbon.
light and smooth
Very smooth and deep notes of woody flavors, smoky aromas and some kick on the tail end.
Great bourbon with a smooth taste! I always drink it neat.
I grew up and KY and love bourbon. This is one of my favs because it's a combo of spice and smooth.
Pleasantly smelling banana candy and charcoal. Smooth, medium-bodied palate with honey and orange zest. Not like any tradition bourbon I've had... it's more of a heavy-hitter to be consumed neat.
At around $40/bottle, this is a sipping bourbon for sure. Tastes smooth, very little burn. Definitely enjoy this one.
Smooth. Love the overall flavors of basil Hayden's. This was my 1st experience with bourbon.
Nice and smooth and after a day of sipping, watching sports and reading to my disappointment my bottle was empty. My purchase for next month will have to last longer but this one was so good. LOL
Smooth nice peppery spirit. Drink neat
Excellent value, very smooth
Always on my shelf.
A great basic bourbon.
Solid drink for the price
Let me tell a tale.... I had ventured to the great city of New York in search of wonder and life, while on my journey I sought out an Irish bar this came in the form of Emmet o Lunneys. I asked the man behind the bar for many whiskeys of varying flavours styles and craft. He saw my intrigue and offered me a drink on the house Basil Hayden. This drink was a delight strong in flavour while not being harsh at the same time. Now every time I have this drink I am reminded of NYC the man behind the bar, the hospitality i received. This is why I have rated this drink as highly as I have for the memories it brings with every sip. While most will not understand my review I hope someone out there has the same experience as me.....
My favorite bargain whiskey. Great straight up or in an old fashion
Great spirit for its price point. A sweater taste with notes of caramel and less smokey flavors than a Maker's Mark style. Great in an Old Fashioned
I liked this a fair amount... funny though my buddy "loves" it mixed with crab-grape juice...😳
One of the finest bourbons on the market. Also, it seems that Basil Hayden is getting cheaper while other bourbons are getting pricier! At the same time, this distilled doesn't play the "limited amount in reserves" game that is actually killing the American bourbon market. You can go into a store and actually find Basil Hayden on the shelf. You don't have to special order it or jump through hoops. This company is steady, fair priced and produces a beautifully balanced bottle of bourbon...well worth the money spent!
great Bourbon,love it
Good but maybe a little over priced
This is a perfect Bourbon, smooth with a perfect balance of heat. Strong caramel and vanilla with a perfect balance of space. This is my go to bourbon.
I think this one is too light and doesn't have enough flavor. It's easy to drink because the alcohol just isn't forward.
My daily "Go To" bourbon
One of my very bourbons!
Excellent, very smooth
Love it
Good but I can find better at this price.
Great for old fashioned
Light, sweet, tasty; gentle but rich flavor. Doesn't pack a punch, but a go-to for a pleasant bourbon.
One of the better bourbon's I've tasted so far. Warm, with a little bite to it.
Smooth and sweet. Refined flavors of the frontier.
Was ok
Very warm, spicy, peppery, honey, light-bodied, with a gentle bite and a clean finish.
Interesting flavors and nice light taste
Very smooth and flavorful with just a bit of spice in the finish. My favorite under $50 bourbon as of yet.
we should also include the cost ratio when deciding how great something is, at about 50 bucks a bottle what better taste are you actually going to get in this world?
Smooth, very enjoyable
Very smooth and not overly sweet. The initial sweetness gives way to a short spicy finish
The Tops.
One of my favorite bourbons so far.
Very smooth and great taste.
I struggled rating this - excellent bourbon just a bit spicier than I expected. Flavor I can't quite place. Not bad, just different.
Smooth. I enjoyed the taste. Great for an after work stress reduction. Be warned, you can be three drinks in before you realize you even opened bottle...
Smooth
As smooth as it gets!
Well executed.
My go to bourbon. This is an easy to drink very flavorful bourbon. As smooth as it gets.
Fancy bottle, pretty good taste.
Such a flavorful bourbon. With a long history. One of my favorites. I've sampled from three separate bottles, bottled 30 years apart, very consistent and taste and style. This is a bourbon you drink straight up.
One of my favorites. Tasty and smooth. Easy drinking.
One of my favorite Jim Beam products. Very smooth with very little back bone.
Perfect bourbon to drink neat.
One of my favorites
Spicy yet smooth
Decent and smooth.
Short lasting flavour
I hat a taste of this at an event and I thought it was smooth and I will be getting a bottle soon.
Nice bourbon
Delicious!
My go to for company - sip all night simply awesomeness
Very smooth not a lot of burn. Can drink this all night
Great smooth
Very smooth. One of the smoothest I've had.
Very smooth with full flavor
Smokey nose. Agreeable bourbon for scotch goers who yearn for more complex flavor in a bourbon
High quality for the price. Very smooth. Great for bourbon beginners.
My go-to Bourbon
Extremely drinkable. Sweet and just a tad smokey. Light enough but with a backbone. Would make an excellent everyday bourbon.
One sip and you'll be hooked. Can easily finish a bottle with a friend in one sitting.
Great taste. Light and smooth
This is by far the best bourbon I have tasted. Very smooth and refined - can sip it straight up, with ice or mixed with cola. Straight up is the best. Flavor is unlike any other - I keep two bottles on hand at all times now.
Usually a cognac drinker, this bourbon is my go-to favorite bourbon. Smooth, tasty, refined. Neat or on the rocks, but I've learned that even mixed this drink is not lost.
Very tasty. A little light for my liking but definitely enjoyable.
It goes down very smooth. After taste has a little too much spice than I prefer. Overall, a good product.
Great drink and easy to find
Delicious
One of my favorites, always a good choice for gift or cocktail
One of fav, smooth always easy to drink
Nothing special
Pretty smooth
It's a great go to bourbon, and Basil Hayden happens to be my 4th grandfather
Add the creek water. Very smooth and easy to enjoy.
Very smooth overall, easy to sip some sweetness. Meet your new rum and coke.
Good drink, id buy it again and even drink it on a weekly basis. It's a good one to have in your cabinet for sure, perhaps even for non special occasions where you just want a quick drink for the group of people who came over. Good price as well
Perfection ... by far my favorite
Simply amazing
For its price I find this to be one of the one of the greats! Smooth easy drinking it's one of the bottles of bourbon I recommend to most to people who aren't familiar with bourbon. This bottles an easy "go to" when I don't know what I'm in the mood for. Everyone I've recommended it to has fallen in love.
Favorite
Very smooth and full body
It is extremely smooth and worth every penny
Smooth. Not overbearing.
The easiest sipping Bourbon I've met. This is the preferred entry point for those looking to start a trek through whisky. Mild flavor of a corn mash bill, low heat, and a history going back the Deadwood, South Dakota.
I'm not a fan of the higher rye personally and I found it to be a bit weak in comparison to other Beam small batch offerings
Favorite bourbon
Smooth and a good price tag as well
Nice less sweet bourbon
Kamłwkdjjhjthtjhjhjthtmmleiiiih'ln
One of my go-to all-time favorites. Smooth and flavorful, one of the best for the buck.
One of my favorites! Smooth, and great tasting with two ice cubes.
Smooth.
This is a nice smooth drink, exciting to the palette
Really enjoyed. Smoother than what I was expecting.
Smooth as silk
Can't go wrong.
The subtle sweetness in this otherwise spicy bourbon produces a highly pleasurable drinking experience with a strong finish. Outstanding.
I love the spicy notes that are in this bourbon, I will drink it on the rocks always!
Easy to drink Bourbon. Very good.
Amazing neat and on the rocks. Smooth as silk with a very subtle char.
My favorite bourbon for making a Manhattan. So good!
One of my favorite bourbons. Beautiful taste, very smooth finish.
#1 favorite spirit
Smooth start with a spicy after tone.
As smooth a bourbon s has ever existed. Long smooth finish with caramel draw
Amazing
Little bite, but smooth
Delightful taste experience, evaporated before passing my tongue
Very smooth.
Excellent flavor and drinkability for the price. Great daily bourbon
My favorite daily drinking Bourbon
A new favorite! Glad it was recommended so highly.
Awesome.
Love love love
Great taste!
Amazing for old fashions
Good Stuff
So so smooth
Good stuff
A good whisky. A bit high on the rye for my taste. I would value it at $45.00
Load more reviews
Back
A Dram for Your Thoughts
Cancel