Annandale Distillery
Distillery
Founded in 1830
Annandale Distillery sits smack dab in the middle of the southern Lowlands. As you might expect, "Annandale" is the valley-source of the River Annan, as it flows through Lockerbie and into the Irish Sea.

Annandale Distillery was founded by George Donald in 1830, for the production of single malt Whisky. Johnnie Walker bought the place in 1893, and continued single malt production, until their famous blended Scotch became the household name it is.

They decided to focus on their famous blend and ceased production at the site in 1924. The place was left to the fate of being harvested for spare parts, and decay. In 2007, Professor David Thomson purchased the remains and -- with the help of a jobs grant program -- returned the site to resume single malt Whisky production in style.

It has not been long enough to produce a properly-aged Whisky just yet. But in the meantime they support themselves by selling new-make spirit and souveniers. They even sell full casks of Whisky, aging in their rickhouses, to collectors.
Distillery Details
Country

Region

Established

Owner

Type

Visitor center

Status

Address

Annandale Distillery, Annan, Dumfries and Galloway, DG12 5LL United Kingdom

Phone

Website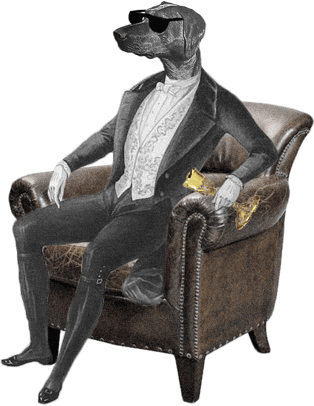 Dog Dogson's
Smartass
Corner
Annandale sits VERY close to the southern border of Scotland. In fact, if it were just two miles further south, it wouldn't be in Scotland at all and could not call its products Scotch.

Their Cask #1 just sold -- untasted -- for $1 million. And "lucky" Cask #8 sold for $888,888.
About
Lowlands
Perching
just above England
, the Lowlands can play truant from peat or salinity.
Triple distilled malts are characteristic of the Lowland region, offering a
gentle, elegant palate
reminiscent of grass, honeysuckle, cream, ginger, toffee, toast and cinnamon.
The Lowlands
are master of the
Whisky blend
and are also known for their
silent stills
, which sadly no longer produce.
Learn more about
Lowland distilleries
.